Escambia Offers Assistance for New Local Businesses to Grow
Pensacola: A Cradle for Business Innovation and Growth Specialized programs spur economic development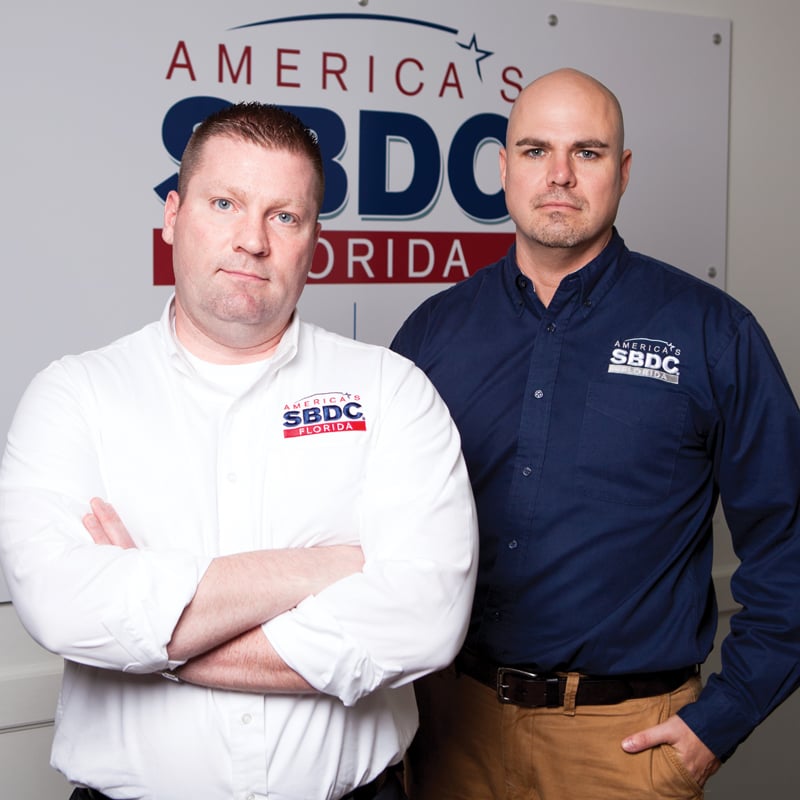 Most large urban areas have an array of services for small business owners and entrepreneurs. In fact, economic development these days is big business itself, with large cities and counties competing for as few as 50 new jobs to an area.
Incredibly, Pensacola and Escambia County have not one, but two specialized programs that provide assistance and low-risk alternatives for small businesses and startups to get the boost they need in the precarious early stages of business.
With the considerable resources of the federal government, a full university and the area's Chamber of Commerce, there is little issue left unmitigated for a small business owner or entrepreneur.
The Florida Small Business Development Center Network at the University of West Florida (FSBDC at UWF) and the Gulf Coast Center for Innovation and Entrepreneurship (CIE) at the Greater Pensacola Chamber of Commerce are two programs that are fit for a much larger economic development area than just Pensacola.
The Power of the Network
The Florida Small Business Development Center Network at UWF is the perfect starting place for the (not necessarily) new business owner. According to its website, the FSBDC at UWF provides tools, training and resources to help business owners at all stages to grow and succeed.
Matt Burke
Michael Myhre (left), CEO of the
FSBDC
Network and Kelly Massey, regional director.
"The goal," explains Kelly Massey, FSBDC director, "is to provide small business — whether established or just beginning — with tools and resources to help mitigate common entrepreneurial pitfalls."
This means that a small business owner or entrepreneur may find at the FSBDC professionals who can answer practical questions such as how to obtain certificates and registrations; where to register business names; examples of business concepts/plans; mapping out the first steps of beginning a business; and even how to land government contracts — a specialization that makes a lot of sense in the military-heavy Escambia County region.
The FSBDC is part of a statewide service network of more than 40 locations, funded in part by the U.S. Small Business Administration. With additional money from supporters such as the Defense Logistics Agency, the State of Florida, the University of West Florida and other public/private partners, the center at UWF serves as the lead host institution for the network.
Because of its diverse funding, the FSBDC is able to provide assistance to business owners in Escambia, Santa Rosa, Okaloosa and Walton counties at little or no cost.
"No matter if a business is just beginning or has been in business for years, we provide specialized resources and assistance to help them," Massey continues. "We offer a comprehensive toolkit of services for qualifying existing businesses looking to accelerate market growth, including Growth Acceleration, International Trade, Government Contracting and Business Continuation."
Massey has recruited a team with diverse experience and education to make the most of the SBDC's influence.
"Our professionally certified consultants have a variety of backgrounds and education," he explains. "Several have more than 20 years of experience in small business consulting."
His team of eight includes consultants, managers and — a new addition — an international trade consultant so that clients may take advantage of the area's unique opportunities with the military and the deep-water port.
Matt Burke
Doug Herrick (right) and Donald Long are co-founders of SunFarm Energy.
Doug Herrick, owner of SunFarm Energy in Pensacola, is a great example of the FSBDC's influence. In 2011, the former naval aviator co-founded SunFarm Energy to design and install commercial and residential solar energy systems.
Working with the FSBDC at UWF, Herrick received business advice and resources to grow his company. He also worked with students at UWF's College of Business on a human resources project that provided insight he could use.
Herrick's experience is not unususal. The FSBDC employs UWF graduate students to provide assistance to the Escambia business community.
"This demonstrates an invaluable opportunity for both students and our clients," Massey says. "Students are given an opportunity to apply what they have learned in class, and small businesses in our region benefit from their knowledge."
In addition, the FSBDC at UWF offers free or low-cost workshops to area business owners, with topics such as, "Franchise Basics," "How to Do Business with Eglin and Hurlburt Air Force Bases" and "International Trade Basics." These workshops are held at a variety of times and locations and advertised through the center's website.
Investing Today in Tomorrow's Employers
The federal government and higher education aren't the only ones interested in business growth in Escambia County.
The Greater Pensacola Chamber of Commerce dedicates considerable resources to startups and business growth. As part of its overall mission, the Chamber focuses on
business expansion and entrepreneurial growth. This relates directly to the focus on creating high-wage, sustained growth jobs in the area.
The Gulf Coast Center for Innovation and Entrepreneurship (CIE) is the Chamber's outreach to startup and fledgling businesses. Formed in 2008, the CIE is a partnership between the Greater Pensacola Chamber and Pensacola State College. The CIE incubator is managed through the Chamber and receives support from both municipal economic development funds and private investors.
The CIE targets "early stage, high-growth companies" to increase the odds of their success. The list of innovators associated with the center includes Cogon Systems, GridSouth, Avalex Technologies and more.
Ideally, the CIE is a "short-term (1–3 years) bridge" between a home office and Class A office space. In other words, it's perfect for businesses that are at or near revenue needs.
Kelly Reeser, director of Entrepreneurial Development, manages the CIE and the programming for the tenants of the facility.
"The CEI provides a physical location for entrepreneurs to gather, work and share ideas," she explains. "As well as a network of the experience and wisdom of business owners who are willing to mentor and assist growing companies."
Currently home to 12 tenant businesses, the center has about 7,500 square feet of leasable space, which varies in size from 100 square feet to over 900 square feet.
In simple terms, the CIE provides very affordable office space and on-demand consulting services for beginning businesses and entrepreneurs.
Each client receives a business coach and access to an entrepreneur-in-residence for individualized business development.
Jeff Phillips, CEO of Accountingfly, is one of the CIE's go-to examples for success. The company provides recruiting services and software to the accounting industry.
"The CIE has offered Accountingfly discounted rent and office services to help preserve startup capital," Phillips explains. "They introduced the team to one of the CIE's board members and other mentors and provide executive coaching to our leadership team."
The small company started in 2012 and has already made a name for itself in the accounting industry. Recently, Phillips was named "One of the Most Influential People in Accounting" by Accounting Today Magazine.
Unique programs provide the incubator companies the ability to connect with each other and mentor professionals so they can grow their business. Many of the "mentor" professionals offer free or reduced-price services for CIE tenants. Educational courses and "lunch and learn" opportunities allow for the CIE's experts to provide feedback and custom ideas for things like funding and workforce training programs.
Discounted rates on Chamber programs and memberships are also extended to CIE tenants.
To qualify for the CIE program, companies must submit an application online (gulfcoastinnovation.com). Requirements include a business plan or executive summary, with (at minimum) a proof of concept. A selection committee reviews applications, evaluating whether the business is at the stage to enter into a lease and the potential for growth and jobs creation.
Whether a small business is barely out of the garage or even established but still considered "small," Pensacola and Escambia County have resources to accelerate growth and push forward ideas. These programs come from a variety of sources, but one thing is clear: Pensacola is ready to be known as a cradle for innovation and business growth.
---
Find Out More Online
CIE: choosegreaterpensacola.com
FSBDC: Floridasbdc.org