Entrepreneur-in-Chief
FSU's Susan Fiorito is ready to prepare the entrepreneurs of tomorrow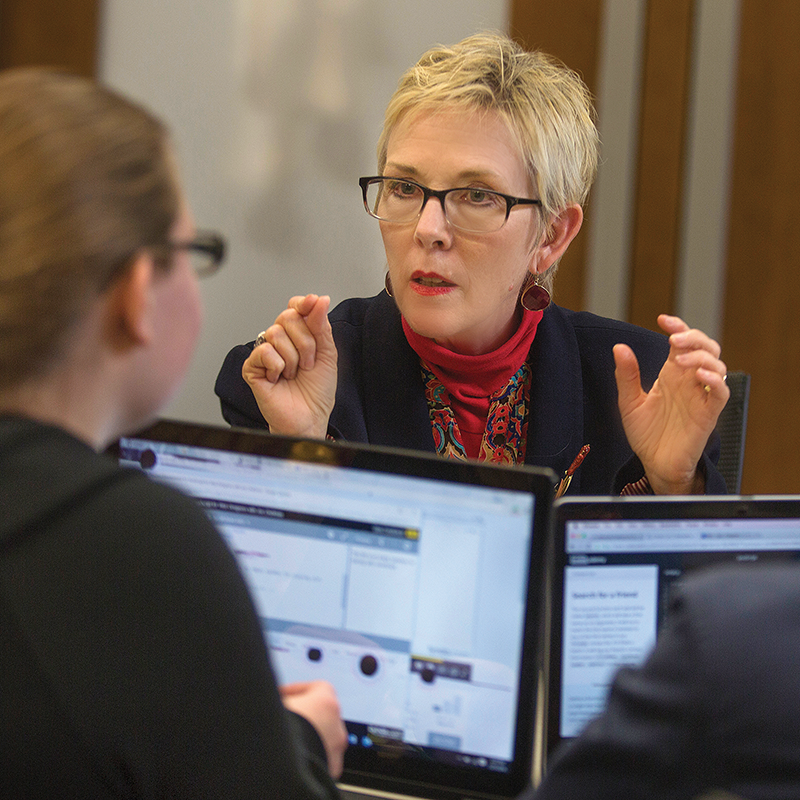 Ever since her appointment as founding director of Florida State University's newly established Jim Moran School of Entrepreneurship in January, Dr. Susan Fiorito has been busy preparing for the school's 2017 fall opening.
Which is not to say that she wasn't busy previously as an FSU business professor, entrepreneur-in-residence, university administrator, chair of the Department of Entrepreneurship and Information Systems in the FSU College of Business, and president of the FSU Faculty Senate. And did we mention also owning four apparel and jewelry stores and a whole leather goods company before joining academia?
It's all to underscore that Fiorito possesses the academic credentials and business experience and acumen to make her eminently qualified to head what is expected to be the nation's largest interdisciplinary, degree-granting school of entrepreneurship, thanks to a $100 million donation from Jan Moran and the Jim Moran Foundation.
---
850 Magazine caught up with Dr. Fiorito recently and asked what entrepreneurship meant to her.
SF: It's a kind of state of mind. It's identifying opportunities, problems that need solving, or needs that have to be met, and taking those opportunities, problems or needs through all the steps to fruition, whether it's a service or product. Much of entrepreneurship is applying basic business concepts to real-world problems and concerns. You can be entrepreneurial in everything you do by looking at all the opportunities and working to get things done. An entrepreneur is the individual doing that.
850: How does entrepreneurship differ from business leadership?
SF: Business leadership is someone at the top who is more delegating, or possibly developing the strategy. When I think of entrepreneurship, I think of the person actually doing the work. It may be a team. Sometimes one person is the team leader and sometimes another, depending on their area of expertise. The entrepreneur is taking responsibility for the idea, but other people may also serve in leadership roles to make sure it gets done.
850: Can entrepreneurship be taught?
SF: Some people don't know whether it's in them or what it takes to be entrepreneurial. That's what we want to clarify through the courses we teach. Someone may go through all this and say, that's not me. I want to work an eight-to-five job. That's fine. There has to be a passion within the individual, but they may not know they have it. So we have courses that set a path and allow creativity. Some people don't realize they're creative until they take an innovation or creativity course. Is everyone entrepreneurial? No, not necessarily, but I think it can very well be taught.
850: Are there elements of entrepreneurship that can only be learned by experience?
SF: Of course. You can't teach every possible outcome or situation. All of us learn by doing the job. Oftentimes in entrepreneurship, people take an idea and work through it and fail. Well then, they have to go back to the drawing board. Failure is a way to learn. We try something and fail and we pick ourselves up and try again. Failure is only a bad thing if you let it stop you from achieving your goals.
850: If you fail, what's the lesson?
SF: You need to ask, why did I fail? If I've been trying to produce a product, was it in the production process, the wrong materials or wrong ways of putting the product together? Did I not take enough time to research the product or is this a target market? Maybe I'm selling it to the wrong people. Maybe I'm using the wrong marketing strategy or wrong social media to promote the product. You have to look at every step in the process that goes into taking that idea to the marketplace. Without looking deeply into the reasons we failed, we may fail again.
850: Is there a point at which failure is an indication you should reconsider your options?
SF: Sometimes you fail and what you have to realize is that maybe you need more education or experience. So you go back to school or get more experience. And then, if it still doesn't work and it's not making you happy, maybe it's not your passion. We can work really hard and be tired and frustrated sometimes, but we still have passion for what we're doing. That's the key. If you've lost your love for what you're doing, you need to do something else, because we have to have some kind of desire and passion to succeed. If that's gone, there's no use pushing it. Maybe you should pursue a different avenue. What we try to do through the school is help students find what they love doing more than anything else.
850: Sounds like the school will provide a safe environment for experimentation and risk-taking.
SF: Correct, and to work with others. Each individual doesn't have every skill needed to produce a product, provide a service or solve a problem. We need to say, "I don't have coding skills; I need someone who can code. I'm not good at social media; I need a partner who is." So we're looking at solving a problem with a team of people who have expertise in particular areas. We rarely see solo entrepreneurs like years ago. The market is too competitive. We really need experts in a lot of different areas to succeed.
850: You're saying entrepreneurship is more of a team effort nowadays?
SF: It really is. There is too much technology, social media and process development that people need to know. It's almost impossible for one person to have all those skills and the passion to get to market quickly. It's not just competing on local but also on global markets. In the past, we would start at local markets and be successful, and then gradually grow farther out, but we weren't connected around the world as quickly and easily as today. So you almost have to be able to recognize international competition from the start.
850: What about financing challenges?
SF: Money, of course, is very important to bring ideas to fruition. So we have courses on different funding sources. Creativity is also extremely important, as is design, and we have these courses. We also talk about franchising as a way to be your own boss. Franchising is one way to be an entrepreneur in a little safer, more mentoring environment. Everyone's different. We want to present as many ideas to our students as possible.
850: Sounds like you have your work cut out.
SF: You could say that!