Embracing the Future of Healthcare
New technology will allow doctors and nurses to share information and make decisions with cutting-edge efficiency.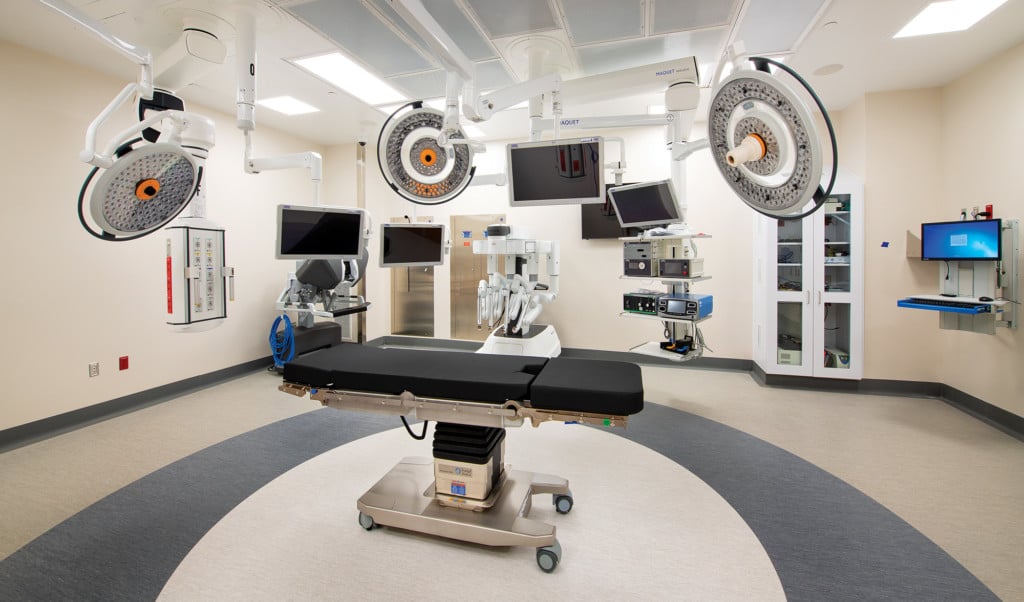 Smart beds that can speak to patients in 23 languages. An app to help visitors find their car in the parking lot. Operating rooms equipped for the latest surgical techniques.
These are just a few of the new features that will help set Tallahassee Memorial HealthCare (TMH) apart with the newly opened $275 million M.T. Mustian Center. The term "state of the art" is frequently, and aptly, used to describe the advances in this mammoth healthcare addition.
"The place is so full of new technology," said Henry Hanson, TMH's Project Engineer for the M.T. Mustian Center.
To put it simply: "We've got some really cool things," noted Linda Fox, the hospital's Service Line Administrator for Surgical Services.
The gleaming center features 28 operating rooms; four interventional suites for neurosurgical and vascular procedures; 72 adult medical/surgical intensive care beds (compared to 40); and related support services.
The ICU beds in the M.T. Mustian Center replace all the adult ICU beds in the original building.
"All 28 of the operating rooms are designed to do any case, any time," said Fox.
"The only exception to that is we have four interventional suites. If patients need heart surgery and they have to go on what we call a bypass pump, it requires different technology, which these suites are equipped with. It's the only thing that makes a difference in the suites compared to
our OR's."
The six-story, 340,000-square-foot M.T. Mustian facility nearly doubles the size of Tallahassee Memorial, but the implications of this new tower go way beyond an increase in space, according to the many professionals who played a vital role in planning and launching the center.
"When you really drill down to the basics of what we're trying to do for the people in our region, it's to give them state-of-the-art surgical technology in the safest and most efficient environment possible — but to also leave our door open to be able to grow and improve as technology
improves," said Chris DeRosier, MD, a reconstructive plastic surgeon who serves as Chairman of Surgery at TMH.
"The question posed to us was, 'What do we need to do to be a regional leader in surgical technology?' "
All in all, technology offers "the ability to do things in a more modern fashion, makes things easier to do," said Hanson, who has worked at TMH for 35 years. "All kinds of things that you wouldn't think of."
Some advances just pertain to making a trip to the hospital easier for patients and families — apps can show visitors how to navigate the hospital and where they parked their car. But many changes take treatment to a new level.
DeRosier applauded the ability of physicians to "sit down with our administration and say not only what technology do we need right now, but also where does it look like the future is going and where do we expand?
Not only does having that technology allow people to stay closer to home, this is another tool that we have to recruit new specialists.
"I think we will be able to grow our capabilities within specialties," added DeRosier, who practices at Southeastern Plastic Surgery.
"Various surgical specialties are becoming more and more technologically heavy with the use of robotic surgery, along with complex angiography.
"Physicians in these new specialties want to come to an environment where the technology is there to support them and they don't have to come in and reinvent the wheel from the ground up. It's very much like showing a new car buyer the top-of-the-line European luxury car. And that's
what it (the new center) is going to be."
Like a luxury vehicle, the M.T. Mustian Center has some top-notch accessories. Just consider the beds, "which are each about $30,000," said David Adkins, the Supply Chain Executive Director who oversaw purchasing equipment for the building.
The beds are much more than a place to sleep.
"They're amazing," said Barbara Alford, TMH's former Vice President, Chief Clinical and Nursing Officer. "They speak several languages — the bed communicates with all of us."
The beds can be programmed to ask yes-and-no questions to patients in 23 languages, from French to Farsi. "You can customize the list of questions," said Adkins. Patients hear questions from speakers next to their heads.
"The bed can ask patients questions like 'Are you in pain? Yes or no?' 'Is your pain greater than an 8? Yes or no?' You can customize the questions," he said, noting that having this ability cuts down on delays to get the patient needed care.
"It's a huge benefit for our teams. It eliminates the need to wait on a translator at times and to care for the patients as fast as possible."
The beds "also play music," he added. And are able to weigh the patient without the effect of moving the patient (which is one of the leading causes to back injuries in nursing).
The new beds also enable patients, particularly those with breathing or lung problems, to be easily rotated. "You have to turn a patient 45 or 60 degrees to keep the fluids moving," said Adkins. In the past, this was done manually, unless the hospital rented a specialized bed.
"The bed goes from a horizontal surface to a sitting-up surface so the patient can actually sit up," said Alford. "And you can stand the patient up, which will be wonderful for early ambulation for patients still on ventilators.
"They are also self-propelling," she said. "The nurse doesn't have to push the bed. It doesn't take two people to transport a patient. You can transport with one person. It's just like a touch of your fingers. You have to guide it a little, but it's amazing."
Another ICU room safety feature for both staff and patients is a lift system, said Alford.
"The lift is bolted into the ceiling; it's part of the ceiling structure," she said. "It moves on a track and goes vertically and horizontally."
There's a support system hooked up under the patient. "You can move the patient into a chair, you can move the patient to a stretcher, and you can move the patient to a standing position," said Alford. "The device helps move the patient without having stress or strain on the colleagues or the patient."
Adkins said the lift has a "1,000-pound capacity. It's a huge safety factor for our staff. I was blown away by the staggering statistics on back injuries due to movement of a patient. It's customized for any size person, and it moves around the room, so it's awesome."
Other vital technology allows a close-up look of what's going on during surgery, with a camera that collects images that can be shared.
The operating rooms have at least four big monitors that will enable everyone in the room to see what's happening during surgery at the moment, said Fox. The information can also be saved to medical records.
"If surgeons needed to go back and see something they did, whatever they chose to save would be available," she said. "And then it helps us connect with the patient's family immediately post-op to be able to communicate what they actually did."
"We don't have the ability to do that now," said Fox. "Oftentimes you'll see the surgeons will draw pictures trying to explain what they did. Now they can show actual images."
The technology also enables pathologists to immediately review tissue to help make a diagnosis. "If there are questions, both the pathologist and the surgeon can see the tissue at the same time and have a conversation," said Fox. "That does not currently exist."
The technology will help surgeons communicate with other physicians in a more direct way than ever before, said Dr. DeRosier.
"A surgeon can be in the room down the hall and have something they'd like me to see," he said. "If I'm in a room where I can't see it, I can pull up their camera feed and be able to see what they are looking at in real time. It really provides a powerful tool."
Another new feature is "shadow lighting," said Dr. Andrea Friall, TMH Chief Medical Officer and a gynecologist/obstetrician.
Lights over the operating table will allow surgeons to be able to see into a deep surgical opening even if someone has their head in the way.
"We're excited about the lighting technology," she said.
Cutting down on the time it takes to get equipment from one place to another was also a priority.
Aiding in that process is the Hänel inventory system, which connects the supply operation, where instruments and other sterile items are stored, from the basement to other floors.
Fox refers to the system as a "vending machine." Adkins calls it a "three-story rotisserie."
If a surgeon needs a different size of a tool or a piece of equipment that wasn't expected, the Hänel system gets it to the operating rooms quickly. In the old system, someone would have to leave the operating room and go find the equipment, which could be time consuming.
Under the new system, "Colleagues are going directly to the Hänel system (which is located in the central corridor of all OR rooms) and type in what I'm looking for," said Fox.
"Within 15 seconds, the vending machine will find the item and send it to the correct floor. The doors will open up for colleagues to easily grab and return back to the OR."
Robotics are a hot topic, so aside from the advent of more artificial intelligence in surgery, you'll see robotics used in other ways, like a supply cart that travels around the facility. "It's an intelligent cart and even has manners," said Adkins. "If it sees anything in front of it, it will wait. It will say 'excuse me.' It will take the elevator and stop at the appropriate room."
In many ways, humanity mixes with technology to advance the best patient care — and that will be true in the new M.T. Mustian Center as well as the original TMH, said Barbara Alford, retired TMH Nursing Officer, who oversaw a staff of nurses that range in age from 20 to 77 — five generations working in the hospital.
"It's great to put a new graduate nurse who's 20-something with one of our more seasoned nurses because they teach each other a great amount," said Alford.
"The new graduate teaches us older nurses about technology. Experienced nurses bring to that new nurse their life experience, their nursing experience. Pairing them up to share life experiences and skills — it's a real benefit to everyone. That's exciting to watch."