Cultivating Sophistication
30Avenue opens doors to exceptional quality and services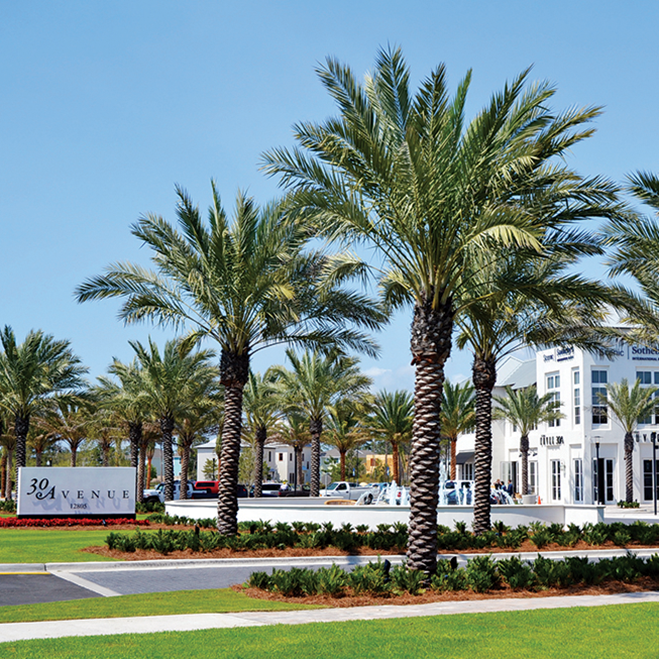 It is impossible to miss freshly flourishing 30Avenue with its 16 acres of majestic palms, manicured lawns and crisp white stucco buildings, all elements of an effort to provide an exquisite shopping experience.
30Avenue is a master-planned retail and office development that anchors the east end of Scenic Corridor Highway 30A and fronts U.S. Highway 98. Painstaking effort was taken in selecting the shops, entertainment venues and offices that reside here. Current tenants include Barbacoa Mexican Grill, 30A Olive Oil, Scenic Sotheby's International Realty, Cuvee 30A, Otium Yoga, Shimmering Seas and V. Lala Galleries, to name a few.
Listings are available in sizes that range from 1,100 to 20,000 square feet and are appropriate to executive office, retail and restaurant spaces. The third phase of development is in the works and the final phases are on the drawing board. Two additional build-to-suit opportunities are available.
Strategically choosing tenants that complement one another is important to the 30Avenue community. Targeted customers spoke to a desire for a more customized and local experience as opposed to big-name chains. The result is a focus on boutiques, personalized services and fresh, health-conscious food options.
"It is hard to believe our first merchant has not been open one year, yet we now have four completely diverse restaurant offerings, a thriving yoga studio, bustling executive offices, a cutting-edge art gallery, unique boutiques and the honor of welcoming successful local businesses that have decided to relocate to 30Avenue," said Kerri Parker, director of marketing and leasing for Corr Group, the development company responsible for 30Avenue.
30Avenue takes pride in offering first-rate services and luxurious goods to the discerning clientele of 30A.
---
Quick Look
Address: 12805 U.S. Highway 98 E., Inlet Beach
Square Feet: Ranging from 1,100–20,000
Contact: Kerri Parker, Director of Marketing and Leasing, Corr Group
(850) 231-1127 | kparker@corrgroupus.com