Cristina Paredes Owns Her Place at the Table
FSU grad spearheads economic development efforts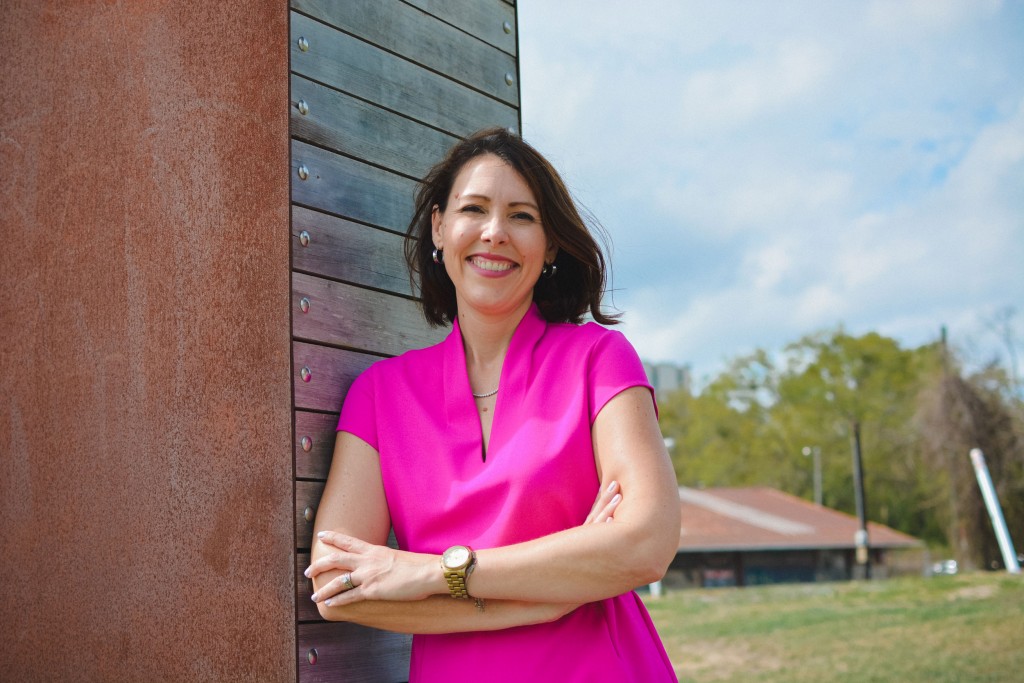 Cristina Paredes, director of the Tallahassee-Leon County Office of Economic Vitality, grew up in Fort Myers and first came to Tallahassee while in high school to participate in the page and
messenger program at the Florida House of Representatives.
For a week during the 60-day regular session, Paredes shadowed local officials and was influenced to attend Florida State University "to be in and around the legislative process."
Paredes' father is a UPS driver and worked hard to impress upon her the importance of education. She is a first-generation college graduate, an achievement that she said would not have happened without the support and encouragement of her parents. They "always gave me the freedom to ask the questions that I needed to ask to learn and grow and push boundaries," Paredes said.
Their nickname for her is Missy, and she knows, "even to this day, if mom calls me 'Cristina,' I've gotta pay attention."
Paredes said her peers would be surprised to learn that she was shy as a child and teen.
Her first job was as a customer service rep at Camping World in her hometown. She was motivated to go to work because she wanted a leather jacket. Never one to waste a life lesson, she learned the value of saving money made by selling camping gear, President Club memberships and RV supplies throughout most of her time in high school.
"I learned a lot about sewer supplies for RVs," she said — and she got that leather jacket.
All experiences are useful, especially to a young professional on the rise, but Paredes attributes her greatest successes to her mentors. Early on, she wanted to work in state government, and she secured internships, one with a lobbyist and others related to different committees during session.
Then, while working on her master's degree, she took two classes taught by Leon County administrator Vince Long and deputy administrator Alan Rosenzweig and realized that "the way to impact people's lives the quickest was at the local level."
Her first job on the path to her current career was an internship spent working with Long and Rosenzweig and alongside Ben Pingree, who today is the director of the county's Department of Planning, Land Management and Community Enhancement (PLACE).
"Taking that internship at the county, never would I have thought that 16 years later, I would be one, still in Tallahassee, and two, doing economic development for our community," Paredes said.
Sometimes, she said, success can result from "just being in the right place at the right time and having conversations with people who are willing to listen." She said her many great mentors are too numerous to list, but noted that two with continuing impact on her are Steve Evans, a retired IBM executive, and Gray Swoope with VisionFirst Advisors. Both, she said, are always willing to assist her with difficult problems and to help answer tough questions.
As a sometimes counselor herself, she advises young women professionals to remember that "you've earned your seat at the table, and deep down, you have to own that seat that you've earned. A lot of times as women, we tend to keep our places small at the table rather than owning the whole space."
Recently, the city and county adopted their first-ever, long-term economic development strategic plan, whose development Paredes' office oversaw.
"Economic development is a team sport," she frequently says. "You have to have a great community, great leaders and great partners to help execute it."
Paredes believes Tallahassee has all of that, as well as the assets necessary to grow its economy. Although prevented from discussing them due to confidentiality agreements, she said many great economic development projects are in the works.
When she isn't working to champion new or growing businesses, Paredes bikes with her children, hikes area trails and engages in all aspects of baseball with her family. Her father taught her how to chart plays on a baseball scorecard, something she still does at FSU games.