City Food Hall Destin is Now Open
Meet City Food Hall, your favorite gathering place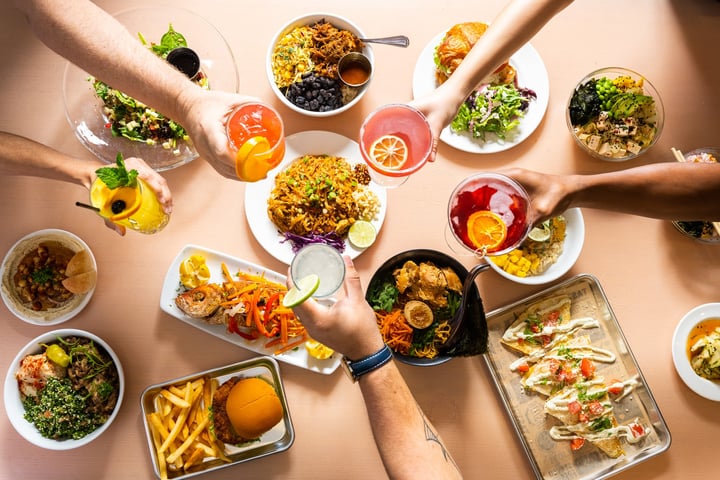 City Food Hall Destin is now officially open at Destin Commons. Showcasing emerging and established local chefs from more than 10 specialty restaurant concepts, City Food Hall at Destin Commons is a 14,000 square-foot gathering place offering international cuisine, craft beer and cocktails, state-of-the-art entertainment, and more.
Located next to Foot Locker near Uncle Buck's, City Food Hall will become Destin's top culinary and nightlife destination. Locals and visitors can enjoy an expansive 32 seat indoor bar, HDTVs, plenty of seating, and two state-of-the-art Topgolf Swing Suites with multi-sport games and Full Swing golf simulator technology.
The 10 restaurant concepts within Destin City Food Hall feature unique cuisine from around the world including:
» PB&J Bakery and Café – PB&J, a health forward Cafe with bold, unique dishes and nostalgic classics created by husband and wife duo, Phillip & Jess Bauer!
» Nanbu Too – Owned and operated by locally acclaimed chef, Executive Chef Nikhil Abuvala, Nanbu Too is a satellite location of one of Grayton's Beach's top restaurants. Born from Abuvala's early love of Asian fare, Nanbu (translated to 'Southern' in Japanese) offers Japanese cuisine with Southern Flair.
» Tuk Tuk Thai – A concept by Chef Sonya Thaijaroen, Tuk Tuk Thai brings authentic Thai street food to the shores of Destin with ambitious dishes, bold flavors, mixed with hand-blended seasonings showcased by a military Veteran owned team!
» Birdie's Nourished Kitchen by Chef Katie Dixon – A concept by Chef Katie Dixon offering a range of power foods from acai bowls and salads to healthy takes on traditional, southern fare. You may recognize Katie as a finalist on Masterchef and as a competitor on Food Network Star!
» Macho Taco – From the chef that brought Mexican Inspired Soul Food to 30A. Chef Stephen combines his southern roots, California farm-to-table experience, and passion for food to develop a unique, balanced, and delicious menu. He describes his menu as Mexican-inspired soul food: simple yet elegant, rustic yet refined, creative yet controlled.
» Poke Loa – The New Orleans-based restaurant was the first poke restaurant in Louisiana. The locally owned family business serves up the freshest cuts of fish around. Poke Loa's fish is delivered fresh daily, and fish, toppings, and vegetables are chopped and prepared in-house.
» Pluma Chicken Co. – A concept by brothers Robert, Ruben and Giancarlo originally from Miami, makes 25 hour brined Fried Chicken that is perennially listed on 'best of' from top publications. Expanding their concept for the first time, they are poised to bring the best fried chicken sandwich to the Emerald Coast.
» Likkle Jamdung – Jamaican Patois for 'Little Jamaica', Chef Shaun Watson will be crafting Island Cuisine with a "down-home" feel – from traditional Jamaican Beef Patties to unique takes on Caribbean favorites such as Jerk Chicken and Braised Oxtail.
» Zaitoun – A concept by mother and daughter duo Lina and Haya that will bring traditional Middle Eastern dishes to the Destin community. Zaitoun prides itself on using signature recipes, spice blends, herbs, and homemade sauces to enhance only the freshest of ingredients!
City Food Hall also features two Topgolf Swing Suites, an immersive social experience offering guests a dedicated space to play and enjoy fantastic food and beverage service. With a massive screen and a selection of exciting virtual games, the Topgolf Swing Suite delivers a one-of-a-kind simulation that's fun for golfers and non-golfers alike. Topgolf Swing Suite is powered by Full Swing golf simulator technology, the same simulator used by PGA Tour pros Tiger Woods, Jordan Spieth and Jason Day for off-course practice.
"We began planning over a year ago, and the idea was to highlight the talented chefs in the Panhandle-both those with established careers as well as up-and-coming chefs-and give them a space to showcase their talent and develop their businesses," said Kenzie Motai, the partnership's chief operating officer. "Destin Commons seemed perfect for the concept because it's an incredible shopping mall with a lot of traffic, and wanted to be an amenity to the many visitors that frequent it every year."
City Food Hall is open daily from 11 a.m. – 9 p.m. Sunday through Thursday, and 11 a.m. – 10 p.m. on Friday and Saturday. The venue and Swing Suites are now available for special event bookings including birthdays, happy hours, holiday parties, bachelor/bachelorette events, corporate retreats and more. Event attendees will enjoy great food, drinks, and entertainment at Destin's newest go-to gathering place.
For more information, visit www.cityfoodhall.com and follow City Food Hall Destin or Destin Commons on Facebook, Instagram, and Twitter.