Calm Economic Waters See Boaters Return to the Water
Boating is back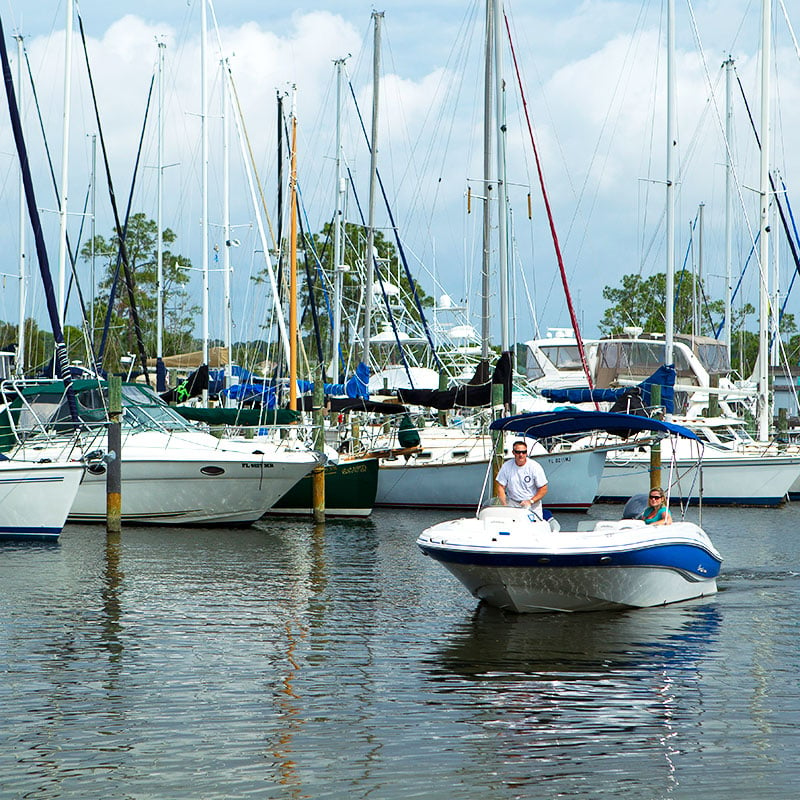 Legendary Marine was founded in 2001 in a singlewide trailer based in Destin and staffed with just three employees. By 2006, sales had become so robust at $70 million that the company, which sells and services new and used powerboats, had grown to encompass four locations and 121 full-time workers. Getting a start-up business off the ground is never an easy task, but Legendary's success was fueled in part by the fact its locations were in tourist-friendly areas of Florida's Northwest Gulf Coast that were growing quickly. Thus, a good number of prospective customers were making regular pilgrimages to Legendary's pristine slips and showrooms. And then things changed.
In the wake of the Great Recession, as the nation went about the grim business of tightening its belt, people in this area stopped building homes and condominiums, and more consumers put the kibosh on travel plans to Florida's Panhandle. At Legendary, those behaviors forced a steep drop in business, the likes of which had not been seen before. Like most seasoned veterans in the marine industry, Fred Pace, Legendary's managing partner, had already been through the ups and downs of what is a highly cyclical business, but this downturn was different. It forced his team to rethink how they did business and to quickly adapt to meet new realities in the marketplace. The BP oil spill in 2010 didn't make this challenge any easier. Yet Legendary managed to survive and now seems poised to thrive as, today, the recreational marine industry is powering up and leaving tough times in its wake.
"Business has come back significantly, and we're optimistic we'll get close to where we were in 2006," says Pace. "I think consumer sentiment is more positive, and there are more people entering the industry. That's something we weren't seeing a few years ago. Then, people were worried about their jobs and their homes, so they weren't going to buy a boat."
Navigating Rough Seas
The story of Legendary Marine is, in many ways, the story of how the savviest companies have navigated a smart course through some of roughest financial seas ever seen in the marine industry, on a state and national level. How bad did it get? In the five-year period from 2007 to 2011, sales of new boats nationally dropped 55 percent, from 280,000 boats to 135,000. "Because of the drop in retail sales, it's estimated that 40 percent of new boat dealers went out of business," says Thom Damrich, president of the National Marine Manufacturers Association (NMMA). "That's an even greater testament to people like Fred Pace."
Business owners like Pace are critical to the health of the industry as a whole since Florida plays a key role in its success. Florida consistently ranks among the top states for recreational boat sales in the country. In 2010, for instance, it ranked first with total new powerboat, motor, trailer and accessory sales reaching nearly $1.5 billion. That same year, it led all states in boat registrations, with a total of $12.4 million. While registrations are typically highest in South Florida, the Northwest corner of the state draws its fair share of boating enthusiasts, too. In 2012, there were 115,080 boats registered in the counties covered by 850 Magazine, compared with 901,969 for the entire state.
Fortunately, things are now looking up in the recreational boat business as it appears the industry has turned a corner. According to the NMMA, boat sales were up 3 percent in 2011 over 2010, and estimates show an increase of 10 percent in 2012 over 2011. The future is looking brighter for marina operators as well. Although some contend these businesses were not hit as hard as the dealerships, the recession and subsequent oil spill took their toll as vacancy rates for slips increased dramatically. Forecasts are looking sunny, though. NMMA statistics show that boat owners spent 14 percent more on operating costs (which includes docking and marina fees) in 2011 as compared with 2010, climbing from $8.5 billion to $9.9 billion, and that number may well improve.
"We're gradually clawing our way back," says Damrich. "Many of the companies that survived had to reduce their cost structures to break even at levels they did not think possible pre-recession. Yet they've found a way to make money."
The national rebound is being reflected in Northwest Florida, a welcome sign for an industry that supports more than 8,300 jobs in the region. Recreational boating had a more than $1 billion economic impact on the area in 2012, according to Todd Sumner, president of the Northwest Florida Marine Industries Association.
"Our members are seeing a steady uptick in their businesses," Sumner says. "Some are busier now than they ever have been. I think there is a lot of pent-up frustration for those who have been weathering the recession. They are now ready to get back out on water, and many needed a new boat to do that."
Survival Strategies
At Legendary Marine, a number of strategies were employed to drive revenue. Immediately following the recession, for instance, the company changed its focus from an aggressive sales mentality to a more balanced approach. They ramped up marketing efforts around Legendary's service arm to capture a greater market share of those people that they had and had not sold boats to. Providing more parts and service generated a revenue stream when sales were down. And when the economy began to pick back up, Legendary had in its portfolio a top-notch service division that made the dip in sales during the typical off-season much less severe.
And there were other initiatives. Legendary launched a marina management arm, which proved to be a steady income stream as some local marinas were taken over by banks when the recession really took a grip.
Legendary continues to explore new ideas and think out of the box, practices that Pace says have been possible because of the excellent team of professionals he has on his staff. Among those initiatives is a boat rental operation designed to lure more people to the sport. In addition, Legendary coordinates a number of cruising events for customers it has sold boats to. These events, in which representatives from the dealership travel with a fleet of owners to locations they may not be comfortable visiting on their own, go a long way toward keeping customers engaged in the sport.
"We've learned we have to adapt," says Pace. "In business, it's easy to get set in your ways, but the recession taught me how little I knew. This is a changing marketplace, but if we can embrace that fact and be willing to change, I think we'll be okay."
Bracing for a Sea Change
Change is a constant in any industry, and the recreational marine marketplace is no different. Thus, the companies that are quick to adapt and evolve often succeed. That much is true for Galati Yachts, a family-owned dealership in business since 1970 with multiple locations spanning the Gulf Coast from Florida to Texas, including a showroom and service facility in Destin. "As a child, I remember my father dealing with fuel rationing and high interest rates in the Carter days," says Joe Galati, the company president. "As anyone in our business understands, we deal with cyclical issues, so you have to be prepared to react quickly to what the economy is doing."
Galati learned that lesson the hard way following the oil spill in April of 2010. Fortunately for this dealership, the early days of the recession didn't hurt business as severely as it impacted other local companies, in part because Galati sells large (32 to 160 feet) premium-brand yachts to wealthy customers with deeper pockets. Even so, sales of new boats did slide, so this dealership ramped up its efforts to sell used yachts and repossessed models, the inventory for which was more robust than ever at the time. In addition, Galati was able to take a larger piece of the available pie as a number of other dealers had to shut their doors in these troubled times.
But the oil spill was another story. "It was quite devastating," says Galati. "Even though we didn't deal with oil of any significance on the beaches in Destin, business really slowed down. People just weren't using their boats in this area. Inlets were closed or were threatening to close. Some people chose to move their yachts out of the region." Prior to the spill, sales at Galati were going very well. But afterward, there were dramatic declines in the Destin and Orange Beach locations. "We saw a 50 to 60 percent decline in business at these locations as compared to where we should have been based on what our other locations were doing," says Galati.
To weather the storm, Galati did things like increase efforts to sell outside the region. For instance, they had a strong presence at the Miami and Ft. Lauderdale boat shows. And they made efforts to help those Destin-based customers who wanted to sell their yachts do so by finding customers in other parts of the state and country. And for those local owners who wanted to keep their boats but cruise elsewhere, Galati utilized its reputable service arm to offer boat-prep services to get those models ready to cruise in other waters, such as the Bahamas and the Keys.
The tide has turned, though. "Business has picked up considerably," says Galati. "Since February 2013, we've seen the biggest increase in sales." He attributes this growth to last summer's strong tourist season. "Business for hotels and restaurants was stimulated. So this year, it seems people are starting to talk about having fun again and getting back out onto the water." To satisfy that growing desire, Galati will continue to grow its rendezvous program, which makes it possible for its customers to cruise together as a group, to see new places and make the most of the boating lifestyle. Says Galati, "A boat owner will justify the expense of this hobby by how much he uses his yacht and how much fun he's having."
Lure of the Sea
"I see people coming back to the water," says Ryan Hinely, of Bluewater Bay Marina in Nice-ville and the executive director of the Northwest Florida Marine Industries Association (NWFMIA). "At our marina, we see foot traffic increasing. Not everyone is here to run a boat. Some people are just coming down to the restaurant to enjoy a meal and the view, or to watch a sunset. But in general, when we see that start to happen, boating typically picks up. I'm cautiously optimistic about the future."
As operations manager at Bluewater Bay, a full-service marina with 120 wet slips and 120 racks for dry stowage, Hinely has witnessed first-hand the ebbs and flows in business in recent years. "The consensus among marine industry professionals in this area is that we'll never see a year like 2007." Good riddance to that, is the general feeling among marina operators here, who saw vacancy rates for slips at some facilities hit all-time highs. At Bluewater Bay, for instance, vacancy hit 75 percent; and this occurred after the marina had enjoyed a waiting list for slips that averaged two to four years. It had always been easy for this marina to keep its slips full as it's located in one of the finest cruising areas in the country. "Things were going so well, but then business just fell off the table," says Hinely. "People with larger boats berthed in wet slips moved them out of the area following the oil spill. Those with smaller boats took them out of dry stowage and put them on trailers. Boat owners were looking to save a few hundred bucks a month any way they could. "
Bluewater also has a brokerage arm that specializes in the sale of used boats (primarily sail), yet revenues for that arm of the business dropped, too. Currently, sales are more brisk, although there is a shift in the market. Sellers are getting more realistic about pricing and lowering their sale price. In addition, there's a trend among buyers to seek out smaller boats.
This trade-down mentality is particularly prevalent in the powerboat market. Many dealers in Northwest Florida report an increased demand in boats under 30 feet and powered with fuel-efficient outboard engines. This preference is playing out among consumers along the Northwest Florida coast, and to meet the demand more dealers have added boat lines from builders of models in this category. Center console fish boats, day boats, deck boats and pontoon boats are very hot commodities in the region today.
"We're gradually clawing our way back. But many of the companies that survived had to reduce their cost structures to break even at levels they did not think possible pre-recession. Yet they've found a way to make money." —Thom Damrich, President of the NMMA
Interestingly, the small-boat craze has hit the local charter fishing industry, too. This is according to Hinely, who often connects with captains in the local fleet in his role with the NWFMIA, a nonprofit created in 1986 to advance the growth of the recreational boating industry and to promote the protection of the local inland and coastal waterways. Following the oil spill, the charter fleet was fortunate to see a good volume of customers pay for its services. "But the dynamic changed," says Hinely. "People weren't lining up to fish from the large 50-foot convertible fishing boats for full-day trips in deep water. They were more interested in paying for time aboard smaller boats that did shorter trips and charged less money."
That preference hasn't changed in recent years, which is why there seem to be more small- to mid-sized fishing boats available for charter in the area today. "These customers are content to spend a few hours on a smaller boat casting lines in the bay rather than going offshore on a big yacht and targeting larger species of fish," says Hinely.
And there are other trends afloat in the Northwest Florida market. Some dealers, including Legendary, report the return of the entry-level buyer, the consumer who is buying his first boat. That's good news for the marine industry, as this type of buyer practically disappeared in the dark days of 2008. And the increase of entry-level buyers is fueling that demand for boats in the 20-foot class, particularly day boats and pontoons that are built to be multi-purpose craft for families who want to cruise, fish, ski and enjoy a full day on the water.
And then there are the people who love the boating lifestyle but aren't quite ready to make the commitment to boat ownership. There seem to be more of them on the horizon as boat clubs in the region are getting more traffic.
At Freedom Boat Club in Destin, owner Brian Gwinnup says more people are getting into the club scene. His company, which is one of 65 franchises located throughout the U.S., owns a fleet of boats sized from 20 to 25 feet that are available for members to use at any time. Members pay $249 per month for access to the boats, but they don't have to worry about maintenance, insurance or upkeep. They take the keys and cruise for a few hours, then return the boat back to Freedom. "Clubs are great options for people who don't' want the hassles of ownership; they want simplicity," says Gwinnup.
That trend is playing out over in Pensacola, too, where membership is up at Harbor View Boat Club. The club is one revenue stream for parent company Harbor View Marine, a 30-year-old company with a full-service marina and a sales operation for new and used boats. In the course of three decades, owners Hellon and Darrell Robinson have grown their business from a simple service center to what it is today. In the past, boat club memberships were sold and managed through Harbor View Marine's boat sales staff, but the Robinsons recently dedicated their time and creativity to the marketing of club memberships. "The club is a small part of what we do, but it does generate a good deal of income for us and it's another way to expand our business," says Hellon. "The club appeals to people who are looking for a fixed amount of money to spend on boating each month. They want to know exactly how much they'll have to spend." By comparison, a boat owner has to plan for expenses associated with service, storage, fuel and the like, in addition to the cost of the actual boat.
Business at the Robinson's boat club is in full swing, and so are sales for boats and services offered across the board. "Our boat sales have been tremendous this year," says Hellon, whose company carries a few types of boats, including pontoons and fishing boats. There's been a gradual increase in customer demand for new and used boats, as well as for slips, parts and service at Harbor View Marine, "but this year seems to be a little bit beyond our expectations," says Hellon. "I think people are feeling some relief from the recession and are ready to spend money on the things they enjoy."
Those who relish the boating lifestyle do seem to be more willing to open their wallets these days. At least that's what retailer West Marine is banking on. The company, which is the largest specialty retailer of boating supplies and accessories with nearly 300 stores, recently opened a new location in Tallahassee, which is double the size of its previous store in that city. This new store, the largest West Marine location in the Panhandle, contains a much larger selection of boating, fishing and water sports gear and accessories. "This is a one-stop shop that can cover all the needs of our customers," says Tim Winget, the store manager. "We offer a huge selection for customers in Tallahassee and the surrounding areas. Customers will come from as far as 170 miles away. They'll drive the distance to our store because they know we have the best selection. And the trip is worth it because we bill the store as a destination location."
Industry veterans say operations like West Marine, and boat clubs such as Harbor View and Freedom, will succeed in large part for the high level of customer service that's offered. In fact, good customer service appears to be a trademark of most marine companies that are now positioned for growth in the future.
"I can't reiterate enough what courtesy can do for a marine business," says Hinely. "People don't always understand that. Customer service goes a long way in this industry. Boats are bought with disposable income. No one needs a boat. But owners want the experience to be enjoyable and to be fun. They want to know that the old adage is true: A bad day on the water beats a good day at the office."