Building the 'Cool Factor'
New projects appeal to young professionals and sense of community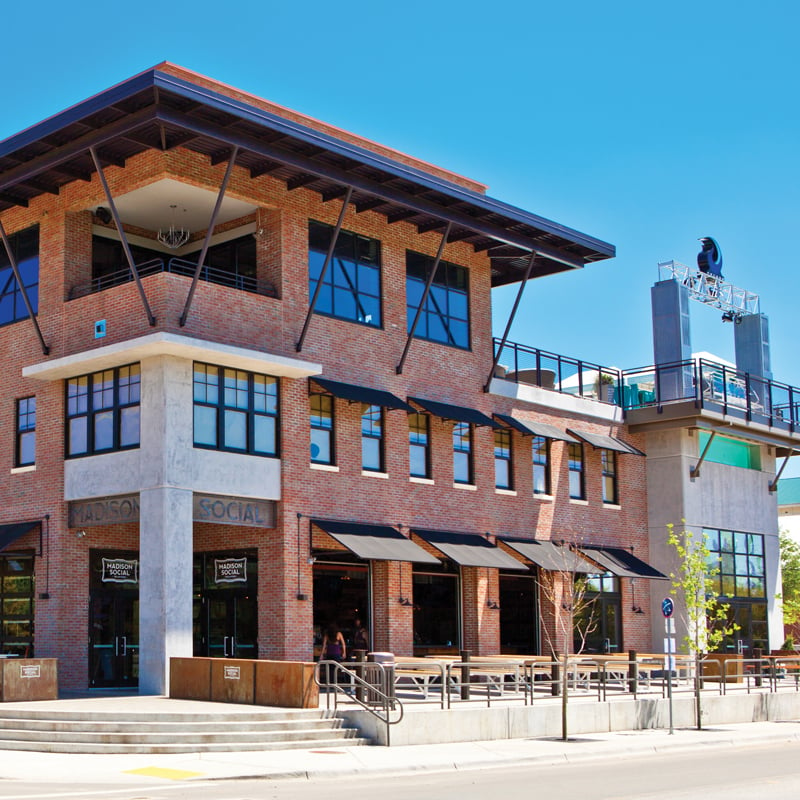 In the middle of the Great Recession, Tallahassee targeted two areas for growth that had lay dormant for years. Now, the CollegeTown and Cascades Park areas are beginning to sprout.
CollegeTown is a bustling strip of mixed-use commercial/residential development featuring bars, restaurants and apartments located between Madison Avenue and Gaines Street near the FSU campus.
A stone's throw away from Doak Campbell Stadium, the idea for CollegeTown began in 2008 when the FSU Boosters, which owned the land, began looking for ways to improve it.
Matt Burke
Dotted with abandoned warehouses and used mainly as parking lots during FSU home games, the patch of land sat moribund and decrepit. Will Butler, president of Real Estate Insync, the development firm that would oversee the first phase of CollegeTown, called the area "dilapidated." His client, the FSU Boosters, began looking for ways to improve the land.
"'There's got to be a higher and better use for this property,'" Butler recalled Boosters CEO Andy Miller saying.
Now, the area has the beginnings of a connected, walkable strip of condominiums, shops and bars that provides the simulacrum of an urban lifestyle while retaining the charm of a traditional college campus.
Students flock to CollegeTown, and game day crowds are drawn in as well. The Madison Social bar and restaurant has been the lynchpin of the area's early success, packing in throngs of people even during Tallahassee's down time in the summer months. USA soccer games during the World Cup were standing room-only affairs. Though other businesses have not fared as well (one sushi restaurant has already folded up), CollegeTown is still a hub of activity — and it's only in its first phase of development.
Butler said the first phase was designed to attract the co-eds, but later phases adding possible hotels, grocery stores and condo complexes will target the young professional demographic. In other words, giving graduates a reason to stay after receiving their sheepskin.
"I think Tallahassee is increasing its cool factor," said Kyle Touchstone, executive vice president of the Tallahassee-Leon County Economic Development Council. "I think most young professionals want to be somewhere that's cool, that's walkable."
But Touchstone also noted providing jobs for new graduates is essential to prevent the annual exodus of brains to Miami, Orlando, Tampa or other points beyond.
CollegeTown has also spurred development in nearby areas. New apartment and parking garage structures are being built in and around the campus area. Hiring and spending have been boosted; part of the desired spillover effect.
"I really believe this is Tallahassee's future. It's beginning just as a student experience, but it truly is Tallahassee growing," said Butler.
For the downtown crowd, the city had a different idea for a walkable diversion.
Cascades Park is located on 24-acre patch between Lafayette Street and Suwannee Street, where Smokey Hollow, the famous neighborhood that was home to many preeminent African-Americans, once stood.
The fate of the land for the park was a source of contention for decades after the city bought the land around Smokey Hollow in the 1960s but left it bare. When it wasn't barren, the land was used as a "garbage dump," according to Wayne Tedder, director of the Tallahassee-Leon County Planning Department who oversaw the development of Cascades. He now says the park, which seeks to honor the character, look and feel of the old neighborhood, has provided a sense of catharsis for those who remember the legacy of Smokey Hollow.
"To be quite honest with you, it's sort of a healing," Tedder said. "We tried to capture that feeling and bring back the neighborhood for them."
The park consists of a playground, running and biking trails, a large pond centered on a spouting fountain (that also functions as a drainage area during rainy seasons) and a 3,500-seat amphitheater. There's also an area for kids with 73 mini water spouts erupting out of the ground, dubbed the "Imagination Fountain," that puts on a light show on weekend nights. It's all interlaid with brick and provides a realm of relative peace and quiet that seems miles away from the nearby whir of traffic and the bustle of the Capitol and state agency buildings.
Aided by a 1 percent sales tax increase approved by voters in 2000, the Cascades Park area is part of Tallahassee's Blueprint 2000 plan to spur development and growth around the city. Coming on the heels of the redevelopment of the adjacent Franklin Road area, Tedder has high hopes for more improvements in the vicinity.
"I think you're going to see an incredible transformation of that area," Tedder said. He added that homes in the area are selling faster and property values are rising, despite occasional complaints from some residents about the noise during concerts.
The amphitheater, once just another feature of the park, could be a "revenue-generator for our community," according to Tedder.
But local officials know the burgeoning success of the CollegeTown and Cascades Park areas could be fragile and must be maintained in order to be sustained — especially if additional development is to spurt in neighboring areas — to prevent the eventual neglect and decay that once left the lands to lie fallow for so long.
Meanwhile, new developments along Gaines Street with an eye toward connecting CollegeTown to downtown are in the works.
"We can't stop investing in ourselves. We can't forget about our existing business base," said Touchstone.
To do that, Tallahassee has to keep and build upon its "cool factor."