Building Blocks
Customs facility advances Tallahassee toward world stage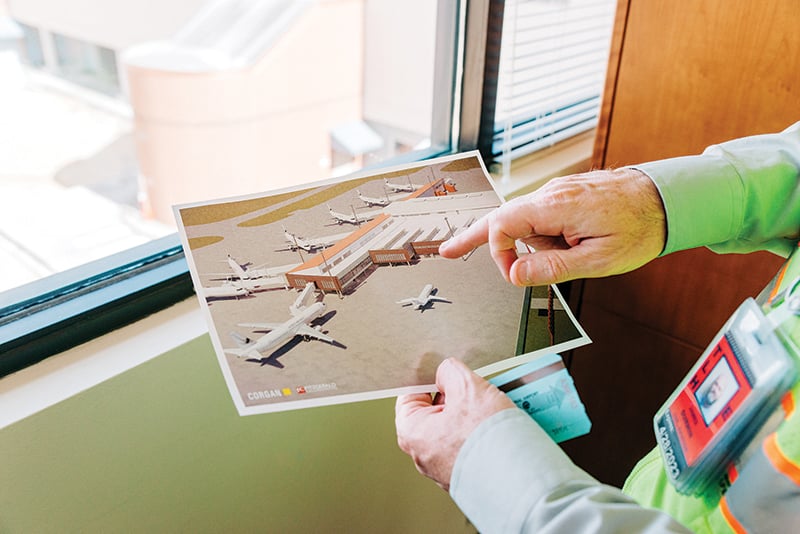 Anyone flying through Tallahassee's airport over the last few years has likely noticed subtle and not-so-subtle changes. Capital Circle SW has been expanded to three lanes for most of the stretch from Tennessee Street to the airport. Interior renovations have been made to the facilities. Restaurants have been upgraded, and more business-friendly amenities have popped up around the terminal.
The man responsible for many of the improvements over the past 30 years is Tallahassee International Airport director of aviation David Pollard. He started at TLH in 1994 and worked in airport operations and as deputy director.
His latest project is to open Tallahassee up to the rest of the world, taking the Tallahassee International Airport beyond a branding change to becoming truly international.
"Building blocks is how I like to refer to it," Pollard said, regarding getting Customs facilities at TLH. "It's been a long time coming."
First came a new name and logo change in 2014. It's been nearly a decade since proposed actions were first discussed with the City Commission, which approved the proposal after coordination with the Federal Aviation Administration, U.S. Customs and Border Protection and the Transportation Security Administration. Technical design standards from the U.S. CBP are highly specific.
"Part of the design envisions and entails an ability for the public to come into the facility from our regular parking lot," Pollard explained.
Consumers will be able to come into the terminal like they normally do, but there will be a designated area for business owners to work with Customs on import and export needs. Customs will also require the synergistic efforts of several security agencies that all need office space in the new facility, as well as facilities to receive and review goods and services for international trade and travel.
"I take very seriously our efforts to become a major economic driver for not just this city or this county, but for the entire Northwest Florida region," Pollard said.
Adding Customs will increase economic vitality by making Tallahassee a prime location for larger, international companies who require a portal to international trade.
"I call it competitive posturing. We are able to check that box, and we stay in contention for possible business opportunities," Pollard explained. "This is an investment for our community that will bring growth, both in jobs and in business."
Customs is not the only ongoing project at TLH. Frequent fliers might notice subtle changes and upgrades going into effect, like Dunkin' Donuts and stations for customers to work while awaiting their flights. These are all part of the City Commission's five-year plan to boost economic growth in the region.
"The key to me is to be as business-friendly as we can. To provide a safe, secure, efficient, customer-friendly experience," Pollard said.
But the Customs facility will be what really puts Tallahassee on the global stage.
"In terms of passengers, we separate those out," Pollard said. "Domestic passengers won't really notice any real change other than the construction effort that's in motion now."
For the most part, it will be business as usual for national fliers but "there will be two international gates down at the end of our B concourse," which will act as swing gates, capable of diverting global fliers toward Customs agents, where they can officially cross the border into the U.S.
Pollard emphasized that the expansion does not mean Tallahasseeans should get ready to book regular outgoing flights to London, Paris or Rome, though he wants that to be an ongoing conversation moving forward. However, having U.S. CBP in Tallahassee "opens the door to this community and region."
The next step in the process is a Foreign Trade Zone application with the International Trade Administration, which will encompass nine counties in North Florida from Gulf County east to the I-75 corridor with an eye toward future expansion into South Georgia.
The director of aviation is always looking for ways to improve the airport. And though global passenger flights might be years away, Pollard believes Customs will be the first brick in building a gateway from Tallahassee to the rest of the world.
---