Behind the Grind
Pensacola podcast puts listeners in touch with mentors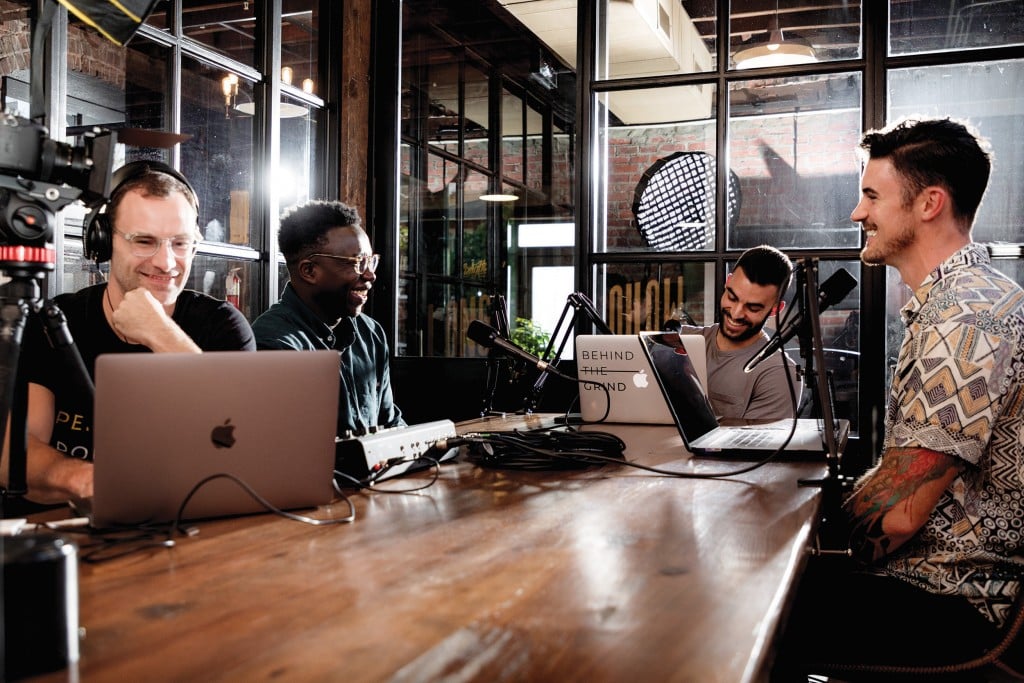 Jimmy O'Donovan set out for his usual workout at the Downtown YMCA in Pensacola prepared to sweat, but it wasn't the StairMaster or shoulder press reps that brought the heat.
Tucker Massey, a University of West Florida graduate and personal trainer, had waltzed up and dropped on O'Donovan a daunting question.
"What do you want to do with your life?"
Three years later, sitting in their studio at Long Hollow Creatives in Pensacola, the close friends, business partners and podcasting co-hosts think back to Massey's audacity and laugh.
"That's just the kind of person I am," Massey said. "I was at a time in my life where I didn't have any mentors, any friends who were into business, and I was trying to surround myself with people that had the same goals and vision I did."
The unconventional icebreaker led to weekly business discussions over coffee. Coffee dates turned into entrepreneurial experiments and, one day, a sudden realization.
"There's plenty of entrepreneurship in Pensacola, but we noticed it wasn't really being discussed the way it was in larger cities," said O'Donovan, an operations manager for Volume One Salon. "Tucker and I both knew the struggles of finding a mentor or a go-to source from whom we could seek advice and ask questions. So, we came up with Behind the Grind to connect aspiring entrepreneurs of Pensacola to high-performing individuals in various fields."
Airing every Monday on Apple Podcasts, Google Podcasts and Spotify, Behind the Grind has featured florists and food truck owners, CPAs and investors. The podcast achieved a couple of milestones in the fall: its first birthday and ı0,000 streams.
But to succeed, the pair says, they first had to fail.
"I think our first episode was about five minutes long and took two hours to produce," said Massey, owner and personal trainer of Tuck Training in Pensacola. "Very quickly, we found out how bad we are at producing a podcast, and we always said we'd treat Behind the Grind like we're growing a business. And while business owners wear many different hats, there's going to be a point you reach where you hit a plateau."
The addition of producer Ryan O'Keeley of Pensacola proved fruitful, allowing the two to focus on acquiring guests and upgrading their studio, which went from Massey's kitchen counter to a cozy co-op space at Pensacola's Long Hollow Creatives.
Episodes, which now run 45 minutes to an hour, immerse listeners in what the two call an "entrepreneurial think tank," covering topics such as mastering social media, forging partnerships and taking startups to the next level.
O'Donovan and Massey prefer an organic approach, typically leading with a guest's background and allowing concepts to flow from there. A few scripted questions, such as, "What's one piece of advice you would give your younger self?" and "What content are you currently consuming?" allow for further insight.
"Anytime we book a guest or someone approaches us, our first concern is the intention," O'Donovan said. "What value will they bring to our listeners? Say somebody is stuck financially with their business. Our biggest hope is that you could cycle through our list and see we sat down with an accountant two weeks ago, and the solution you need is found there."
For Massey, one of the most cherished conversations to date was with Quint Studer, one of Pensacola's leading entrepreneurs and a major contributor to the revitalization of the city's downtown.
That episode, focusing on building business with transparency, explored Studer's humble beginnings, his approach to leadership and appetite for improving Pensacola's quality of life.
"I teach a course at Cornell University in Washington, and they always ask me how I began my career, assuming there was this little stair-step, perfect approach," Studer said. "But most of us aren't perfect. And that's why my message to them is always to get yourself right first. Entrepreneurship starts on the inside to help us become successful on the outside."
Studer, a mentor to many, described a particular relationship with a New York City man who had hit some "bumps" in his career due to his personal life. He was in a toxic relationship, battling inner demons and, despite his perfect pedigree, unable to climb the proverbial ladder.
"He got right with himself and, just yesterday, called me saying he'd received a job offer," Studer said. "We often miss our calling because we get caught up in other things."
Both Massey and O'Donovan said the best thing that could come from an episode is for a listener to identify a mentor they would be comfortable approaching, someone who might aid their progress.
"We both understand how difficult it is to walk up to someone and ask for their mentorship, but we hope our episodes can provide an easy introduction," said Massey. "Having listeners feel confident just saying, 'Hey, I heard you on an episode of Behind the Grind, would you be interested in going for a coffee sometime?' means a lot to us."
The hosts stay at the forefront of business podcasting and plan to pack 202ı with more Pensacola-based interviews and from there, expand regionally and nationally. The response, they say, "has been surreal, and if we do a good enough job where people enjoy this, then we're going to keep doing it."
"We realize everybody's time is valuable, and they could be doing or listening to something else, but they choose to spend 45 minutes of their day listening to us ramble," Massey said. "Hopefully, they've learned something they can apply to their business or life, and hopefully, it makes an impact."