Amy Miller on Reinventing the Port of Pensacola
Depressed oil market fuels new direction — toward science, research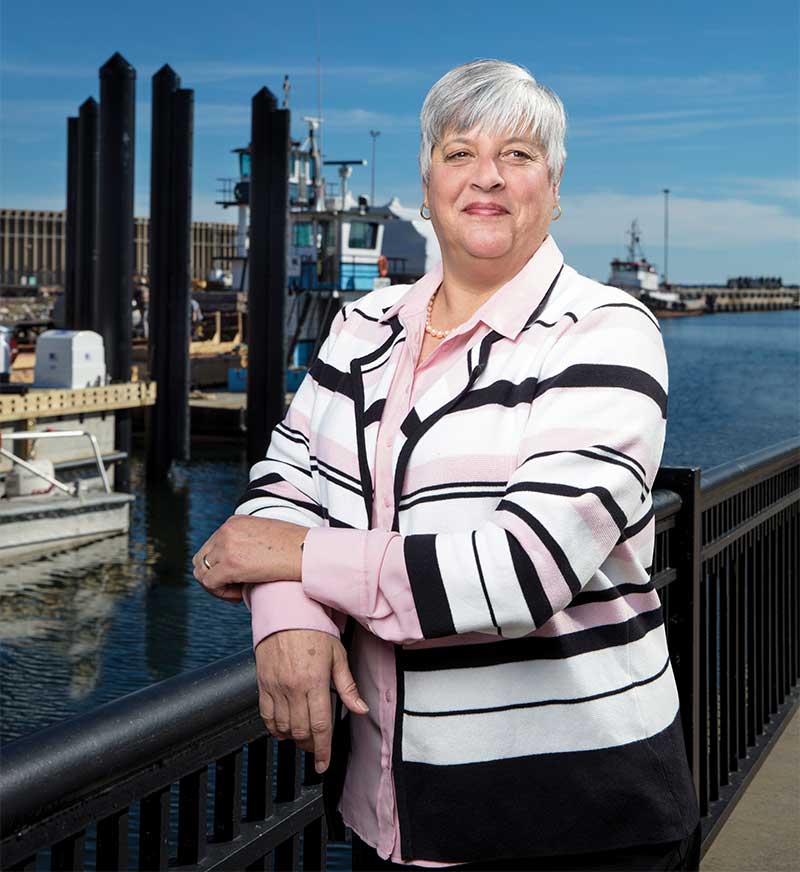 Plummeting oil prices continue to take a toll on operations tied to global petroleum, and the Port of Pensacola is not spared, necessitating new thinking.
"This past fiscal year was the worst I've ever seen in my 25-plus-year career," said Port Director Amy Miller. "The negative effects of the depressed oil market on Port of Pensacola were, in my mind, second only to negative impacts of the 1998 crash of the Russian ruble on the Port of Gulfport's export poultry business."
In the past year, city officials have seen the port's revenues fall significantly — along with hopes of expanding into the offshore oil and gas sector. Though annual revenue fluctuates, depending on specific cargo volumes moved by customers and any grants awarded to the port, it generally ranges from $1.5 million to $2.5 million.
For 2017, total revenues were $1.6 million with $1.24 million generated from port operations and $360,000 in grant receipts. That's down from 2016 when annual revenue totaled $2.6 million with $1.85 million generated from port operations and $750,000 in grant receipts.
"For the first time in a long time, we had to take money out of reserves," Miller said.
The port generates revenue from three sources — vessel and dockage fees, wharf fees charged on cargo moving through the facility and facility-use fees, which includes rent on warehouses — and the flat oil market is affecting each one.
In recent years, the majority of the port's vessel dockage days were from offshore oil and gas rigs as well as well and pipeline construction vessels heading in for project mobilizations, project demobilizations and top-side repair and maintenance work, Miller said.
"When the oil market collapsed, new exploration of offshore subsea oilfields halted and production slowed," she said. "This meant there was no work for those vessels that had been coming into port to load up for jobs or unload left-over materials from completed jobs.
Further, with no jobs in sight, the vessel owners didn't want to spend available capital on maintenance and repair work that could be deferred until market conditions improve. With those vessels no longer coming into port, total vessel dockage days fell dramatically."
A Hybrid Port
To combat the downward trend, Miller and her staff are heavily focused on generating new revenue streams.
"We are out there marketing and doing what we can to attract new customers," she said. "It's a little bit of everything. There are major industry conferences we go to on the cargo side and the offshore side. … We make sure we stay in constant contact with all our local manufacturers, and we stay in contact with all the ships' agents, all the way from New Orleans to Panama City. … This port frequently ships lumber, so by experience, I know who most of the lumber brokers are in the Southeast."
Still, the persistent losses have begun to change the way Pensacola officials view the port. When viewed in its current state, the operation's appeal is less apparent. When viewed simply as prime real estate — roughly 50 acres of restricted land and 30 acres unrestricted — its potential seems limitless.
In the past year, the port's dwindling revenues have prompted city officials to question not only its value and relevance but also the possibility of using the waterfront property in new ways.
Assistant City Administrator Keith Wilkins said the goal must be transitioning the port into the future.
"The port has been profitable for the past 13 or 14 years," he said. "Petroleum being down is kind of out of our control, but what we can do to make it more profitable?"
Miller said the solution lies in a blend of the old and the new.
"I don't believe that we abandon cargo," she said. "We have local and regional shippers who rely on this port, and I think it's important for the economy of our region.
Along with Pensacola Mayor Ashton Hayward, Miller also supports the emerging "hybrid port" concept.
"Over the coming years, I believe you will see the port undergo a transformation that will allow continued international shipping and international trade activity at the commercial docks and warehouses but which will transition the remainder of the port's assets — many of which are currently underutilized — to new, more diversified uses," she said.
To that end, the city is currently looking at the potential redevelopment of the port's available land, parking lots and one 43,000-square-foot warehouse being considered for a new marine research center headed by the Florida Institute for Human and Machine Cognition.
Dynamic Ocean Technologies
One of the first tangible examples of Pensacola embracing the hybrid port concept is the city's November application to Triumph Gulf Coast for $15 million in BP oil-spill money to house the Northwest Center for Dynamic Ocean Technologies at Port of Pensacola Warehouse 4. The CDOT's scope of work is broad, ranging from the ocean technologies needed to test the complexity of ecosystems to actual ocean research innovations in aquaculture and the control of invasive species.
Half of the $15 million would be used to rehab the port warehouse with a new roof and other repairs and build a berth for docking research vessels. The remainder would fund the program's research functions.
Another $8 million from several of the CDOT's 13 partners— City of Pensacola, Florida Institute for Human and Machine Cognition, University of West Florida, Florida Fish and Wildlife Conservation Commission, Pensacola and Perdido Bays Estuary Program, Escambia County Board of County Commissioners, Cobalt Intelligence LLC, Pensacola Bay Oyster Company, Pensacola State College, Naval Surface Warfare Center, Naval Experimental Dive Unit, Air Force Research Laboratory and Visit Pensacola—brings the project's total price tag to $23 million.
"The repurposing of the warehouse facility with cutting-edge science and research to innovate and develop ocean technologies benefits the city, county and Northwest Florida through high-wage job creation, career pathways and internships, technology transfer, private sector investments and small company spinoffs," said Julie Sheppard, general counsel for the IHMC.
Sheppard said the CDOT's initial job creation includes 25 immediate jobs with salaries ranging from $60,000 to $150,000. Work on the project is ongoing, and the center is expected to be up and running 9 to 12 months after receiving funding approval, she added.
Wilkins agreed, calling the CDOT, which would sit on the extreme northwest corner of the port, "a perfect fit."
"Any kind of research and development direction is a good direction for us to go," he said. "It's clean industry, high-paying jobs, and it's a perfect re-use right there on the water."
Miller agreed, adding that she remains hopeful cargo activity will rebound but, meanwhile, she is excited to see new ventures at the port.
"I'm enthusiastic that pursuing the kind of diversified, hybrid port development that the mayor supports … a robust mix of business types and activities that, ultimately, will improve the port's financial position and sustainability," she said.