Affordable Housing is at a Premium Post-Hurricane
How Bay County is working to solve the housing crisis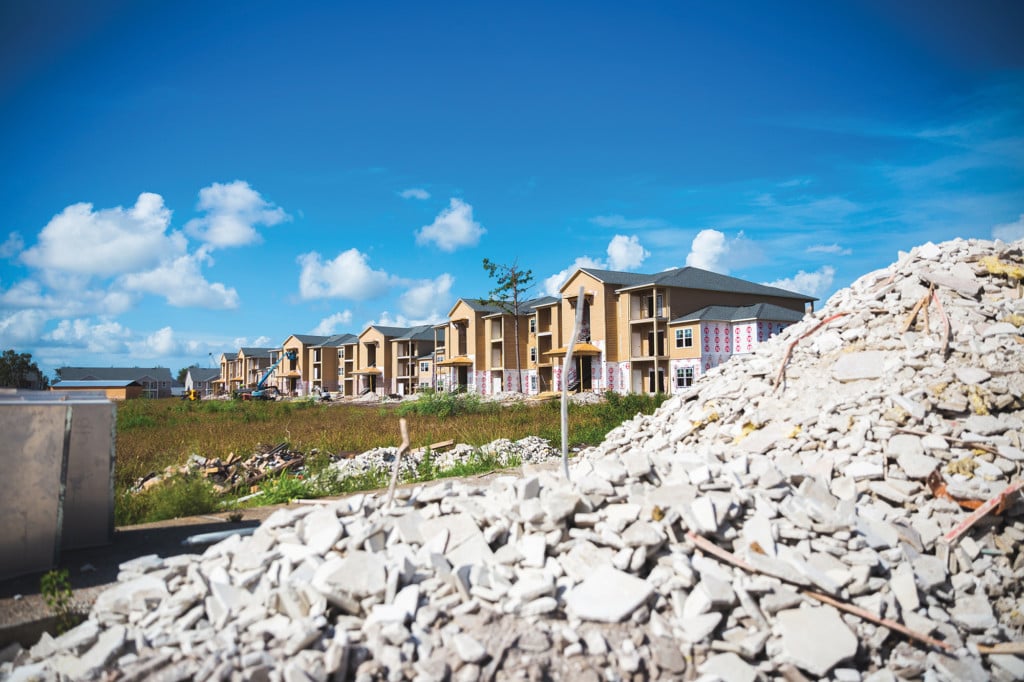 In the months since Hurricane Michael reconfigured a wide swath of Northwest Florida, Bay County Manager Bob Majka has asked staff to exercise "compassion, flexibility and common sense" in dealing with residents.
In October, when traditional code enforcement activity resumed in the county, doing so became more subjective and complicated.
Of late, code enforcement personnel have coordinated with the Property Appraiser's Office to understand where residents are in their recovery efforts.
"We understand that a lot of residents are struggling to come up with permanent replacement housing, dealing with insurance companies and struggling to find contractors," Majka said.
"We want to make sure we have our fingers on the pulse of that activity. The property appraiser informed us where damaged properties are located, and code enforcement officers have worked their respective zones and interacted with tenants and property owners and documented their circumstances."
As of October, Majka anticipates, code enforcement officers will approach magistrates recommending leniency in some cases and a "clean-and-lien" approach in others.
"Everyone will be entitled to due process," Majka said. "That's important for tenants and property owners — and their neighbors. We expect that when some property owners make an appearance before a magistrate, they will be assigned a firm deadline for getting their situations resolved. The assignment of that date lets neighbors know what to expect. They may wish that things could move along more quickly, but at least they know that the county is monitoring things."
Majka said that in cases involving properties where no progress toward restoration is being made, the county will take steps to make sure that problems with rodents or squatters are not allowed to fester and that unsafe conditions are eliminated.
"We don't want properties that have been abandoned or neglected to become a burden on neighborhoods," Majka said.
The scope of the county's housing crisis is considerable.
Of 8,400 apartments in the county, some 4,600 were damaged, Majka said. Of those, approximately 1,200 were rendered unlivable. In addition, two public housing developments, Massalina Commons and Fletcher Black, both located in Panama City, were destroyed.
Majka explained that 70 percent of Bay County residences are rentals, but FEMA's individual housing assistance programs are geared primarily to homeowners.
"FEMA might provide temporary housing in the form of an RV placed in the driveway or yard of a home," Majka explained. "The hurricane survivor then lives in that vehicle while his house is being repaired or rebuilt.
"But if you have a heavily damaged apartment complex, you can't go in there and park 150 RVs on the property."
As a consequence, displaced people have had to compete for available rental units, move in with friends or family, or get out of Dodge.
"We had an affordable housing problem before the storm," said Michael Johnson, the City of Panama City's community development director. "And the storm made it that much worse."
Rents in some locations have quadrupled since the storm and house prices have jumped in response to what Johnson called an "artificial seller's market." He placed the average price of a new, medium-size home at $334,000.
Remedies to the affordable housing shortage, Johnson said, may include:
3D printed homes. The printer churns out layers of cement, which, as they build up, form the walls of the home. Non-printed fixtures like doors and windows are installed later. Houses can be erected in a matter of days.
Tiny houses. Johnson said a tiny house development in Callaway will feature three floor plans.
Container houses. While historically "not very aesthetic," Johnson said, they are getting better. Today, some units feature vinyl siding or brick fascia.
Rental housing. In sight, Johnson said, is a 2.5-acre development that will be home to 900-square-foot apartments.
Needed, too, Johnson said, will be senior housing and permanent support housing for people living with disabilities.
Despite rising houses prices, transactions are occurring as a function of demand.
"One developer closed on 100 units in January and again in February," Majka said. "But the pinch point is workforce housing for firefighters, public safety employees and teachers. We're seeing people who are entry-level engineers and other beginning professionals who are finding it difficult to locate affordable housing."
"We need to get our workers back," Johnson said. He anticipates that housing inventory will be restored in waves occurring one, three and five years after the storm.
Majka wants the housing marketplace to know that he is willing to consider all possibilities.
"Now that the president has signed the supplemental disaster aid bill, we are waiting for eligibility criteria to be written in Washington so we can get a rough idea as to how much federal money will be coming our way," Majka said. "In the interim, we are making sure that our housing plan in updated, and that we are in a position to use those dollars across as many options as possible when they arrive. We want to have our toe on the starting line."
Majka anticipates that Bay County will be better able to withstand a future hurricane, should one occur.
"Damaged properties, when they come back online, will have been made consistent with today's building codes," he said. "And, there have been changes in standards for public housing. Those developments won't come back the same way. More attention will be paid to quality-of-life issues and recreational components."
Plus, Majka noted, the county is home today to far fewer trees posing a threat to structures than it was prior to the storm.
"It is a shame that we lost so much of our tree canopy," he said. "But that may be a silver lining. Those trees won't be around to cause damage again."