Everything You Need to Know About The Freight Yard Complex Coming to Tallahassee's All Saints District
The 28 units, as well as the first-floor retail spaces, will be built entirely of used shipping containers.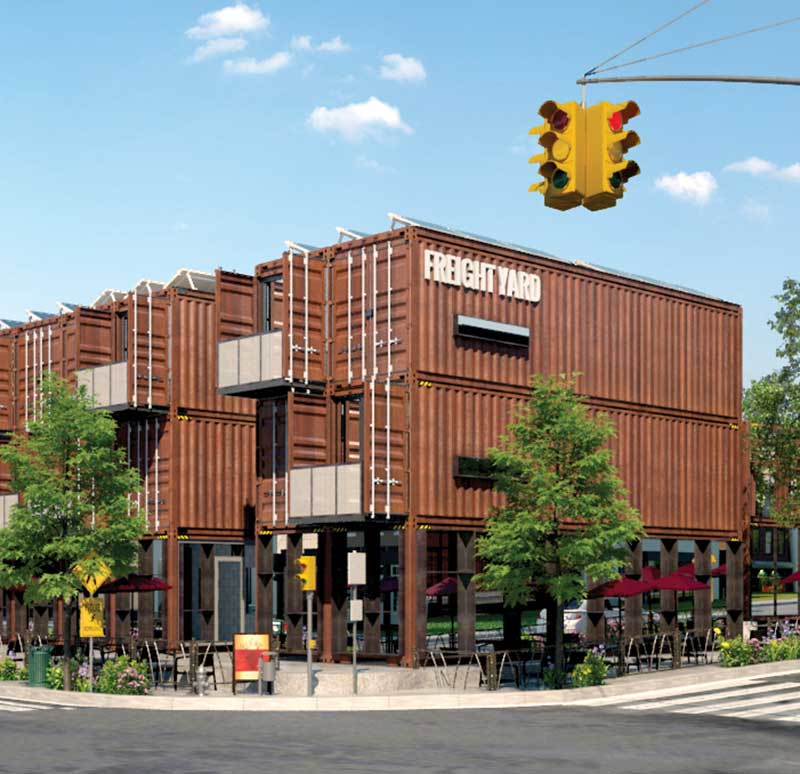 A big change is coming to the high-visibility intersection of Gaines Street and Railroad Avenue.
In November, construction began on The Freight Yard, a mixed-use residential and commercial project that aims for a small carbon footprint.
The complex will be powered by solar panels and planted with greenery native to North Florida. But it's The Freight Yard's building materials that have attracted the most attention: The 28 units, as well as the first-floor retail spaces, will be built entirely of used shipping containers.
Welded of heavy-duty aluminum or steel and necessarily built to be tough, the uniformity of shipping containers allows them to be moved seamlessly between ships, trucks and trains. Around 17 million containers are in circulation right now, according to the World Shipping Council, transporting almost any type of goods or materials you can imagine.
When sending a shipping container back to its port of origin is too costly, it sits unused and empty — the fate of millions of containers in a global economy. Repurposing them has therefore become one of the principal symbols of upcycling: creating an object of greater value from something worth less.
Paul Bradshaw, the investor behind The Freight Yard, is a familiar name in Tallahassee. He founded the Southern Strategy Group, a lobbying firm with offices in five states, and he and his wife, Sally, own several commercial tracts in Tallahassee known as Blue Dog Investments. He's also a big fan of upcycling.
"The ultimate upcycling tack is to take a shipping container that carries Happy Meal toys from China to America, and to turn it into one of the building blocks of everyday life," he said.
The Bradshaws also raise rare chicken breeds on a farm in Havana, Florida. The farm is solar-powered and features a small office building built using a shipping container.
Unusual materials
Blue Dog Investments purchased 1.5 acres of Railroad Avenue real estate in July 2016. Soon after, Bradshaw hosted a "charrette" — an architectural planning meeting — with community members to gain input on the project. "We talked about what could happen there that would make people not just comfortable, but proud," Bradshaw said.
"We wanted to do a project that people would look at, not just in Tallahassee but around the country and globe, and say, 'that's how projects should be built.' But I also think there is a value-add that the market is going to respond to … We give the opportunity for people to vote with their wallets, to rent from a place that addresses global warming."
Bradshaw hired Phoenix-based architect Wes James to design The Freight Yard. When he was first approached to build a project in Phoenix three years ago, James explained, there was no U.S. precedent for multifamily homes built using shipping containers. "You'll see a ton of projects online that have crazy cantilevers, but most of those are renderings of custom-built homes that are above market rate," he said. "There's a big disparity between what you see online and what you can afford to build."
Unusual building materials can represent challenges in meeting building codes and financing. "We build our projects just like any other commercial building, we're built to code like any other project. But banks don't know what to make of shipping container projects," James said.
He continued, "That's one of the reasons we did apartments. Apartments are a stepping stone to creating condos or a townhome model with shipping containers."
The Freight Yard therefore gets shipping container housing closer to the mainstream. Though it costs more to build with shipping containers than with concrete or stucco, Bradshaw believes that interest is there. "Your housing choice is the single biggest choice you can make when it comes to the environment," he said.
High-end appeal
Brandy Rinehart, whom Bradshaw hired to design the apartment interiors, extended the upcycling concept to the interior of the container apartments by avoiding the use of new raw materials wherever possible. Key design flourishes also signal the imperative of creative reuse. For example, Rinehart's plans call for mounting components cut out from the body of the container inside each apartment, for countertops of recycled pulp paper, and plywood floors finished with epoxy resin.
"I didn't want the outside to be a shipping container, and the inside to look like every other place in Tallahassee," she said. "Hopefully developers see it, homeowners see it, and they see that [the shipping container home] can be impressive and luxurious and nice."

Rinehart's design decisions were also intended to appeal to the high-end market, with smart electrical systems and luxury appliances such as a true countertop-depth refrigerator.
Associating shipping containers with luxury would seem to be paradoxical, but Bradshaw has suggested that "differential between the exterior experience and the internal arrival" is what makes the project cool.
The outsides of the shipping containers are sandblasted to look rough, while the inside experience is designed to mimic a luxury apartment in New York City, he said. "The ceilings are tall, the appliances are expensive but efficient. You have the rough industrial exterior and the cool modern interior," Bradshaw said.
The Freight Yard will also have some of the largest one-bedroom, one-bath apartments in the area, noted Bradshaw, at 700 square feet.
Lower carbon footprint
In addition to material reuse, several other aspects of The Freight Yard contribute to a lower carbon footprint. The Freight Yard will have "one of the biggest solar arrays in Tallahassee," Bradshaw said. The location of the project also makes it appealing to people who would like to walk or bike instead of drive — its website touts The Freight Yard's proximity to FSU, FAMU, state offices, Domi Station, Cascades Park and Railroad Square.
As for the retail space, Bradshaw has committed to renting to local businesses. "You're not going to see a national chain," he said.
The Freight Yard's location and design is intended to attract notice. "Our previous shipping container projects were more introverted," said Wes James. "The Freight Yard is open-facing to the neighborhood. The balconies face the streets; the commercial development is all open to the street in the second phase of the project."
And yet it's not a high-rise, James noted. "We wanted to keep it in scale for the neighborhood. Not just Tallahassee, but All Saints."
Phase One of The Freight Yard — the first 12 apartments — will be completed by June 2018. "If the market responds well, we'll immediately gear up for the second phase," Bradshaw said.