A Lucrative Alternative
Workforce training programs can lead to high-wage careers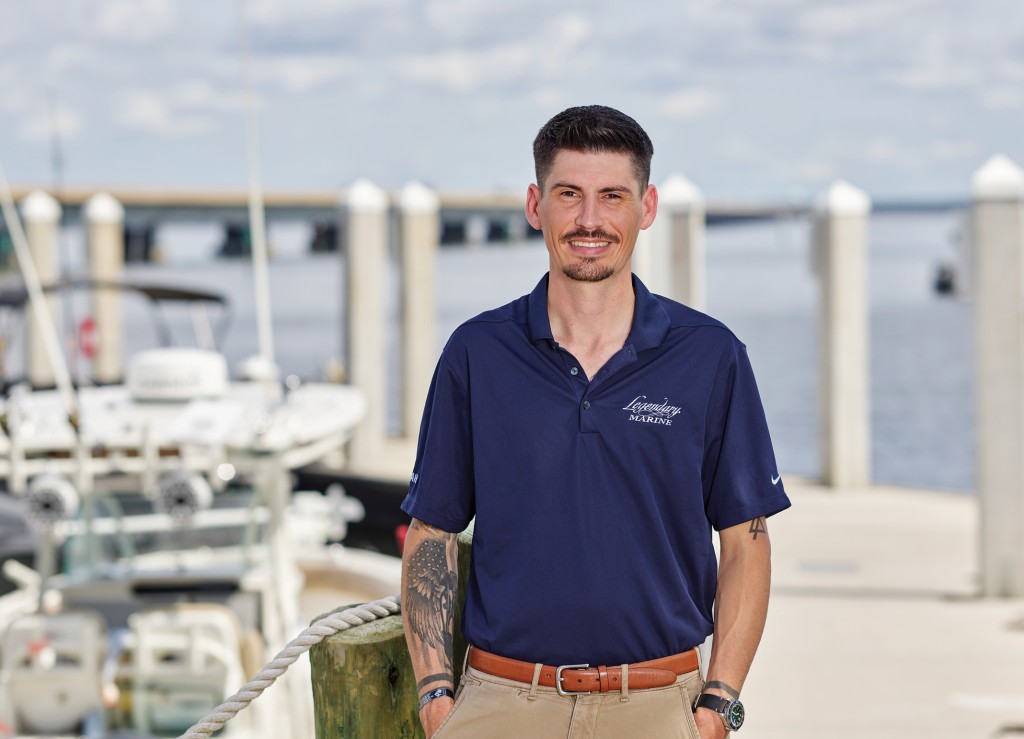 Recent trends in post-secondary education are challenging the age-old American belief that college is the only road to success.
Proving a far more cost-effective, expedient and focused education for some are technical and community college-led certificate programs that provide direct routes to some of today's most in-demand, profitable careers.
The following three graduates of certificate programs in Northwest Florida shared their paths to successful professions.
---
James Fraley
Service Manager, Legendary Marine
Despite his grandmother setting up for him a Florida Prepaid fund when he was younger, James Fraley never intended to go to college.
About halfway through his senior year at Niceville High School, Fraley chose to follow in his older brother's footsteps and pre-enlisted for the United States Marine Corps. After completing two tours in Afghanistan, he left the Marines and moved back to Northwest Florida with his wife and 3-month-old son.
Uncertain of his next steps, Fraley, who said he "didn't know a thing about boats, other than they float," accepted in 2014 a position as a janitor and boat washer at Legendary Marine in Destin. His work sparked within him a curiosity in the boat dealer's service department, and when he voiced his interest, management stressed a need for formal training.
"That's when I decided to call Okaloosa Technical College to figure out how I could use my G.I. bill," said Fraley, who now works as a service manager at Legendary Marine. "That led me to spending the next six years of my life there, just learning whatever I could."
That journey began with OTC's Marine Service Technology program, which trains and certifies students for positions as marine riggers, service writers and parts technicians, stern drive technicians and inboard gas technicians. The program's graduates have the potential to earn between $12 and $25 an hour.
Fraley successfully achieved his goal of becoming a mechanic at Legendary Marine while pursuing certifications in OTC's automotive, tech support and cybersecurity programs. Within Legendary Marine, he kept climbing the ladder and eventually accepted a rigging and service-writer job.
"I think as I progressed through the company, I just decided this is where I wanted to be," he said. "I've now been the service director for about a year, and I feel like starting at the bottom and working my way up helps me assist my service advisors because I have an appreciation for how everything works below me."
Fraley said OTC's marine program provided the foundation of where he is today. He meets with new students of the program at least twice a year to "groom his future employees," he said, and is currently working with his Yamaha brand representative to "help the program's technology get up to industry standards."
"I feel like a lot of people go to college, get a degree and end up doing something completely different than that degree," Fraley said. "Trade schools teach you the skills you're actually going to use. I like to tell students to take what they're learning now and use it as building blocks for the more advanced stuff. You have to continue to work hard, and if it's meant to be, it'll all work out."
---
Josh Biddle
Welder, MERRICK Industries, Inc.
When Josh Biddle's friends came back to Panama City Beach on summer break, the 19-year-old couldn't join in on conversations about frat parties, stressful classes and student loans.
For him, the year had so far consisted of graduating from Tom P. Haney Technical School's advanced welding program, completing an internship with a defense contractor, studying exotic metal welding and landing a job with Merrick Industries, a manufacturer of automation machinery in Lynn Haven.
"It's a little weird, because it feels like forever since I had to worry about what classes I was taking," Biddle said. "But that's why I chose this direction. Shortly after being in high school, I realized there was no way I could go through four more years of sitting at a table and listening to a professor speak."
Biddle decided to enroll in Haney's Welding Technology program during his senior year at North Bay Haven High School in Panama City Beach. Knowing the demand and high-wage salaries of today's welders, he said, was an obvious factor, but Biddle was intrigued by the craft itself.
He began applying himself like he never could in his high school courses and, upon passing the program with flying colors, was invited to an advanced welding technology course. Biddle said instructors look at a student's grades, attendance and overall performance for enrollment into the 750-hour special program.
"The programs teach anything under the sun you'd need to walk on to a job site with," Biddle said of his time at Haney. "You learn the three main processes of welding, how to cut and prep your metal and all about job safety, which is a huge factor with a lot of companies. It's all about safety first on the job site."
Biddle started his job at Merrick in August, focusing on constructing belt scales and conveyor belt systems for major companies who deal in dry bulk commodities and grain. He likes the pay and hours, and although he clocks in at five in the morning, he gets to clock out just after noon when "the Florida heat is so bad, you feel like you're holding the sun in your hands."
"The program gave me real-world experience you can't find in a book," Biddle said. "At Haney, it's all shop time with wonderful instructors. Employers are hunting for people who have experience, and coming out of college, you don't often have that. I'd definitely recommend pursuing a trade if you're looking to get out in the field and begin making money faster."
---
Taylor Minchew
Service Technician, Henry's Import Repair
Following a hot August workday, mechanic Taylor Minchew emerges from the shop soaked in sweat and gasoline from servicing fuel pumps.
But she wouldn't have it any other way.
A lifelong car enthusiast, Minchew realized a childhood dream when she completed Tom P. Haney Technical College's Automotive Service Program and became a service technician at Henry's Import Repair in Panama City Beach.
"Growing up, I was the cheerleader and pretty little blonde that people discouraged from pursuing this line of work," said Minchew, who in 2021 completed 1,800 hours in Automotive Service Technology 1 and 2. "But women who come through the shop love it and high-five me. Older men give me some looks and have even said something to me in the past, but I just smile and ask them how I can help them with their car."
Minchew said it wasn't until she suffered a bad car accident and was forced to stop attending her classes at Gulf Coast State College that she considered workforce training as an alternative. The two-year timeline was appealing, and the rewards would help her support the four children she was essentially raising on her own.
"Instructors at Haney knew my situation, knew I was working every day and, without me asking, would help," Minchew said. "One of my professors, Mr. Nelson, even put me in touch with a former student and female mechanic who ran her own shop, and I worked with her up until I went to Henry's."
Meanwhile, Haney's program taught Minchew basic knowledge about cars, routine maintenance and troubleshooting and how to use equipment through hands-on instruction.
"A typical day for me now is go, go, go," Minchew said. "You get there at eight and don't stop until you realize it's 5 p.m. … I'm one of three technicians, and I'd say we flip about nine to 10 cars per side each day."
Minchew said the program most prepared her for her duties by emphasizing the importance of patience. "You have to have it, especially with yourself because like Mr. Nelson taught me, 'You're not going to know everything.'
"You may have three cars with the same issue, but the source of the problem comes from three different places. You're not always going to get that part in or get that bolt off. It's okay to take five, walk away and come back. You never stop learning."