A Coastal Paradise Getaway
Here It's Always 5 O'clock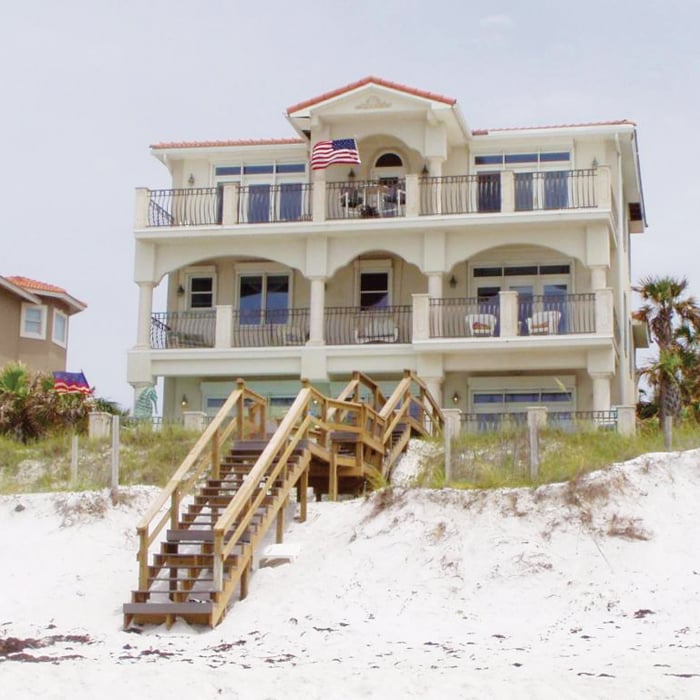 Photo courtesy
John Cook/Coldwell Banker
We have all been on a beach vacation where we are driving along a coast, see a beautiful, sprawling beach home and think. "Wow, I wish I lived there." It's no surprise then that this three-story, 4,342-square-foot beachfront Destin home was scooped up fast by an out-of-state family looking for a vacation getaway.
The property is aptly titled Casa de Palmas because it is surrounded by over 50 lush palm trees. Once you make it past the swaying palm trees and into the home's foyer you are greeted by a stunning view of the Gulf's emerald waters. If you can pull your eyes away from that view you will notice the 10-foot ceilings, Mexican limestone floors, granite countertops, crown molding and professional decor.
Quick Look
2970 Scenic Highway 98, Destin
List price: $2,100,000
Sold price: $2,100,000
Square feet: 4,342
Contact: John Cook, Coldwell Banker
(850) 582-0874
The first floor features a spacious kitchen, a wet bar and an elevator carriage. The real gem of the house is the master bedroom on the second floor. This suite features a balcony, a fireplace, a morning kitchen and not one but two walk-in closets. In total, the home has five bedrooms and four bathrooms. Some of the bedrooms are in a separate guesthouse located above the two car garage.
"The decor was elegant, yet tropical, and when a buyer came to visit they could easily envision themselves enjoying the home," said realtor John Cook of Coldwell Banker. The lucky buyers were from Texas looking for the perfect second home, and they got it.
Since the main focus of the house is the coast, there is a private beach walkover, a Gulfside pool, a beachfront patio and multiple balconies. This allows optimal beach view from any and every angle. The patio and balconies are ideal for sunset sipping on a tropical drink.
"For awhile, we used the slogan, "What would Jimmy Buffett do?" I often thought that if Jimmy had a place in Destin, this would be it," said Cook.