2015 Pinnacle Award Winners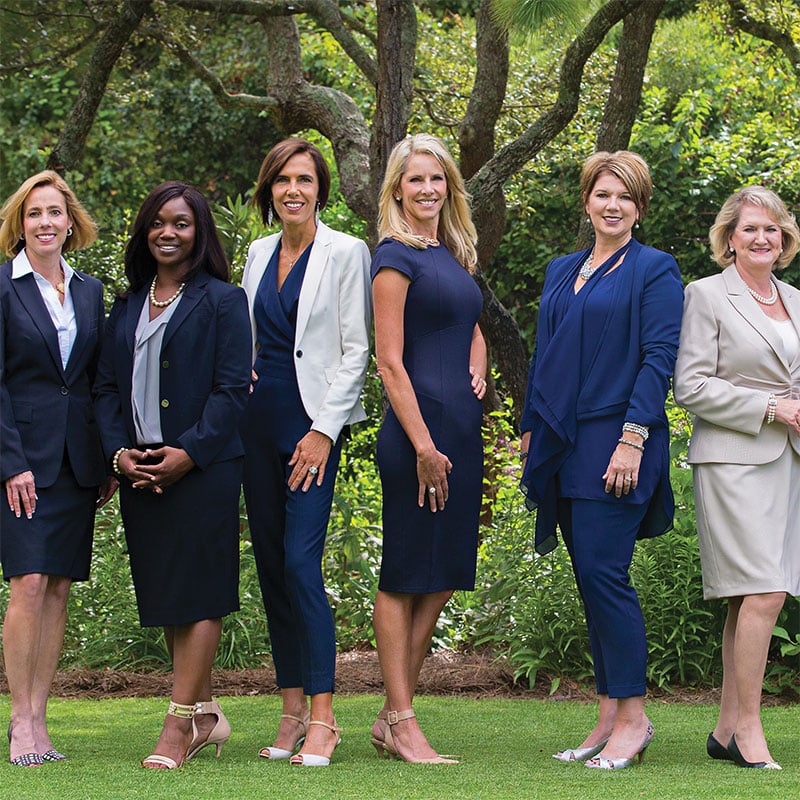 Story By Linda Kleindienst
850 Magazine is proud to present the 2015 winners of the Pinnacle Award, an honor designed to shine the spotlight on women in our region who have set high standards for themselves and exceeded them, who are a moving force in private business and nonprofit organizations that help the needy in our society, and who promote their communities.
From a leader of one of the largest credit unions in Florida to a CEO who helps build houses for those in need, they're moving forces in business and the community, A-listers with A-plus personalities who face challenges head on and are determined to make their world a better place.
As a group, our honorees are optimistic, energetic and goal-oriented, filled with a can-do attitude. Their professions cover a wide range of fields, from banking to health care to economic development. They well represent the urban, suburban and rural areas found within 850's 18-county footprint. We asked our readers to nominate women they felt deserved the honor. From the names submitted, please meet the Pinnacle Award winners for 2015.
Click the arrows at the upper right or the thumbnails below to view each recipient.
Being passionate about helping others, Carol Carlan knew it would be a natural fit for her when she was offered the job as president of the Sacred Heart Foundation, which is responsible for fundraising for different health-systems entities from Pensacola to Port St. Joe.
But that isn't what she has spent most of her life doing. Before joining the foundation in 2012, she spent 36 years in the banking industry, starting with Citizens & Peoples National Bank and ending with Wachovia/Wells Fargo as the first regional female bank president of a large regional bank.
Abandoned by her mother and growing up in foster homes, Carlan, 60, had little money in her youth but was fascinated by it.
"I loved to read how the bank worked. I loved the professional environment," she says. "I thought I would dress up, talk to people and sit at a desk. But my first job was going out talking to people, and I found out I was a good salesman."
A founding member of the Escambia/Santa Rosa PACE Center for Girls, she is no stranger to nonprofit work, having served on 35 boards over the years. She says the Sacred Heart Foundation gives her "the opportunity to use my business acumen to raise money for the children's hospital, the elderly, and I'm having a great time doing it."
Her mission is to always seek out the positive, "even if it seems to be a horrific situation." The best advice she ever got came from her dad, with whom she was reunited. "'Love everyone for who they are, and be your own unique person.' I don't judge others."
Growing up in Mantova, Italy, Simona Faroni liked the designer clothes she saw other girls wearing at school. She went to work at a local restaurant to earn money to buy her own clothes, but had to keep it a secret from her father.
"Instead of going out to movies with friends on weekends, I was going to work. But he found out eventually after some family friends came to the restaurant," she remembers. Her father grounded her from work, but then her mother became her accomplice and covered for her.
Faroni, 35, is no stranger to taking on a challenge. Today she lives in Destin and is the co-founder (along with her husband) of Fort Walton Beach-based G.S. Gelato, which employs more than 90 local workers and annually distributes 1.3 million gallons of gelato across the United States.
But the beginnings of the business were shaky. When they arrived, neither spoke English. They went to night school and communicated with a pocket dictionary.
"We couldn't order a glass of water at a restaurant," she recalls. "But little by little we learned."
After importing the gelato machines, they began making their product in the back of their home and opened a small storefront in downtown Fort Walton Beach. On one of their best days, their profit was $13.50. But Keith Howard of The Howard Group became a fan and suggested moving the store to Silver Sands Premium Outlets in Destin.
The rest is history. They have opened four stores (now sold to a client) and went from a 1,000-square-foot manufacturing facility to 26,000 square feet.
"I've always wanted to grow in life," says Faroni. "I never imagined this happening, especially on this side of the world."
To whom much is given, much is required. Oft repeated to her by her father, that's the mantra that Carmen Danielle Smith lives by in her work as the executive director of Jackson County Habitat for Humanity.
"I see the work I do being meaningful to someone else. If I can offer someone the Band-Aid they need, I'm all about that," says Smith, 27, who was born in Tallahassee but now lives in Marianna. "I don't know if I have the heart to be good in the corporate world."
As a child, Smith wanted to be a general surgeon. She also wanted to focus on nonprofit work, so she began working for nonprofit organizations when she was an undergraduate at the University of Florida. But for the past year, she has found herself immersed in construction details, retail management, banking and mortgages.
Jackson County's Habitat for Humanity doubled its gross revenue in two years, reaching $297,000 in the last budget year. So far, the organization has served more than 50 families, building homes from the ground up that are 1,440 square feet in size, energy-efficient and have three bedrooms and two baths.
"What we do is move people from survivability to stability," she says.
But Smith has seen the need to help larger families that need more space, so Habitat began looking for donated or foreclosed properties where it could do some rehab work. Her major goal over the next couple of years is to meet a "greater need" and expand service to families that already have a home but need help with repairs.
She's so immersed in her work that Smith says her friends and family remind her she needs to have more fun.
"I told them I'm going to start planning fun, and maybe I'll do it," she says.
Working three jobs to put herself through college, Robbie Ropella had no idea she would never practice nursing. But when she went into surgery and saw a hammer brought out to break a bone, she passed out.
"I expected a technological tool, but it was an old-fashioned mallet," she recalls. "Still, the education served me well. I have great knowledge that I've used in emergencies."
The lesson she learned from the experience is one she urges others to follow: When you choose an occupation, choose your passion and don't look at the money.
"That was my mistake," she says now. "My passion is people, money and sales. I love sales."
Today Ropella, 51, is president of The Ropella Group in Milton, which is an executive search firm that finds the perfect candidates for jobs that are so specialized, only a handful of people in the world could do them well. She takes care of marketing and sales for the business she runs with her husband.
Describing herself as very competitive ("Put me in a sport and I will win"), Ropella said she learned early on from her father that "Can't never did anything."
"He gave me the ability to attack my problems and come up with creative solutions by providing old-fashioned motivation," she says, adding that her dad was never afraid to take a stand for something that was right, even if it wasn't popular. "In my youth, I found this slightly embarrassing, but it impacted me greatly. As I grew, I developed a boldness to do the same."
The call to attend law school came to Lisa Walters when she served as a staffer to a joint legislative committee tackling the issue of how the state should compensate residents and growers who were losing their citrus canker-infected trees to the ax.
"The staff was me and a handful of attorneys," remembers Walters, who had served as a Cabinet aide to the state comptroller and to the insurance commissioner. "When we made our presentation to the speaker of the House, he said, 'You're not an attorney, are you? I need one of the attorneys to explain this to me.' Within a few weeks, I registered to take the LSAT."
That was 20 years ago. Now a shareholder with Burke & Blue in Panama City, the 53-year-old Walters specializes in real estate and business transactions. Her favorite part of the job is "working with my clients and visioning what a project will look like and finding creative ways to bring their vision to fruition."
Looking back, she can't remember a time when she didn't have a job.
"I've always had jobs, always worked," she says. Babysitting and mowing lawns were during the early years; working in a children's specialty shop at the Panama City Mall and then Gayfers department store, in the display department, were jobs she held in high school.
"I was grateful for the opportunity to have the jobs and work with the people I worked with. The lesson I learned, which I already knew from my parents but was able to better appreciate, was the importance of doing a good job the first time."
As community development director of the Bay Medical Foundation, Rebecca Pierson's focus is on the vision of serving the health care needs of Bay County.
Fundraising for a good cause is nothing new for Pierson, who held a dog show in her backyard when she was in the sixth grade to help out the local Humane Society.
When she moved to Panama City, she was a flight attendant for America West Airlines but gradually became more involved in fundraising, explaining, "I've always been driven by the idea of helping the little guy. If I believed in it, I raised money for it."
Pierson, 52, was asked to join the Bay Medical Foundation, became president and then joined the staff when the foundation was attached to a then not-for-profit Bay Medical Center. She helped raise more than $5 million for the hospital's capital campaign, which was used to open the medical tower. When the hospital became for-profit, the foundation became independent and she stayed with it.
In the last three years, it has given out $1.4 million in grants to local organizations with a health care connection, such as the
St. Andrews Medical Clinic.
"There are 55,000 Bay County residents who are uninsured. It's tough," says Pierson, who also oversees a program that awards scholarships to 17 Gulf Coast State College students each year.
Some of the best advice she ever received came from her father, who retired from the Air Force at the rank of two-star general.
"Good or bad, your actions will be followed by consequences — probably not a bad idea to keep your actions good," says Pierson. "My parents instilled in me the importance of making a difference."
Although she was never interested in numbers, Amy Geiger loves building relationships and business development — a key part of her job as Capital City Bank's community president for Gulf and Wakulla counties.
"Banking is all about sales, learning how to work with people and providing products and services for them. That's the part of the banking world I enjoy," says the 24-year Capital City Bank veteran.
Ten years ago, after she had successfully started and run the bank's first call center in Tallahassee, Geiger was asked to relocate to Crawfordville and open the bank's first new brick and mortar branch that didn't involve the acquisition of another institution. Describing it as the biggest professional hurdle she had ever faced, she also says it was "a major test of my ability to adapt and grow professionally. My charge was to grow the franchise by identifying new growth and development opportunities." In that, she's been very successful. Out of 63 bank offices, hers is the third busiest.
Geiger, 45, credits much of her success to the lessons taught by her father, a sales manager in the papermaking industry.
"He was a role model on how to build relationships and business," she says. "Being fair, being honest. Integrity was a trait of his. His example set me on the right path."
Her advice to a young woman just starting out in her career? "Don't be afraid to start at the bottom. There is something to be said for growing up in the company. Put in the work and show a desire to grow by giving your all, even if it is not the position you see yourself in long term."
A frequent visitor to Northwest Florida's coast since her youth, Augusta West always hoped that some day she would end up living and working here. Today, she does. And in her role as executive director of Historic Apalachicola Main Street, her job is to make this an even better area for local businesses, residents and visitors.
"It's a beautiful small town with a lot to offer. There's natural beauty, the nearby beaches, the history, the culture. I'm fortunate enough to make it my home," says West, 40, who grew up in Thomasville, Georgia.
It isn't quite where you'd expect a Zoology major to end up, but she says there are many aspects of science that transfer well to the world of non-profits, including the ability to do research, analyze data and work collaboratively. This is her third non-profit job, having previously worked as the coordinator of annual giving for the Florida State University Foundation and at the Apalachicola Maritime Museum.
"I'm like a lot of people who end up doing something completely different with their life than what they had planned on or went to school for," she says.
A focus of Main Street is to promote Apalachicola as a year-round destination, preserve the area's history, enhance the attractiveness of the town and promote the offerings of local businesses. The organization, only four years old, has been a sponsor of the popular Independence Eve celebration (on July 3) and an antique car show in the fall designed to attract visitors that might opt to spend the weekend in town. And it recently received funding from Visit Florida to help jumpstart an historic plaque program that West hopes may someday turn into a walking tour of the town.
When you work as a waitress, you learn to communicate — as well as handle the good, bad and ugly that customers will hand you each day.
"If you can handle any of those situations, you will make a great salesperson, because you are selling yourself," says Dot Trotman-Ealy, 55. And today, she puts those communications skills learned in her first paid job to work in her role as vice president and market manager for Cumulus in Tallahassee, where she oversees five radio stations and 50 employees.
Trotman-Ealy's career has been focused on the media, working in print, TV and at an advertising agency. But she always came back to her favorite — radio.
"It's the theater of the mind," she says. "You can be as creative as you want to be."
Six years ago, she used that creativity to come up with the idea for Cumulus to sponsor an annual "What Women Want" eåvent, which promotes local businesses and now attracts up to 5,000 women. If the radio station doesn't give back to the community it serves, she avers, it has no purpose.
Asked the most important part of her job, she quickly replies, "Listening. I wasn't always a good listener growing up (in Jasper, Florida). You tend to think you know it all until that one customer tells you, 'That's not what I said.' I learned the hard way to shut up and listen. It's why we have two ears and one mouth."
Moving to Tallahassee wasn't in the plans for Cecilia Homison and her husband until her mother was diagnosed with breast cancer and the couple found themselves making frequent treks to Florida from their home in Charleston. One day they decided they weren't in the right place, and during a 30-minute discussion agreed to relocate to Northwest Florida. In 90 days they sold their home and changed their lives, "showing that sometimes doors open when you take a step on faith."
Homison, 52, who started her career as a CPA in Atlanta, is now CEO of First Commerce Credit Union, where she has been for 15 years (nine of them as chief financial officer and six as CEO). She loves the uniqueness of the credit union industry and the close connection it has with the community First Commerce serves.
"We have a unique footprint," she says. "We are chartered to reach out to our community at a different level, and we feel good about it."
Her role models for success are her parents, who grew up poor but are successful today. "They taught me that life will be what you make it. I admire their tenacity. They went after it and made it happen," she says. "It made me what I am."
A strong believer in mentoring (she and her husband have been doing marriage mentoring at their church for 10 years), she established a yearlong small group program for non-managerial employees five years ago. "We teach them that everyone can lead … and it's been a phenomenal success."