2014 Legislature Doesn't Give Businesses Everything They Want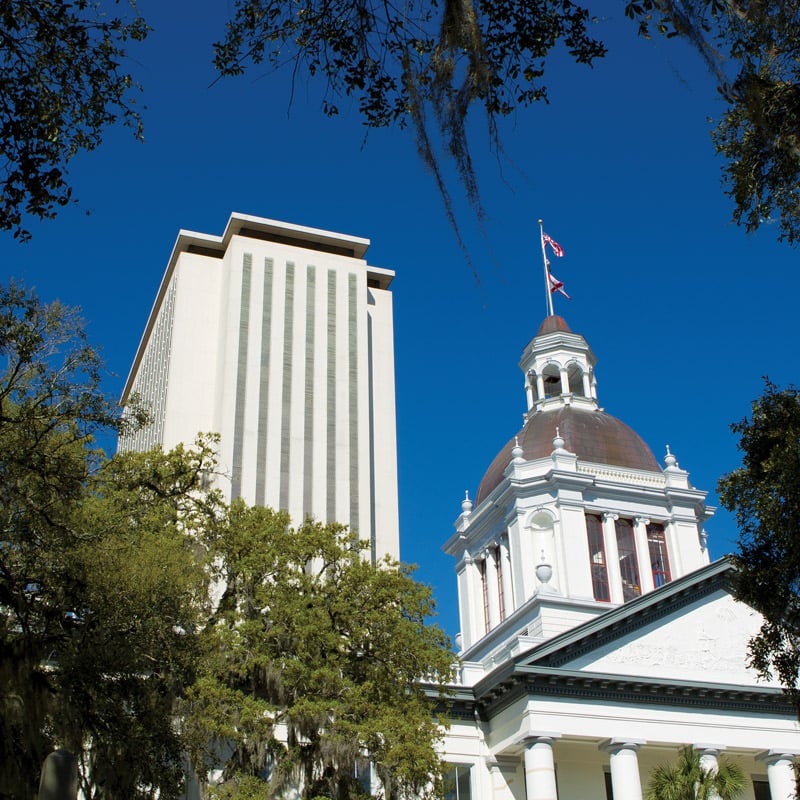 When the gavel signaled an end to the 2014 legislative session, Florida legislators hadn't given business interests all they wanted — but several priority issues were passed, including a $500 million-plus tax cut package made possible by the state's
$1.2 billion surplus.
The tax breaks — the largest in a decade — include $400 million in reduced motor vehicle fees and $121 million in tax breaks, including: three sales tax holidays (one each for hurricane supplies, back to school supplies and energy efficient appliances); new sales tax exemptions for child car seats, youth bicycle helmets, college meal plans, therapeutic pet foods and cement mixers; and reduced taxes on electricity for businesses.
"Florida families should keep more of the money they earn," said Gov. Rick Scott, a sentiment echoed by businesses that hope some of that extra money will go into new purchases.
"It will encourage citizens to participate in helping the economy by making those purchases they need to make, while keeping some of their hard-earned dollars in their pockets," said Bill Herrle, executive director of the National Federation of Independent Business/Florida.
The rollback of the vehicle registration renewal fee to 2009 levels will save the average driver $20 to $25 a year, with car rental companies and businesses dependent on trucks or cars reaping the biggest savings.
A tax credit that didn't make the final cut with lawmakers, however, funded a program used to entice the film and television industry to produce more work in Florida. In 2010, the state put aside $296 million for the program that is set to end in 2016, but the money is already gone. Film advocates were hoping to get more from the state to keep it going.
A 2012 economic impact report on the state's film industry prepared for the Motion Picture Association of America revealed that films have an impact on tourism and local economies. For instance, the "Dolphin Tale" movie has increased attendance to the Clearwater Marine Aquarium, with estimates that it will bring in 2.3 million visitors by 2016 and generate a $1.7 billion impact on the local economy. Statewide, the study estimated that the tax incentive program supported 87,870 jobs and resulted in a $7.2 billion economic impact.
Without new funding, however, studios that had planned to film here are already moving to other states that provide better tax advantages.
"We came out like gangbusters. It was a big success and we brought a lot of very skilled, high wage jobs to the state," said Gus Corbella, chairman of the Florida Film and Entertainment Advisory Council. "But the industry is looking for stability and predictability, not a roller coaster ride of funding. We were looking to stabilize the process."
Despite the inaction this year, however, Corbella said he expects the issue to be addressed in upcoming sessions. "I'm cautiously optimistic."
---
Here is a look at the fate of some of the other business-supported measures during this year's legislative session:
Florida GI Bill
More than 1.6 million veterans call Florida home, making up 12 percent of the state's population. This measure, which passed early in the legislative session, provides in-state tuition to veterans from anywhere who attend a Florida college or university, allows businesses to give hiring preferences to veterans and protects military bases — a crucial element in Northwest Florida's economy — from encroachment.
"We want to help ensure veterans have the education and skills for the jobs of today and tomorrow, and job creators throughout Florida want to hire our heroes," said Stan Connally, president and CEO of Gulf Power and a board member of the Florida Chamber of Commerce.
Socially Responsible Corporations
For the first time in 20 years, the Legislature set up two more corporate structures — Benefit Corporations and Social Purpose Corporations — to make Florida a more competitive state for social entrepreneurs.
The measure allows investors, through their corporations, to engage in societal benefit programs that take into account other factors in addition to bottom line profit.
"This is a seismic shift in how corporate structure can be governed that will lead to significant investment in Florida," said Sen. Jeff Clemens, D-Lake Worth, a sponsor of the measure. "Everyone is looking to empower companies that perform social good while also making money."
Budget
The record-setting $77.1 billion state budget includes a $10.5 million increase in funding for Visit Florida, for a record $74 million. Half of the new money will be pumped into a program promoting the state for medical tourism and $1.3 million is set aside to promote the state to veterans and active duty military.
Corporate Income Tax Exemption
Despite Gov. Rick Scott's promise to eliminate this tax, the Legislature rejected his attempt to totally exempt another 2,163 corporations — one-fifth of those still paying the tax. The standard exemption was increased from $5,000 to $25,000 in 2011 and then to $50,000 in 2012. Scott's request to increase it to $75,000 would have saved businesses $21.6 million a year.
Economic Development
Increases tax credits for companies hiring in rural areas and provides for development grants to cities.
Internet Sales Tax
Once again, the Legislature failed to address the "e-fairness" issue of forcing online companies to collect the state's sales tax and remit it to the Florida Department of Revenue. By ignoring the requirement, locally owned businesses and Florida-based online retailers are put at a competitive disadvantage — and Florida is missing out on about $1 billion in tax dollars.
Medical Tourism
A proposal to have Enterprise Florida and Visit Florida market the state as a health care destination failed, however, the budget sets aside $5 million for Visit Florida to prepare a medical tourism marketing plan.
Pension Reform
An attempt by the House to move new state workers and other public employees to a 401(k)-like plan, which would take financial pressure off the state budget, failed to gain any traction in the Senate.
Sales Tax on Business Rents
Florida is the only state that charges a sales tax to businesses that have a commercial lease, generating about $1.4 billion a year for the state. Attempts to reduce the tax failed.
Veteran Tax Credits
Would have provided a $5,000 corporate tax credit for hiring a veteran and a $10,000 credit for hiring a veteran with a service-related disability.