Z is for Zeal
The Zimmerman Agency enthusiastically delivers ideas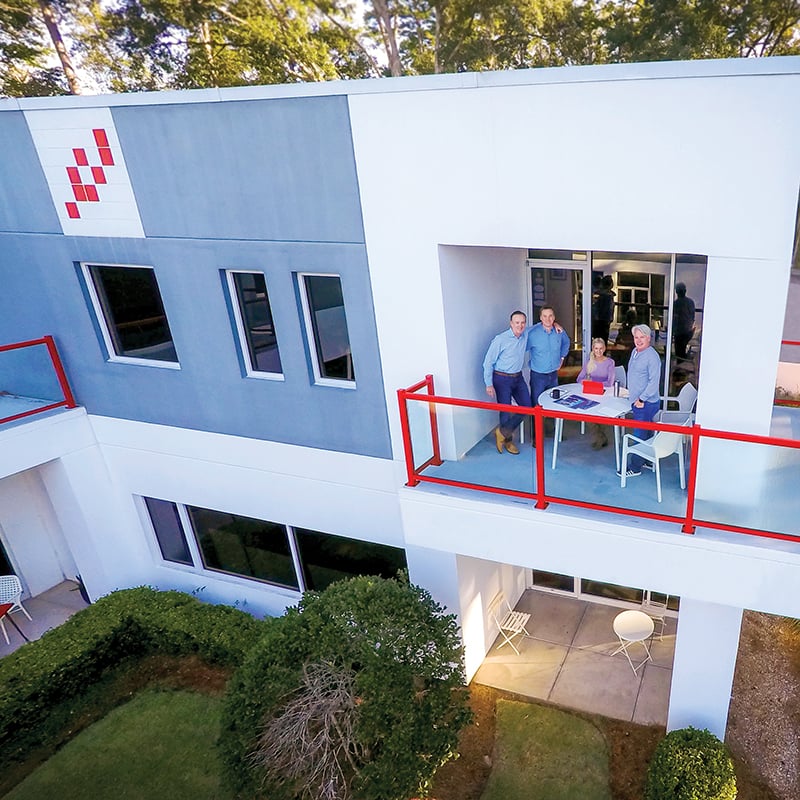 Carrie and Curtis Zimmerman had been pursuing American Airlines as a client for some time, to the point where neither had anything further to offer or say.
Still, the potential customer had some reluctance about entering into a contract with an agency in a remote location, that is, Tallahassee.
A marketing manager with American asked if it would be possible for him to visit the Zimmermans' offices. No problem. As it happened, he would arrive on the day of the agency's employee Christmas party.
"Really, he flew here — he had to book a flight on Delta to get to Tallahassee at the time — to make sure we were legitimate, that we weren't operating out of a trailer," Carrie recalled. "We gave him a tour of our offices and I think he was relieved. He wound up giving us 10 tickets to any American destination in the country for us to use as prizes at the party."
And, yes, a contract was executed.
The Zimmerman Agency was established 30 years ago when Carrie and Curtis moved from Atlanta, where the couple had been working for a prominent agency, he on the advertising side, she on the public relations side, to her hometown. (Curtis is from New Jersey, but in some contexts, he will say that he grew up "40 miles from New York City. It gives me more cred.")
They did not move to Florida intending to become entrepreneurs, but parents.
In Atlanta, they were so consumed by their careers and the traffic of city life that they had substantially delegated the responsibility for rearing their children, then 1 and 3, to a babysitter, a woman in her 30s who could not have children of her own.
"I turned to Carrie and said, 'This is not why we became parents,'" Curtis recalled. He began to list in his mind "agency towns" that he perceived would be more conducive to raising a family. Richmond, Virginia, came to mind. Charlotte, North Carolina. Carrie, meanwhile, was thinking Tallahassee, an impulse that was strengthened by a trip home for Thanksgiving in 1986.
"Carrie said, 'Why don't we move to Tallahassee?' and I said I wasn't sure there was even an agency there," Curtis said. "If we were going to continue to make our livings in public relations and advertising, we were going to have to come out of nowhere with no clients, no money, no anything. And that's what we did."
The couple that headed the agency in Atlanta understood and assured the Zimmermans, "If it doesn't work out, come back."
The Zimmermans had worked in Atlanta on the Domino's Pizza account covering restaurants in the Southeast. Just days before packing up to move, they encountered their Domino's contact riding a bicycle as they were walking to their neighborhood pool. He, as it happened, was about to move himself — to Domino's headquarters office in Ann Arbor, Michigan.
"I understand that you are starting your own agency," he said, presumptively. "You should come see me in Michigan."
The Zimmermans weren't sure they were ready to make that trip, but were convinced otherwise.
"Forty minutes after we got to Domino's headquarters, we found ourselves in front of Tom Monaghan, the company's founder," said Curtis, who was wowed by an office whose appointments included a World Series trophy and two "leather baseball glove chairs signed by Joe DiMaggio."
Nonetheless, before the conversation was over, the Zimmermans had been placed on retainer.
Another client would soon follow: Marriott Hotels.
Marriott had been displeased with the work of its agency leading up to the opening of the first resort it had ever built from the ground up, the Sawgrass Marriott Golf Resort & Spa, located in Ponte Vedra Beach near Jacksonville.
Carrie entertained a call at noon from Marriott corporate in Washington, D.C., and was asked if she could get to a meeting in Jacksonville at 2.
"Sure," she said, not at all certain that she would make it on time. At the meeting, she offered Marriott personnel a frank assessment of their agency's work. She was asked if she could take over and she did.
Next came Citicorp Diners Club, the inventors of the credit card. As was the case with Domino's, the Zimmermans has done work for both Marriott and Citicorp in Atlanta. Marriott would wind up awarding the Zimmermans eight segments of their business, including Marriott Worldwide.
Rather suddenly, this accidental agency in an off-the-beaten-path location had landed three large, nationally recognized pieces of business. The Zimmermans resolved to focus on large clients, only, and to stay away from contracts limited to a project. They wanted to forge relationships, instead.
"We never purposely took any business away from the agency in Atlanta," Carrie stressed. "We could have, but this wasn't like Mad Men."
Today, the agency has 164 employees. Annual billings total about $165 million. Clients include Hunter fans, Firehouse subs, the island of Aruba, Pilot pens, Hard Rock Worldwide and Ritz Carlton Destination Clubs. The Zimmermans have clients in 24 countries and one locally — Visit Tallahassee, Leon County's official tourism marketing organization, which was created by a bed tax whose passage the Zimmermans helped promote. (They rolled hospital beds down the streets of downtown to attract attention to the issue.)
The Zimmermans, given their backgrounds, engaged in interactive marketing at a time when IM referred not to PR and advertising, but to a shot in the keester.
"Thirty years ago, there weren't a lot of agencies that successfully tried to integrate PR and advertising," Carrie said. "An advertising agency might do a client a favor by writing a news release, but that was about it."
In 1995, Zimmerman added digital media to its mix of services. An intern, then attending Florida State University, approached the Zimmermans, saying he had a concept he wanted to introduce to them. It wasn't called "digital" then; the term was instead "interactive."
"We were thinking that if we met with every intern who thought he had a great idea, we would never get anything done," Carrie said. "But this kid was persistent, persistent, persistent." He was close, Curtis said, to a "poster child for a nerd before, you know, they started to rule the world."
The intern pitched his concept with something called PowerPoint. The Zimmermans, who had never seen such a presentation before, scarcely heard what the intern said, but they were fascinated by his new generation of projector.
As to digital, they had been assured by a remote access software company whom they had as a client that the internet was nothing to worry about; it was going to be reserved for the military and the government. But this PowerPoint; now, it was something.
"The first time we used it was for a presentation to Renaissance Hotels in Costa Rica," Carrie said. "When we moved the overhead projector and the slide projector off the table, they were afraid we had arrived without a presentation. Once we got started, they were like we had been. They were focused on the projector."
Digital, of course, would arrive at the agency, which produced the first website promoting Florida before Visit Florida was established and before, Carrie pointed out, there were individual email addresses.
"We were sending items to editors@nytimes.com, addresses like that," Carrie recalled.
The agency was an early adopter of social media, too. It introduced the Aflac insurance duck on Facebook and infused it with a personality when most others were "using social to announce a 20-percent off sale."
"The differentiating feature for us is that here advertising, public relations, digital and social media all come together under one roof," Curtis said. "Other ad agencies have a little bit of PR and social. We make recommendations to clients based on what they need (and what they can afford). We are not bound by the limitations of the traditional agency."
Added Carrie: "We ask clients where they want to get and then we figure out the best mix of disciplines to get them there. If you run a shoe store and a customer comes in and says his back hurts, you're going to say it must be his shoes, not that his hat is too heavy. We explore alternatives. We like people to be as integrated at they can be, but each discipline is strong enough to stand on its own. And the lines are getting blurred."
Most of the Zimmermans' clients come to them as the result of referrals. A business familiar with their work, approach and personality recommends them to another business.
"Think about it," Curtis said. "Assume you have a business and you're looking for an agency. If no one has mentioned us to you, you're not going to begin by saying to yourself, 'Let me see what Tallahassee, Florida has to offer.' "
In San Diego, a group of 12 restaurants, Urban Plates, went agency hunting. They interviewed several and didn't find anyone they liked. Someone recommended the Zimmerman Agency.
"We got a call and they said, 'We hate to do this to you, but what are the chances you can be here in two days?' " Curtis said. "We flew to California, made our presentation and on our way back to the airport, we were notified that the account was ours. Urban Plates hadn't found an agency that provides the combination that we do. And we had good chemistry with them. We didn't impress them as arrogant. They liked that we actively listened to what they had to say."
Some predicted that digital would be the death of agencies, but Curtis finds that the reverse has proved true.
"This is the most exciting time for agencies that we've ever experienced," he said. And the fastest paced. Gone are the days when businesses marketed themselves on the basis of yearlong plans and budgets, and campaigns were developed and tested for months before they were introduced.
"We have dashboards that help us recalibrate strategies every day," Carrie said. "We know how many purchases should be made in an hour in response to something we're doing and, if that isn't happening, we make adjustments."
Not long ago, the agency undertook a survey of its clients aimed at discovering what they most like about the agency. Curtis dismissed the project as a waste of time, confident that he knew what the results would be.
Surely, clients would most like the agency's creativity, Curtis thought, but creativity finished fourth behind enthusiasm, determination and integrity.
"I was over the moon," Curtis said. "Those qualities are exactly what we try to present to people."
In that connection, Curtis shared an email message he received from a junior social media designer at the agency. Curtis had relayed a compliment from a client to the designer, who replied:
"Curtis: I just want to say thanks again for the call this afternoon. I have been thinking about it a lot and I know it will continue to motivate me to keep grinding away to do the best I can do. You and the agency have given me so much, so being able to contribute in meaningful ways is huge to me. I have always found that 'Z' has granted me every opportunity as long as I am willing to put in the work. I am going to use what I've learned from this epic creative department and from you and Carrie so that you and the agency can be proud. I try to remind myself every day not to take anything for granted. Every day is an opportunity. Stay confident."
"Coming from a kid who's 25 years old, that's amazing," Curtis beamed.
"We like to say we live locally and work globally," Carrie stressed. "We love Tallahassee. We tell people it's beautiful and green and lush with its canopy roads. It's highly educated. It's a research center. And people making millions and people making thousands carry themselves the same way. Maybe I'm blind, but I don't see any snobbery here. In Atlanta, it was all about, 'Where do you work? Where do you live?'"
"I wouldn't live a foot north of where I'm living," Curtis said. "I was a Little League coach for 16 years and after a game, I'd find myself hanging around with a contractor, a plastic surgeon, a plumber and an insurance man, all of us eating hotdogs from the concession stand.
"I don't bitch about the hassle of flying in and out of here because I get to come home here."
And fly the Zimmerman Agency does.
The last time they did the math, they found that the agency had spent $678,000 with Delta Airlines in a single year.
"And, you know, we've never heard from Delta. They've never contacted us to say 'thank you,'" Carrie shook her head.
From a public relations perspective, perhaps they should.