Writing Code
Programming bootcamps equip people for IT jobs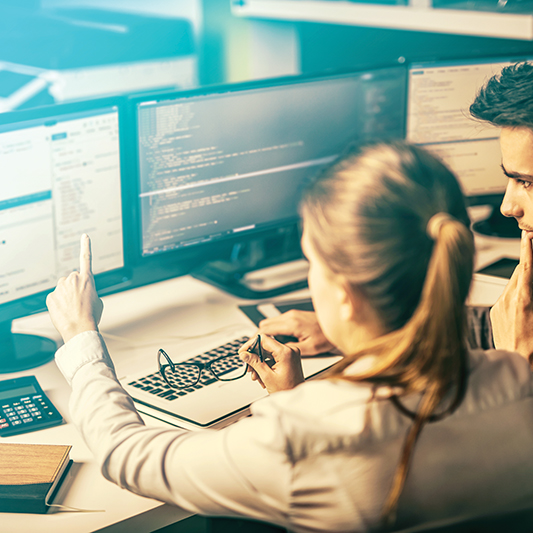 In Tallahassee, the demand for talent is high. This is the case across a variety of industries. Restaurants and retail shops battle high turnover and the cyclical nature of student employment. Communications and marketing firms snatch up interns as fast as they can.
In technology, though, the demand for certain skills has grown much faster than the supply. As a result, Tallahassee is experiencing an acute IT talent shortage. Whether it's developers, cybersecurity experts, or IT managers, businesses struggle to fill positions in tech-related fields.
At the time this column is being written, there are just under 500 IT job openings in Leon County (that we know of). These are high-skill, high-wage positions sitting vacant. The impact that these empty seats could be having on the local economy is enormous.
Five hundred people working, shopping, eating, and living locally would be a big boost for many other local businesses. These would also be year-round positions, not just active during the school year or the legislative session. With Tallahassee unemployment floating at around 3.6%, to say nothing of underemployment, there are likely folks in town who would love to fill these seats. They just don't have the right skills.
This is a problem, because according to the latest data available, IT is heavily outpacing other industries in terms of job growth. The number of software-related jobs is projected to grow by 17% from 2014 to 2024, adding around 180,000 new jobs to the U.S. market. That's more than double the overall job growth average. Demand for software is higher than ever, and there aren't enough new IT professionals entering the field, resulting in a shortage.
This shortage disproportionately affects smaller cities like Tallahassee where the ecosystem around technology isn't as well developed. This is due, in part, to competition. It's difficult for small businesses to compete for talent from larger tech hubs where salaries are inflated by venture capital. This situation creates a "Catch 22" for businesses. Companies need skilled individuals to build products which generate revenue. But if you don't have revenue to begin with, how are you going to hire the team?
The problem is amplified by the limited pool of venture capital investors in the region. Many tech start-ups rely on seed investments to get off of the ground. Then, they can build their product and achieve revenue on their own. Thus, the lack of maturity in Tallahassee's venture capital ecosystem holds back many aspiring entrepreneurs. It's also become quite clear that local businesses can't rely on recruiting from campus alone.
Even larger, more established businesses in Tallahassee have to get creative to solve recruiting issues. Many firms outsource software development to other parts of the country, or "offshore" to other parts of the world. Businesses also sometimes look internally for candidates who could be trained to fill open positions.
These are all ways that a business can circumvent a talent shortage, but they aren't the most sustainable solutions. Retraining is expensive and time consuming. Outsourcing development comes with its own slew of problems. Neither of these solutions does much to boost the local economy, either.
Some companies have gone as far as to open up branches in other cities where there is a better supply of talent. Cuttlesoft, a custom software agency (whom I work for), opened up a second branch in Denver, Colorado, partly to capitalize on the tech talent in the city.
Why Denver? One reason is that the city has taken concrete and impressive steps towards building a sustainable IT talent pool. Rather than growing existing computer science programs at universities, Denver, has taken a non-traditional route to building up its IT workforce.
Adult-focused "coding schools" are popping up all over the country, and Denver is no exception. These "programming bootcamps" have proven a successful avenue for training people and placing them in IT jobs all over the nation.
The same could happen here in Tallahassee.
The ultimate value that these coding schools provide is a sustainable solution to building a tech workforce in a city. Instead of having to go "back to school," people can simply apply to the code school of their choice. Code bootcamps are usually much less expensive than a degree and offer a condensed curriculum, allowing students to graduate sooner. They also teach the latest web technologies that universities often have trouble keeping up with.
Tallahassee could become one of the best cities in America for code education, but that's only if each of the necessary parties gets on board. The city's government, nonprofit sector, colleges, and businesses will need to work closely together to help solve the talent crisis in Tallahassee.
By leveraging public dollars (like those meant to accompany the city's TechHire designation) and by partnering with local businesses who need talent, the city could expand the opportunity for people looking to learn tech skills. One such partnership between the Mayor's Office, FAMU, and local incubator Domi Station has already produced one coding bootcamp: I/O Avenue. The program, founded in part by local developer Ryan Kopinksy, hopes to train Tallahassee's next class of programmers.
I/O Avenue is certainly a great start, and will hopefully inspire other schools to open their doors. Programs could also be developed at TCC, FAMU, and FSU (separate from degree-track programs) to start training Tallahassee's native population to fill these tech positions (TCC's Computer Programming Specialist Certificate is a great example of an existing program that could be expanded).
Tallahassee could also greatly benefit from a program like UCF's Coding Bootcamp in Orlando. Geared towards people with full-time jobs, the program is meant to help people train for new careers while keeping their day jobs.
The message here is that while urban development and new building projects are fantastic, Tallahassee also needs to invest in its people if the city is going to continue to grow. The fact remains, that if enough college students were interested in staying here for long-term jobs, there wouldn't be a talent vacuum. Therefore, it's vital that the city start investing in its native population to build a skilled, diverse, and sustainable IT workforce.
Once that happens, Tallahassee will be one big step closer to achieving the economic diversification and entrepreneurial focus that is slowly, but surely, growing.
Nick Farrell is Communications Manager at Cuttlesoft, an IT consulting agency with offices in Tallahassee and Denver.