Workspace Tips for Attracting and Retaining Great Employees
Re-calibrate workspaces and pile on perks to attract and keep great employees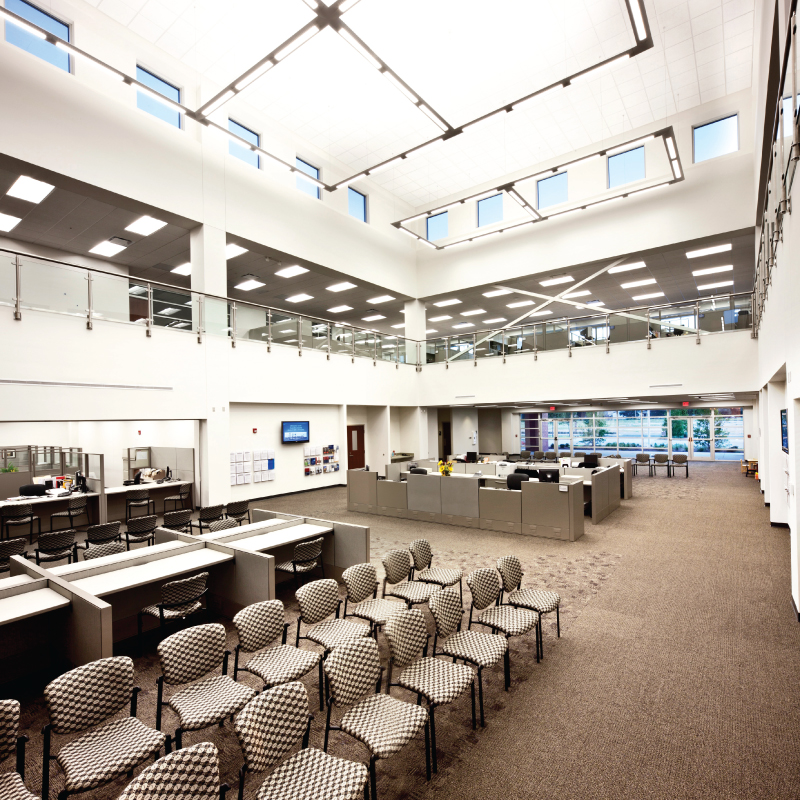 A simple space for brownbaggers may still be the workplace norm, but if trend-watchers are correct, companies trying to attract and keep great employees should consider upping the ante. Such as making room for a cafeteria and hiring a chef to turn coffee breaks and lunch-hours into gourmet events. Or setting up a gym or adding hiking trails for employees more interested in fitness than in adventurous meals. Or how about a room simply for napping?
Sounds extreme? No, says Vicki Long, executive vice president of the American Institute of Architecture's Florida chapter. The trend towards more employee-friendly workplaces is very real. She grants that not every company can emulate the dot-coms that started it all, famously providing their employees with such perks as basketball courts, top chefs on call, child care facilities, ping-pong tables and beautiful outdoor spaces for hanging out. But smaller measures work, too, she asserts. For example, the right colors can create happier interiors, and people act favorably to lots of natural light and indoor greenery.
But can perks and attractive surroundings really sway an employee to choose one workplace over another? Recruiters say that naturally the salary and benefits are major concerns, but perks are nice and who wouldn't like to work in a place that wants you to be happy?
A case in point is the Navy Federal Credit Union in Pensacola, which architect Steve Jernigan of Bay Design Associates, also in Pensacola, describes as a terrific employee-focused workplace.
"I admire this project," he says. "The design is based on a simple philosophy: Healthy employees equal healthy business, so the architects and interior designers emphasized natural elements. Oxygen-producing plants are everywhere, and through a 400-foot-long exterior glass wall employees manning the phones have a view of woods. A fitness trail winds through the campus, and a gym, an on-site health clinic and weight watchers' options in the cafeteria are in sync with the philosophy."
Outdoor Offices
Victor Prebor, a partner in Lunz, Prebor, Fowler Architects in Lakeland, talks about "the greater school of office design," a new tenet which holds that employees do better when they can alternate their work spaces and not be stuck at their desk all day. "With mobile technology there's no reason why they can't switch to café tables, lounge areas or even an outdoor area," he says.
"In fact, this idea has led to a lot of interest in outdoor workspaces," he continues. "This is especially true in nice climates like Florida's, but companies should be forewarned that this is an idea that could backfire. True, we all love outdoor spaces, and they're great for inspiration and relaxation, but not all work is fit to be taken outside. Think of the weather. There'll be heat, humidity and storms to contend with. Just think how difficult a simple task like leafing through documents becomes on a windy day."
And you can't do a power presentation in bright sunshine, adds Gerard Bush, the creative director of the brpr Group, a public relations firm in Miami. He tells that when the firm moved to its current offices a couple of years ago, he had pictured that employees would bring their laptops to the 500-square-foot deck boasting gorgeous city views.
"We also thought we might have client and staff meetings out there," he says. "But the distracting urban surroundings and the afternoon humidity did us in. So we hauled the outdoor conference table inside, and now employees use the deck to cure writers' block and entertain clients. And it's a fantastic place to enjoy the city's fireworks."
Going Green
Environmentally sound buildings are innately employee-friendly, notes Jernigan, who points to the Escambia County Central Complex in Pensacola. A Bay Design project, it was awarded the county's gold-level certification as a LEED building (Leadership in Energy and Environmental Design).
The 79,000-square-foot building features one of the largest green roof systems in Florida. Jernigan explains that the landscaped roof not only reduces storm water runoff and provides insulation, but also offers employees a nice place for outdoor breaks.
Other employee-friendly features are lots of natural light and open floor plans that offer views for 98 percent of the staff.
Altogether, LEED certification is a very good thing for employees, notes Jernigan, even when it doesn't include a roof garden or a view. For LEED certification also stands for lo-voc paints and other environmentally friendly design elements. That plus improved AC systems means vastly improved air quality.
Interior Trends
Yesteryear's workplaces, with rows of windowed offices reserved for executives and everybody else making due with cramped, dark cubicles are disappearing. And good riddance, says Victor Prebor. Open floor plans with different types and sizes of workspaces, meeting rooms and common areas are much more dynamic. They foster project-teaming and generation-sharing collaboration.
"We use a lot of glass when we re-calibrate spaces," he says. "We did it in our own design studio. Both exterior and many interior walls are glass, letting in great natural light, making the most of our lake view and encouraging employee interaction."
He admits that often office workers previously allocated traditional offices hate the idea of an open floor plan, but once they're in it they like it. "They're finding it much more productive and friendlier," he notes.
Man's Best Co-Worker
In a dramatic departure from uptight corporate environments, dogs are now welcomed by 17 percent of U.S. employers, says the American Pet Products Manufacturers Association.
Having canines wandering around offices might seem a distraction, but the association says that it's quite the opposite. Dogs make people happy and in high-stress environments they are a welcome diversion. Taking a stroll with a dog or even just scratching him behind the ears lets even the most stressed-out employee relax. Numerous studies show that being with a pet lowers blood pressure and stress levels while heightening endorphins.
To further learn about the effects of dogs in the workplace, the Pet Products Association surveyed 50 small and large pet-friendly companies. No dog lover will be surprised that these companies reported a lower rate of absenteeism and a willingness to work longer hours.
The No. 1 Employer
Inevitably, business magazines and TV shows have begun rating companies in terms of employee-friendliness, and — surprise, surprise — Silicon Valley can't hold a candle to a Southern company, namely SAS near Raleigh, N.C. In fact, when Google put together its perk package some years ago, it used SAS as its model.
SAS is the world's largest privately held software company, and its 4,200 U.S. employees work on a 300-acre hilly campus featuring two subsidized day care centers for 600 kids, three cafeterias (one with a piano player, who takes requests), kitchens serving free snacks (Wednesday is M&M day), a healthcare center with a staff of 56, a gymnasium, billiards hall, sauna, Olympic-size pool, hair salon and manicurist. Plus there is dry cleaning on site, a UPS depot, a book exchange, car detailing, a meditation garden and, in season, a tax preparer.
The idea of such an array of perks could give corporate Scrooges heart palpitations, but the fact is that although SAS employees' salaries are fairly modest and no stock options are available, their loyalty and productivity are indisputable. The employee turnover says it all: At SAS it is a low 2 percent compared with an average of 22 percent in the rest of the software industry.