Women compound time and dollars to strengthen communities
Businesswomen across the Emerald Coast are joining forces — and checkbooks — to make a big IMPACT in their communities.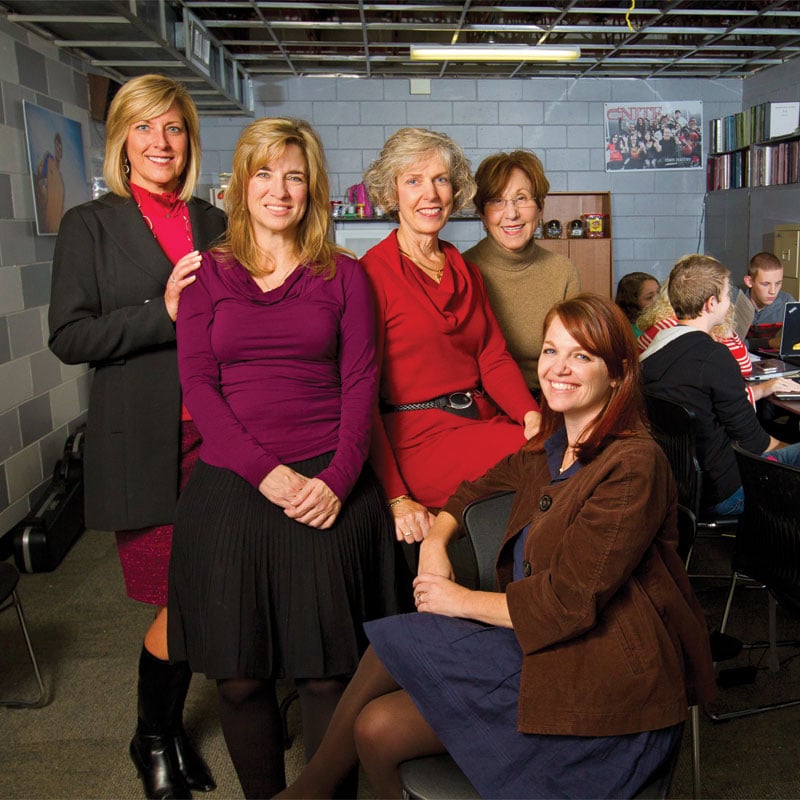 She was doing the same thing you're doing right now — reading a magazine.
Ten years ago, a Pensacola woman came across an article that inspired her so deeply she shared a big idea with three friends. Those four women invited their sisters, colleagues, dermatologists and neighbors to a luncheon promoting a brand new club — and the Pensacola Bay Area IMPACT 100 was born.
A 501(c)(3) with an exclusively female membership, IMPACT 100 collects $1,000 from each woman for the sole purpose of distributing substantial $100,000 grants to deserving charities with plans for visionary projects. With no paid staff and an abundance of gratis services, every dollar from every member goes directly to the community.
The Pensacola Bay Area IMPACT 100 has grown from 233 members at its inception to 728 today. Since 2004, the group has awarded a total of $4.315 million to nonprofit agencies in Escambia and Santa Rosa counties. Now, their good works have inspired a group of ladies
just down the road. In December 2012, IMPACT 100 of Northwest Florida — serving Okaloosa and Walton counties — awarded its first grant of $128,000.
The Impact of IMPACT
From that first meeting in 2003, the women of IMPACT had a strategy. They formed a board. They brainstormed. They opened membership.
"It was a matter of inviting not only our best friends, but women who could help in different geographic areas, different professions, different social circles, because that's what you need to have success," says Holly Jurnovoy, attorney and incoming president of Pensacola Bay Area IMPACT 100.
In its first year, the group gave away two grants. In 2012, it gave away seven. Membership has grown nearly every year, sustaining even a hard hit economy. So what is it about IMPACT 100 that motivates so many women to part with a thousand dollars?
It's the feeling of being part of something bigger than yourself, according to Marny Needle, consultant and past president.
"Yes, $1,000 is a lot of money. Other than for a mortgage or a big expense, most of us had never written a thousand-dollar check," Needle says. "Once you do that, it's kind of empowering. When you realize that you are part of a $100,000 project, there's nothing like it."
That contagion has taken the group far. The Pensacola Bay Area IMPACT 100 now is the largest group of its kind in the nation.
"There are a lot of cities that are large, so there are a lot of cities that could eclipse Pensacola," Needle says. "But the fact is, Pensacola as a community has rallied around this concept, and women from all walks of life and all areas of the two-county region have joined us."
There is a common misconception that women must be invited to join or that only wealthy women are encouraged to participate, a falsehood that Dechay Watts, CEO of Sprout Content and an IMPACT board member, wants to dispel.
"Not everyone is wealthy and can just write a thousand-dollar check. Lots of women budget and set aside the $85 a month," she says. "That amounts to a couple dinners out. When you look at that number, it becomes a little more tangible."
Watts says the most rewarding aspect of membership is reaching out to like-minded women, inviting them to experience IMPACT and grow as a result. "It's not about any one organization, it's the collective impact," she says. "It's empowering women to do collectively things they could never do on their own."
Jurnovoy credits Pensacola's success with a prideful, philanthropic community that truly wants to learn about the need and the great things nonprofits are doing to meet it. The IMPACT 100 grant process gives women an outlet for their common desire to help.
Women of IMPACT not only accept and review grants on paper, but also send committees on site visits to immerse themselves in the true mission of every agency that applies.
And they want every agency to apply. The very act of applying can be momentous for a nonprofit, say IMPACT's impassioned board.
"We call it the 'impact of IMPACT,' " says Jurnovoy. "By applying for our grants, organizations have the opportunity to tell their stories, and they benefit regardless of whether they win because we bring them to the attention of women who would not otherwise have known about them."
Coming into its 10th year, Pensacola Bay Area IMPACT 100 has set two landmark goals: to welcome 1,000 members and receive 100 grant applications.
Good Begets Good
On the other side of the bay, IMPACT of Northwest Florida has just completed its inaugural year. The newly founded team reached 128 members in 2012 and already has admirable ambitions of its own.
The Okaloosa-Walton group is determined to hit 300 members in 2013, which would allow them to award three grants. They hope to welcome applications from at least 50 nonprofit organizations, with focus areas of Arts & Culture, Education, Environment, Family and Health & Wellness, which were adopted from the Pensacola group.
Familiar with the success of their neighbors, a core group of Okaloosa-Walton women who had never met began reaching out independently to form an IMPACT board. When they realized they were not alone in their quest, they came together with a heart for developing an organization that could serve all the nonprofits in their two-county region.
"We know our nonprofits have strong missions and are fulfilling those missions, and we don't compete with them," says Michelle Anchors, attorney with Keefe, Anchors & Gordon and founding IMPACT board member. "What they do need is funding. To help them be more successful helps our communities collectively be more successful."
Sandy Sims, another founder of the group who is public affairs manager for Gulf Power Company, believes one draw of the IMPACT 100 model is each member's freedom to choose her level of participation.
"It's not another thing on their 'to-do' list. They can write that $1,000 check and not even attend the annual meeting and know they've done something good," Sims says. "Or they can meet once a month and head committees and do site visits. At the end of the day, they know they've made a difference."
With no advertising and just one meeting before the grant process opened, IMPACT 100 of Northwest Florida received 34 applications in its first year. They credit their success largely to Pensacola's excellent example — and the fact that women talk.
"Women have been the first networking group always. Women knew how to network before the word was 'network,' " says Ginny Barr, executive director of the Mental Health Association of Okaloosa and Walton Counties. "In many ways I believe women have a much firmer grasp on how operations of agencies run than many other funding groups do."
The women's savvy is a boon to the communities they serve. Every organization that applies for an IMPACT grant, whether in Okaloosa-Walton or Escambia-Santa Rosa, is encouraged to provide a list of their most pressing needs. Fulfillment of these "wish lists" can have an immediate impact on an agency, for sheer publicity of its mission.
"One of the interesting and unique characteristics of being a member is to know the dollars are staying here. It helps us to be able to say we've achieved some sort of improvement in the lives of our neighbors," Anchors says. "When our neighbors are applying for grants, they know they are going to get a fair shake. We're real people just like they are."
Members of IMPACT 100 attest they identify more with their communities. The opportunity for nonprofit organizations to explore new possibilities gives the women of IMPACT a chance to explore where they live.
"The questions are going to be asked, the interest level is there, the need is presented," Barr says. "It's not a matter of knowing the charities exist, but how and why they exist. It's knowing now you are part of a vehicle that will make life better."
IMPACT members are business leaders, mothers, women who are working and women who are not. They are women who have the luxury to write that big check, as well as women who save all year to earn that ability. All of them want to better themselves and their communities by bettering others.
"It's a mindset of generosity. That's what this is. It's women supporting other women. It's not exclusive, it's just inclusive of all women," says Needle. "There's nothing like that feeling of us all working together toward a common goal. We don't know what the outcome will be, but we know it will be good."
---
Pensacola Bay Area IMPACT 100 Mission
To know and serve the community;
To collectively fund significant grants to charitable initiatives; and
To set an example of effective philanthropy
Timeline
MARCH: Membership Drive Ends
APRIL: Letters of Intent Due
JUNE: Grant Applications Due
OCTOBER: Winners Announced
For more information, visit www.impact100pensacola.org or call (888) 992-5646.
---
IMPACT 100 of Northwest Florida Mission
To empower women as philanthropists and leaders;
To bridge the geographic areas of our region; and
To leverage the talents of women to be a positive force for good in our communities
Timeline
JANUARY: Membership Drive Ends
AUGUST: Grant Applications Due
DECEMBER: Winners Announced
For more information, visit www.impactnwf.org or call (888) 999-6605.
---
Want to Apply for an IMPACT 100 Grant?
To qualify, your organization must:
Be recognized as tax-exempt under Section 501(c)(3) of the Internal Revenue Code.
Be based in the counties served by IMPACT 100 or be the recognized local chapter of a national charity.
Submit a proposal for a project or program serving the residents of these counties (may be a new program, an expansion of an existing program or a collaboration of several agencies).
Complete your project and spend funds within 24 months of the award date.
For a full listing of eligibility criteria or additional information, please contact your local IMPACT 100.