With Opening of its Technology Center, Gulf Coast State College Moves Focus to Jobs
The Inspiration Coast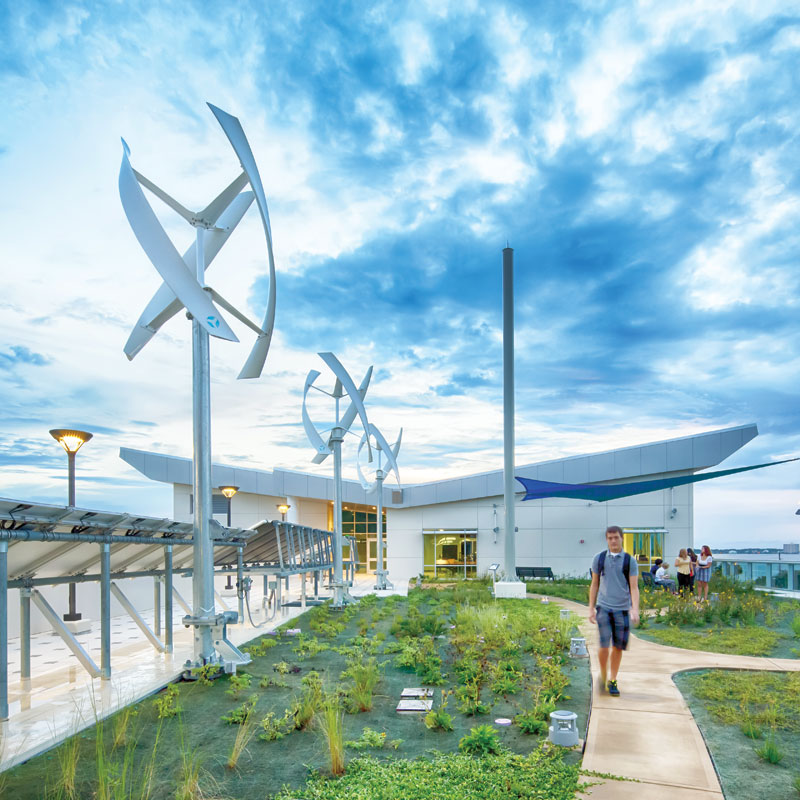 Paul Ashman looked up from his workstation in a glassed-in laboratory at the new Advanced Technology Center at Gulf Coast State College and spied a familiar face.
Presently, he exited the lab and shook the hand of a Florida State University professor from whom he once took communication classes. Weeks earlier, Ashman had encouraged the old professor to tour the ATC and was pleased to find that he was doing so.
"What do you think?" Ashman eagerly asked.
"It's magnificent," the professor offered. "Once inside this place, it's hard to believe you're still in Bay County."
At that, Ashman was unleashed. He enthused about the learning spaces in the ATC and the equipment housed there and the commitment to education and the future that the facility represents.
Chef Paul is a staple in the Culinary Arts Program at Gulf Coast and has been for years. In his confections and bakery laboratory, students hover over mixing bowls, not Bunsen burners.
"No one can resist what we produce here," Ashman has found. "We're going to take this place over."
Fat chance.
Culinary Arts enjoys status as one of a few legacy Gulf Coast career/technical education programs — public safety is the other prominent one — but with the August opening of the $35 million, 100,000-square-foot, alternative energy driven ATC, it has now been joined by many others. Plus, as Stephen Dunnivant, dean of the ATC, is quick to point out, the technical center is accessible not just by students but by "anyone with an idea."
Dunnivant, who served as the old professor's tour guide, spread his arms wide. "It took a perfect storm to bring about a project of this magnitude. But, first and foremost, we had to have the right president."
That man was Jim Kerley, who arrived at Gulf Coast in 2007 and soon thereafter wanted to know why the school had limited career and technical pathways to offer. Kerley hails from Kentucky, where close cooperation between schools and industry has enabled the state to land Ford and Toyota plants and other high-wage manufacturing operations.
Six years into Kerley's Gulf Coast tenure, the school's conversion from transfer college to state college is complete. In its former life, Gulf Coast took great pride in the performance by its students on the College Level Academic Skills Test (CLAST) and the high percentage of its graduates who went on to four-year universities. Now, said Dunnivant, the emphasis is on "jobs, jobs, jobs."
Dunnivant does not discount entirely the value of universities and their focus on long-term research, but he draws a clear distinction between them and Gulf Coast's new direction and focus.
"The big challenge faced by universities is that only half of their degrees are resulting in jobs," Dunnivant said. "We have a generation of bartenders who pursued soft degrees and can recite the Canterbury Tales, but they can't get a job that affords them a good quality of life. Meanwhile they have incurred substantial debt. It's impossible for them to both stay current on their student loans and buy a home."
Dunnivant is both a product and a practitioner of public education. He grew up as a member of a welfare family in housing projects in upstate New York before arriving in Florida at age 16.
"Despite all of its problems, public education was my escape," Dunnivant recognizes. He is a graduate of Rutherford High School (in Bay County), then-Gulf Coast Community College and Florida State University-Panama City. He earned a master's degree online from George Washington University and his doctorate in education from the University of West Florida.
For seven years, Dunnivant was a middle school science teacher in Bay District Schools where he found that disproportionate resources were devoted to gifted students "who could have learned in a closet" and cognitively and financially challenged students.
"We ignored all those students in the middle," Dunnivant regrets. "They didn't fit the model. But I know that if they had had the opportunity upon graduating from high school to come to the ATC, their lives today would be radically different."
While Kerley's vision was critical, so, too, says Dunnivant, was the support of a district board of trustees that was willing to "build it before they come" and the efforts of key state legislators, including Senate President Don Gaetz and one-time House Speaker Alan Bense.
"Without that combined support, the ATC, at any point, could have been deemed another crazy idea and we would have been left with the conference center that the previous administration had, to its credit, raised money to build," Dunnivant said. (The ATC includes a conference center on its third floor.)
Does the dean harbor any fears that the ATC will become a white Dunnivant? None.
Already, Dunnivant said, the ATC is attracting the "best and brightest" minds from Bay County and from other communities that "have not evolved to the point where they have put in the ground the flag that we have planted here."
Planning for the ATC involved a thorough workforce analysis and careful consideration of a fundamental question: What industries and activities do we want to support with the ATC?
"Number one, we determined, was entrepreneurialism," Dunnivant explained. "Silicon Valley isn't built upon the big, giant companies because they come and go. When they are leveraged geographically or globally or the supply chain leaves, they leave. They don't care. But entrepreneurs who start locally, predominantly stay local.
"Anyone with any idea can walk into our ATC and immediately get help from our small business development center. We have six certified business analysts who will help them establish a business model. We have a shark tank where investors meet to hear the ideas of entrepreneurs, and we have a rapid prototyping and fabrication accelerator. If you have a product idea, we can build it right here in this building."
Currently, the ATC is working with an emerging company that is piloting a "hurricane stove" fueled by biopellets made from kudzu and, says Dunnivant, "all that other stuff that grows between the pine trees." Instead of storing propane in their garages in anticipation of the next hurricane, householders will store bags of bio-renewable charcoal and use it to heat their food when the power goes out.
Credit courses are taught at the ATC on Mondays through Thursdays — morning, noon and night — in certificate and degree programs ranging from the culinary program to engineering technology, information technology and digital media.
In support of those programs, the ATC houses some $10 million in equipment, including state-of-the-art digital printers, some costing more than $200,000. (On order at this writing is a chocolate 3-D printer. Chef Paul, always on a sugar high, can scarcely contain himself.)
Dunnivant is sensitive to the predictions of futurists who forecast that most homes in the U.S. will be equipped with a 3-D printer by 2030 and will be able to fabricate and print most anything — toilet parts, tail lights and eyeglasses — in their living rooms.
"I spoke to a businessman recently who said that Bay County has always been a talent puddle," Dunnivant said. "We're about creating a talent pool that will anticipate and shape the future. We've built an inspiration engine here. We don't have to remain the Forgotten Coast or the Redneck Riviera. We can become the Inspiration Coast."