Why The Tung Oil Industry Might Be Making a Comeback
Once lucrative tung oil industry may be making a comeback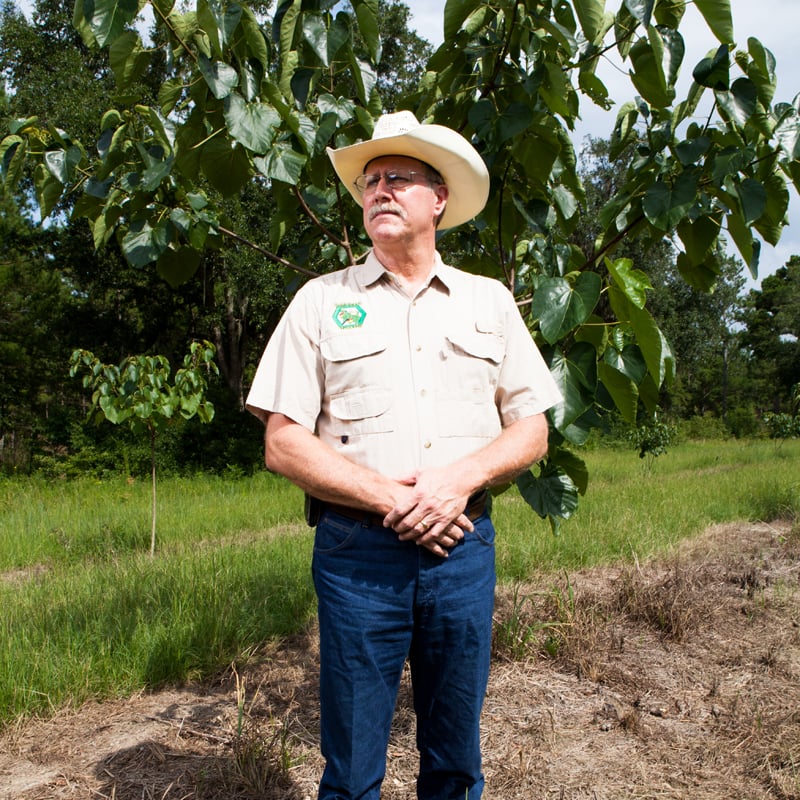 Matt burke
Greg Frost has planted about 5,000 tung trees on 50 acres in Leon and Jefferson counties.
A crop that once covered vast acreage across North Florida and helped fuel rural economies — and whose springtime pink blossoms graced the countryside and the nut of which provided a vital oil for such varied products as wood finishes, printing inks and cosmetics — is possibly making a comeback.
Greg Frost, at least, is wagering that tung tree planting and tung oil production will once again become viable industries in the Panhandle.
Frost, administrative services director for the Tallahassee Police Department, launched Gulf Coast Tung Oil LLC in 2011 and has since planted a combined 50 acres of tung trees in Leon and Jefferson counties.
"We're talking roughly 5,000 trees," Frost says of the two orchards. "The trees are about two years old. They typically start producing nuts during their fourth year, and by seven or eight years they're in full production. You then probably get another 25 years of nuts out of them."
Frost's business model calls for setting up a small oil-pressing mill in Tallahassee. He foresees his orchards producing about 2,000 gallons initially and increasing to about 4,000 gallons once the trees mature. He plans on mostly wholesaling the oil, with some local retailing on the side. Ultimately, of course, oil output will depend on the total acreage planted in tung trees.
Which entails other landowners planting the trees, a proposition Frost recognizes is not without risk. So far, however, the response has been encouraging.
"There's actually been a lot of interest," Frost says. "And I think once we're actually producing oil, more are going to see this is a good way to use their lands."
Tung trees require climate and soil conditions ideally found within 100 miles of the Gulf of Mexico along a crescent stretching from central Florida to east Texas — South Georgia included.
"In its prime, the domestic tung oil industry spanned six states," said Whitney A. Snow, assistant professor at Midwestern State University and tung industry historian. "Newspapers and magazines like Tung World and American Tung News referred to the Gulf Coast as the Tung Belt. Attracted by the tree's beautiful blossoms, tourists traveled from all over the country to tour the orchards. Down South Magazine even referred to the tung industry as 'Pink Clouds in Dixie.'"
Frost himself talks of Leon and Jefferson counties having been centers of the industry. Notably, a 1988 Monticello News article identifies several Jefferson County plantations as one-time big tung oil producers, including the 38,000-acre Tungston Plantation, reputed to have been "the largest tung oil producer in Florida." The article further talks of fortunes made and millions generated through cultivation of the trees.
Native to China, where tung oil has been produced for centuries, tung trees were introduced to the South in the early 1900s and soon became a viable cash crop for Gulf Coast farmers. Indeed, the oil's importance was such at one time that it was declared a strategic defense item prior to WWII. Domestic production peaked in the late 1950s but thereafter began declining.
"Foreign competition, cheaper oilseeds (like soybean or canola), synthetic oils and shifting parity prices led many growers to seek other crops," Whitney said.
Not to mention freezes in the '50s and '60s that devastated many of the commercial orchards. Hurricanes Betsy and Camille — in 1965 and 1969, respectively — accomplished the rest, with the latter storm effectively sounding the industry's death knell.
Given the industry's demise in the 1960s, what makes Frost think the time is now propitious for its revival?
He cites several factors, among them increasing interest in sustainable resources, development of new products that require tung oil, and efforts in China and Germany to develop a tung oil based bio-aviation fuel.
"They've been successful enough that they've actually flown several commercial planes using this fuel," Frost offers.
Most importantly, he says, a stable niche market has continued to exist in this country all along, comprised of manufacturers that rely on the oil for their products.
"These manufacturers must now import the oil from Argentina, China and Paraguay," Frost said, adding that not only must they order in bulk, wait months for delivery and risk inconsistent qualities, but they pay high prices to boot. He believes domestic production can beat the foreign competition on all counts, particularly on delivery.
Matt Burke
Oil from the nut of the tung tree has a variety of uses, including bio-aviation fuel now being developed in China and Germany.
"If you needed three 55-gallon drums, we could have that at your facility within three or four days, versus you've got to wait months to get it to your doorstep," Frost said.
His company, moreover, is in a unique marketing situation, he added.
"We actually have buyers lined up and waiting for us to produce the oil," Frost said, citing as examples a California chemical supply company and a Vermont wood finish manufacturer. "These folks say if we can provide good quality oil at a competitive price, they'll never buy it from overseas again."
Frost attributes the idea for the enterprise to his longtime interest in woodworking, his familiarity with tung trees and his wife's suggestion that they make their own tung oil for a small table they were finishing. Once he started researching how to make tung oil and learned about the existence of the niche market and this area's rich history in tung oil production, he was hooked.
"Once I realized that, it was like, let's see if we can put a small agribusiness together and have another domestic supply," Frost said. "And it just grew from there."
Besides his immediate family, Frost has partnered with Jeff Phipps, who owns the land on which the Leon County orchard is planted. He has since also secured an agreement with the USDA giving him access to a cultivar specifically developed to bloom later than the traditional trees and so avoid late season frosts.
"The future orchards that we'll be expanding will have this cultivar available, which hopefully means we'll have better oil and more oil and few crop losses due to late season freezes," Frost explained.
---
For more information, call (850) 524-2852 or email gulfcoasttungoil@gmail.com.