Who is writing the news?
Recession's impact still being felt in how state government news does (and doesn't) get into your hands.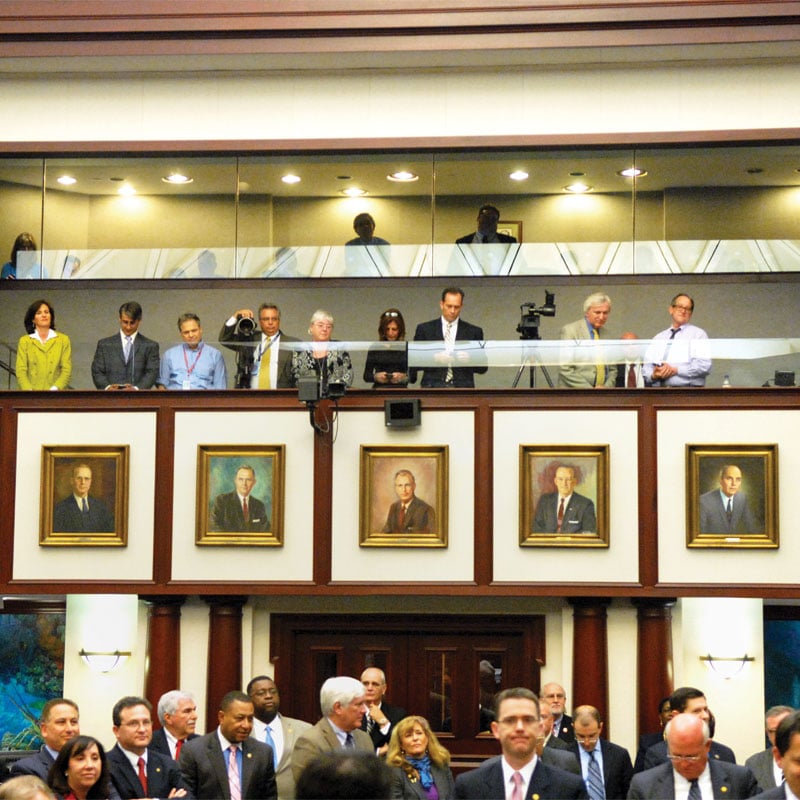 Five years ago, every major daily newspaper in Florida had a state capital bureau, a team of reporters covering not only issues of statewide importance but also digging into issues of special concern for readers back home. Mid-sized newspapers under common ownership pooled their resources to support statehouse bureaus that served entire groups. Chains of small community newspapers usually managed to have one reporter in Tallahassee, at least during the legislative session.
What a difference a few years and a recession can make.
Widespread newspaper layoffs beginning in 2008 have shrunk newsrooms across the country, many to one-half or one-third their former size. Those reductions in staff have taken a toll on state government coverage. When forced to choose between covering the Legislature and covering school boards and courts back home, Capitol Bureau staffing was an expendable luxury.
"It's part of an evolution of journalism," said Bob Gabordi, executive editor of the Tallahassee Democrat. "There's no question that news organizations are smaller. Companies did what they had to do to survive. We did what we had to do to survive."
Some newspapers have shut down operations in Tallahassee completely. Others made adjustments to save money. The Democrat and its parent company, Gannett Company, closed their Florida Capital News bureau, save one broadcast reporter, and created a new model for statehouse coverage for its other three Florida papers that is based out of the Democrat's main newsroom on Magnolia Drive. Jacksonville's Florida Times-Union closed its bureau but still has a reporter in town. The Tampa Tribune retains space but not staffing in The Florida Press Center on College Avenue; the office sits empty most of the time. The Miami Herald and the St. Petersburg Times, now the Tampa Bay Times, decided to stop competing and created a super-bureau.
Before they joined forces in late 2008, the Times had reduced its staff from four full-time reporters to three, and the Herald had downsized from three to two. The Times-Herald bureau continues to be a leader in state government coverage, particularly on issues of accountability, but you can't buy copies of either newspaper in Tallahassee anymore. You have to read them online. It's the same with other newspapers around the state.
"One of the things I used to love about Tallahassee was that you could go buy every major paper in the state, the Atlanta paper and all the national papers, like the New York Times and the Washington Post," said Lucy Morgan, the Times' senior correspondent who has covered legislative issues since 1979 and state government full-time since 1985. "Our newspaper was delivered to the governor and the legislative leadership, but not anymore."
There is evidence that statehouse coverage is beginning to rebound. Dean Ridings, president of the Florida Press Association, which owns the building where most news organizations lease office space, said there are a dozen active news organizations in the building, including three new players who weren't there five years ago. Bloomberg News opened a Tallahassee bureau two years ago and hired an experienced Florida statehouse reporter, Michael Bender. Two online-only news bureaus, News Service of Florida and Sunshine State News, are both headed by veteran journalists, former Associated Press reporter David Royse and longtime Stuart News managing editor Nancy Smith, respectively.
"It's nice to see a vibrant Capital Press Corps, especially since it had gone down a few years ago," Ridings said. "I've actually seen an increase in the number of bodies working the building."
As the overall economy improves, Ridings expects to see an increase in Capitol news coverage.
"Florida real estate plays a significant role in the economic conditions in general," he said, "and it affects newspaper and media financial health just like it affects furniture sales."
Consolidation of Ownership Further Reduces Staff
Mergers and acquisitions also have changed the face of Capitol coverage, further reducing the number of reporters keeping an eye on state government and how its decisions affect the lives of people from the Florida Keys to Northwest Florida. Take Halifax Media Group, for example, founded in 2010 by a group of investors with other media interests to purchase the Daytona Beach News Journal. The News Journal was beset with financial and legal problems and under court supervision at the time of the sale.
In early 2012, two years after buying the News Journal, Halifax bought The New York Times' 16 regional newspapers in the Southeast, including four in Florida — The Gainesville Sun, the Ocala Star-Banner, The Ledger in Lakeland and the Sarasota Herald-Tribune. Last summer, Halifax added to its roster of Florida newspapers with the purchase of Freedom Communications' 10 properties in Northwest Florida, including newspapers in Fort Walton Beach, Panama City, Destin, Milton, Crestview, Bonifay, Chipley, Apalachicola and Port St. Joe.
With the addition of the Freedom newspapers, Halifax now has 15 newspapers spread across Central Florida from the Gulf of Mexico to the Atlantic Ocean, through North Florida to the far western Panhandle — and one reporter in Tallahassee.
Five years ago, NYTRNG, The New York Times' regional group, had a staff of three covering state government for its four Florida papers, while Daytona Beach and the Freedom newspapers each had a bureau of one. By the time of the NYTRNG sale, layoffs had whittled its bureau down to one person and both the Daytona and Freedom bureaus were long closed. The former NYTRNG bureau functioned during the last legislative session much as it had before the sale. Sarasota sent a reporter to Tallahassee for the duration of the session, and Lakeland and Gainesville provided reinforcements to cover certain issues, particularly higher education. If and how the addition of the Northwest Florida newspapers will affect staffing and coverage remains to be seen.
Newspaper editors across the state still rely on the Associated Press for coverage of major issues. After being down one writer for more than a year, the bureau has the same number of writers it had 12 years ago, when Correspondent Brendan Farrington moved to Tallahassee to lead the bureau.
"We did lose a photographer and a tech position, and a three-person video operation that we started after I got here was discontinued," he said, "but we still have four full-time writers, including me. And we always brought in extra help during the legislative session."
However, two veteran AP writers in Tallahassee are retiring within the next few weeks. Bill Kazcor plans to leave before the legislative session begins in March; Brent Kallestad will depart by April 1. Asked whether he will be able to replace them, Farrington said he wasn't authorized to discuss personnel decisions.
A New Way of Doing Things
Even with positive economic indicators, it seems unlikely that news organizations, and newspapers in particular, will return to previous levels of state government coverage, both in terms of staffing and substance.
"There's no doubt there are fewer people representing newspapers here, and fewer photographers," Farrington said. "AP has tried to be more distinctive in our journalism, covering things with a broad focus and not just covering issues incrementally. There are still a lot of good reporters in Tallahassee and I think they do a good job of keeping an eye on government, but when you have fewer reporters, you can't do as much."
The Times-Herald bureau's Morgan agrees.
"It's a very odd situation that we're in," she said. "There are probably more news organizations than ever covering state government, but the depth is not what it used to be. Coverage is splintered. We all have to blog and take photos and shoot videos, and that makes things quicker for readers, but it does take time away from digging into the story or doing the follow-up work, making one more call to verify what someone at the Capitol told you."
Bill Cotterell — another longtime member of the Capital Press Corps who covered state government for UPI in the 1970s, for the Tallahassee Democrat from 1985 to 2012 and now for the online-only Florida Current — said a lot of coverage now is "shallow and superficial."
"For aggressive coverage and investigative reporting, it's the combined Miami Herald-Tampa Bay Times bureau," he said. "For the rest of the press corps, it's bills affecting their regions. With smaller staffs, it's all they can do to keep up with their local delegations."
Business coverage in particular has suffered, he said, with many newspapers focusing on "business boosterism" instead of regulatory issues. That lack of vigorous coverage limits accountability as well as participation in the process, said Tallahassee businessman Kim Williams, owner of Marpan Supply Co. and Marpan Recycling.
"It puts a cloak over a lot of the activities that are taking place until it's too late to do anything about it," Williams said. "And you can't go home and read about what's going on in your newspaper anymore. A lot of what I got came out of the Democrat, and it doesn't have the coverage that it used to."
Williams, a longtime state government vendor, has built a network of contacts over the years and uses it to keep informed and to make his concerns known. Finding other business people with similar issues to "share a podium" and raise awareness is one tactic he uses; he also makes use of lobbyists on occasion.
"If I've got a special issue, I'll go find someone to work for me," Williams said.
The reduction in regulatory coverage has had limited impact on Panama City Beach banker Brian Robinson, who said most of the governmental action that affects his business comes at the federal level or the local level. But he, too, uses networks to stay abreast of what's going on in Tallahassee.
"We (BB&T) are federally regulated, and our customers are most affected by millage rates and local taxes," he said. "If there is a state issue, our Chamber of Commerce's legislative affairs committee stays on top of it."
Online: The Future of News
As traditional news organizations find themselves fragmented, serving both their core product — print or broadcast — as well as online platforms, online-only news services are carving a niche for themselves in substantive reporting.
"The online services are producing fairly short, tight stories, but they're complete stories," Cotterell said. "And some of the online coverage is delving into the lobbying corps and the interests there, the kind of thing the bigger papers used to do."
Some of the success of the online operations can be attributed to smart hiring; plenty of experienced reporters found themselves unemployed, and others were willing to change jobs. The News Service of Florida was created in 2008 by partners who operate a similar news service in Massachusetts and is led by Executive Editor David Royse, a veteran of the AP Tallahassee bureau. It has press corps veterans Michael Peltier, Jim Saunders, Margie Menzel and Brandon Larrabee on staff.
Like Ridings and Morgan, Royse sees as many reporters covering state government as ever, even though traditional newspaper staffing has dropped.
"We're starting to pick up some of the slack, with more newspapers around the state subscribing," he said. "Every public radio station in the state subscribes, and we provide print for their websites as well as audio. That's a part of our business model, and I don't think it is part of our competitors'. And unlike the AP, which is a big, global organization, we're more affordable for smaller news outlets, as well."
News Service also focuses on business-oriented coverage, Royse said, particularly business-related stories that have a nexus to state government.
"We cover the Public Service Commission fairly extensively and the public utility companies," he said. "That's something that Tampa Bay and the South Florida papers do cover, but no one else is."
For better or worse, Royse said, online news is here to stay.
"The newspaper industry is still trying to figure out the online world," he said. "Those of us trying to navigate it without the shackles of an existing organization or product have an advantage."
Since he took a buyout from the Democrat and Gannett a year ago, Cotterell has joined the staff of The Florida Current, a news operation founded in 2010 by Lobbytools, an online legislative research, tracking and analysis service. The Florida Current offers a free daily email service containing links to stories about the previous day's activities at the Capitol; Lobbytools' subscribers get the stories a day earlier.
"Our subscribers care about the niche of policy and politics," said Sarah Iarussi, company president. "With newspapers in transition, there was a glut of talent on the market — veteran journalists with policy knowledge."
Those veterans include James Call, whose experience spans newspapers, radio and magazines; Bruce Ritchie, a former wire service reporter and newspaper environmental writer; Bill Prescott, a 25-year veteran of The Tampa Tribune who started his newspaper career at the Democrat; and Gray Rohrer, who broke the story that Hunting Deutsch, Gov. Rick Scott's director of economic opportunity, had taken several trips to Europe while collecting unemployment benefits himself.
"We had two purposes in adding the news service: to provide more value to the customers we already had by adding context to the data, and to attract new businesses and give them an entrée into our research," she said.
Although most of its customers are lobbyists, local governments, associations and others involved in the legislative process, Lobbytools will allow newspapers to license its statewide news content and will provide coverage of regional issues for a fee.
Newspapers can then use their own staffs to add the local flavor, a cost-effective option for newspapers with shrinking staffs, she said.
"For businesses, we're an affordable, intermediate step. Information services like Lobbytools were started to serve the core lobbying faction," Iarussi said. "What has changed is the number of Florida businesses we serve who don't employ a lobbyist."
Who's Driving the Bus?
The proliferation of online news coverage hasn't been without controversy.
Two years ago, the Times-Herald's Morgan wrote a story about how online news operations were springing up to fill the void in state government coverage. She noted there was no standard definition of "news organization," quoting Sterling Ivey, press secretary to then-Gov. Charlie Crist, who joked that "we recognize anybody who has a pen and a piece of paper and says they write."
It wasn't the competition that troubled Morgan, who knows full well that robust competition breeds better journalism. What bothered her was the lack of transparency about who — and whose money — was behind some of the new ventures in the Capitol Press Corps and the slant given to the coverage under the guise of straightforward, unbiased reporting.
"Any blogger that wants a press credential can get one, and that doesn't bother me if you know who they are and who owns the blog," she said. "In some ways, there are more voices coming out of here than ever, and that's not a bad thing. But you need to know who's behind it.
"Take Fox News. I don't question its First Amendment right to do what it's doing, because everyone knows who those people are and where they're coming from, " Morgan said last fall. "But when you won't disclose your ownership, it's a problem. It could be the Koch brothers; it could be sugar (industry); it could be any business group that's looking to influence what happens in Tallahassee."
In particular, Morgan is critical of Sunshine State News, and she's not alone.
"It says right on their website that they serve the business community and conservative causes, but they won't disclose their ownership," Morgan said. "Nancy Smith, the managing editor, trashes the rest of us in her columns, refers to us as the 'mainstream media.' "
Smith acknowledges her news organization leans to the right, and that she thinks the mainstream media in general and the Tampa Bay Times in particular lean left and just don't admit it.
"I think people misinterpret what we do," Smith said. "When I look back on the coverage before Sunshine State, I'm struck by how much alike we were all writing. We were all taking the same approach. We still write stories that I hope are factual, but we tell the stories no one else is telling."
Smith, who describes herself as a "Teddy Kennedy liberal who once worked for moveon.org," said that much like a debater can take either side of an issue, she and her staff can report the news from different perspectives.
She knows who owns the organization, but she said no one else on staff knows. And she considers that a good thing.
"We're not bloggers. We're a legitimate news source," she said. "I see Sunshine State as a permanent fixture in the Capital Press Corps. I'll just be glad when we figure out how to make more money from it."
Longtime media attorney Florence Snyder has represented many Florida news organizations — including Palm Beach Newspapers, Gannett and WSVN-TV in Miami — and was a trustee for The Poynter Institute for Media Studies, a school for journalists that owns the Tampa Bay Times, before becoming an administrative law judge. Now in private practice and a columnist for Florida Voices and www.tothevillagesquare.org, she sees what's happening in the practice of journalism — and what isn't.
"There is a business opportunity for crusading editors," she said. "There's plenty of content; there's just nobody writing it."