Wanted: Homegrown Doctors
FSU's College of Medicine is reshaping North Florida's health care — and improving economic development opportunities — by recruiting rural doctors, creating residencies and expanding opportunities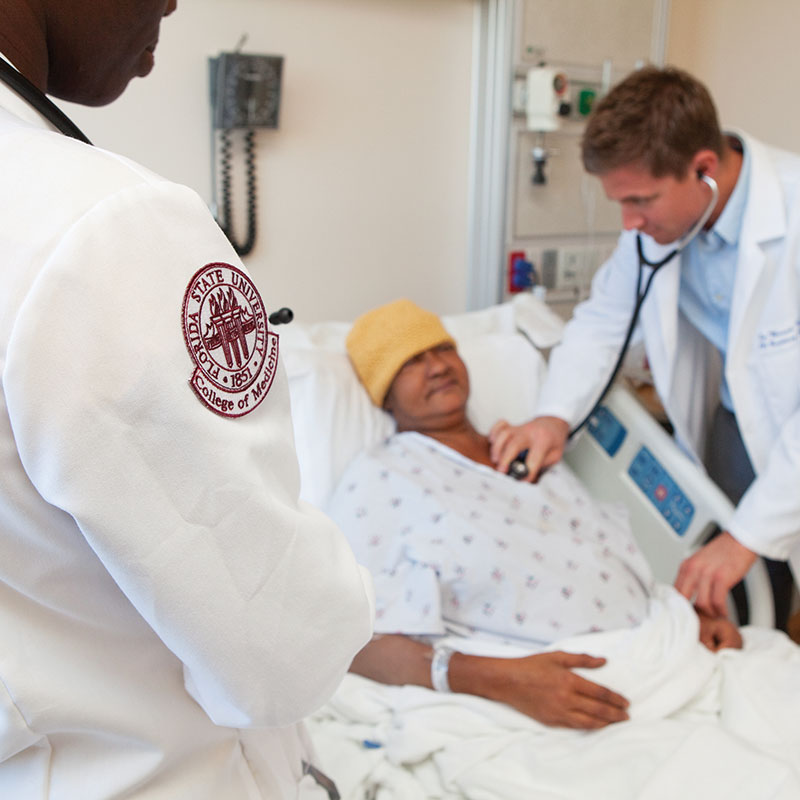 Back in the old days, the town doctor was an old sage who practiced out of his home and treated everything under the sun. He knew everything about everyone in town, as well as those living on the nearby farms and homesteads. He could deliver babies, pull teeth and set broken bones. Sometimes he had an idealistic young apprentice tagging along, soaking up his wisdom, learning the trade and building relationships with the people who would come to count on him when the old man retired.
Times may change, but you always return to the classics. As health care changes and the need for doctors increases, Florida State University's College of Medicine is hoping to provide the small towns of North Florida with modern versions of the classic town doctor.
The first new medical school in the United States in 20 years when it was established by the Florida Legislature in 2000, FSU's College of Medicine graduated its first class in 2005. Since then, the alumni ranks have swelled to 910. Of that number, 294 have completed their graduate medical work and have entered practice, but 65 percent of alums are still in residency or fellowship programs.
The college's official mission statement is clearly defined. It says, "The Florida State University College of Medicine will educate and develop exemplary physicians who practice patient-centered health care, discover and advance knowledge, and are responsive to community needs, especially through service to elder, rural, minority and underserved populations."
Medical school dean Dr. John P. Fogarty talks about that with a touch of pride. It aptly states the case that there is a real need for the college.
"It's been described as the most focused mission statement for a medical school," he said. "I think that was on purpose. We didn't believe that North Florida had enough physicians, and we needed to create the ones they needed. We've been holding to that mission. That's the good news."
Building new doctors is one thing, but it's been an uphill battle to keep them in the third-largest state in the nation, where good the availability of health care is a key element in the state's — and Northwest Florida's — ability to attract new businesses and bolster economic development.
Despite a population nearing 20 million, Florida ranks 43rd in the number of available residency slots. Many fledgling doctors go out of state for post-graduate training. Some of them come back home, but Fogarty thinks more could be enticed to stay here.
Fogarty noted in the med school's 2014 annual report that 55 percent of alumni in practice are caring for patients in Florida.
"The percentage could be much greater if there were more opportunities to retain graduating students in Florida for residency training," he wrote.
"For the last three years, anywhere from two-thirds to 70 percent have left Florida to go out of state for residencies," Fogarty said recently. "The good news is they are in spectacular programs throughout the country, many of the best hospitals in the country, which makes us feel really good about the students we produce. The better news is most of them are returning."
The med school pins its hopes on a "community-based" approach to teaching new doctors. In the past, at least 75 percent of medical teaching for third- and fourth-year students happened in hospital-based settings. Times have changed, though, and hospital stays are much shorter. For the med student, this means a small window of learning opportunities. Time to turn the conventional model around. In FSU's model, 75 percent of training takes place in a mentoring doctor's office, Fogarty said. This enables the future physicians to build long-term relationships with doctors, patients and the community they train in.
"Our philosophy is train where the patients are. They're getting a much more real view of cases that present commonly in the offices," he said.
But while you have a "captive" audience when it comes to med students still in college, once they graduate, it's very possible — as previously noted — that they will seek residency programs out of state.
Dr. Tanya Evers, 37, a 2008 alum and native of Brandon, Florida, is among the FSU med-school grads who traveled out of state for her graduate education. In her case, she did her residency in obstetrics/gynecology at Vanderbilt University Medical Center in Tennessee. But a deep Florida connection called her back, and she's currently a physician and faculty member of Tallahassee Memorial HealthCare's Family Medicine Residency Program.
"My husband and I are both from the Tampa area and wanted to return to Florida to be closer to family," Evers said. "Having lived and worked in Tallahassee previously, we were comfortable here and felt it was a nice place to raise a family. I believe that having a medical school closer to 'home' for many people who grew up in the Panhandle of Florida will keep them here to practice. I also know that there will be some who come to Tallahassee and love it, want more of the same and therefore will settle down in the area. I also suspect that the patients being cared for by these homegrown providers will be able to connect with them on a more meaningful level."
In fact, as part of its mission statement, FSU actively recruits med-school students from small towns and underserved communities in hopes they will want to practice medicine in these rural areas. Sometimes, though, they don't need a lot of encouragement. Sometimes, it fits a future doctor's personal desire. For example, Dr. Robin Albritton, 37, is a family doctor who grew up in Marianna, went to med school at FSU, conducted his residency at TMH and fulfilled his dream of coming back to Jackson County to practice. For him, the idea of having more doctors in more rural areas hits close to home. Most residency programs are held in urban areas because you need a high volume of patients to be able to train new doctors. That's all well and good, but the way he sees it, places like Orlando really don't need any more primary care doctors.
"We need them more out here," he said. "And quite frankly, it's not just primary care doctors. I'd rather we put a new general surgeon in rural Marianna than another family doctor in Orlando. And so really what we have to work toward as FSU continues to expand its graduate medical education is look for opportunities to develop rural residency tracks."
As it turns out, Marianna is becoming a popular place for FSU's med-school students to put in clinic hours, Albritton said.
"We here in Marianna actually have four third-year medical students every year from FSU that spend their entire third year of medical school here," he said. "And … all of us that practice here teach those students."
This small-town experience is also making some students change their mind and their career goals.
"There are three or four people currently doing their residencies in primary care who never considered primary care and had never considered the possibility of practicing in a rural area, and now their goal is to do such because of their experience here," Albritton said. "So, really looking forward in the future, that's what I think we need to have a focus on. We need to continue to expand graduate medical education and also try to get more rural tracks associated with some of these residency programs that are based in urban areas."
FSU's med school is stirring things up in Florida. Founded at a time when there was general resistance to creating new medical schools, it wasn't until after the state bit the bullet that suddenly the need was realized.
"There was actually a projection at the time that there was a surplus of doctors and that there was no reason to create a new medical school," Albritton said. "Not long after FSU was founded they really revised that and said, 'Oh boy, we're in trouble, we're going to need more doctors,' and therefore you saw other medical schools pop up in the state of Florida. But what you didn't see was a lot of new residencies pop up. And that is where the boat is being missed."
Fortunately, FSU is taking the lead in that regard by establishing new programs across the state. The college works with more than 90 health care systems and 2,500 physicians to provide clinical training in five residency programs: pediatrics and obstetrics/gynecology at Sacred Heart Hospital in Pensacola; internal medicine at Tallahassee Memorial Hospital; family medicine at Lee Memorial Hospital in Fort Myers, and a general surgery residency at TMH — which is currently waiting on the green light from the accreditation process. The college is also sponsoring an internal medicine residency program at Sarasota Memorial Hospital and one in dermatology at Dermatology Associates in Tallahassee, which already has a dermatology fellowship.
"That is the answer to keeping more people," Albritton said. "I will tell you that only about 10 to 15 percent of my graduating class stayed in the state of Florida. The rest of them left. And many of those have never come back. I believe we had 59 in that class. But that's the reality of it, if there are (not enough) residency programs in Florida, people are going to have to go outside the state to get their graduate education. Unless they have strong family ties, they're not going to come back."