Walton Tourism Breaks Records
The tourist season and the number of visitors keep growing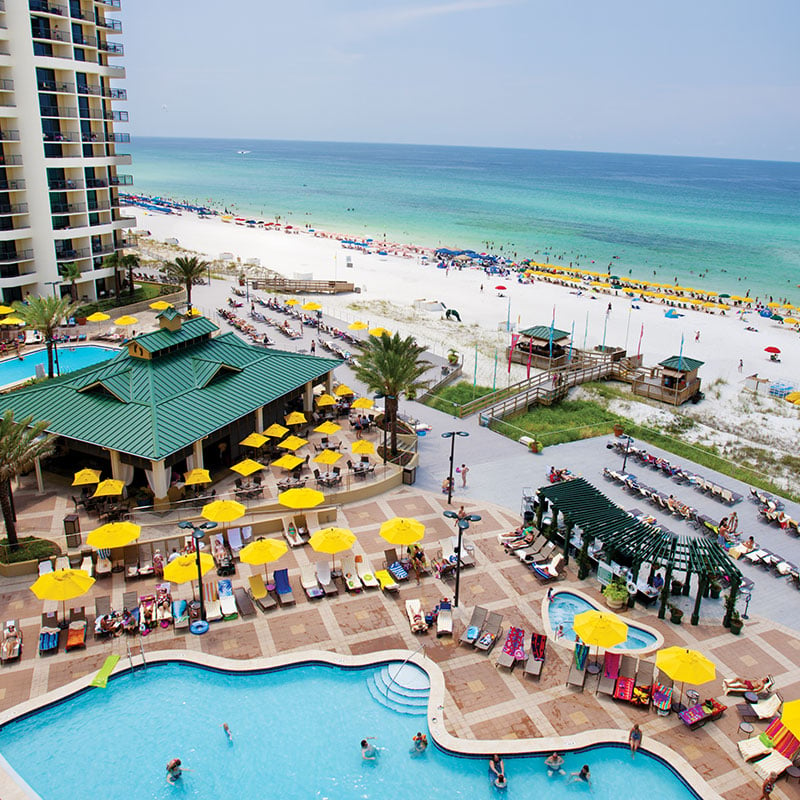 In Walton County, nearly one of every four residents works in the county's major employment sector — tourism and hospitality.
Unlike neighboring Okaloosa, Walton County's focus is on selling its 26 miles of beaches and 16 beach neighborhoods to visitors, hoping they'll return on a regular basis and someday become permanent residents, perhaps even starting a new business.
"Tourism is setting records every year. It's a huge part of our economy," said Steve Jaeger, executive director of the Walton County Economic Development Alliance. "We would just be another rural county in Northwest Florida if not for the beaches and the military."
In 2014, Walton was the third fastest growing county in the state, and the result is being seen in the spurt of new home construction in developments like Hammock Bay.
The county's largest employers are Sandestin Golf and Beach Resort, Hilton Sandestin and ResortQuest. They, along with other businesses catering to tourists, are experiencing a surge in popularity.
"Last year our tourist numbers were up 7 percent over the previous year. And so far this year, we're up 23.96 percent over last year," said Jim Bagby, executive director of the Walton Tourist Development Council. "People don't realize it, but we're the ninth largest short-term rental destination in the state of Florida. We beat Pensacola, Jacksonville, everyone north of Orlando."
Last year, Bagby said, Walton County ranked as the top beach destination in Florida for the summer months. And as a summer vacation destination, it beat out everyone in the state except for Orlando.
"There's a lot of reasons for that," he added. "We have gorgeous sand, two major sub-destinations — 30A and Sandestin/Miramar Beach — and whatever visitors want they can find here. We're a nature destination, a music destination, a culinary destination. Per capita, we have more Golden Spoon award winners than anywhere else in Florida."
The county is also selective in the types of visitors it wants to attract. Its primary target group is in the 35-to-64 year age range and has an annual household income over $175,000. The secondary target group is aged 65 and over and has a net worth of more than $1 million.
"It's a lifestyle difference," Bagby said. "When you compare us to our neighbors, we get an entirely different demographic."
Alys Beach
COURTESY OF VISIT SOUTH WALTON
In recent years, county tourism leaders have put increased emphasis on the "shoulder seasons" of spring and fall. As a result, the popularity of those seasons — which feature a variety of cultural and culinary festivals — has grown twice as fast as the ever-popular summer season.
The tourism council recently closed out its application process for events seeking county financial support in 2016. A total of 28 events, scheduled from Sept. 1 to May 31, asked for funding — almost one per week.
The impact of these events is a huge boost to the local economy. For instance, the county's $50,000 sponsorship of the 30A Songwriter's Festival resulted in an economic impact of almost $4 million for one weekend.
A national multi-million dollar ad campaign paid for by BP after the 2010 Deepwater Horizon oil spill helped to boost tourism along the Gulf Coast by allaying fears of oil-soaked beaches. But visitation records kept getting broken long after the ads went off the airways.
"It did help stop the bleeding and clear the airway, but the area has been growing for years and to say it is all a result of BP is a misperception," Bagby said.
While tourism remains Walton County's economic bread and butter, Jaeger focuses on attracting investment that will diversify the economy and provide new jobs in areas like manufacturing.
"There's nothing wrong with tourism jobs, but they can be seasonal and subject to outside events," he said.
At the county-owned Mossy Head Industrial Park off I-10, trucking-related companies are moving in and there are hopes of attracting a freight-handling warehouse in the near future. At the county's second industrial park near Freeport, Morgan's Ice will be constructing a new facility that is expected to provide jobs especially geared toward high school and college students.
"It's tourism related, but it's a wonderful expansion for us," Jaeger said. "They're currently distributing ice from Atlanta and that's a long haul."