Walton and Okaloosa Counties see Commercial and Residential Real Estate Head into Recovery Mode
Special Report: Emerald Coast Real Estate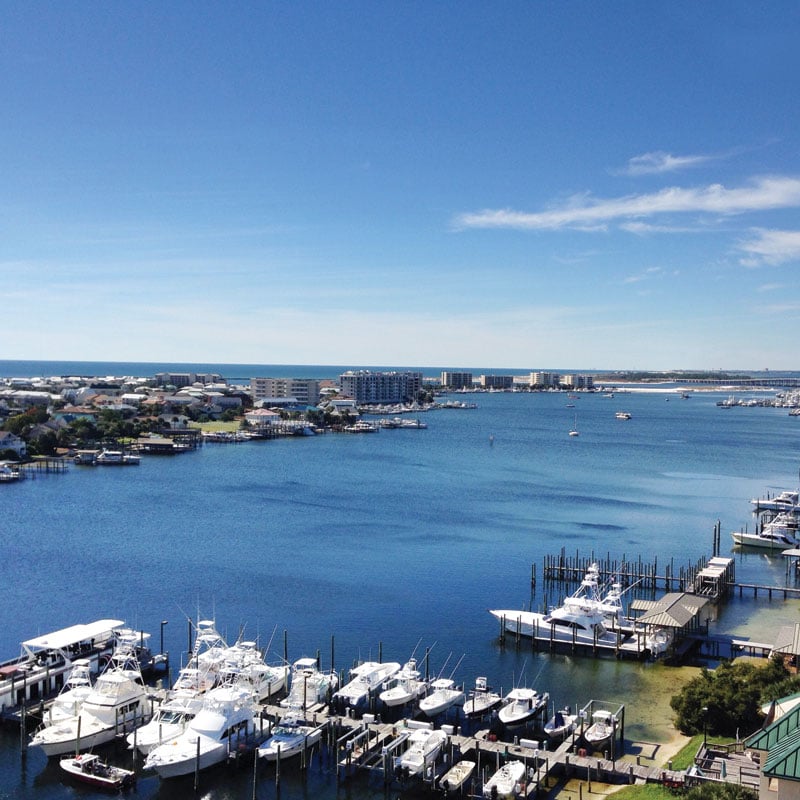 Realtors in Okaloosa and Walton counties soon might be able to breathe a collective sigh of relief. Although recovery from the recent recession has been sluggish, things are starting to actually look up. In terms of home sales, distressed property sales, improved values and a bustling commercial market, the Emerald Coast is busting out of the "Great Recession" in good order.
"Destin is poised for a strong recovery," said Mary Ann Windes, broker/owner of Real Estate Professionals of Destin Inc. and 2013 chair of the Destin Area Chamber of Commerce.
Windes says her popular resort town has always been resilient when other economies were suffering, but this recession in particular has been tougher than most and hit the local economy pretty hard. However, compared to the start of the housing decline five years ago, things are really looking up today.
Residential Recovery
"Residential has already recovered on the lower-priced properties up to $250,000," she said. "That inventory is almost gone, and the prices have already turned upwards with competitive bidding ongoing. The higher-priced stuff is still a little sluggish but as the lower-priced inventory is absorbed, the price of other properties will rise also."
Ed Smith, president of the Emerald Coast Association of Realtors (ECAR, which mainly covers Walton and Okaloosa counties) and president of REMAX Coastal Properties in Destin, said that significant improvements have been seen just over the past couple of years and that values have improved "quite a bit." Even "distressed" properties are moving at a brisk pace now.
"Distressed property sales represent a much, much smaller percentage of the overall market than they did even two or three years ago," he said. "At one point I believe it was around 40 percent, and today distressed properties represent less than 20 percent of our market. The buyer demand is good, interest rates are still stable, so those factors combined to make for a very positive outlook."
Jan Hooks, former ECAR president, noted that different factors — including a dip in median prices for single-family homes — can cause "bumps and blips" in any given month, but you have to take a long view of the situation.
"What matters is what happens over time. 2013 has been a very positive year overall for real estate on the Emerald Coast," she said.
Statistics released by the ECAR in October showed that sales remained strong in this region compared to October 2012, and despite the dip in median prices all indicators for 2013 remained positive.
Among the factors contributing to a successful recovery are low interest rates, Smith said, noting that 30-year fixed rates are in the 4.5 percent range, depending on one's credit score.
"I always hasten to add that things are much more credit score-driven now than they perhaps were several years ago," he added. "The market is a lot more sensitive to credit scores than it had been in years past, and one person may get a 4.25 rate and the next guy might get a 4.75. It just depends on how they score."
And if you've been upside down in your property and haven't been able to sell, the situation has changed so that you might just be able to now — and maybe make a little money in the process.
"Values have come up enough that many of the people that have been upside down are actually able to sell now, without having to resort to a short sale," Smith said. "Some people have better equity positions and are able to sell now and make a little money instead of breaking even."
Commercial Construction
On the commercial side of the coin, locals might be noticing some new construction going on in many places, and existing buildings that have been sitting idle or vacant for years are finally being scooped up and developed.
"Commercial is looking good," Smith said. "We've got more and more retailers coming in to the market, so much of that inventory has been absorbed over the last 12 to 18 months. It's been very positive. And with the new retail comes more jobs, and that's very good for our economy."
Gordon MacLean, managing broker of NWF Realty Inc. of Niceville and chair of ECAR's Commercial Committee, said jobs are the basis of commercial real estate. And jobs are steadily being created in his neck of the woods. A recent Wall Street Journal article reported that the Fort Walton-Crestview-Destin MSA came in third on a list of metro areas across the country that have produced the greatest percentage of job gains in the past year (Naples-Marco Island and Sebastian-Vero Beach are the top two in gains). This means that employers will follow the job growth wherever it is to provide services for those families.
"There's going to be a need for more housing, going to be a need for more restaurants, there's going to be a need for more stores," MacLean said. "Obviously, jobs are housed in an office building … the underlying market is being affected by the fact that we are experiencing job growth here in this MSA that's permeating throughout the commercial real estate market."
Interviewed a few days before Christmas, MacLean said that commercial sales reached the $100 million mark in 2013, with 40 percent of that happening in the first half of the year and the remaining 60 percent happening up to mid-December. Some of those sales have been distressed projects that he said were started years ago and for various economic or financial reasons put on hold.
"Now those properties … have traded hands and are poised for completion in the first half of 2014," he said. Cypress Preserve of Fort Walton Beach and the Freeport Business Park are two examples. The former was designed to be a 150-unit apartment building, but according to the MLS has now been changed to assisted living. It sits on approximately 15 acres and, as of December, consisted of an existing clubhouse and a three-story, 24-unit apartment building. According to the MLS, it was built in 2007 but has been idle since then. The new owners closed the sale this past November.
"(The new owners) are going to build it out and get it up and running," MacLean said. "We're seeing more and more of these projects that looked like they were started and abandoned, but now are starting to be absorbed."
Meanwhile, the Freeport Business Park may have some new life as well, thanks to its recent purchase. Although it was located on a major thoroughfare and had high traffic counts, it too was put on hold after some preliminary building was completed around 2007.
"The new owner is going to go in there and build out the space and hopefully start leasing out some of those units," MacLean said. "It languished for four years. It was 24 units altogether, and I think maybe two or three had tenants in them."
Big Projects
In other news, two prominent Emerald Coast properties — Hilton Sandestin Beach Golf Resort & Spa and Destin Commons — are growing by leaps and bounds. Destin Commons, hailed as the premier open-air lifestyle shopping center, has an expansion project going on that will add more than 20 new retailers and three new restaurants to its impressive list of 75 tenants, including Bass Pro Shops, Belk and Hard Rock Café. All told this destination will boast more than 100 shops and stores.
"Destin Commons successfully brought nationally renowned brands to the Florida Panhandle for the first time in 2003. This expansion will create the same environment for introducing retailers who will be new to our region," said Bob Perry, general manager, in late September. A completion date is set for mid-2014.
At the Hilton, managers there are halfway through a $10 million capital improvement project of their own. The five-month project began in October and will feature a complete redesign and refurbishment of all 200 Spa Tower rooms, upgrade of the award-winning, 11,000-square-foot Serenity by the sea Spa, and a "drastically enhanced" entrance and lobby. Two recent projects at the hotel included a $6.5 million rebuilding of the Barefoots Bar & Grill and pool deck, which had been damaged by fire, and a $5.5 million renovation of Seagar's Prime Steaks and Seafood and conference rooms.
"Upon completion of the 2013-2014 renovations we'll have updated every aspect of the property, just in time for Hilton Sandestin Beach to celebrate its 30th anniversary," said Gary Brielmayer, general manager.
In Mary Esther, construction continued on a new $8 million, 74-room Holiday Inn Express and Suites being developed by the Panama City-based Sunshine Hotel Investments. The opening was scheduled for mid-January.
---
A Quick Glance at Okaloosa County
The tourism industry flourishes along the coastline of Okaloosa County, while further inland you'll find a concentration of high tech industry with a focus on aerospace, defense and aviation.
The county's primary economic generator is its military installations. Not only is it home to Eglin Air Force Base, one of the largest in the world and nearly the size of Rhode Island, Okaloosa also has Duke Field, Hurlburt Field and a Coast Guard installation within its borders. Seven of the 10 largest defense contractors in the state have a presence here. The estimated economic impact of the military is $5.2 billion, representing more than 58,800 jobs. The average earning per military job: $87,300.
Okaloosa has one of the most highly educated populations of Florida's 67 counties, with more than nine out of 10 residents having a high school education or higher.
Labor Force (November 2013)
Total Available — 99,265
Unemployed — 4,488
Unemployment Rate — 4.5%
Population (2013)
Total — 187,486
Males — 50.24%
Females — 49.76%
Median Household Income (2012) — $54,118
Per Capita Income (2012) — $44,960
Median Age — 38.2
Major Private Sector Employers
Fort Walton Beach Medical Center

— Full service hospital

L-3 Communications/Crestview Aerospace Business Line

— Aircraft manufacturing, maintenance and modification
DRS Training and Control Systems

— Defense electronics

InDyne Inc.

— Range test facilities, security systems and multimedia

Jacobs TEAS

— Engineering services

ResortQuest

— Property management and real estate

BAE Technical Services

— Aerospace and defense contractor

Lockheed Martin

— Aerospace and defense contractor

Tybrin Corporation

— Engineering analysis and software development

Boeing

— Aerospace and defense contractor
Educational Attainment (persons aged 25 and older)
High School Graduate or Higher
Okaloosa — 90.7%
Florida — 85.5%
Bachelor's Degree or Higher
Okaloosa — 26.9%
Florida — 26%
Sources: Economic Development Council of Okaloosa County; Enterprise Florida; Florida's Great Northwest; Florida Legislature Office of Economic and Demographic Research
A Quick Glance at Walton County
The tourism industry flourishes along the coastline of Walton County, making hospitality the largest employment sector followed by trade, transportation, utilities, construction, education, health care services and public administration.
While neighboring Okaloosa County is home to the major operations of Eglin Air Force Base, the Eglin reservation encompasses more than 20 percent of Walton County. The county is home to the world-renowned beach community of Seaside, the poster child for "New Urbanism," a host of art galleries, shops and restaurants.
One of the 10 fastest growing areas in the nation when combined with Okaloosa County, Walton County alone has grown by 30 percent since 2000. Nearly eight in 10 residents (79 percent) own their own home — higher than the statewide average of 70.1 percent.
Labor Force
Total Available (2012) — 42,034
Unemployment Rate (November 2013) — 4% (second lowest in Florida)
Population (2012)
Total — 57,582
Males — 51.1%
Females — 48.9%
Median Household Income — $44,254
Per Capita Income — $36,865
Median Age — 42.1
Major Private Sector Employers
Sandestin Golf & Beach Resort

– Resort

Hilton Sandestin Beach Golf Resort & Spa

– Resort

ResortQuest

– Property management and real estate
Sacred Heart on the Emerald Coast

– Medical/Health Care

Publix Super Markets

– Retail

Walmart

– Retail

WaterColor Inn and Resort

– Resort

HealthMark Regional Medical Center

– Medical/health care

Professional Products Inc.

– Manufacturing of orthopedic devices

The St. Joe Company

– Resort/real estate development
Educational Attainment (persons aged 25 and older)
High School Graduate or Higher
Walton — 86.2%
Florida — 85.5%
Bachelor's Degree or Higher
Walton — 24.9%
Florida — 26%
Sources: Walton County Economic Development Alliance; U.S. Census; Enterprise Florida; Florida's Great Northwest; Florida Legislature Office of Economic and Demographic Research