Walk into the Carrabelle Junction and be transported back in time
A California transplant adapts to doing business the Northwest Florida way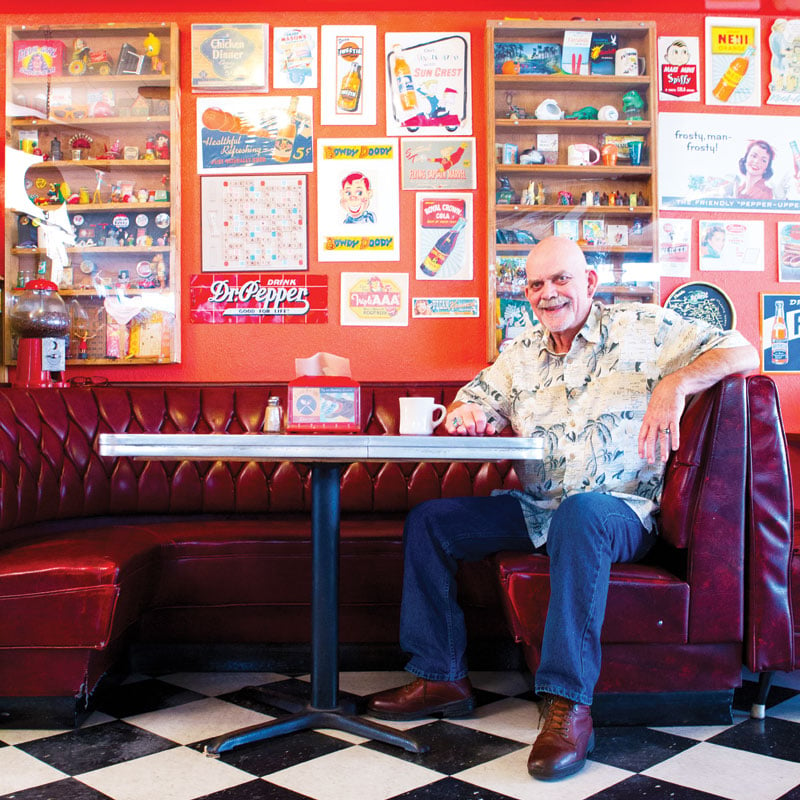 If you're a foodie, coffee connoisseur, memorabilia junkie or simply someone who enjoys sampling local flavors when traveling, the Carrabelle Junction may be just your kind of place.
Located a half block north of coastal U.S. 98 on Tallahassee Street in the heart of historic Carrabelle, the Junction — as locals call it — is a combination coffee shop/ice cream parlor/sandwich deli and neighborhood hangout, overlaid with a funky 40s/50s/60s vintage motif.
The name, incidentally, derives from the establishment's location at the juncture of U.S.98 and State Road 67, roadways that connect to Tallahassee.
To say the Junction's fare is atypical of small-town eateries is an understatement. Here you'll find a fry-free menu largely consisting of hot and cold deli sandwiches, garnished with the likes of basil mayonnaise, horseradish, avocados and sprouts. You find also a selection of fresh-baked goods and gourmet coffees, not to mention old-timey treats like soda floats, milk shakes, glass-bottled soda pop and egg cream. The last is an East Coast concoction originally made with egg whites, but today made with milk, chocolate syrup and seltzer.
"It's like carbonated chocolate milk," explains Junction proprietor Ron Gempel, adding that anyone familiar with the drink will respond with joy to its availability.
Gempel, who opened the Junction in 2001, is a San Francisco transplant with a penchant for philosophy and a knack for storytelling and self reflection. Variously described in online restaurant reviews as "a leftover hippy," "a hoot" and "a curmudgeon," the 70-year-old Gempel is more a bon vivant and raconteur, if with strong views on cell phone manners. He doesn't tolerate customers ordering while talking simultaneously on their cell phones. Which may explain the curmudgeon epithet.
As for the eatery, the reviews generally give it high marks, ascribing to it such appellations as "top notch," "a great find" and "worth the stop." Trust that the food is good, the service friendly and personal, the atmosphere informal and relaxed, the prices reasonable and the ambiance nostalgia steeped. And yes, free Wi-Fi is available.
The Wi-Fi aside, however, stepping into the Junction is like entering a time warp, with its black/white checkerboard floor, its eclectic assortment of castoff, if authentic, furnishings (including two church pews and a high-top table with a fake palm tree rising almost to the ceiling from its center), and its hodgepodge of bric-a-brac, collectibles and other popular culture detritus from the '40s, '50s and '60s, including classic pop icons, vintage bottles, signature souvenirs and relic equipment.
Look around and you see an ancient Coke machine in a corner, a pay telephone against the wall, a genuine traffic light hanging from the ceiling, a hand-turned coffee grinder on a shelf and a juke box in front of the counter sporting a selection of songs straight from a 50s/60s hits parade. Don't be surprised either to hear playing over the restaurant's sound system the likes of Ella Fitzgerald, Louie Armstrong, Elvis Presley or the Beatles.
A lifetime collector who considers himself more a preservationist, Gempel derives pleasure from customers' reaction to his treasures.
"I enjoy when people go, 'My gosh! I haven't seen that in years,' " Gempel says. "That's a big part of it. People like it because it reminds them of a time when there were just as many problems in the world, but we didn't know it."
"I enjoy when people go, 'My gosh! I haven't seen that in years,' " Gempel says. "That's a big part of it. People like it because it reminds them of a time when there were just as many problems in the world, but we didn't know it."
A South Floridian from West Palm Beach originally, Gempel migrated to San Francisco during the tumultuous '60s, when the Bay City was a counterculture Mecca.
"That was a draw, absolutely," Gempel says.
For 20 years he owned and operated a neighborhood coffee/sweets shop in Potrero, a section of San Francisco that underwent gentrification during his time there.
"When I moved into the neighborhood, people would say, 'Oh my God, you live there!' " Gempel says. "And then 10 or 15 years later it was, 'Oh my God, you live there!' Same house, same neighborhood."
His sale of the Potrero shop was a spur-of-the-moment decision. He had received and dismissed purchase offers over the years. One day, however, a fellow asked how much he would take for the business and Gempel quoted a figure, thinking that would end the matter. Instead, the would-be buyer said, "Okay."
"I kind of put myself in a corner and decided that was all right too," Gempel says.
His equally off-the-cuff plan for what to do afterwards involved hitching his boat to his van and rambling around the country. First, however, he decided to visit his mother in West Palm Beach.
"I ended up staying there a year, taking care of her and burying her," Gempel says. "None of which was in the plan. And then, having a brother in West Palm and another in Woodville, I suddenly got an attack of family and decided that maybe I should live closer. And basically I left San Francisco, which I never thought I would do. But then, I was never this old before either, which changes things."
What attracted him to Carrabelle was its resemblance to the West Palm Beach of his childhood.
"That's one of my ironies," Gempel says. "I couldn't stand West Palm Beach when I was kid because it was too small, and now I can't stand it because it's too big."
He quickly learned, as most transplants do, that Carrabelle, like most small towns, has its own internal rhythms and social protocols, and that acceptance must be earned. Overall, however, he has acclimated to the culture and learned to adapt and even adopt some of the local ways.
"Bridges have been crossed in both directions, and I have some extremely good friends and friendships here," Gempel says.
He sees three basic types inhabiting the town: natives; newcomers with a mindset to change or upgrade everything; and outsiders like himself, who appreciate what's there and want to embrace it.
Call Gempel a reconstructed outsider, given that by his own admission, he originally came with ideas of enlightening the locals. Coming to terms with his error was part of the learning curve as a small businessman.
"I thought I was going to be somewhat of a savior to the people here, in terms of bringing them real coffee," says Gempel, whose original idea was to establish purely a coffee shop. "And I was 180 degrees wrong. After about four months of saying, 'No I don't have sandwiches, I have coffee,' I figured perhaps I should have sandwiches. It's really that simple. I brought a San Francisco perspective to Carrabelle, and that was wrong."
With time, the Junction has developed a core of loyal customers that consists of locals, transplants and travelers.
"To a large extent, I depend on people coming into town," Gempel says. "Carrabelle's pretty much a wide swath in the road on the way to somewhere else. Over the years, however, we've developed a core of people who know to stop and get their coffee and sandwiches here. I now have a word-of-mouth reputation that hardly a week goes by when somebody doesn't walk in and say, 'My friends in Georgia or Tallahassee or wherever said to come here.' "
Establishing that customer base wasn't easy or promising initially; it entailed a learning curve both for Gempel and his customers.
"When I first did coffee here, people would ask for a cappuccino and say, 'This is horrible,' " Gempel says. "Because they were used to going to the gas station, putting a cup under a machine and getting that sort of sugary milk whatever. I don't want to say I've educated people, but I've exposed people to things, and I have local people now who drink lattes or cappuccinos."
It was likewise with the food.
"When I started doing sandwiches, no one knew what sprouts were, no one wanted avocados and basil mayonnaise would scare people away," Gempel says. "I was baking fresh blueberry muffins and people would say, 'You got donuts?' My concept, when I started doing food, was to find a niche that was different from what everybody else did. Which eliminates some customers but also entices others."
A continuing drawback is the restaurant's poor visibility from Highway 98, a situation compounded by the limited advertising possibilities.
"By law, I can't have a sign on the highway," Gempel says. "Like so many things, it's a yin-yang thing. The concept to keep the highway green I basically agree with. I hate to see billboards coming in. But for a small business guy trying to make it in a really small situation, it's that much more difficult."
All things considered, however, Gempel is satisfied with the way things have turned out.
"I didn't come here thinking I was going to create a revolution or make a fortune," he says. "I was hoping to make a living, and that's about what you can do here, using the term 'living' loosely. If you were to take my business and look at it strictly in terms of an accountant, you would have closed it long ago."
So what does he get out of it?
"Everything besides money," Gempel says. "Part of it, it's my movie. It's not a very big movie, but it's my movie. I consider it my art in one level. It's a piece of conceptual art that people come in and out of. And there are a lot of folks who are appreciative of it, in terms of their patronage, and that's nice too. You give people something that's a little different, and you get a lot back from it. I enjoy the process as much as I enjoy the product."
Is he then in Carrabelle for the long run?
"I never say never, but yeah," Gempel says. "The fact I've already been here 10 years amazes me. But the nice thing about Carrabelle is that it's a great home base. I try to sky out of here periodically and get some civilization, get some grit and gas, as they say. I still have to make it to New Orleans or Savannah or even back to San Francisco. But you get ensconced here and wrapped up in not being wrapped up. It's a very easy pace. I can almost see the river from my front porch. And I can walk out on a beach that people drive hundreds of miles and spend thousands of dollars to do what I can do every day."