Wakulla Public Schools Score High Marks
Looking to give their students every opportunity possible.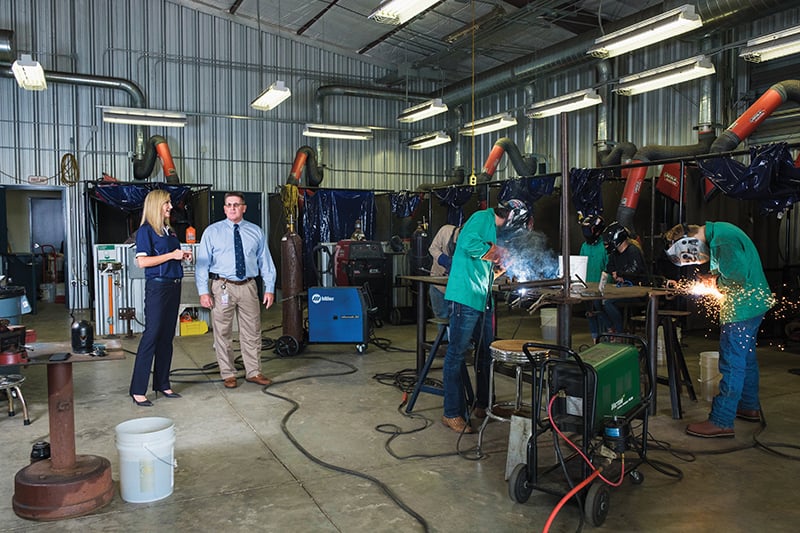 The Wakulla County School District is a verifiable standout in Florida, underscored by its students' academic and other achievements, high graduation rates (92 percent in 2017), and consistent A and B grades from the Florida Department of Education.
No insignificant feat for a small, fiscally constrained rural county. The secret to the success, school district administrators say, are general buy-in into education; dedicated, largely autonomous teachers; and a collegial, forward-thinking leadership.
"Our focus is on helping students be the best they can be, and that starts with providing them with as many opportunities as possible to give them reasons to buy into their education," says School Board member Melisa Taylor.
"And it can't just be based on college-bound students. We had the foresight years ago to add certification or school-to-work programs. Additionally, we've had nearly 20 students over the last four years graduate with AA degrees."
The two initiatives, the career-and-technical education (CTE) and dual-enrollment programs, plus the high graduation rate, officials say, account in large part for Wakulla County's increased median household and per-capita incomes, as indicated by U.S. Census Bureau data.
Such economic results undoubtedly contribute to the buy-in into education that administrators cite as one of the key ingredients to the district's success.
"We have a tightly knit community and buy-in that education's the most important thing we can provide our children," said School Board member Verna Brock. "And the taxpayers, teachers, administrators, parents and students buy into it."
Superintendent Robert Pearce calls it "a cultural thing."
"It says something about our community values and the expectations we have for our kids and the school system," he said. "We also have teachers who have high classroom expectations."
Which comes with job satisfaction, another key ingredient.
"Yes, we have standards set down by the state and federal governments," Taylor said. "But we allow teachers as much autonomy as possible, so they can teach creatively and bring a piece of themselves and their love for their subject to the fore, and that also makes for students buy-in."
Added Pearce: "We understand that teachers have set standards, and we do what we can to support them and suggest how they might best get those standards across to students. But we don't script it or tell teachers, 'Here's a box of what you need to do.' That autonomy is very powerful from a standpoint of morale."
A cordial, respectful relationship between the board and superintendent is another critical element.
"Some people question whether we're 'yes people' because we agree on so many things," Taylor said. "But my role is not to argue in front of the public or ask so many questions that it sounds as if I don't know what I'm doing. It's my job to do the homework and come prepared to meetings." Brock agrees.
"We have amazing collegiality," she said. "We come from different political and economic backgrounds and have different perspectives, but the thing that binds us is a common goal, and that's to provide what's best for our students, teachers and the community."
Pearce affirmed the professionalism and cordiality.
"There is not contention among us," he said. "Does that mean we have 5-0 votes on every item? Absolutely not. But we have intelligent board members who understand their role, do their homework and come prepared."
And if an item raises concerns, he will pull it from the agenda, revisit it and often resolve or clarify the problem, so that it passes upon resubmittal, he said.
The biggest challenge, all agree, is money.
"Nearly 70 percent of the land is nontaxable," Taylor says. "So, yes, money is always an issue."
"Every year, the state or federal governments change some rule," Brock says. "Because we're small, if you mess with our tax base, it affects everything. That kind of information doesn't sink in with lawmakers. I don't think they mean to hurt us; I think they don't realize what they're doing."
"Consistently, we're asked to do more with less," Pearce says. "And it's been that way for a while."
But no matter.
"We don't sit around and say, 'Well, we're limited in our location, capital outlay dollars, operating dollars, the Legislature's not giving us enough money.' We make things happen."
This goes to visioning and forward-thinking leadership.
Case in point: the millions of BP settlement money from the 2010 oil spill that the district is getting to build a Career/Technical Education Center and a Learning Center at Wakulla High.
The first, in partnership with Lively Technical Center, will house two CTE programs initially, with more to be added later. The second, together with TCC, will allow students and adults to pursue AA degrees.
In fact, the $3.7 million for the first project has already started flowing, with a portion earmarked to buy computer equipment to start industry certification in K-5, says chief academic officer Sunny Chancy, who is spearheading the effort.
"Currently, we focus on industry certification in grades 6-12," Chancy says. "We have yet to infiltrate to the lower levels. So, part of this money will go to build a pipeline for K-5 kids to gain computer skills and get certification at a younger age."
Sums up Taylor: "We're a small district that's always wanted to be and live like a big district. That's why we come up with so many programs and grant dollars."
Other school districts would do well to borrow a page from Wakulla's playbook.