U.S. Attorney Larry Keefe Establishes Public Corruption Unit in Tallahassee
There's a new prosecutor in town and he's one to watch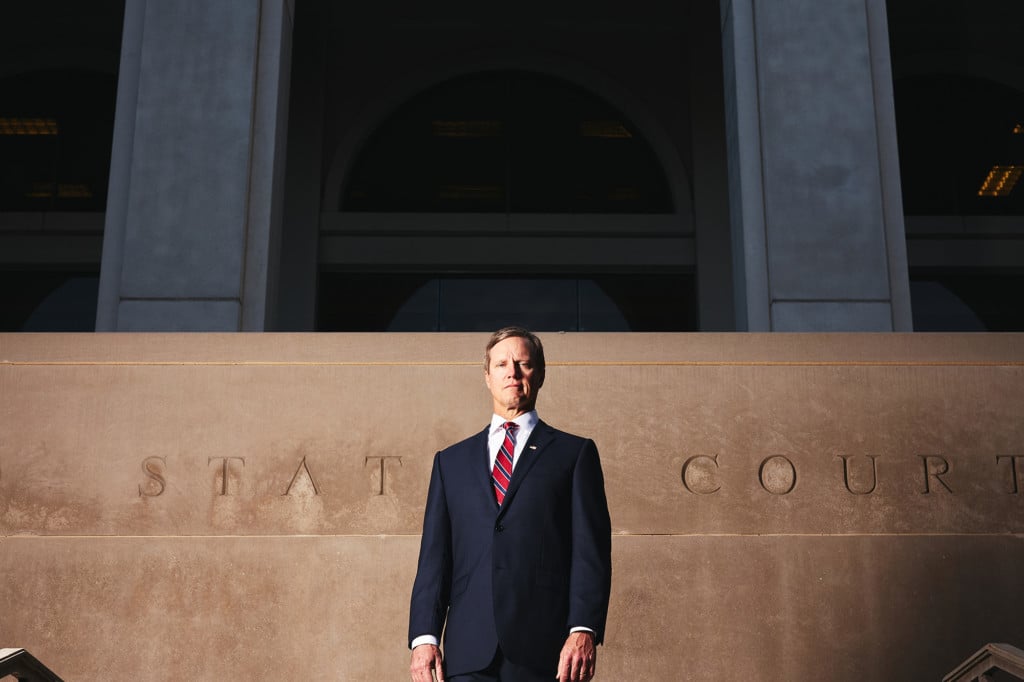 For Larry Keefe, page 51 of Vol. 1 of Special Counsel Robert S. Mueller's "Report on the Investigation into Russian Interference in the 2016 Presidential Election" precipitated what he called a "firestorm."
That page described efforts by the intelligence team of the general staff of the Russian army (GRU) to invade the computer systems of county governments in Florida.
In November 2016, the report notes, the GRU sent spearphishing (scam) emails to more than 120 county officials responsible for administering the 2016 general election. Attached to the emails was a Word document coded with malicious software.
And here, then, was the report's firestorm accelerant: "We understand the FBI believes that this operation enabled the GRU to gain access to the network of at least one Florida county government."
Keefe had been on the job as U.S. attorney for the 23-county Northern District of Florida for just three months when a redacted version of the Mueller report was made public.
Speculation about which county's system had been infiltrated developed immediately upon the report's release.
"It was a lightning bolt," Keefe said. In response, the FBI, the Department of Homeland Security and the intelligence community focused intense attention on Florida.
Rachel Rojas, the special agent in charge of the FBI's Field Office in Jacksonville, was named to lead a task force that also included Keefe and Florida Secretary of State Laurel M. Lee.
"Florida is a high-value target," Keefe said in September. "We're the third largest state, a state where national elections are decided. We need to have our game at its best."
So it was that Keefe has found himself spending chunks of time in classified briefings about election security along with the "best and the brightest from Homeland Security and the FBI at the national level."
"There is scant time remaining between now and the 2020 election," Keefe said. "For me, there is no higher priority."
It was not a priority that Keefe anticipated as he moved through confirmation proceedings leading up to his swearing-in ceremony in January.
Early in his 33-year career as an attorney in private practice, Keefe considered that his dream job might be that of assistant U.S. attorney.
The son of an Air Force fighter pilot who grew up immersed in Okaloosa County's defense community, he was drawn to public service.
"I had encounters with people who were prosecutors, particularly federal prosecutors, incidentally, socially and occasionally professionally, and I always liked that concept," Keefe said.
"It was the DOJ, not the DOD, and it was words and paper and justice, not bombs and bullets, but there was a cause, there was right and wrong, there was an opportunity to serve others. But I got married and we had four sons, and life overtakes you and you keep going forward and keep going faster."
Keefe enjoyed private practice, but life eventually slowed down. His sons were out of the house, and he became willing to consider an off-ramp.
Among his sons, one is an attorney who, at this writing, is clerking for Judge Mark Walker, the chief U.S. District Court judge in the Northern District of Florida.
The others are a Secret Service agent, an Air Force special operations pararescueman scheduled for deployment to Iraq and a student on an athletic scholarship at The Citadel in Charleston, South Carolina.
The opportunity to apply for his "dream job" didn't present itself, so Keefe sought out a congressman whom he had hired once upon a time as an attorney right out of law school.
"Do you think there is any chance that I could be put in for a U.S. attorney, any plausible chance at all?" Keefe asked U.S. Rep. Matt Gaetz.
Keefe had no government experience and had never worked as a prosecutor or as a criminal defense lawyer, for that matter. But, as an attorney, he was accomplished.
He had tried many cases in state and federal courts and had credibility as someone who had headed up a multi-office law firm.
Discussions developed.
On Aug. 16, 2018, President Donald Trump nominated Lawrence A. Keefe of Shalimar to fill a job that had been occupied by an acting U.S. attorney since 2015.
And at that, Keefe redoubled efforts to learn all that he could about the operations of a U.S. Attorney's Office and the office in Florida's Northern District, in particular.
"It's difficult at the outset to figure out what's going on," Keefe discovered. "A U.S. Attorney's Office is a very opaque organization.
For an outsider, there is not much to glean except for what's on the office's website and public filings such as indictments, pleas and sentences. It's hard even to find out who the assistant U.S. attorneys are."
Based on the public record, Keefe assumed that a U.S. attorney deals primarily with trafficking in people, guns and drugs.
And, he was aware of a pending public corruption investigation in Tallahassee involving a city commissioner, the one-time director of the Downtown Improvement Authority and a prominent developer.
As a nominee, Keefe responded in writing to generic questions from the Senate Judiciary Committee.
He answered questions unique to him from Sens. Mazie Hirono of Hawaii and Diane Feinstein of California. He had telephone conferences with counsel to the chairman of the Senate Judiciary Committee and counsel to the ranking minority committee member and their staffs.
Then U.S. Attorney General Jeff Sessions interviewed Keefe. So, too, did the deputy to Rod Rosenstein, who was assistant attorney general at the time.
As a U.S. attorney, Keefe is a departure from form not just as to his résumé, but also his age.
Typically, U.S. attorneys are in their 30s or early 40s and often view the job as a stepping stone to a judgeship or a run for elective public office.
"I am able to bring a lot of energy to the job even though I am 57," Keefe said.
"I have a lot of desire, accumulated over three-plus decades, to do this. And I am able to do this as more of a sprint. I'm not looking at another 20-year career. And I am unencumbered to the point that I can move around the district pretty easily.
"I'm a circuit rider."
Keefe has an apartment located just a couple of hundred feet from his office in the federal courthouse in Pensacola and a condo across Monroe Street from the federal courthouse in Tallahassee.
He makes frequent trips to Panama City and to Gainesville, where he went to the University Florida School of Law after playing football for coach Charley Pell as an undergraduate.
On weekends, he may go home to Shalimar or his wife Lynn, a pediatrician, may visit him in Tallahassee.
Cognizant that he was in many ways green, Keefe gave himself a month to assess U.S. Attorney's Office personnel before installing his own leadership team.
"The covenant is that they are road warriors like I am," Keefe said. "They have families and most live in Pensacola — when they are not operating out of hotels. But if you want to be an excellent leader, and they are, you have to be omnipresent in the district."
Keefe is responsible for 85-90 employees "who benefit from my authority and my ability to make decisions and make things happen, and I benefit from their knowledge and experience, but just because we've always done it one way doesn't mean we can't do it another way."
Under Keefe, the new way has come to include the establishment of a public trust unit (PTU) whose purview includes public corruption, economic espionage, intellectual property theft, election security and counterterrorism and counterintelligence operations.
The PTU's role has less to do with arresting, indicting and convicting wrongdoers than disrupting and discouraging unlawful activity before harm is done.
Located on the third floor of the federal courthouse in Tallahassee, the PTU represents a collection of skill sets, including forensic accounting and intelligence analysis. Keefe has bolstered its ranks by hiring retired FBI agents.
"In sleepy old North Florida, we have military bases that are doing all sorts of cutting-edge stuff," Keefe said.
"They are not simple, low-level recruiting and training facilities. The level and extent of information collection by foreign actors that takes place at our universities had never occurred to me."
As to terrorism, Keefe said, efforts to root out foreign cells continue, but there is an increasing emphasis on "white nationalism and white supremacy. A lot of this activity is inherently domestic, so you don't have elaborate networks of communication linking foreign actors engaged in radicalization to domestic folks. Instead, you have discreet pockets of domestic terrorist groups, and they blend in rather well."
In assembling his PTU, Keefe recognized that he had at his disposal counterterrorism specialists with limited experience or background in public corruption.
But the skill set required to be effective in either area is similar, he said.
What is needed, Keefe said, are "people who like to get together in rooms with white boards and sticky notes creating string-art connections between people. You are dealing with complex cases that involve taking in lots of information, organizing and sharing that information, and identifying relationships among people or organizations that move money or other assets around."
Those assets can include knowledge.
"The communist Chinese government has an expectation of students who attend universities in the United States that they will bring back whatever they can," Keefe said.
"Students have remarkable levels of access to million and millions of dollars of research and work product. The government's directive to them is 'Get whatever you can, bring it back in a pile, and we'll sort it out and determine what's useful.'  "
How do you disrupt that?
"We're working on that right now," Keefe said. "Tools are being fashioned. The idea is not to pick off one student, or one professor, at a time as they leave or attempt to leave with material, but it's getting to the enablers and the facilitators in the university environment."
PUBLIC CORRUPTION
In a case that he inherited, Keefe and members of his team negotiated plea agreements from one-time Tallahassee mayor and city commissioner Scott Maddox and his business associate Paige Carter-Smith, who was the director of the Downtown Improvement Authority when indicted. In August, each pleaded guilty to two counts of honest services fraud and one count of tax fraud conspiracy.
"Public office is the highest form of public trust, and the pattern of criminal activity by these defendants violated the sacred trust of the people," Keefe said after the pleas were accepted by U.S. District Court Judge Robert Hinkle. "When Maddox should have been looking out for the best interest of the citizens of Tallahassee, he was instead lining his own pocket with Carter-Smith's help. This U.S. Attorney's Office places the utmost priority on rooting out and pursuing public corruption and will continue to do so in order to restore the public's trust in its government and elected officials."
"Maddox admitted to having taken large sums of money in exchange for favorable actions on various issues that came before the City of Tallahassee," Keefe's office reported in a news release. "He participated in a scheme to defraud and deprive the City of Tallahassee and its citizens of its right to honest services through bribery. Carter-Smith admitted to participating with Maddox in these criminal acts."
A federal grand jury indicted Maddox and Carter-Smith in December 2018, and a superseding indictment in May added developer J.T. Burnette in various counts. Maddox and Carter-Smith were scheduled to be sentenced on Nov. 19. Burnette's trial was due to commence on Nov. 4.
SEX TRAFFICKING
In August, Keefe announced that a Pensacola business owner, David C. Williams, had been arrested on a federal warrant and charged with using interstate facilities while engaged in racketeering, money laundering conspiracy, and the harboring of illegal aliens for financial gain.
Williams was arrested in connection with his operation of multiple Asian massage parlors in Florida, Virginia and Pennsylvania.
According to a news release, more than a dozen search warrants were executed at massage parlors linked to Williams in locations including Pensacola, Gulf Breeze and Gainesville.
Cases like the one against Williams are not easily tried in court, Keefe said, owing to the unreliability, many times, of victims as witnesses.
"If the victim is a bank that was robbed or someone who was kidnapped, witnesses are available and stable and motivated to show up in court," Keefe said.
"Sex trafficking is different. Victims are often subject to difficult circumstances in life, there may be substance-abuse issues involved, and a lot of victims are teenage runways. In the six or nine months between an arrest and trial, if the victims, who had been dependent on the perpetrator, have no place to eat or sleep, they take off."
Keefe said he is working to establish relationships with social services agencies capable of transitioning victims to a new life and helping to make sure they are around when it comes time to testify.
ILLEGAL IMMIGRATION
Keefe said the Northern District finds itself dealing with illegal immigration cases, but not nearly to the extent that jurisdictions in the Southwest do. He said his district primarily sees cases involving repeated unlawful entries associated with criminal activity, usually drug running.
"Drugs used to come up to our area from the Caribbean," Keefe said.
"Now, they tend to originate in China, move through Mexico, cross the Texas border onto I-10, go from Mobile to Atlanta and then down I-75 into North Florida. Some of our largest drug-related takedowns occur in rural counties, like Gadsden, with small populations and a limited law enforcement presence. They are out of the way, but still, there is quick access to interstates."
Election interference, then, comes as a growing concern on top of many other moles to whack.
"We don't want to wait until after 2020 and have Mueller 2.0," Keefe said.
"The PTU works to be preemptive and proactive. To protect the integrity of elections, we are concerned about cyber activity, of course. But we also have to be attuned to the potential for old school interference — fraudulent registrations, improper voter roll purges, irregularities associated with absentee balloting."
Is Keefe confident about safeguarding the 2020 election?
"In terms of what we learn and know, every day is a different snapshot." Keefe said.
"And there are limits to what the federal government can do. The feds do not play a significant role in the curating and certification of an election. We can provide the Florida secretary of state and the 67 supervisors of elections with information about activity we suspect, and then we largely have to go away. We can't intrude upon their role."