Tyndall Air Force Base Confident of Landing New Aircraft
Northwest Florida's superior climate and the region's culture of piloting unmanned systems solidified Tyndall as a supreme location.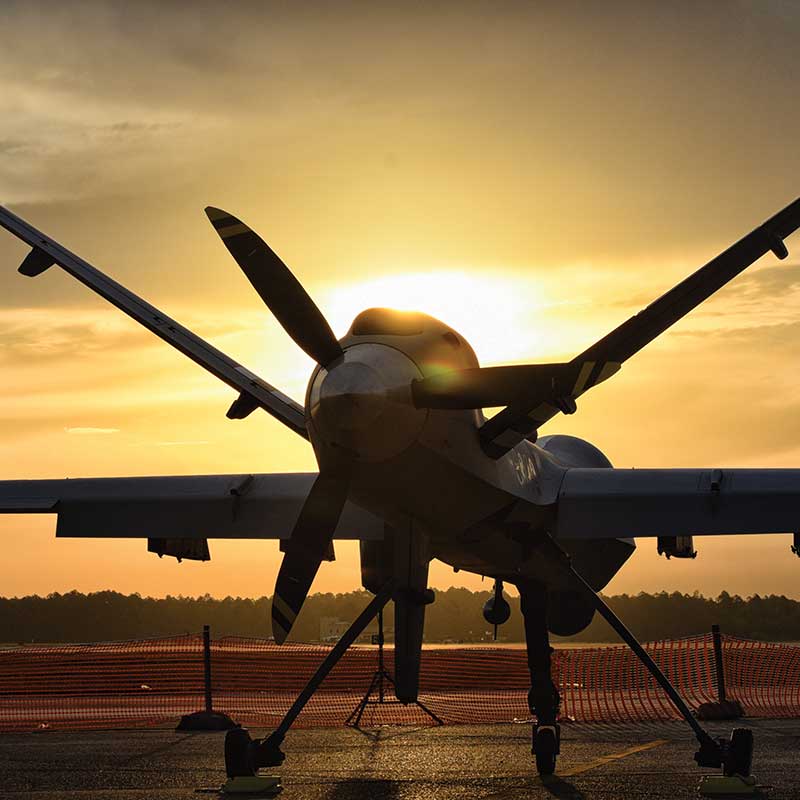 In 2014, the U.S. Air Force report "RPA Vector" outlined an ideal route for remotely piloted aircraft (RPAs) over the next 25 years.
As of May, Tyndall Air Force Base in Bay County was the leading candidate to become home base for 24 of those aircraft and for an estimated 1,600 personnel (plus their families) who will come here to operate them.
Reaper Wing
An integral part of the RPA Vector report called for selection of a base for MQ-9 Reapers, which are multi-armed, multi-mission RPAs specializing in long-haul flights. The base selection process is one in which Tom Neubauer, president of the Bay Defense Alliance, is well versed. He was involved in a similar course of action when Tyndall was awarded a squadron of 24 F-22 Raptors in 2013.
He describes the procedure as "deliberate, repeatable and standardized," one that utilizes not only criteria-based analysis but concise, military judgment. Official basing criteria for the MQ-9 Reaper wing was announced to the public in 2016, after being approved by the Secretary and Chief of Staff of the Air Force. With capacity, environmental requirements and cost factors as the major preliminaries, Neubauer knew Tyndall would be on the radar once more.
It took another year for the base in Bay County to prevail as the preferred home for 24 MQ-9s.
Neubauer said the MQ-9 Reaper is unmanned but is not precisely a "drone."
"Strictly speaking, a drone is an unmanned aircraft that can fly autonomously, without a human in control. The MQ-9 Reaper will always be under the command of pilots and aircrews stationed at Tyndall, which are some of the best and most highly trained professionals in the world," he explained. "Because of its wide-range sensors and precision weapons, the MQ-9 has the unique capability to perform strike and reconnaissance against high-value, time-sensitive targets worldwide."
He said Reapers also perform battlefield surveillance, intelligence gathering, close air support and combat search and rescue. Apart from military defense, MQ-9s also aided last year in the aftermath of hurricanes Harvey and Irma and devastating wildfires in California.
Neubauer believes a low volume of aircraft competing for airspace, Northwest Florida's superior climate and the region's culture of piloting unmanned systems solidified Tyndall as the supreme location.
Not to mention, the robust quality of life in Bay County.
Home For Personnel
While visiting an RPA training and operation unit at Holloman Air Force Base in New Mexico and Creech Air Force Base in Nevada, Bay Defense Alliance members received genuine feedback from pilots and crew members who stressed the need for career advancement options and stations in communities that foster growth and healthy, family environments.
In turn, the Air Combat Command (ACC) created an MQ-9 Culture and Process Improvement Program, furnishing airmen and airwomen with a structure of support and an avenue in which to voice their questions and concerns in this high-stakes field.
"While advanced weapons systems provide an edge to the U.S. Air Force, no matter how technical their operations become, or how widely their global missions expand, the Air Force and ACC leadership always emphasize the fact that people are their most treasured resource," Neubauer stated. "Maintaining a Defense-friendly culture is important to both Bay County and Florida. Right now, more than 75 legislative initiatives can be found in the Florida Military Friendly Guide, with laws targeted to assist military members, their families and veterans."
With more than 1,600 personnel plus their families anticipated to touch down at Tyndall by 2020, there will also be an immense impact on local commerce, school enrollment figures and housing.
Regarding the latter, Neubauer brings up the region's numerous "pipe farms," or major housing developments, whose construction came to a screeching halt during the 2008 recession. Today, these deserts of desolate pipes are blossoming into the communities they were designed to become, supplying ample capacity for population growth.
"We should reflect on the socio-economic contributions of military members in Bay County," he added. "For more than seven decades, military members and Defense civilians associated with Tyndall and Naval Support Activity Panama City have supported and accepted leadership positions in volunteer organizations like Scouting, churches, colleges, hospitals and school PTOs. They add so much to our community."
Finish Line In Sight
While Tyndall was designated the ideal location for the Reaper wing, it still must undergo an extensive environmental analysis, which may not be complete for another two years.
Should a challenge arise, the same survey will be performed at Vandenberg Air Force Base in California, the Reaper wing's alternative base location.
"During this time, our community will assist by providing any information requested about our ability to accommodate the growth and provide the quality-of-life factors identified in the MQ-9 Culture and Process Improvement Program, and analyze the real estate market and the surge capacity of our school system," Neubauer said. "The community, the state and our congressional delegation have been working as one voice to assure the Department of Defense that we are willing and able to provide strong support for missions at Florida bases and ranges."
Once this final assessment meets approval, it'll be time for takeoff. Tyndall is projected to receive $250 million in construction funding for the Reaper wing, mission control center, launch and recovery, and all other operations. The first Reaper could roll in as soon as 2022.
"Defense is about 31% of our local economy. As an opportunity like this one moves closer to the finish line, all of us are reminded how fortunate we are to have military members, Defense civilians and their families as part of our community," Neubauer said. "The economic aspect is just part of the benefit we enjoy."