'Truly A Gift'
E.F. San Juan is a generational company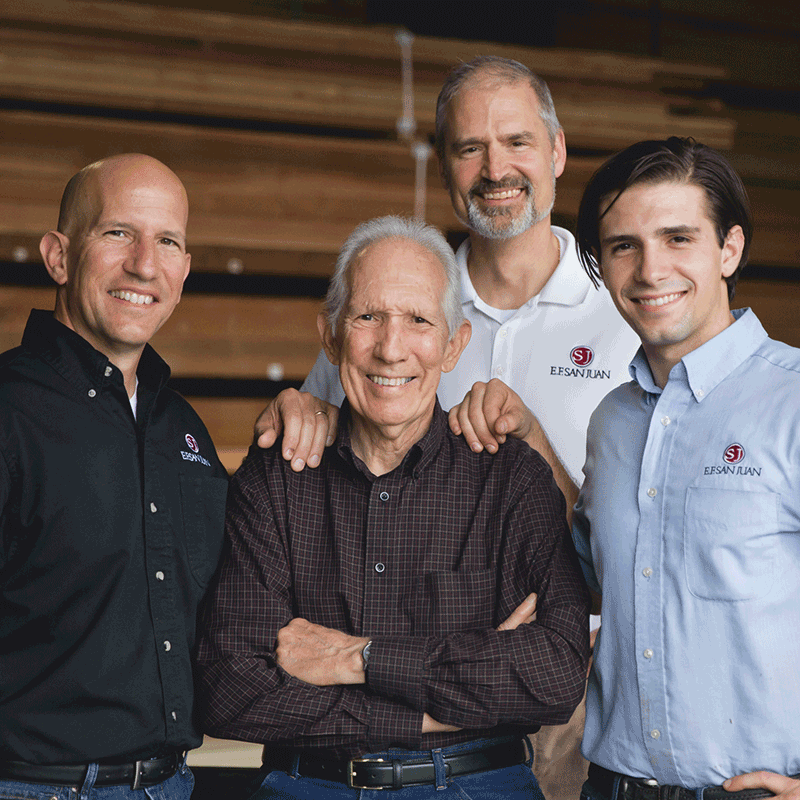 Edward San Juan Jr. was born in Miami but spent his formative years in Thomasville, Georgia, just north of Tallahassee.
As a youngster, he spent his days alongside his father, Edward San Juan Sr., who goes by Ed, and his grandfather, Edward. Both men were skilled at working wood with their hands and operated a business making stands for televisions. Their passion for craftsmanship helped form the team that would become E.F. San Juan, a custom molding and millwork operation based in Bay County's Youngstown.
"My dad's passion is manufacturing," Edward San Juan Jr. said. "That rubbed off on me, and we love what we do here. We love seeing things in our mind, then creating them in our shop and seeing them as a finished product in someone's home."
The E.F. San Juan product line can be seen up and down the 30A corridor in Walton County from Seaside, where the company got its foot in the door when the New Urbanism community first took root, to WaterColor, Rosemary Beach and Alys Beach.
"30A is our showroom," San Juan said. "We've been very fortunate to have our products in various communities there, and we've grown with the area."
San Juan, who celebrated his 53rd birthday in October, has been part of the E.F. San Juan ownership team with his father since the 1980s, although he has been sweeping floors and hauling materials for as long as he can remember. Upon joining the family business, which celebrated its 40-year anniversary in 2016, San Juan said they revamped their business plan with the goal to get out of manufacturing and begin offering finished products.
Early on, San Juan wasn't sure how the move would pan out, but it definitely has.
"We (San Juan and his wife) were used to starving in college, so we didn't know any better," he recalled of the initial uncertainty. "We just stuck to it and had the desire to make it work."
One of the cornerstones of the E.F. San Juan operation is its focus on family, as Edward's son Eddie has become the third generation of the San Juan family to join the business. Sure, they strive to offer top-notch products and customer service, but family is key.
Each workday begins the same way, San Juan says. It's almost like a scene out of the movie "Groundhog Day."
"When we get to work, I'll give my dad and my son a hug and kiss," he said. "Then we eat lunch together every day in my office. At the end of the day, before we leave, I will give my dad and my son both a hug and a kiss.
"It's truly a gift to be able to work with my son and my father," he added. "It truly is humbling."
Given the importance of family to the E.F. San Juan team, it should be no surprise that they have formed a lasting partnership with the Marvin Family of Brands, which produces a variety of custom-made window and door products. Marvin is a family-owned and operated business based in Warroad, Minnesota.
During a September luncheon in WaterColor, San Juan introduced Susan Marvin, former company president and current vice chair of the Marvin board of directors, to a room full of builders and industry professionals. The company named Paul Marvin, Susan's nephew and a fourth-generation family member, as president in January.
"In my generation, we started on the factory floor, or I should say by sweeping the factory floor, and cleaning the bathrooms and unloading lumber," Susan Marvin said of her humble beginnings at the company. "Dad drove home the importance of relying on our own hard work and initiative, and that our own future was dependent upon us and nothing else."
The hard work, commitment to family and desire to grow as a business are traits and values San Juan admires and puts forth in his own business on a daily basis.
"If I want to grow and be part of a bigger company, I have to learn from companies and people that I look up to," he said. "I look up to the Marvin family. They are great people, and they share the same commitment to quality and family."