Triumphing After a Tragedy
Northwest Florida finds a silver lining in the tragedy that was the Deepwater Horizon oil spill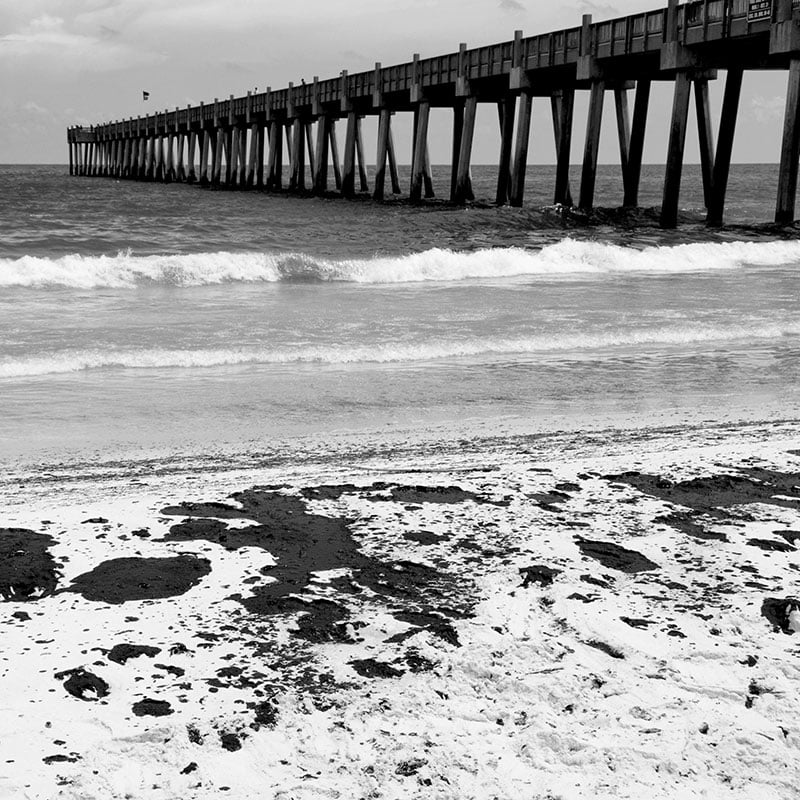 Ashton Hayward was campaigning for mayor of Pensacola in 2010 when the Gulf of Mexico fell victim to an environmental disaster that would have a major and long-lasting impact on Florida, its environment and economy.
"I was on the beach, sitting out in front of Margaritaville, giving a radio interview and watching tar balls coming up on the beach," remembers the Pensacola native of the days following the Deepwater Horizon oil spill. "I was thinking, 'This is not happening.' "
The 4.9 million gallons of crude oil that gushed from a broken pipe became the largest marine oil spill in U.S. history, sending tar balls onto Gulf beaches and into bayous. The oil gushed unfettered for more than three months. Ultimately, the spill had a multi-billion-dollar adverse impact on Northwest Florida's economy. The 2010 tourism season ground to a halt before it even had a chance to start, and the region's tourist tax collections alone that year dropped by nearly 50 percent.
"I realized that economically this would be a big deal, how it could basically cripple Pensacola immediately," says Hayward, who won that election, is still mayor and cannot shake the images of that day from his mind. "Our natural resources are a jewel, and when you see oil washing up on the shore, you know that's not good."
Lawsuits flew fast and furious. States wanted BP, which had been leasing the rig, to pay for cleaning up the environment. Businesses that faced a full tourist season of lost revenues wanted reimbursement. And the state of Florida wanted an infusion of dollars to bolster an economy that had taken a shellacking.
"The timing couldn't have been worse," laments Allan Bense, a former state House Speaker from Panama City. "Every time you turned on the TV you'd see oil coming out of that pipe. It delayed our recovery from the recession a couple of years."
In 2012, Florida Attorney General Pam Bondi joined with attorney generals from the four other affected Gulf Coast states to sue British Petrolem. In 2015, the lawsuit was settled, resulting in BP agreeing to pay $18.5 billion to the affected states, including $2 billion to spark Florida's economy.
In April, a federal judge took the last step that will now get the economic damages flowing. By state law, 75 percent of that total, or $1.5 billion, over the next 30 years will be directed to programs in the eight counties hardest hit by the oil spill — Wakulla, Franklin, Gulf, Bay, Walton, Okaloosa, Santa Rosa and Escambia — all in Northwest Florida. The money, above and separate from the Restore Act funds appropriated by Congress to local governments and apart from individual and business claims against BP, will be used to promote economic recovery and diversity in the region.
The first installment — $300 million — will sit in a reserve fund until the Legislature convenes in 2017 and can formally designate where it goes. That's when the five-person board that is Triumph Gulf Coast will officially spring to life, using the BP dollars to begin a revitalization of and the much needed diversification of the Emerald Coast's economy.
"This is a huge win that came out of a horrific accident," says Hayward. "We'll have a once-in-a-lifetime opportunity to get it right."
Two-Trick Pony
The oil and its immediate after effects were a wake-up call for many in the region. To state Sen. Don Gaetz, whose legislative district includes Bay, Okaloosa and Walton counties, it clearly demonstrated how easily the the area could be brought to its economic knees.
"When the oil spill occurred, I didn't know what to make of it," admits Gaetz, who lives in Niceville. "I didn't understand the immense impact it would have. What struck me was how the oil spill demonstrated how fragile the Northwest Florida economy is.
"Northwest Florida is basically a two-trick pony when it comes to economic strength and sustainability. We have the military, and all the industries associated with the military presence, and tourism and hospitality. But we all know that when the Pentagon gets the sniffles, Northwest Florida can get pneumonia. And when something happens in the Gulf, our tourism and hospitality industry is brought to its knees."
And, he suggests, the full extent of the oil spill's damage remains unknown. If the coast were to be hit by a strong hurricane that stirs up the bottom of the Gulf, Gaetz said it is anyone's guess what the resulting fallout could be — and what could wind up on the shores and in the bayous of Northwest Florida.
Knowing that the state would at some point try to recover economic damages from the spill, Gaetz decided in 2011 to make sure that any of those monies recovered from BP should be funneled to the hardest hit counties and help diversify the region's economy so "we would not be totally dependent on the whims of the Pentagon or the vagaries of the weather or manmade disasters in the Gulf. In my view, this is the most significant opportunity to build Northwest Florida's economic future."
While the need to grow Northwest Florida's economy in a new direction has been on the minds and in the plans of business and government leaders for some time, the difference now is that hundreds of millions of dollars will be available to fuel major projects in the eight targeted counties that could literally transform the region.
"I look at it as a chance for us to rebrand ourselves," says Bay County Commissioner Guy Tunnell. "We've ridden the back of tourism so long. We hope to build our economy in a new direction, maybe look at some industrial development. And I'm hopeful we (the eight counties) can work together for good regional impact. Whatever we do with this money, we hope it will not only affect the here and now, but also future generations."
Stan Connally, president and CEO of Gulf Power and a member of the Triumph Gulf Coast Board, says the group needs to "think transformationally."
"We don't need to think that incentives alone are what attracts business," Connally says.
"I would like for us to continue to explore investments around our ports, seaports and airports. We have great assets in the region that we can expand on."
Triumph Gulf Coast
Sure that the state would file a lawsuit against BP to recover economic damages, Gaetz in 2011 championed the Oil Spill Economic Recovery Act in the Legislature. His main focus was to ensure the eight Northwest Florida counties disproportionately affected by the spill would get 75 percent of whatever the state would eventually collect.
When Gaetz became president of the state Senate a few years later, the law was amended to establish Triumph Gulf Coast, a five-member board that would be appointed to distribute the money. Although the board has met several times, it doesn't become officially operational until the Legislature hands over the money, which should come during the 2017 legislative session.
The board members are: Allan Bense, a former House speaker and Bay County businessman who has become the group's "unofficial chairman"; Stan Connally, president and CEO of Gulf Power; Pam Dana, senior strategic advisor to the Florida Institute for Human and Machine Cognition; Steven Riggs IV, a partner at Carr, Riggs & Ingram; and Destin-based developer Bob Bonezzi.
No public officials are allowed to serve as board members in an effort to keep politics out of the mix. Members serve one term and are not eligible for reappointment. While the board's actions will be overseen by an independent certified public accountant, the board will function autonomously, not as an arm of state or local government. It will, however, be required to follow the state's public records and meetings laws.
"We have solid business minds on that board," Gaetz says. "They don't have to cater to any special interest. This is not a group of people who will hand out checks to people with interesting ideas. This is a 30-year living endowment. No group has ever had the power to do so much for Northwest Florida."
No Boat Ramps
"We decided if economic damages were ever awarded, the money should be used to deepen and broaden the economy of Northwest Florida so we would never again not be the masters of our own fate economically," explains Gaetz. "This money deals with economic damages. It's not about boat ramps and ball fields … it's about the economy. I don't care if its plastics or gunpowder, medical devices or high tech. I care about it being well thought out, solid economic diversification."
Perhaps most importantly, the legislation establishing Triumph Gulf Coast envisioned that any financial windfall from BP would be used as a magnet to draw in private and local government dollars. No project can be 100 percent funded through the BP money and, when it deems appropriate, the board can require a one-to-one dollar match from the private sector.
While giving the Triumph Gulf Coast board substantial leeway in where the money goes, the legislation does dictate that funding priority be given to projects that: increase household income; establish or expand high growth industries; leverage or enhance existing assets, such as a port or airport; have investment commitments from private equity or private venture funds; provide seed money for new startups; partner with local governments; benefit the environment as well as the economy; and partner with local K-12 educational institutions, school districts, tourist development councils, convention and visitor bureaus, and chambers of commerce.
There is also a provision that if an awardee doesn't perform, they will be required to pay back the money.
"We'll spend it prudently," vows Bense of the grant allocation process. "We'll have a set of criteria to provide for quality projects. We can't just take a risk on a flaky company. We will have to make sure it's solid. And if they claim they're going to produce 100 jobs and only do 12, they'll need to give the money back."
Grover Robinson, chairman of the Escambia County Commission, says that while the spill was an immediate disaster that caused upset and anxiety, he kept thinking "there is an opportunity for a silver lining if we can just get through it." Now, he says, residents of the region are anxious to see what the restoration funds will provide and the resulting economic impact on the community. "I think they are genuinely excited about what's going to happen," he says.
Over the coming months, the Triumph Gulf Coast board will begin setting up the process for how funding applications will be analyzed. And while the dollars might not be available until the second half of 2017, Connally says it's gratifying to see local governments and economic development professionals across the region already beginning to collaborate on ideas.
"The opportunity to have a regional impact with these settlement dollars is huge," he says.
"They're getting ready to speak with a much more singular voice."
Everyone agrees that "game changer" isn't a strong enough phrase for what they hope will result from the infusion of BP dollars into local economic development efforts.
"To say that grossly underestimates the impact," says Gaetz. "This will operate like an investment fund. It's a matter of creating and looking for big economic opportunities. It's not just opening the mail and deciding who to send checks to."
If the board does its job right, it can prompt tremendous changes in Northwest Florida, adds Bense.
"We need to be prudent, thoughtful and deliberate," he adds. "The emphasis is on business investment. What this board does is not about the next election but the next generation."