Transforming Economic Development
Local elected leaders adopt an aggressive plan to boost business and create jobs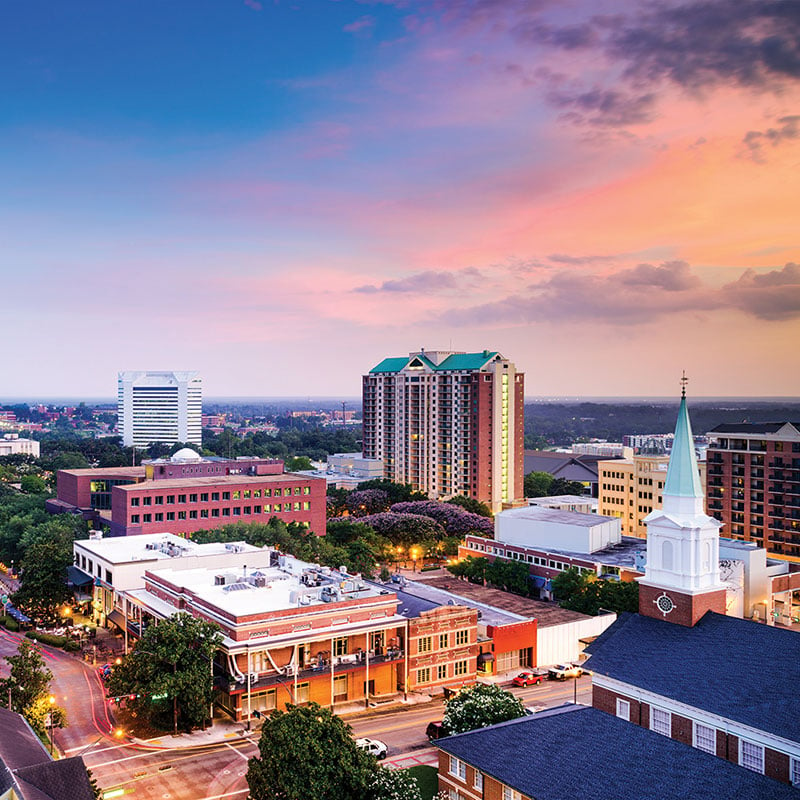 Joining forces in a new, holistic approach to economic development, city and county leaders have adopted a comprehensive strategic plan that will serve as a springboard to change how Tallahassee and Leon County pursue economic growth and job creation.
The plan, which is the first of its kind in the county, is designed to help local officials develop and market a new, business-friendly atmosphere while better coordinating local business development efforts and resources. It also sets the groundwork for how Leon County will spend $90 million in sales tax revenue approved by voters for economic development. That money will begin flowing to the county in 2020.
"Working in close partnership with our many economic co-creators, partners and stakeholders over the next 20 years, this new strategic plan will guide effective, efficient and transparent economic growth in accordance with specific goals and metrics outlined to exceed industry best practices for stimulating fiscal success," said Ben Pingree, director of Planning, Land Management and Community Enhancement (PLACE), a joint city-county planning department.
The plan was developed by VisionFirst Advisors, which is led by Gray Swoope, the former head of Enterprise Florida, the state's lead economic development agency. It was approved in late October by the Blueprint Intergovernmental Agency (BIA), a committee composed of the city and county commissions.
In its report to the BIA, the consultants stressed the need for "purposeful, measured action and intentional collaboration" and promised that their comprehensive strategic plan will "transform the face of economic development" in the county with its new, unified vision.
Part of the plan that calls for an aggressive marketing strategy and development of a brand is designed to combat what consultants said is a negative impression some have of the community. Their report noted: "The area has the reputation for not being business friendly, being isolated, having high crime rates and being economically segregated. More harsh critiques note its persistent lack of investment, slow and siloed decision-making, absence of coordination, little or no discernible strategic planning and even an overall complacence related to local economic development efforts."
With concerns over who would decide how to spend the sales tax money when it starts to flow — and how best to utilize those dollars — city and county leaders decided to join forces early in 2016 to enhance and better coordinate economic development efforts. The move led to the dissolution of the Economic Development Council that had been operating alongside the Greater Tallahassee Chamber of Commerce and had been the prominent force behind the county's economic development efforts.
"Economic vitality efforts will be constantly monitored by our elected city and county commissions, numerous citizen and technical advisory bodies, including broad representation of leaders from our thriving industries, universities, researchers and economic development experts," Pingree said. "Never have our unique and world-class assets, resources and quality-of-life attributes been so aligned with a vibrant entrepreneurial ecosystem to leverage the success that is anticipated."
The plan will be implemented through the county's Office of Economic Vitality under the direction of Al Latimer, a former high-ranking executive with Enterprise Florida.
The strategic plan sets four primary goals to grow jobs, create businesses and build a collaborative network to expand economic opportunity:
Implement a new, collaborative economic development program of work that stimulates economic expansion in the city and county across all unique opportunities for growth.
Better promote the area as a business generator, an ideal location to start and grow a business. Brand and market the community's strengths in this capacity.
Better identify, understand and align all available assets, organizations and resources toward shared economic growth objectives. Encourage collaboration among the many entities affecting the economic development environment to work together for maximum competitiveness.
Leverage and maximize the existing framework toward the responsible allocation of resources to achieve today's goals as well as to refine the foundation for future growth and opportunities.
---
Tallahassee-Leon County's Top Assets
Entrepreneurial Development
Resources for Personal Sustainability
Talent Pipeline
Quality Education
Advanced Technology Resources
Small-Business Development
Quality Infrastructure
Social Infrastructure (Nonprofits)
Business Resources
Cultural Amenities and Natural Resources
Source: Tallahassee-Leon County Economic Development Strategic Plan