Toward a Healthier Community
TMH is keeping pace with medical advances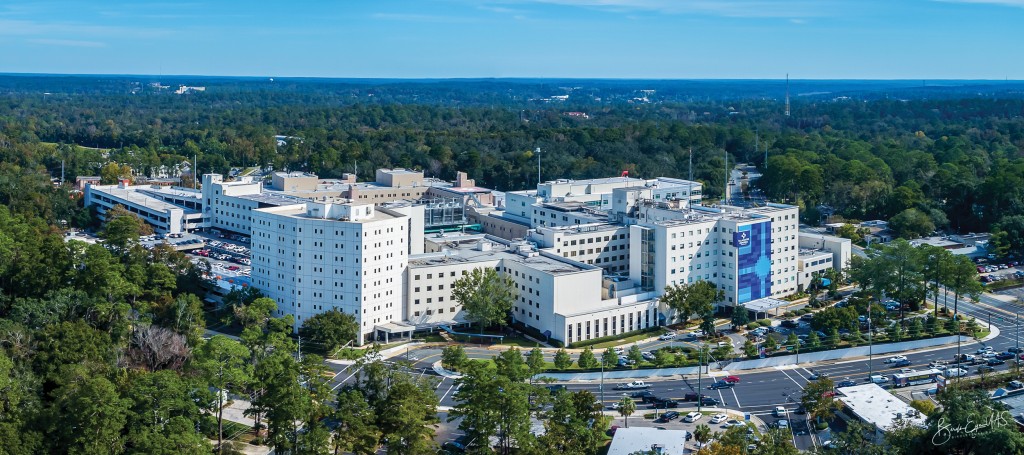 In the last half century, few fields have undergone the type of technological revolution that has overtaken health care. The industry has seen the advent of antidepressants, antibiotics, MRI, ultrasound, surgical robots — all within the last 50 years. Increasingly, hospitals and private offices are challenged to keep pace and avoid being swamped by a rising tide of advances.
Tallahassee Memorial HealthCare is proving itself a strong swimmer. The hospital is making use of fascinating, life-changing technologies in its efforts to bring about a healthier community.
In a world where most everyone can go to work, get their degree and get dinner, all without leaving their couch, many administrators in the health care field recognize the need for virtual medicine.
"People living in rural areas deserve the same access to world-class health care as anyone living in Tallahassee," said Lauren Faison-Clark, an administrator and expert in telemedicine at TMH. "We, as care providers, need to meet these people where they are."
The answer to this need, at least in Tallahassee, has been the advent of telehealth. This web-based service can be accessed from anywhere by anyone with an internet connection. In its current form, it works almost like a FaceTime or Skype call, allowing physicians to check in with and monitor their patients without leaving the office. In turn, patients are blessed with peace of mind — even though they may be in the comfort of their own home, their doctor or nurse is always within reach.
The technology goes further than video chatting. Faison-Clark said that TMH is preparing to launch an extension to their existing service that will allow patients and physicians to monitor vital signs with great accuracy. A doctor could monitor a patient's heart rate from miles away and instantly be alerted when an abnormality appears. Faison-Clark calls this technology remote patient monitoring, and it is just one tool to help close the accessibility gap in health care.
Adoption of technological advances tends to move slowly, but the coronavirus pandemic turbocharged the use of telehealth options. The disease is both very dangerous and extremely infectious, making face-to-face visits with doctors and nurses inherently risky for all parties; furthermore, the lack of available space in hospitals during the early stages of the outbreak meant that some people could not remain physically close to health care providers. Telehealth was able to alleviate the pain caused by both issues.
Beyond the applications for physicians, telehealth services can also help a patient's family feel better connected and informed. With the rollout of remote patient monitoring, for instance, relatives can remain informed about the status of loved ones from any distance. Additionally, Faison-Clark said that the video chatting capabilities of telehealth have fostered "life-changing moments, connectedness and love, even when family members are states apart."
Brain therapy
While Faison-Clark and her team continue to make health care more accessible and revolutionize the doctor-patient relationship, Dr. Matthew Davis is using cutting-edge technology to help heal the brain.
Davis is a neurosurgeon at TMH who specializes in movement disorders. He moved to Tallahassee from Birmingham, Alabama, just over two years ago and brought with him a specialization in deep brain stimulation, or DBS, in which tiny electrical currents are sent to certain parts of the brain.
These currents stimulate neurons in the brain with the utmost precision. Davis is able to modulate the current's direction, power and other variables in order to give the patient the exact treatment needed for his condition. DBS is considered very safe because of this customizability.
In order to make sure the electrodes are placed correctly in the brain, Davis makes use of advanced neuro-navigation technology. The surgeon is able to use scanners in the operating room to make a map of a patient's brain on the fly.
Beyond this, Davis is also able to integrate telehealth services into his DBS treatment. If he needs to alter the electrical current being discharged, the patient doesn't even need to go into the office. He can simply adjust the DBS system remotely.
Davis said this capability is game-changing. Since he often treats people who have limited mobility, asking them to drive great distances for treatment can be impractical. This way, neither he nor his patients have to make compromises.
From remote treatment to brain-stimulating electrodes, TMH is making use of groundbreaking technology. The advancements that people like Faison-Clark and Davis are employing will serve to transform the health care field, make care more accessible and ultimately, save more lives. ▪