Tourism Promotion is More Than Just The Beach
Visit Pensacola explores new direction in tourism promotion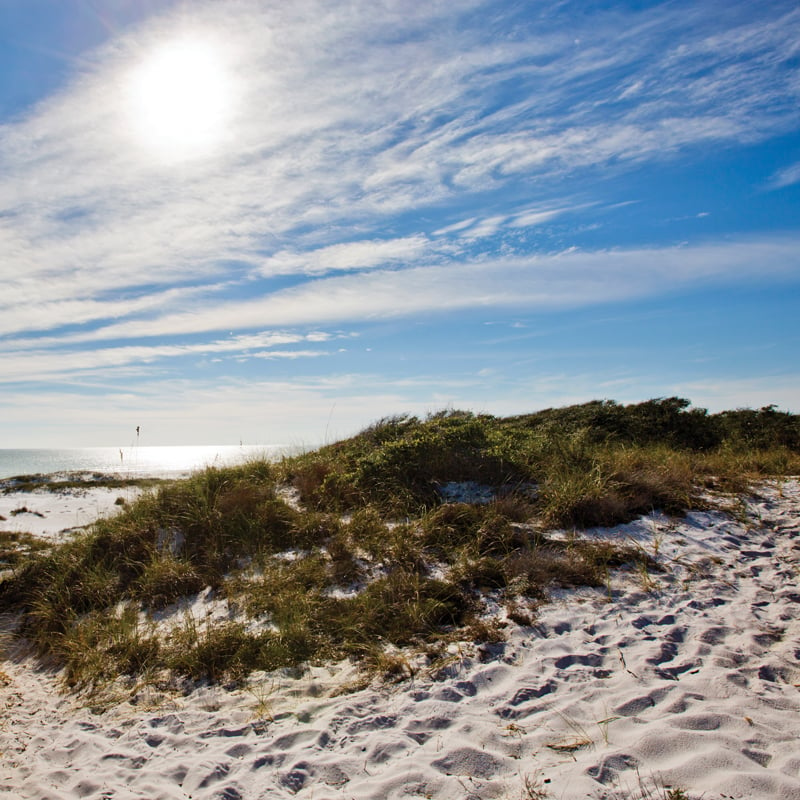 You might think marketing one of the world's most beautiful beaches would be an easy job. But selling Northwest Florida isn't always a day at the beach.
Just ask Steve Hayes, president of Visit Pensacola, the destination marketing organization that separated from the Greater Pensacola Chamber after 25 years to become an independent entity in January 2014.
After the Chamber conducted a nationwide search to hire a leader for its tourism arm, Hayes was just settling in when the structural change occurred.
"I think pulling it out of the Chamber has certainly benefited the community," Hayes says. "It has given us more purpose, more direction for where we need to go and how we help grow things, not only for tourism but for the community."
When he relocated to Pensacola from the Tampa Bay area, Hayes himself became the Gulf Coast tourist, learning and exploring the community he now promotes. He did this by walking — everywhere. What he discovered is a uniquely explorable town, full of energy, activity and buzz.
Getting Tourism Off the Ground
When you're marketing a beach, there's a lot of competition — especially in Florida. With 1,350 miles of coastline to contend with, Hayes and his team have to differentiate Pensacola from beaches at home and around the globe.
"A few things I heard off the bat is that Pensacola is a drive destination, and we still are predominantly, but you have to look at how we grow our air business," Hayes says. "When you have non-stop flights coming in from major markets, people will come to vacation and do business."
Yet despite the relative difficulty of direct air travel, 2014 was another record year for Northwest Florida tourism. Not only was occupancy up, but the money people paid to stay here also increased.
"It's great to have someone stay in a hotel or condo, but what's more important is the visitor out spending in the restaurant, shopping, going to different attractions," Hayes says, "because it provides a greater economic impact."
Pensacola Beach is currently rated No. 19 of the Top 25 Beaches in the U.S. on TripAdvisor, with reviewers touting "vistas only God could create." While people come first and foremost for a beach vacation, the strong numbers can also be attributed to the city's vibrant cultural scene and rich history — with popular regional attractions that include the National Naval Aviation Museum, Fort Pickens, Gulf Islands National Seashore and Historic Downtown.
Visit Pensacola is capitalizing on the city's broad appeal with its latest campaign tagline: "Loved By Explorers Since 1559."
"My first reaction was how beautiful it all was," Hayes says. "You have beautiful beaches, a strong military presence, a business center of Northwest Florida, the historical and cultural aspect; it's all here — just in a smaller footprint."
That small footprint gained a big audience in recent years but for reasons beyond the scope of any marketing team. The Deepwater Horizon oil spill of 2010 prompted BP to air national television ads that thrust "The South" into the spotlight. And for better or worse, this stretch of the Sunshine State exudes quintessential Southern charm.
Putting Pensacola on the Map
One project Hayes has implemented in his short tenure is research. Prior to his arrival, Visit Pensacola did not conduct ongoing research to show the value of the visitor (see sidebar). The agency now has a year-and-a-half of data, which Hayes plans to use to determine the overall impact of tourism.
Any native of Pensacola can tell you that few people outside of Northwest Florida know where it is — let alone what it has to offer as a destination. Pensacola, Pensacola Beach and Perdido Key boast pristine scenery and just enough to do, without the crowds and congestion. And Pensacolians want it to stay that way.
So do former and prospective visitors, Hayes learned by conducting focus groups in Chicago, Nashville, Dallas and the Washington, D.C. area. But how do you put Pensacola on the map without getting away from what makes it great?
"What's funny is our customer says that," Hayes says. "We talked to past visitors and visitors to Northwest Florida who had not been to Pensacola. Those who had been enjoy the area because we are not like Panama City, Destin or Gulf Shores."
For now, the goal of Visit Pensacola is learning how to smartly grow the business — keeping the natural ambiance and tranquility while still giving visitors things to do, so their length of stay remains the same and they keep coming back.
To that end, the organization has embarked on a five-year strategic plan to grow the right way.
"You can grow tourism by making the customer feel more welcome, by making sure they have the types of products they are looking for, by educating and helping locals embrace the benefit of tourists — all without having to build five more hotels," Hayes says. "It can be done smartly with controlled growth, so it doesn't take away from what we have here."
Because, as Hayes discovered on his long walks through the city, "It just feels good, and a good place to be."