To Lease or Not to Lease?
Nearly one-third of car sales are now leases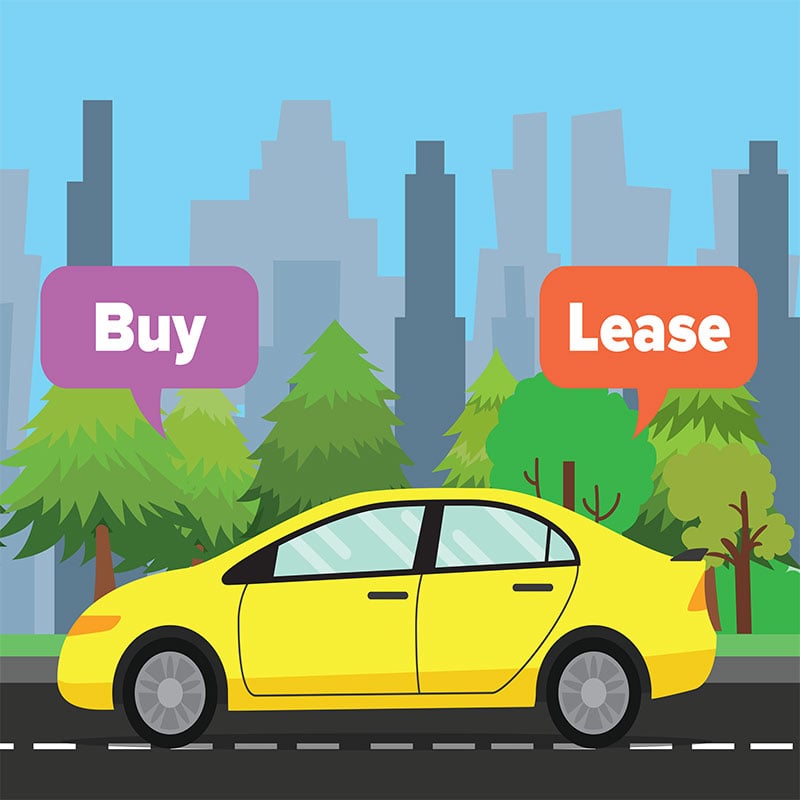 Tony Bellomio doesn't expect his employees at The Maids of Tallahassee to buy a new car every few years, but he can ensure that they drive one.
"We lease," said Bellomio, co-owner of the cleaning service with his wife, Shelby. "Our maids are cleaning houses in nice neighborhoods, and a new car promotes a better opinion of our company."
Bellomio leases five vehicles for his business — four Honda CRVs and one Honda Fit — as well as two vehicles for personal use.
"It's more cost-effective," said Bellomio, also a salesman for Acura for 25 years. "We get the safest, newest cars every few years. It makes sense."
While leasing is gaining momentum, not all drivers are on board.
At the other end of the financing spectrum are consumers such as Tallahassee resident Gail Brayman, who finds buying more economical — in the long run.
Brayman bought her 2002 Nissan Altima in November 2001, and it's still running. In 15 years, she has spent about $8,000 on the car, which originally cost $27,500. It now has 99,400 miles. Brayman bought it outright, with the help of a home equity loan, which she quickly paid off.
"I feel more secure having my own car," Brayman said. "I don't have to worry about running up mileage, and I don't have to worry if I get any dents or dings. I didn't want to pay money to keep up a car that I'm going to have to turn over to the car dealership."
Brayman keeps her emerald mist-colored Altima spotless, so it's still "almost perfect."
Whether you like to lease like Bellomio or buy like Brayman, the world of auto financing is, well, complicated.
"Leasing is probably the most misunderstood way to finance a vehicle, and because it's misunderstood, I think it scares a lot of people away from it," said Will Benedicks, director of finance for The Proctor Dealerships in Tallahassee. "We try to help educate consumers, because the more educated the consumer, the better the decision they can actually make."
More consumers, from college grads to retirees, are indeed deciding that leasing is a viable alternative to paying cash or getting a traditional car loan.
"There are a lot of people who enjoy being in a new car every few years," said Greg Clark, general manager of Werner Hyundai in Tallahassee.
Leasing now accounts for nearly one-third of vehicle sales throughout the country. According to the latest Lease Market Report from the car-buying platform Edmunds.com, more new vehicles were leased in the first half of 2016 than during the first half of any other year in history. The figures show that 2.2 million new cars, trucks and SUVs were leased in the first part of this year, an increase of 13 percent over the same period in 2015, and double the number from five years ago.
"Leasing is very popular at Capital Eurocars," said Crawford Atkins, vice president and general manager of Capital Eurocars Group in Tallahassee. "Approximately 40 percent of our new vehicle sales are leased, and that number is growing. … I am a lease customer, myself. I have been in the automotive business for over 31 years and I lease my personal cars. For me, there is not a smarter way to pay for a car."
Leasing is appealing in many ways, but there are also drawbacks to consider.
"Leasing is not for everyone," said Atkins. "If you like to keep your car for five years or more, or if you drive 30,000 miles per year or more, you shouldn't lease."
Jackie Watson, part owner and president of Watson & Associates, PA, Certified Public Accountants in Tallahassee, agreed. "Economically, it's usually better to buy if you're going to keep the car," she said. "If you are selling your car every three years, it might be more economical to lease … Tax-wise, the individual circumstances will determine if it's better to buy or lease."
Clark said customers generally lease for 24, 36 or 48 months, while contracts to buy are inching past five years and pushing 72 to 84 months.
When you buy a new or used car, you are paying for the entire cost of the vehicle. When you lease a car, you pay for only a portion of the vehicle's cost, which is usually why you pay less per month in a lease than if you were buying the car. When leasing, payments will be based on the vehicle's estimated depreciation cost or residual value, what the car will be worth after three years, along with interest, taxes and fees.
When the lease expires, you can turn the car in and walk away, lease another vehicle, or buy the car to keep or use as a trade-in.
"It's just a different way to finance a vehicle," said Greg Whibbs, a partner in the Buick/GMC Division of the Vince Whibbs Automotive Group in Pensacola.
IHS Automotive said the average length of ownership for a new vehicle has been extended to 6.5 years, compared with 4.3 years in 2006. But from a dealer's perspective, "most people are not driving their car until the wheels fall off anymore," Whibbs said.
That trend is especially true for millennials (ages 18 to 34). Edmunds.com reported in 2015 that young consumers opt to lease their vehicles at a higher rate than the overall car-buying population. And leasing accounted for 28.9 percent of all new-car purchases made by millennials in 2015.
Their psyche is geared to leasing, Benedicks said. "They want the newest and best that's out there and they want to keep their prices lower." Also, at their age, "their personal and professional life can be in a state of flux. Are they married? Where will their career take them?"
Millennials often choose to lease rather than invest in a car that might not suit them in a few years, he said. And instead of keeping a car for 10 years, a growing portion prefer making payments to lease a car they couldn't otherwise afford to buy.
But millennials aren't the only major fans of leasing. Buyers ages 75 and up have also "embraced leasing in a big way," according to Edmunds' Lease Market Report. "Leasing has increased 74 percent among these buyers in the last five years."
No need to convince David Parke, 76, of Tallahassee. He has leased 11 cars.
"Basically, it's an individual thing. Leasing's not for everyone," said Parke, a retired pilot and former director of flight operations for the state of Florida. "But I'm a car guy. I like new cars. My lifestyle is such that I want a new car every three years."
Parke currently leases an Acura TL for $365 a month. He also owns a 2003, 50th- anniversary red Corvette.
"Everyone needs a toy," Parke quipped.
He leased his cars with no money down so that he saves upfront costs and doesn't have to dip into his savings.
"Financially, most cars aren't a good investment," he said. Another plus for Parke: "When you lease a new car every three years, it's never out of warranty.
"If you're a person who's completely satisfied driving a car for 20 years, you've gotten your money out of it," Parke said. "If after three years you want a new car, then you better lease it."
Consumer advocates advise car shoppers to understand all the elements of a lease, or any car contract, before making a decision. Other factors affecting the lease payment include the length of the lease (usually two to four years), and the mileage limits, usually 10,000 to 15,000 miles per year. Consumer advocates advise drivers to avoid excess mileage charges by obtaining a lease that has a large enough mileage allowance to cover their transportation needs. Drivers must also consider if the extended-mileage lease is still cost-effective.
"One time I went over my miles, and it cost me $250. Not a big deal," said Robert Crystal, 60, of Tallahassee, who worked as a law enforcement officer with the New York Police Department and with the Office of the Inspector General for the Florida Department of Corrections.
Crystal has been leasing for 20 years and likes getting the newest safety and technology features available in new cars. He leased his most recent vehicle, a 2017 Hyundai Elantra, on Sept. 29.
"There's just about every extra in this car," said Crystal. "I don't have to put any cash down or use my savings. I make payments of $225 and I have a nice car."
Benedicks pointed to some estimates of the costs involved when securing a 36-month lease or a 60-month loan for an average, 2016 four-door sedan selling for $27,000, both with a 3 percent interest rate.
If you buy the car with no money down, you'll pay $530 a month. With a five-year loan, you will have spent $31,800 for the car plus an estimated $4,750 for maintenance and repairs, bringing the cost of the car to $36,550. After six years of ownership, according to car appraisal sites, the car is worth $7,600, so you've paid an estimated $28,950 for the car. The sedan could be worth more or less depending on its condition, whether it's been in an accident, gas mileage and other factors.
If you lease the car for more than three years, you'll pay $385 per month, $145 less than the car loan payment. In 36 months, you'll have spent $13,860. You'll pay an estimated $650 in maintenance and repairs, since cars leased for three years are under warranty. So your cost for three years is roughly $14,500. If you lease two cars in a row, you'll have spent $29,020 in six years, $70 more than you spent on your six years of ownership.
If you buy, "at the end of six years, your car is worth $7,600," Benedicks said. "Would you buy a house if you knew it was going to depreciate by more than 50 percent in six years?"
But not all cars are equal when it comes to leasing. Be wary of cars with low resale values. Benedicks advises against leasing cars that are traditionally used as rental or fleet cars, for instance, because "in three years, the market will be flooded with them."
The highest-leased brands are Audi, Mercedes-Benz, BMW and Land Rover, which have a high resale value, Benedicks said. About 64 percent to 70 percent of those new luxury cars are leased. The average demographic for those cars is "solidly upper middle class with a $165,000 household income," he said. "They're buying their houses and leasing their cars."
But for consumers who prefer to be payment-free and are vigilant about car upkeep, leasing isn't a done deal.
"I love my car," said longtime Altima owner Gail Brayman. "I know I'll be able to keep it a long time."
---
Should You Lease Your Car?
Here are some of the pros and cons to consider when leasing
Pros
Lease payments are lower than loan payments. You can drive a more expensive vehicle when you lease compared to when you finance a loan to buy a car.
A car loses value the minute you drive it off the lot, so if you aren't keeping a car, you're not getting its long-term value.
You get a new car every few years with updated safety features and technology.
When a lease is over, you can turn the car in, buy it or use it for a trade-in. If the car has been in an accident, you don't have to worry about its diminished value. It's back to the dealership at the end of the contract.
A lease often requires no money down or a small down payment, so you don't have to dip into your savings to drive home a new car.
You have to pay basic maintenance, but the car is under warranty for three years, so you don't have to deal with big repairs.
Cons
If you purchase a car, you'll be payment-free after you've paid off the loan. But with a lease, you have to keep making payments. It is ultimately more expensive to lease than buy a new car if you take care of that car and keep it a long time.
You don't own the car, so you can't customize it. (Some dealerships allow minor modifications such as tinting.)
You have agreed-upon mileage restrictions. Many leases have driving limits of 10,000 to 15,000 miles per year. If you go over your miles, you pay a penalty. You can check into extended mileage leases, which usually raise the monthly payment. Consider whether a lease is still practical.
You need to keep the car in good shape. There are mixed opinions about how much wear and tear is acceptable. A few minor dings might be OK, but don't beat it up.
If you have bad credit, forget leasing.