Time Equities Inc. Unveils Emerald Park
Ultra-luxury apartment community planned in Panama City Beach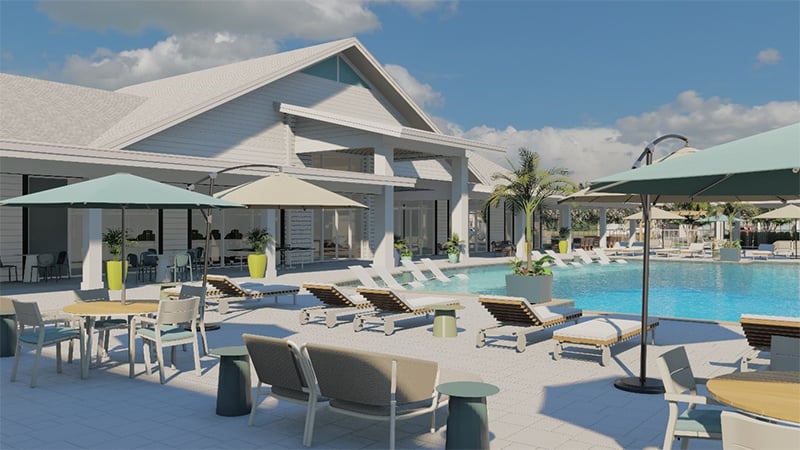 International real estate company Time Equities, Inc. (TEI) announced it has launched a teaser website and preleasing campaign for 108 ultra-luxury new apartment homes at Emerald Park (www.emeraldparkpcb.com), its new residential apartment community in Panama City Beach, Florida.
The 108 new boutique units at Emerald Park – which will be available for pre-leasing in September 2023 – feature unique, open floor plans, abundant natural light as well as modern finishes and fixtures. Kitchens, baths, closets, and balconies are all over-sized. 
The new apartments range from elegant one-bedroom units to efficient three-bedroom units (which also feature three full bathrooms, a first in the market). TEI will deliver the new units in phases, starting in late 2023 and continuing through the Spring of 2024. 
In addition to the new units, Emerald Park will feature a market-leading suite of over 10,000 square feet of amenities, both interior and exterior. To begin, the new 6,500-square-foot clubhouse features a soaring clubroom with banquets, communal high-top bar, TV lounges with fireplaces and more. The clubhouse is further equipped with a 24/7 fitness center packed with high-tech equipment.
Further features include a game room, private dining room (with catering kitchen) and kid's playroom. The clubhouse also boasts a full wrap-around, 25-foot deep, shaded loggia – with lounges and gaming areas. The oversized pool, spa and deck – which features pergolas, firepits and sun lounge areas – complete the resort environment. 
In addition to the clubhouse and pool, Emerald Park also features a separate, brand-new, 2,200-square-foot coworking/work-from-home center. The co-work center features conference rooms, Zoom pods, working lounges, a communal kitchen with coffee bar and printing/scanning stations. It also features its own pool and furnished pool deck.
Emerald Park finishes out its amenity offering with various outdoor activity areas, including the East and West Lawns, as well as the Bark Park. The East and West lawns feature shaded lounge and gaming areas. 
"We're thrilled to be launching Emerald Park luxury apartments today," said Robert Singer, Director of Development at TEI. "To be sure, the amenities here are over the top, and the apartments are just stunning – there is something here for everyone." 
Singer continued, "Emerald Park will set a new standard for sophisticated luxury living in the already buzzing Florida Panhandle market." 
Emerald Park is situated in the heart of Panama City Beach, on Front Beach Road at Laurie Avenue. The property is conveniently located between the Beach and downtown Panama City – with easy access to shopping, schools, transportation, entertainment and everything that the Panhandle/Emerald Coast region has to offer.
The Emerald Park development team consists of Conn Architects, FaverGray Construction and Woodruff Property Management. To learn more about Emerald Park and register on the priority list, visit the website at www.emeraldparkpcb.com.
---