Tidal Wave Moment
Safe Water for Walton, regional coalition challenged giant waste hauler's plans and won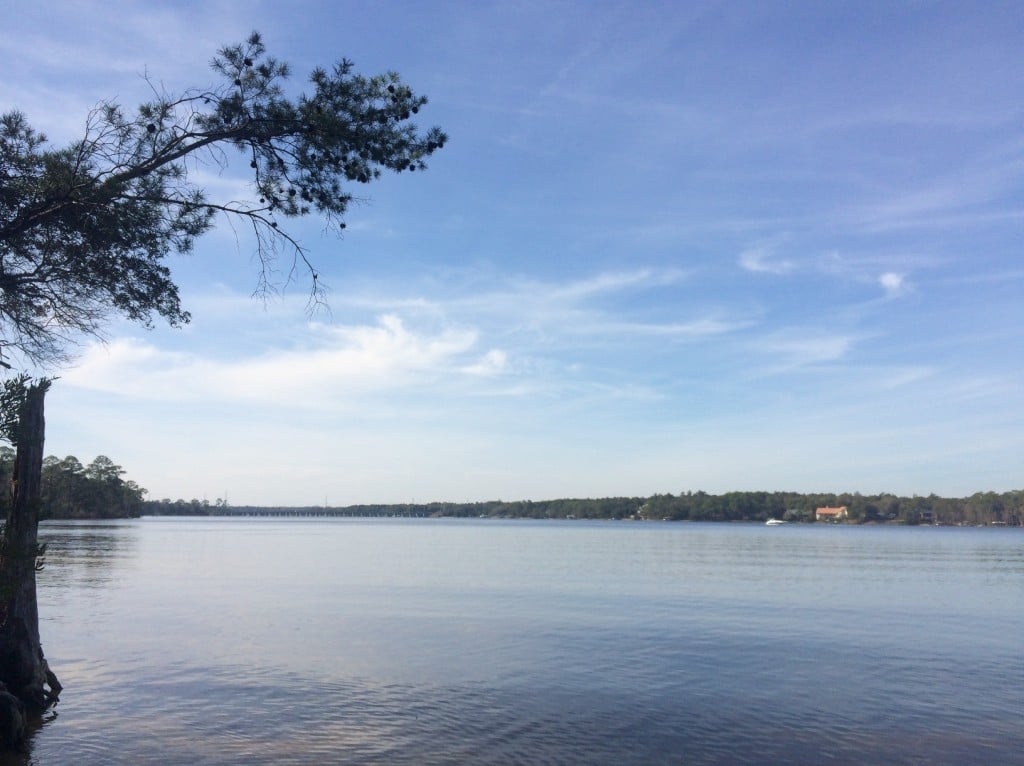 Community leaders in a six-county region have demonstrated that small-town environmental activism and ample resolve can succeed in a big and unexpected way.
In August 2016, Waste Management Inc., a Fortune 500 company with more than 21 million customers, filed a federal permit application seeking permission to install in Jackson County a Class I deep injection well to be used for the disposal of leachate, the toxic soup that collects at the bottom of lined landfills. In Florida, that type of federal hazardous waste permit application falls to the state for review.
Given approval, the first step is an exploratory well leading to a multi-million dollar capital project.
The application, submitted to the Florida Department of Environmental Protection, became the subject of a public hearing, held in Jackson County and attended only by a local newspaper reporter. Still, word of the application got around among people who found it concerning. They approached Ronstance Pittman, then the chairman of the Jackson County chapter of the NAACP, whose programs of work at the local, state and national levels include one focused on "environmental and climate justice."
Pittman learned of the application eight months after it was filed. Still, she committed to contesting it.
"I told people that it wasn't too late, that we needed to put up a fight," Pittman said.
She called upon the Jackson County Commission to adopt a resolution opposing the application, and eventually she would be proven right. It had not been too late.
On Jan. 10, 2020, nearly three years later, Waste Management withdrew its application.
Jackson County had made some consequential friends along the way.
Kelly Layman, a former chief of staff at the Florida DEP who would establish the nonprofit Safe Water for Walton, began in 2017 directing the attention of public officials and others in the six-county Choctawhatchee River and Bay Watershed to the application.
"In the beginning, there was no plan for any nonprofit," Layman said. "I just wanted Walton County, my home county, to be on the record supporting Jackson County's official stance. The complex permitting process would take a good while, and we were neighbors in the same watershed. Our underground geology is different than the rest of the state, and more susceptible to groundwater contamination."
Few people outside Jackson County were paying attention to the proposal — even though it potentially affected anyone in the central Florida Panhandle who depends on a water utility or who owns a private water well.
This particular watershed includes the Choctawhatchee River, Choctawhatchee Bay, about 100 natural freshwater springs on either side, plus creeks, and wetlands in a gigantic swath covering all or parts of Jackson, Holmes, Washington, Bay, Okaloosa, and Walton counties. It's also an area of contrasts: multi-generational farms in the north, and the densely, tourism-rich Gulf coastline.
The watershed is recharged daily by the Floridan Aquifer underground, in terms of both water quality and quantity. Conversely, the natural process slows down as increasing demands are placed on the watershed.
Dozens of private public utilities and tens of thousands of private well owners tap into the aquifer. Pollutants from stormwater runoff and other sources can affect water quality.
Historically, the watershed has been protected, effectively, by a lack of development, but that picture is rapidly changing.
In 2017, Layman asked the Walton County Commission to adopt the same resolution opposing the deep injection well that Jackson County had passed unanimously.
Layman's phone started blowing up with calls from people who had been unaware of what was going on almost two hours to the northeast, but who fully understood the ramifications. Within weeks, a group started taking shape, made up of former state agency employees, private engineers, attorneys, geologists, entrepreneurs, owners of million-dollar beach homes and others.
"Anything like this injection well would be in the worst geological location imaginable in North Florida, and near the very top of our water supply chain," Layman said at the time.
Layman's opposition figured in Tallahassee news reports, which noted her one-time role at DEP, where she became familiar with relentless pressure on too few regulatory managers to process and check up on tens of thousands of state and federal permits each year. This application, she felt strongly, was one that needed to be slowed down.
"We were figuring out ways to support Jackson County citizens who were speaking up and state Sen. George Gainer (R-Panama City), who emerged as the state-level champion," Layman said. "His office knew the watershed is a public resource that can't afford a crisis. We believed, like he did, that much of the region already has enough challenges."
Layman et al rallied to create a Facebook page (@safewaterforwalton), incorporate as a nonprofit, build a website (safewaterforwalton.org) and bring on paid and volunteer experts. A membership drive netted the nascent organization $20,000 in nine months.
Safe Water committed to a "diplomatic, fact-based, thorough, and focused approach," Layman said. "Nobody really had time to do this, nobody wanted to be in the media, but everyone knew what was at stake."
Their research unearthed unsettling truths.
"In the first few months alone, we learned that the federal Environmental Protection Agency had previously admitted on the record that its national contamination incident database isn't even complete," she said. "In every single water contamination crisis from a known or potential deep injection well failure, by the time they caught up to its severity, people were already on their knees, moved away or financially harmed, or literally stuck and couldn't sell their house."
Leachate, according to the EPA, may contain "volatile organic compounds that can cause liver and kidney damage or cancer." Usually, it's transported to a wastewater treatment facility for processing, but that involves fees, extra liability and other costs.
A successful application would have allowed Waste Management to dispose of its own leachate by injecting it 4,000 feet beneath ground level via a well that would pass through one, maybe two, layers of freshwater aquifer, and be uncapped at the bottom.
"We were never opposed to the applicant," Layman said in 2018. "It wouldn't matter to us if Pope John Paul had filed the application. We are opposed to the proposed location."
In September 2017, the Walton County Commission voted 4-0 to oppose the application. In so doing, they joined Walton County municipalities Freeport, Paxton and DeFuniak Springs; the city of Marianna and the Town of Sneads in Jackson County; the Jackson County NAACP; and Gainer.
Subsequently, Waste Management would ask the state at least five different times over more than two years to postpone the review process.
"I'm relieved," Pittman said about the withdrawal of the application. "This was a group effort and the permit was much more than just a Jackson County issue. Our neighboring counties stepped up and supported us. The NAACP at the state and national level helped us."
Lois Gibbs, who famously led the fight to relocate families away from the toxic Love Canal neighborhood in Niagara Falls, New York, offered Pittman advice.
Pittman said the state has approved a different permit that will allow Waste Management to dispose of leachate using a burning and evaporation process. That alternative, Pittman said, eventually helped bring about the withdrawal of the injection well permit application.
The alternative in place, according to reports, is an additional permit from the state for the organic material and regulated toxins Waste Management is releasing into the air, the product of a year-long review process that the company finished with the state DEP in late 2019. Anyone driving by the landfill in Campbellton will see a gigantic flame and plume when the flares are operating.
Layman said she was proud of the way in which the injection well permit opponents conducted themselves.
"We're having a tidal wave of emotions," she said. "It was a long road to get here. There was no way I was doing this as a war. We ended up getting to a place where our non-profit members have constructed something more meaningful that goes beyond one hot, gnarly issue.
"This watershed is the third-largest by water volume production in the entire state. We are rich in an asset that won't produce returns like this forever unless we protect it exceedingly well."
Layman said anyone who wants to make a difference and work with government needs "a titanium spine" these days.
"The bottom line is trust your gut and trust God in equal measure," she said. "He was yanking on my conscience for weeks before I said a word publicly. I honestly didn't want to speak up initially, but God literally kept surrounding us with courageous water warriors."
Former Florida Secretary of State Jim Smith, an attorney who at one time represented Jackson County as a lobbyist and has known Layman for 25 years, talked with her often by phone during the years-long permit challenge.
"She was a point person who held it all together and brought people together," Smith said. "I am happy for her, happy for all concerned and proud of the effort. It's a win for Northwest Florida communities and a win for the environment."
Pittman said the Jackson County Commission should have waved a bigger flag when it learned of the permit application.
"The commission needs to make people aware," she said. "That job shouldn't have fallen to the NAACP."
In the future, Pittman may be in the perfect position to spread the word about permit applications or other issues with implications for the environment. She has chosen not to seek re-election as NAACP chapter president.
She is running for a seat on the Jackson County Commission instead.