Thrice as Sweet
Duplin Winery develops new location in Panama City Beach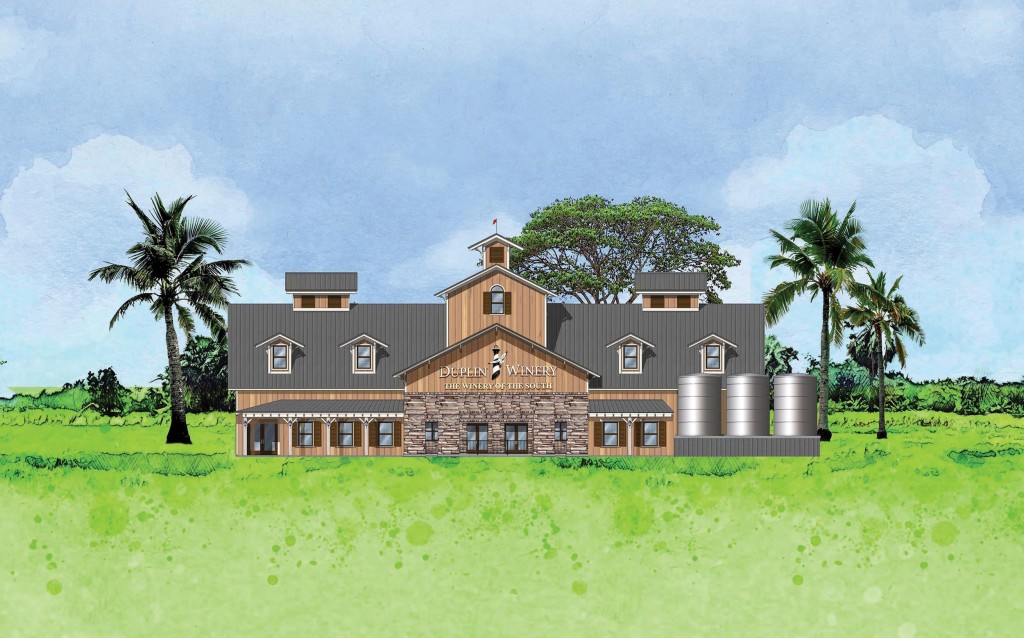 The origin story of Duplin Winery reads like a quaint tale of two brothers with a dream, living in rural North Carolina in the early '70s, discussing those hopes and dreams as they sat in rocking chairs on their porch. Fortunately for them, serendipity brought them an opportunity to create something remarkable: a legacy they could leave for future generations.
After learning that a winery in New York City would pay $350 for a ton of grapes, brothers Dan and David Fussell, Sr., planned to grow sweet muscadine grapes. In partnership with their father, "Big D," as they called him, they invested everything they had into starting vineyards. It took four years for their first harvest, and by that time, the grape prices had fallen to less than half the original price.
Faced with a dire situation, the brothers taught themselves how to make wine from their muscadine grapes that would highlight its natural sweetness. Even with one problem solved, however, they found themselves up against another challenge: The price of bottling was too high. Still, they rose to the challenge. After buying sugar and mason jars from their local hardware store in Rose Hill, they bottled and sold their first batch of wine, officially launching Duplin Winery in ı976.
More than four decades later, the Duplin name has become known for producing "America's Favorite Sweet Wine," boasting the world's largest muscadine winery. The company is now run by Dan and David's sons, Dave Fussell, Jr., and Jonathan Fussell, who have taken over the reins of the family business and expanded it to include a second location in North Myrtle Beach, South Carolina, during the summer of 20ı5. The location was one inspired by their grandfather, who had always loved Myrtle Beach and dreamed of opening a winery there.
Nearly ı0 years have passed since the opening of that second winery, and the Fussell boys have once again expanded their legacy to establish a winery in Panama City Beach, Florida.
"Although originally from the East Coast, Duplin began to grow in distribution along the Gulf Coast," explains Morgan Jackson, general manager of Duplin Wine Family, Inc. "When they were visiting the Panhandle of Florida, the brothers fell in love with the laid-back, calm beach lifestyle of Panama City Beach, Florida."
The beach lifestyle seemed to be the perfect place to welcome a new winery, and so Duplin Winery is slated to open its doors at the beginning of 2023. "With over 70 acres of land, the possibilities are endless for our new location," Jackson says. "Our vision is to create a destination that visitors, residents and the entire community can enjoy."
The main attractions, Jackson says, will be participating in hand bottling, live music events and hosting wine tastings. Duplin Winery tastings are designed to be a little different, with "no pinky raisin' allowed" and entertainment of funny stories, anecdotes and interesting facts about the family's history.
The beautiful building will be perfect for taking a stroll and finding unique gifts and accessories, and the porch is perfect for relaxing and enjoying live music during the spring, summer and fall. You may even get a hug from Dave or Jonathan if they are sitting out there on the porch.
"Future plans may include establishing gorgeous vineyards, creating a wedding venue, a live entertainment calendar, shopping, gourmet foods and more," Jackson said. "The possibilities are endless."
The delicious draw, of course, will be Duplin Winery's varietals, which include sweet wines, sparkling wines, fruit-forward wines and frozen wine drinks — all of which have that signature Duplin quality and fun, carefree way of making wine anything but snobbish or prim and proper. The label's top-seller is Hatteras Red, a traditional Southern muscadine red that is consistently one of the South's best-selling wines, boasting a pleasant sweetness and fruitiness that makes it incredibly refreshing.
"We also have a new line of wines in our Duplin Cotton Candy brands," says Jackson, who goes on to describe the "fluffy, cloudlike" sweetness of the Cotton Candy series wines. Originally intended as a limited run, the Original Cotton Candy rosé was kept in production and expanded to include Original Cotton Candy, Blueberry Cotton Candy, Lime Cotton Candy and Peach Cotton Candy. The popular series is known for its hints of vanilla and notes of summer berries and fruit.
With its third location opening at Panama City Beach, Duplin Winery is expanding the legacy and carrying on the dream — and bringing it to paradise.
For more information on Duplin Winery, visit duplinwinery.com.