Three Titans of Tourism Tell us How they Plan to Navigate The New Normal After BP
Weathering the Storms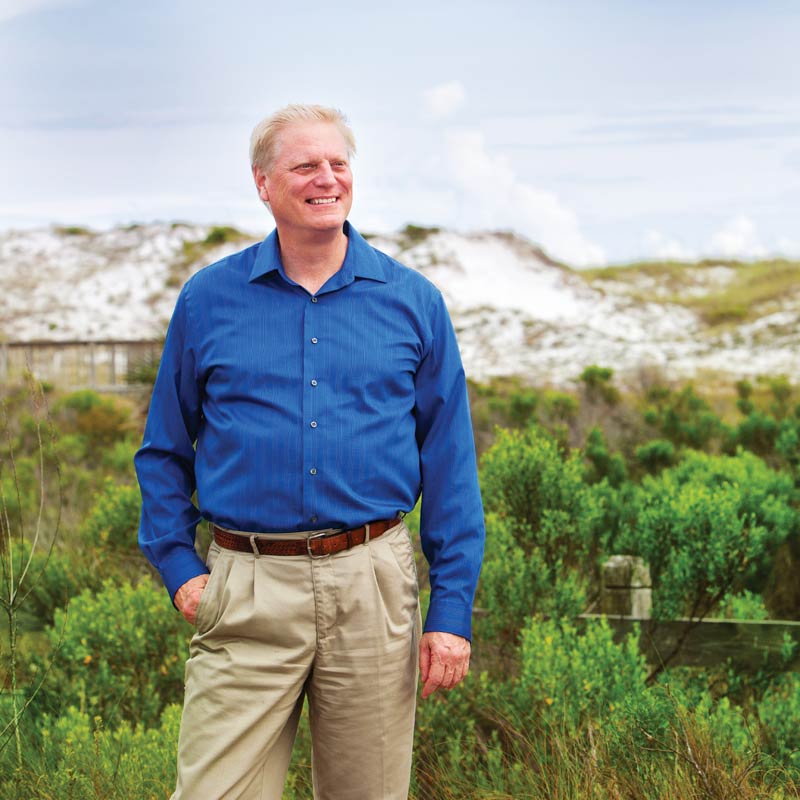 When it rains it pours, sometimes quite literally. The Emerald Coast is used to preparing for hurricane force winds, but it was not ready for record rains that brought floodwaters so deep and swift the area's streets eroded while cars, businesses and homes flooded. But that's just what 24 hours of April showers brought … along with a disaster designation heading into May — the beginning of the peak summer tourism season. But the Emerald Coast has weathered storms before — both those created by Mother Nature and the manmade variety.
Mother Nature is not the first villain to cast a shadow along the sugar-sand beaches of Northwest Florida. Other unwelcome visitors with names like Opal (1995), Ivan (2004) and Dennis (2005) have come and gone with gusto. Occasional brush and wildfires make the Sunshine State the kind of hot that isn't cool. Even indigenous creatures that call the Gulf home have crept onto the scene from time to time. In June 2005, two separate bull shark attacks in a period of three days was such an anomaly, garnering international headlines. Not the kind of PR most on the coast would prefer.
Soon after, the coast was bitten again … in the wallet.
The economy tanked during the Great Recession and the real estate market imploded, sucking all the remaining wind out of the regional economy's sails. But the decade still had more in store. In 2010, the unimaginable happened when the BP Deepwater Horizon disaster spilled 3.5 million gallons of oil off the Louisiana Gulf coast. Though there was little oil on Emerald Coast shores, the perception that tar balls covered the coastline washed away any hopes for decent tourism traffic for several summer seasons.
Two years later, just as everyone thought the coast was finally clear, a PR storm raged in Okaloosa County when the newly hired Emerald Coast Conventions and Visitors Bureau president diverted millions of the county's BP dollars to accounts he could freely access to cushion his lifestyle with luxuries such as an SUV, a custom motorcycle, a yacht and even a Destin home. The terrible situation turned tragic when Mark Bellinger ended his life after fleeing the area, making the stain of the BP oil debacle even worse. Weeks of headline news sent tongues wagging, fingers pointing and heads shaking. The incident cast a dark shadow all along the coast.
Two years have passed since then. And, after some musical chairs, three of the region's current tourism leaders may be finally settling in to their new roles: Jim Bagby at the South Walton Tourist Development Council, Ed Schroeder at the Emerald Coast Convention and Visitors Bureau and Steve Hayes at Visit Pensacola.
It can't happen soon enough. Tourism is big business for the Sunshine State. More than 97 million visitors travel to Florida each year to enjoy nearly 1,200 miles of coastline. Of those guests, nearly 20 million venture to the Emerald Coast. Regionally, there are approximately 3,200 restaurants and 1,600 hotels, motels, bed and breakfasts, and vacation rentals. All in all, it is a $67 billion industry with nearly $4.6 billion in tax revenue collected annually in Florida's state coffers alone.
As they approach and mark one year on the job, we were curious. After the ravages of so many "super storms," we wondered what is the new normal for Northwest Florida's tourism industry now? To find out, we sat down with three of the coast's tourism titans, and here is what they had to say.
Click the page numbers below to navigate to each Q&A
Ed Schroeder
Executive Director, Emerald Coast Convention & Visitors Bureau
First day on the job: Dec. 10, 2013
---
Background: Before he came to the Emerald Coast CVB he was director of sales for Marcus Pointe Golf Course for two years; prior to that he worked at four Conventions & Visitors Bureaus, including serving as director of Pensacola Bay Area Convention & Visitors Bureau from 1999–2011.
Mari~Darr Welch
Ed Schroeder
850: What experience in Pensacola will you apply to the Emerald Coast market?
ES: Everything I learned in Pensacola in the 13 years I was there I'm bringing with me here. A lot of what you learn is what not to do, so there is no danger of trial and error on things here on the Emerald Coast that I already know don't work.
850: What are your first priorities?
ES: There are a lot of first priorities. Part of our low impact as a marketing organization was trying to find our way through the processes set up after the audit. They are good at accounting and financial procedures and policy, but it's a big change from what was done before so it left people confused to some degree to how they were supposed to work the marketing through that system. My priority was to make sure everyone got on board quickly to do that right. Now, we have a good process we can follow, clearly defined.
On the marketing side, one priority was to change our look. The quality as well as the quantity of our messaging in markets was not to our advantage. We have tremendously ramped up both and hope to brand our image as a family fun destination.
850: What is the "new normal" now for the Emerald Coast CVB?
ES: Honestly, the staff was battered and bruised. My job is to help them let go of all that is in the past and find their role in the future of this destination.
My second priority is to ensure trust and confidence in the tourism industry in this county. We need to show that we have the team, staff, leadership, vision and that we are transparent in all our processes, so there is no concern of a repeat of what happened in the past.
The third priority is to help folks realize that what happened here affected us dramatically, but from a tourist standpoint, it's not a blip on the radar. A tourist comes here to have a great vacation, not to delve into the inner workings of the convention and visitors bureau. So, this incredible destination has not been blemished at all for the tourists who want to come here.
850: Do you interact with your tourism counterparts?
ES: There has been a drop off since the urgency of the oil, and that's to be expected. The need to get together as a Northwest Florida group is going to ebb and flow, depending on what's happening in any single community or across the coast. But the relationships are there, so it's easy to assemble the team.
850: What are you most looking forward to in your first year?
ES: Anybody that comes to a destination like this, you've got to be excited about experiencing a whole year's cycle of everything that happens here. On top of that, watching the new effort that we are making bear fruit, watching the results of what we do, that is the biggest thing.
In a larger sense, I think this community is 100 percent behind us now. This community wants to see us succeed. They want a victory. Our team is not the team that struggled for the past couple of years. We are a championship caliber team that our community expects to win. And I'm confident we have the people on board to make that happen.
850: What do you feel is the core role of the CVB?
ES: That is a question that is on fire throughout all levels of destination marketing. Typically we are called a DMO, but the debate now is: Are we a DMO that is for marketing or are we a Destination Management Organization? CVBs all over the country are switching from one role to the other. If you are a management organization, you do marketing but you also do development to build new hotels and attractions to help redefine what an area looks like and spend money locally to enhance the tourism product. For example, here we pay for lifeguards to enhance the experience on our beaches.
Are we part of economic development? When you live in one of the most beautiful spots in the world, economic development starts with us. We're not a part of it, it starts with us.
Steve Hayes
President, Visit Pensacola
First day on the job: March 4, 2013
---
Background: Steve worked his way up in tourism after working in PR and promotions for the Greater Peoria CVB during college. When he graduated they created a job for him putting his degree in advertising and marketing to work. For the past 26 years he has led the Tampa Bay Convention & Visitors Bureau.
Brooke Fleming
Steve Hayes
850: How do you expect you will interact with your tourism counterparts?
SH: As an area we need to ask what can we do together? There was a meeting in March that connected the Northwest Gulf Coast (to talk about) how to attract business that wasn't crisis related. I recently had an opportunity to bring a travel writer in from Canada, working with Panama City Beach on it. I said, "That's a no-brainer. Bring it on." Because the more coverage we get the better. Collectively there is a lot we can do together.
850: Where are the opportunities?
SH: We are focused on the beach, but we've been missing the other ways we can drive business. In the fall and winter, the beach is still important, but the numbers of those who participate in cultural and historical activities has jumped.
850: What are some of your specific plans?
SH: In November we will be working with ACE (Art Culture & Entertainment Inc.) in Escambia County to brand everything related to arts, culture and culinary. We hope to work with everyone from the Great Gulf Coast Art Festival to the Blues Homecoming Show and the Frank Brown Songwriters to Gallery night and so on to provide a 10-day time period for visitors to come to this community.
850: What do you see as the priorities for Pensacola?
SH: Looking toward the future we need to ask: "What do we want to be when we grow up?" So with visitors you always have to have things to keep them coming back.
Are we indeed taking care of the visitor, and how do we grow it? Internationally? Domestically? With cruise business? What's our infrastructure? We need to grow it smartly and with purpose that provides impact to the community. It takes long-term planning to increase the business.
850: What is your "new normal" now?
SH: I would have to say the biggest thing that came out of the BP oil spill was the bringing together of the tourism industry. Before BP, in terms of advertising, it was going to broad and different organizations. After BP we had all this money going to advertising talking about the Gulf Coast, and in doing that we essentially had a unified budget and more marketing power. BP showed if you have one message you have a greater impact.
850: What kind of research have you used to learn about your customer?
SH: Our research started in May of 2013. Part of that is better understanding the international visitor and asking why aren't we going after Germans, Canadians and Brits?
People assume because we don't have direct international flights we don't have international business, and that isn't the case. We need a better understanding of them and then sell the area to them.
850: One year from now what kind of impact will you hope to see?
SH: Did we get the industry and community talking about tourism, and are we pointed in the same direction? And … are we having fun? If you can't have fun, you're in the wrong place.
Jim Bagby
Executive Director, South Walton Tourist Development Council
First day on the job: June 1, 2013
---
Background: After 24 years in the United States Army with a variety of operational and staff assignments throughout the world, in 1999 the West Point graduate left the service to remain in the area and applied his graduate degree in public administration to the position of town manager in Rosemary Beach, one of South Walton's 16 beach neighborhoods.
Pure 7 Studios
Jim Bagby
850: A lot has transpired in the past couple of years. How has it affected the South Walton TDC?
JB: With the Bellinger issue trust evaporated with everybody. The management controls were not there, and that's probably true of every TDC up and down the coast, so there was a heightened scrutiny of all the TDCs.
850: What do you do differently now?
JB: The first thing we did was hire a person with an accounting degree to be the director of our administration. We have to have better accountability. We had $250 gift cards locked in the desk. If you've got 20 of them, that's $5,000. Would you lock $5,000 in cash in a desk? Nobody would. So we now understand gift cards and cash cards are cash equivalents.
As I reiterate to my staff: We are an $18 million business, and we have to run like one.
850: The South Walton TDC received nearly $7.7 million in BP dollars. How will you spend it?
JB: We have $38 million in reserves; $21 million of that is earmarked for beach nourishment in 2015. Then we have an amount to completely replace all of our beach accesses and bay accesses and whatever is non-insurable should there be a catastrophic event, and that's around $7 million. Then we're going to set aside $1 million to $1.5 million in case of a catastrophic event, to blitz feeder markets and get the word out that we're back in business.
850: What does your research indicate about the market?
JB: I went to the property appraiser and took a look at (the owners of) non-homesteaded single-family residences, condos and townhomes in 2003, 2008 and 2013. That was 16,242 records. I wanted to know what their home zip codes were. So that told us where our top 40 markets are.
I created an informal working group comprised of CEOs of the 15 largest bed tax collectors.
They are my sounding board. They understand from a CEO's perspective.
850: How will you use the research?
JB: We work to bring people here. They will decide on their own to stay and buy. We're trying to find out where do we have people who have not made that total commitment to buy because they have a few more trips in them. Say Dallas and Houston. So we're doing a big event with the Dallas Symphony.
850: Where does the international market fit in with your plans?
JB: We'd love to do something with direct flights to Canada … to Montreal and Toronto, because I don't think we do enough with Snowbirds and their friends. Part of the challenge is commitment, because if you are going to go after the market, you have to say we're doing this for five years and we may lose funds for four and a half.
850: What do you like most about your new job role?
JB: I like making a difference. No, we're not feeding hungry children, but we're allowing people to come to a destination and experience their families and grow closer, we're allowing people who live here to have good paying jobs in a respectable industry. We're a positive force now.