The Vintage Queen
How one woman turned her passion for antiques into thriving businesses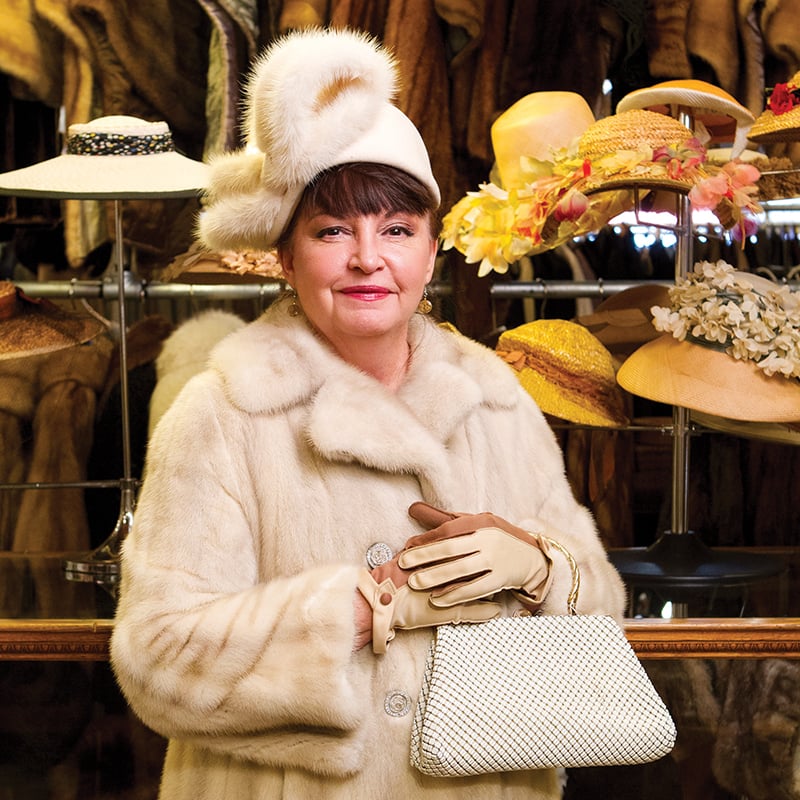 Cindy Poire has always been a collector. As a young girl in Sarasota, she would do housework for retired folks in exchange for antique items they owned that caught her eye. She was especially fascinated by Victorian mourning apparel, such as black silk mourning dresses and brooches decorated with braided pieces of the deceased's hair — not the typical things most children are fascinated by.
"It seems unusual," Poire acknowledges, "and probably if I had been in the '90s it would have been considered gothic."
But the history of the pieces fascinated her — the rituals of an era in which grieving was not rushed over a few days or months but was a process that women engaged in for years. She has always been enthralled by personal histories.
"You know, as a little kid, I loved older people," Poire says. "I loved my great-grandparents; they were Norwegian immigrants. And I loved listening to the stories that they would tell."
None of her immediate family ever understood her preoccupation with old things. Asked about her parents, she says, "Oh, they were not interested at all. In fact, my father used to say, 'If you bring home one more old piece of anything, you can keep it (only) if it will fit in your room!'"
Undeterred, Poire would drag home French doors, tables and lamps. Her personal collection of vintage clothing has attracted the notice of prestigious entities such as the Fashion Institute of Technology in New York, which offered to purchase her collection of Victorian clothing a few years ago. Poire refused, saying she was not yet ready to part with it.
She still loves searching for vintage and antique treasures. Today, at nearly 60 years old, Poire says the best thing about owning her stores in Madison, Florida, is scouring flea markets, estate sales and antiques wholesalers to find pieces for her inventory.
"I'm a professional shopper!" she declares with a smile.
Bringing Business to Madison
Poire owns two successful downtown stores, the Madison Antiques Market and Interiors and Marketplace of Madison. The bulk of what the Madison Antiques Market carries is antique American furnishings and women's vintage clothing and accessories, though she throws in a few new items for customers who might come in out of curiosity but aren't that interested in buying something pre-owned. At the Marketplace, she sells vintage men's clothing and a mix of antique and contemporary furnishings, books and tools.
Madison Antiques was the store she opened first, 10 years ago on her birthday in November. She and her husband had started coming to Madison several years before that for weekend getaways, when he would go deer hunting and she would relax. She had a commercial design business in Sarasota, and he was working as an underground contractor. Before the Great Recession, sensing that a financial downturn was nigh, they decided to sell up and relocate to Madison, where Poire decided to open her stores.
"But everything was empty," she recalls. "Everything downtown — there (were only) two stores open. We bought this building first. It had probably sat empty seven or eight years and needed an extensive renovation. So we worked on this building for almost two years before I opened in 2006."
Since then, downtown Madison has seen growth and revitalization.
"We've had three boutiques open, we've had two coffee shops open, we've had two more restaurants open," Poire says. And all this within the past two years.
Madison City Manager Tim Bennett noted in an email interview that "like most small cities, we struggle to keep our downtown businesses alive and well. Cindy's businesses have helped us survive."
Poire has also worked to bring more out-of-town shoppers to Madison. Four years ago, she approached a woman in South Florida who periodically puts on an outdoor market called the Fancy Flea and convinced her to come set up a second market in Madison. The Fancy Flea Market was an immediate success and now runs for a weekend every May and November in Madison. This past May, it attracted more than 70 vendors and a large crowd of out-of-town attendees.
Putting Her Business Savvy to Work
In order to keep her business alive and thriving, Poire advertises her store on television station WCTV, has an Etsy shop online and has hired a woman to help her with social media marketing. She sells a lot of her vintage clothing online to customers in Europe and Australia.
Poire says vintage clothing is more popular there than it is domestically, although interest in the trend is growing in the United States. At the Madison Antiques Market, she has racks upon racks of high-quality period clothing, ranging from peach silk lingerie from the 1930s to button up leather boots from the Victorian era.
"You'll find that most of my stuff is 90 to 95 percent perfect," she notes. "Because if it isn't, it doesn't go on the racks. I dry-clean it, I launder it. I repair it. I want you to be able to take it back home and use it or wear it right then."
Earning Trust
The high standards she has for the quality of her clothing also applies to Poire's decisions on parting with merchandise.
"If I don't think it's going to a good home, I won't sell it," she says. "And believe me, I've gotten into some real arguments with people. I'm like, 'You're not going to take care of it. You don't appreciate it.'"
Her principles have won her a following among those of the older generation who have unique items they don't use anymore but value because of the memories they hold.
"That's why people bring things in to Cindy," says Shirley Bushee, a Madison local who has sold Poire several antique items. "Because we know that she cares about what we bring in and that she will sell it to someone who will care for it."
Poire recalls that during the Fancy Flea fair in May, a woman in her 80s came and sold her a beautiful 1950s mink-trimmed vintage coat she had worn in her younger days.
The woman told her, "I didn't want to part with it because it had so many memories … but you will take care of it and you will sell it to someone who will love it."