The Uptown Café Has Offered Good Food and Comraderie Through Good Economic Times and Bad
Where Everybody Knows Your Name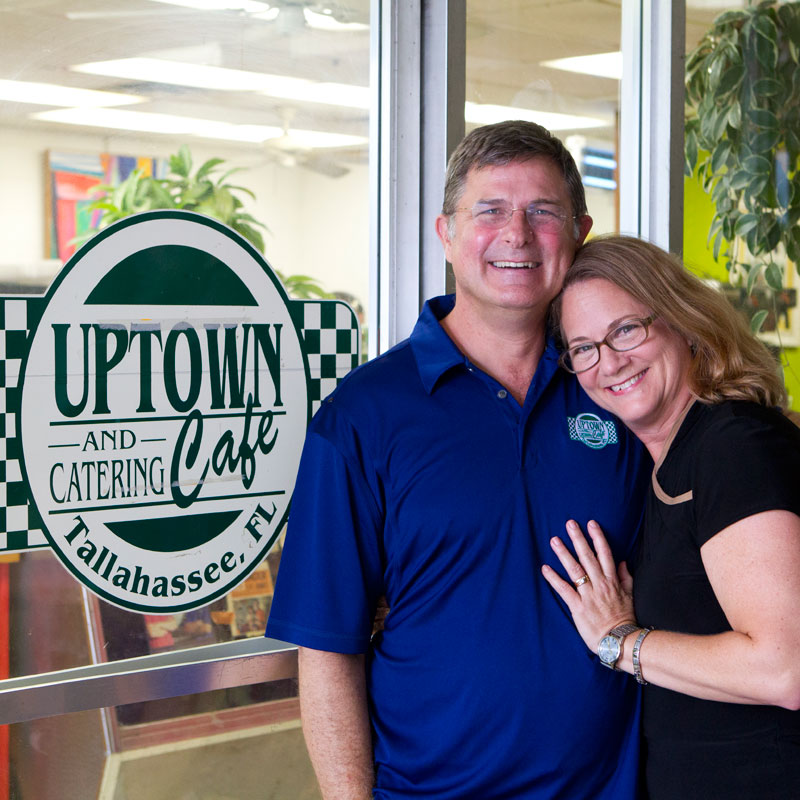 It's the café where everybody knows your name. Think of Cheers without the beer; a friendly, neighborhood restaurant where the staff feels like family and the cooking is like something your mom … maybe … served up on her best Sunday mornings.
The Uptown Café celebrates 30 years this year — and Fred and Beth Tedio (also celebrating their 30th wedding anniversary in 2014) have been owners for much of that time, catering to the tastes of Tallahassee for breakfast and lunch, on weekdays and weekends, in good economies and bad. When times got tough, they survived by learning to think outside the box. And throughout it all, the Uptown customer remained their focus — an attitude that has made them legions of friends, including many of the children and grandchildren of those who have frequented the café for decades.
The couple met while at Florida State University and then moved to Atlanta, where Fred was food and beverage manager of a five-star restaurant, working seven days, leaving work in the wee hours of each morning and returning before lunchtime. In 1989, when they got a call asking if they might be interested in coming back to Tallahassee to become a partner in the Uptown, they didn't have to be asked twice. And by the early 1990s they were the sole owners of the small café on College Avenue in downtown.
"It was kind of risky," remembers Fred of the decision to purchase the café. "We weren't savvy business people at the time. We just knew it was a good fit for us."
Using savings and taking out a loan, although they can't remember exactly how big that was, they bought the business "on a shoestring," and with faith it would work out for them.
"Used restaurant equipment isn't worth a lot," said Beth. "Mostly what you're paying for is the name and the good will. That's particularly true with restaurants, and that's what makes it kind of scary."
But the new business helped them spend more time with their kids, and that was a big plus. Instead of working seven days a week, it was now five. And they were home by 5 p.m.
"It was like a normal life, it was great," said Fred. Added Beth, "We raised our family, have a great marriage and a great life. And the restaurant's been a part of that the whole time."
Downtown Then Midtown
Workers in downtown Tallahassee often eat lunch at their desk, and the Uptown was glad to oblige them with delivery, the first restaurant in the area to do so. Noting that the area's notorious lack of parking quickly eliminated the idea of using cars to deliver, the Tedios instead hired runners who quickly became a familiar sight on downtown sidewalks during the lunch rush.
"They were primarily athletic jocks who loved to run," Fred said. "They'd have competitions to see how fast they could deliver a sandwich from College Avenue to the Department of Education building and back — and we'd have stop watches. It was fun."
Business was brisk, with lines often going out the door. Fred would hand write the tickets, but the faster he wrote, the sloppier his handwriting got. "The kids working in the back would ask, 'What does this order say?' We called it Fred Font," he said with a laugh. "But that's what happens when you're by yourself, and you're trying to do as much as possible, fast."
By the late 1990s, business was "very, very good," and it was time to expand. The perfect spot opened up on Miccosukee Road across from Tallahassee Memorial, and a second café was opened there in April 2000.
But road construction started a short time after they moved in, and business ground nearly to a halt. Undaunted, the Tedios quickly started thinking outside the box. When other businesses left their building, they offered to fix up the rooms for the landlord if they could then use them rent-free. One office became a location for lunch meetings. A pastry shop that didn't survive became their catering kitchen.
"We went out looking for lots of big catering jobs, and once the construction was over, we were poised for the next chapter," Beth remembered. "When the going gets tough, you just dig in and work harder. All small businesses are the same — you can work your own hours, any 24 hours you want to work!" The catering business continues to thrive.
During the same time period they were looking to buy the building on College Avenue, but the pre-recession prices were sky high and the cost just wasn't worth it.
"It was the heyday of market prices and everyone downtown thought their buildings were made of gold," said Fred. "Being in that building for the number of years we had been, we knew every crack in the roof, every leak in the plumbing, so we were realistic about the purchase."
So, in 2003, they made the sad decision to close the downtown location that had helped them get through the financial tough times and shifted focus from downtown to Midtown.
Planning Ahead
Fred Tedio is a firm believer in keeping everything in perspective and having foresight. This, he knows, has helped his business survive — because "the tough decisions aren't there when you're ahead of the curve. You see them coming, and you're prepared."
One of the first things staffers are taught when they come to work at Uptown is Fred's Seven P's: Prior proper planning prevents piss poor performance.
"Basically, I tell them to look at the future and plan ahead," he said. "In our business, we don't want to fly by the seat of our pants. And that's a life lesson you can use everywhere. I want kids to learn."
When the Great Recession hit in 2008, Uptown was feeling it like everyone else. How to draw in more customers? Change breakfast from a continental affair to a full-scale menu, spearheaded by son Nic.
Fred also constantly reminds his workers that Uptown is a family café. "I want you to call our customers by their first name. I want you to learn about them."
So, no surprise then that regular customers will be greeted with a shout-out when they come in for breakfast or lunch, and the staff will know their favorite order.
The place bustles at lunch. And still among the most popular go-to Uptown sandwiches are the Greek Garden and the Ruby Diamond, named after the Ruby Diamond, who once owned the College Avenue building where the café was located.
The breakfast business meanwhile has blossomed. Uptown has become a popular gathering spot for the political and community elite at breakfast on the weekdays. Beth calls it "The Hub" because "you walk in and Bryan Desloge is here, Gil Ziffer is here, Jane Marks, the whole Proctor family, Laurie Dozier."
Adds Fred, "It's mostly old Tallahassee, businessmen who talk about politics and what's happening in town. They move from table to table. You can say something and get them all riled up — and the dust won't settle for a long time!"
Both have been involved in various aspects of the community, from the Humane Society to Rotary, so it's no surprise their restaurant has attracted that kind of clientele.
Weekends are different, however, offering more of a small town neighborhood café vibe. Among the popular items is the BD omelet, which mixes the Greek Garden and Bradley's country sausage. (It was named after Leon County Commissioner Bryan Desloge because customers were always asking, "What is he eating?")
"It's such a great feel. People bring their dogs, they laugh and kid around. It's such a relaxed atmosphere," said Fred.
With a smile on his face, he paused a moment for reflection and added, "I have found my niche. I see so many folks searching for theirs. I am fortunate."
Tedio's Tips For Success
Don't be afraid of work.
Keep your humor. Life is short.
He who hesitates is lost.
If you have an idea and you think it's absurd, at least explore it.
Think outside the box.
Treat your staff well.
The Uptown will officially celebrate its 30th anniversary on Nov. 30, the Sunday after Thanksgiving, with a festival-themed street party at the Miccosukee Road café.