The University of West Florida and Pensacola State College Reach New Heights
Scholarship and skills on the rise in higher education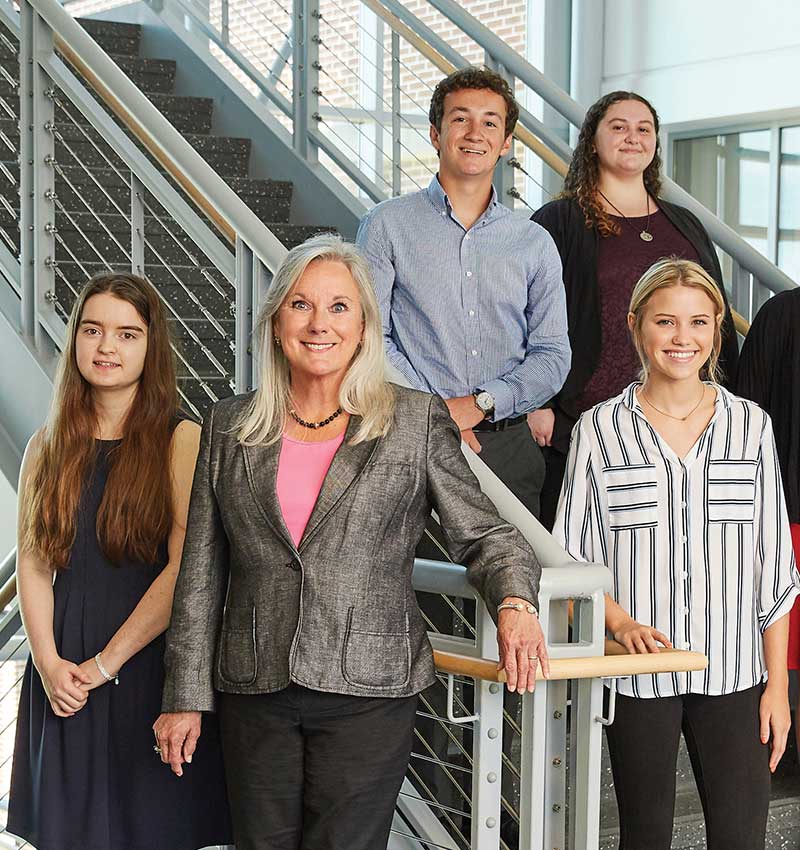 Higher education is doing its share to put the Pensacola area on the map. For its flagship institutions — the University of West Florida and Pensacola State College — the past year has been marked by major changes.
The schools celebrated notable milestones, garnered national recognition and expanded their reach well beyond the borders of Escambia County.
PSC kicked off 2017 with a bang when it won the prestigious Bellwether Award in the Instructional Programs and Services category. The college was selected from more than 2,500 initial applicants for its virtual tutoring program, which offers students assistance in math, anatomy, physiology and chemistry. Often described as the Heisman Trophy for colleges, the Bellwether is competitively judged by peers in community colleges across the United States, with no cash award.
"I am so proud of the hard work and dedication to our students exhibited by so many of our employees," PSC President Ed Meadows said. "This project is a prime example of that hard work and dedication that has resulted in significant improvement in retention and grade attainment for our students."
UWF started the year under the new leadership of Martha Saunders, who was officially installed April 2017 as the university's sixth president. On the athletic front, the UWF's football team — only in its second year — had a dream season, finishing as the Division II National Runner Up after losing to Texas A&M Commerce in the championship game in December.
"This past year has been magical," Saunders said. "UWF celebrated its 50th anniversary in fine style and charted a bold course for the next 50 years."
All-around Advancement
In June 2017, UWF saw months of hard work pay off when it posted dramatic academic gains, ranking in the top three among all state universities on the Board of Governors Performance Based Funding Metrics. Only one year before, UWF had failed to meet any of the new benchmarks — which include freshman retention rates, academic progress, percentage of students earning bachelor's degrees without excess hours, the median wages of graduates employed full-time one year after graduation and tuition costs — and missed out on millions in state funding.
Under Saunders' guidance, the university made its greatest improvements in the percentage of bachelor's graduates enrolled in a postgraduate program or employed and earning an annual salary of $25,000 or more — which increased by 6.6 percent to 67.6 percent. Other gains included a 4.7-percent increase in students earning bachelor's degrees without excess hours for a total of 80.5 percent. The higher ranking netted UWF, which has an enrollment of just under 12,000 students — more than $20 million in additional state funding for the 2017-2018 academic year.
"This is great news for UWF and a testimony to the hard work of the entire campus over the past few years," Saunders said.
Saunders said a key factor in the school's overall improvement was focusing on recruiting students who would be successful at UWF, and in August 2017, UWF welcomed three National Merit Scholars to its freshman class.
At PSC, which is home to roughly 26,000 students, the spring and summer 2017 enrollment increased by 4.3 percent and 8.1 percent, respectively. Fall enrollment also improved, increasing by 5.4 percent for a fall-to-fall retention rate of 60 percent.
"It was a good year for us," Meadows said. "We've expanded enrollment in our nursing and health sciences area, and our cyber security program has tripled in enrollment this past year."
In U.S. News & World Report's "Best Colleges 2018" rankings, PSC tied for fourth among regional public colleges in the South. It ranked 28th among overall best regional colleges in the South, 147th in best undergraduate engineering programs among national colleges and universities and 11th on the publication's list of best schools for veterans among national universities.
In fall 2017, less than a year after it won the Bellwether Award for virtual tutoring, PSC learned it had also been selected as one of 10 finalists for the 2018 Bellwether. This time around, it was the college's Century Center Mobile Welding Training Program receiving accolades. The program has seen much success, resulting in the shipyard in Mobile, Alabama, providing transportation for Century residents to get to those jobs.
"It's really amazing," Meadows said. "That's been a blessing for the Century community, which is our poorest area of the county. It has literally lifted up that community and put a lot of people to work."
Meeting Local Needs
Both schools have taken great steps to respond to specific workforce needs of the greater Pensacola area. In June 2017, Saunders and her team debuted the UWF Innovation Network, a program that will launch students into occupations and careers in areas that promote economic recovery, diversification and enhancement.
"We are leveraging our current assets in Pensacola and Fort Walton Beach to create unique partnerships through the creation of knowledge clusters in cybersecurity, advanced manufacturing and coastal communities," Saunders said. "Selected academic programs are coming together to collaborate with K12, state colleges, community, industry, military, early learning and others to create experiences in living labs to produce big idea projects."
Other examples of progress on UWF's main Pensacola campus include the opening of its new University Park facility, which will house the dean's offices of the Usha Kundu, M.D. College of Health, FSU's regional medical college, and the new football program training rooms.
PSC officials, using data collected from analyzing the local and regional labor market, will consider multiple new program offerings. One of those plans would add a cyber forensics concentration to the existing cyber security program, which is growing in popularity and currently has almost 400 students.
"It's a huge and growing workforce need for almost any business, banking, any financial institution," Meadows said. "This (cyber security) has become a pretty good hub."
PSC also just received a grant to start a truck driver certification program.
"There is a huge labor shortage of certified truck drivers, particularly for large firms like J.B. Hunt and Schneider," Meadows said.
Another possible program is an entrepreneurial business degree.
"Lots of people have a good idea, but they don't have the skills and knowledge to actually manage it," Meadows said. "They don't know how to write a business plan. They don't know how to get the financing, and they don't know how to market it. … I think statistics bear out that those are the kinds of things everyone should have under their belt."
Also on the PSC drawing board are a lineman training program to support cable and power companies and a new retail management apprenticeship.
In 2018, PSC will celebrate its 70th anniversary, and Meadows anticipates another exceptional year. Whatever changes come, he added, PSC will remain responsive to its local communities.
Saunders echoed those sentiments.
"We will continue to press forward as a spirited community of learners," she said. "UWF will focus on providing high-impact learning experiences so that our students can achieve their educational goals in a timely fashion and move energetically into successful careers."