The University of Florida is Helping North Florida Farmers, and The Economy, Strive for Sustainability
Efficiency Farming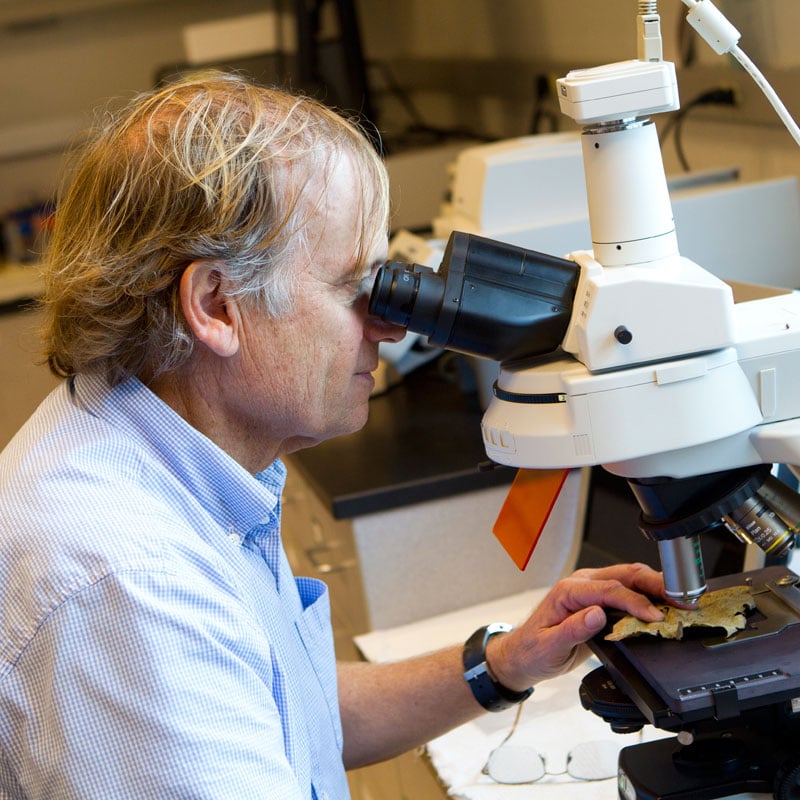 More efficient crops. More efficient cows. Science meets agriculture at the North Florida Research & Education Center, a University of Florida farming laboratory in Quincy and Marianna.
The NFREC has 18 active faculty members representing nine different academic disciplines, according to Nick Comerford, director and professor. All are geared, in some fashion, toward finding a better way for farmers to do business and testing the feasibility of new agricultural enterprises in North Florida.
Over the past few years, they've come up with ways to reduce dependence on irrigation and fertilizer and increase the efficiency of cow digestion. They study the feasibility of different "enterprise" crops and are developing management methods for seed-oil plants that can be processed into fuel for Navy ships and planes.
One of the main thrusts of the laboratory is the exploration and development of sod-based row-crop growing methods. Essentially, sod-based crop rotation is the farming practice of planting a field with a perennial Bahia grass for a certain period of time, and following it with different cash crops over time before putting it back into grass. The grasses add organic material to infertile soils and allow the soil to better hold on to nutrients and water.
Scott Holstein
Newborn calf born the previous night taking a nap.
"The sod-based rotation is really an old concept," said scientist and professor of agronomy David L. Wright. But it's being rediscovered for its obvious conservation and economic benefits. According to UF reports, economic models suggest that a 200-acre farm using a cash crop rotation (peanut-cotton-cotton) can increase its net profit from $50,000 a year to more than $90,000 a year by switching to a Bahia grass sod-based rotation system. Reducing the crop's dependence on pesticide also saves more than $6,000.
And, over at the center's cow-calf operation in Quincy, researchers say that adding cows to the mix can further increase yields and money savings. Again, this is actually another "old" system that's being rediscovered in the search for sustainability. Cattle can recycle about 80 percent of the nutrients that cotton crops need. This means growers don't need as much fertilizer. In fact, growers can reduce their fertilizer needs from 160-200 pounds to just 60 pounds per acre.
"That's a big savings on the cost of fertilizer," Comerford said. "But they've also decreased irrigation. Not only is that a cost to the farmers, it's a huge savings in the Apalachicola/Chattahoochee/Flint River Basin between here and Atlanta. Also, because of the rotation they are working with, they've reduced pesticide use by at least 50 percent or more, because Bahia grass helps control nematodes. And this is all above and beyond good conservation tillage, which everybody agrees is necessary."
The water problem is no joke. More than 600,000 acres are irrigated in the ACF River Basin; most irrigation happens in the Dougherty Plain of Southwest Georgia, and water usage has become a contentious issue between Florida, Alabama and Georgia. UF researchers say that water can be conserved without sacrificing crop yields, all through sod-based rotation.
"We can tell a grower almost off the top that he can reduce (irrigation) by 50 percent. Every acre-inch of water costs you about $12 an acre-inch to pump, so if you go from 15 to seven you have automatically saved a lot right there," Wright said. "But with cattle you can recycle a lot of nutrients, because they are all winter long eating the rye and winter grazing before we plant the peanuts or cotton. They recycle the nutrients. We have found that with cotton, we have averaged about 200 pounds more lint per acre where cattle have grazed the cover crops."
That's not the only way the scientists at NFREC have been able to save King Cotton, still an important crop in Northwest Florida. They've also formulated a way to address a fungal disease known as cotton hardlock, which seriously affects yields because it doesn't allow the boll to open. According to UF, hardlock caused more than $20 million in lost yield, and Florida's average yield went from 650 pounds of lint an acre down to less than 400. Between 20 percent and 60 percent of cotton planted in Florida is lost to hardlock every year.
Scientists and plant pathologists investigated the cause of the disease and discovered that it could be better managed by strategically applying pesticides during the bloom period. Today, if farmers use these methods under the right conditions, they can double their cotton yield.
"We estimate that in those years when cotton hardlock is a problem … applying this technology puts $30 million extra in the bank of local farmers annually," he said. "It took us about a million and a half dollars to solve that problem, so it's a good return on an investment."
Scott Holstein
Hardlock isn't the only disease challenge that NFREC has taken on. The facility is also the epicenter for Asian soybean rust research. This fungal disease is so potent that Wright said the potential for mega-losses was huge.
"We grow 75 million acres of soybeans in the U.S., and if it got started and we had to spray that 75 million acres, at $10-$15 dollars an acre each application, that would mean billions of dollars loss for U.S. farmers," he said.
The research into this disease began in 2005, right after Hurricane Ivan. Pathologists in Louisiana discovered the fungus had arrived in America and Wright knew that if it was there, it could have spread elsewhere.
"We went out into the field and found some leaves that we thought had soybean rust, and sure enough it was, and so from that this kind of became the center for soybean rust research because we found it on kudzu, which is a natural host," he said. "From 2005 to this past year we have probably 60 man-years of research on soybean rust, and we still have people who come down here from Iowa State, University of Illinois, Ohio State, the big soybean part of the world, to work here … to develop resistance to the soybean rust."
Although fungus is a topic of concern, Comerford said there's a certain amount of irony involved in this research. Kudzu itself — the invasive bane of Southern woods and roadsides for years — could help unlock the secret to soybean rust management.
"The cool thing is the scientists, pathologists and grad students have identified naturally resistant varieties of kudzu to soybean rust and identified genes associated with that," he said. "This opens up the possibility of moving genes from kudzu over to soybeans to develop varieties resistant to soybean rust."
Until the promise of genetically-engineered kudzu is realized, though, farmers will have to combat Asian soybean rust the old fashioned way: with fungicide. And constant monitoring of "sentinel" plots.
"We did the work here at this center, and now we know how to control it, when to apply fungicides, when to plant, and we also have a monitoring program called the national sentinel plot monitoring system," Wright said. "That's where we plant soybeans in plots early before farmers start planting, and if we see that we have soybean rust in those plots we report it on a national network so its progress can be tracked. So far, it's been calculated that we have saved about $300 million a year in fungicide costs just from the work we have done."
Yet another piece of the research pie is something that could potentially replace corn as the nation's biofuel plant of choice.
"This is the future of bio energy," Wright said as he surveyed a patch of Ethiopian Mustard (Brassica carinata). Carinata, as it's commonly called, is a close relative of the canola plant but it's not a food crop, at least not for humans (certain chemicals in the plant make it inedible). Working with a Canadian company, Agrisoma, and Applied Research Associates Inc., of Panama City, UF researchers have determined that this oilseed plant could be the next big breakthrough in biofuels.
"What we're hoping to find are management (protocols), planting dates and the right variety so that we can produce 200 gallons of biofuel per acre, which would allow us then to compete with petroleum," he said. If a million acres of carinata was planted in the United States, this could meet the U.S. Navy's need for biofuels out to 2020.
"Not only can it be converted to drop-in jet fuel but also diesel fuel and can actually be converted into gasoline, with further refining," Wright said. "And after you press the oil out of it, (the residual product) will be a high protein source for livestock."