The Successes of Regina Jaquess, USA Water Skier
Regina Jaquess, Santa Rosa Beach Member, USA Water Ski Team Owner/Pharmacist, Emerald Coast Compounding Pharmacy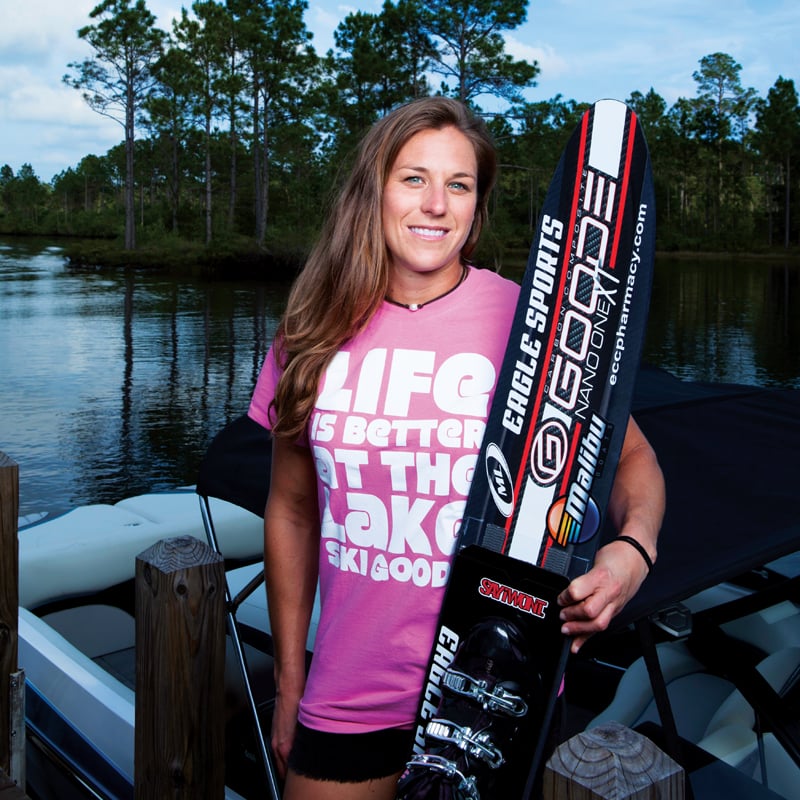 Having an accomplished career and successful business might be enough for some people, but Regina Jaquess isn't your typical overachiever. "I pretty much have two professions," blushed Jaquess. "I'm a professional water skier, and I'm also a pharmacist."
For Jaquess, a laidback Georgia gal who relocated to Santa Rosa Beach in her teens, life is all about going with the flow — even if that means getting a doctorate degree in pharmacy whilst breaking world records on the water, one splashing run at a time.
On the clock, her energy revolves around keeping her patients healthy by holding her company, Emerald Coast Compounding Pharmacy, to the highest standards of medical professionalism.
In her "free time" though, Jaquess is dedicated to absorbing every thrilling second of what her life as a top competitor in the world of women's water skiing has to offer. She lives on a lake and trains on that lake every day. A member of the USA Water Ski Team and a five-time world champion, Jaquess holds multiple records on the water. As her aquatic abilities and gold medals continue to pour in, Jaquess insists on staying true to her roots and giving thanks to those who helped her become a champion.
"My dreams all started falling into place," recalled Jaquess. "They're the best and my biggest fans — my family."
The Early Days
My first memories on the water are with my family. My parents were into competitive water skiing, and ever since my sister and I were babies we were in the boat. I was two years old when I learned how to stand up on skis by myself.
Interest I knew I wanted to be involved in the medical profession from an early age. I was always into math and science, and so medicine seemed to be a perfect fit for my passion for science.
Compassion
One of my favorite things about my job is my clients. Compounding specifically for a client is unique because the client, the physician and the pharmacist are involved in every step. We even compound for animals.
Professional Success I excel at my work because I have a passion for compounding (developing a particular product to fit the unique need of a patient) and truly care about my clients.
To unwind after a long day at the office I ski.
In an employee
I look for someone that has great work ethics. A compound pharmacy has a fast pace and demands accuracy.
I am thankful for the crew I have now!Healthful Living Taking care of your health is so important. I work out with the best, Glen Cruz. And thanks to Garden of Life, I take my vitamins every day.
For the Future Having a successful practice that has made a difference in the community is my ultimate business goal. My skiing goal is to stay strong, stay healthy and train hard.