The Right Site
Companies may not get everything they want, but consultants see that they get what they need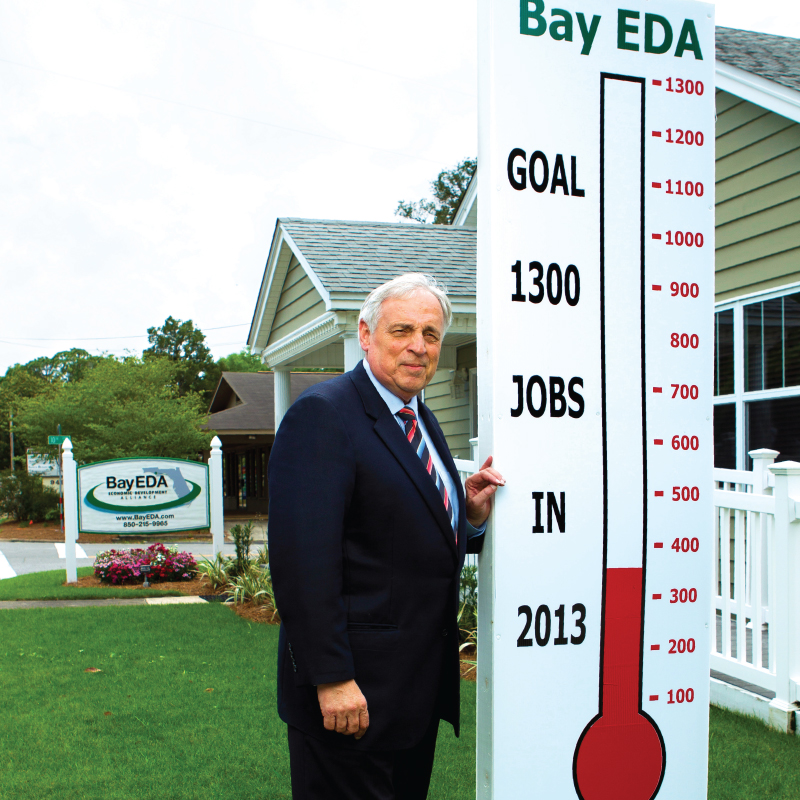 As 2012 was drawing to a close, Bay County's chief economic development officer, Neal Wade, convened a meeting billed as an update on the local Economic Development Alliance's industrial recruitment efforts.
Hundreds of business people reported to the event, all given to a sense of anticipation. The media turned out. Florida Commerce Secretary Gray Swoope, who also serves as president of Enterprise Florida, was to speak. Surely, an announcement of real economic import, one involving hundreds of new jobs, was in the offing.
First, however, came news that Swoope would not be attending. Unexpectedly, he had flown to Texas, where a niece had sustained serious injuries in a fall from a horse. So, one of Swoope's lieutenants filled in for his boss, speaking in general terms about the importance of cooperation between state and local entities where economic development is concerned. The stand-in played a message that had been recorded by Swoope on his way out of town and assured his audience that the secretary wouldn't have done that for just anybody.
Everyone understood.
Next came Wade and drum-roll energy overtook the room. In tantalizing fashion, Wade unveiled a series of icons on easels — giant flash cards, really — each one representing a factor in an elaborate equation. A skilled workforce, Wade computed, plus a deepwater port; available buildings and sites; a new airport; the potential for quick return on investment; an attractive environment/quality of life; ambitious, contemporary marketing efforts; and visionary leadership EQUALS, well, a pledge. At least for now.
Wade had no sexy, game-changing project to talk about. On this day, there would be no balloon-drop crescendo, no confetti, no pom-poms. Instead, he offered the group a promise: Bay County, he confidently said, will add at least 1,300 new jobs in 2013. Wade's bravado was lost on a crowd that came looking for a ring and a date.
Forging Unions
In fairness, let this be said: Bringing about unions of communities and industry isn't easy. That nut has been an especially hard one to crack in Florida given a business climate which, prior to the arrival of Rick Scott in the Governor's Mansion, site selection specialists say, was "cumbersome," "uninviting," "nightmarish." Today, however, there is growing new reason to share in Wade's unbridled optimism.
Larry Sassano, an economic development officer with more than three decades of experience, is the president of Florida's Great Northwest (FGNW), whose mission it is to market and brand a 16-county region stretching from Escambia County east to Jefferson County as a "globally competitive location for business." FGNW works with regional partners to recruit new jobs and investment throughout Northwest Florida. Investors include corporations, utilities, colleges and universities, and the Gulf Coast Workforce Board.
In the span of just two days in February that immediately preceded the big snow that smothered Boston and much of the Northeast, Sassano met with 14 site selection consultants in New Jersey and New York, specialists whose clients include Fortune 500 companies. The list included familiar accounting firms — Jones, Lang, LaSalle; Ernst and Young; KPMG — who offer site-selection services in addition to tax and auditing work. Sassano met, too, with specialists who deal exclusively with the economic development concerns of major companies, experts including Dennis Donovan of WDG Consulting, regarded as one of the most renowned site consultants in the country.
"We didn't have a bad appointment," Sassano enthused. "All of the consultants were very interested in giving and receiving information. They weren't just meeting with us to be nice."
Sassano was satisfied that the consultants were aware of FGNW and of efforts by Scott and the Legislature to bring about a more business-friendly Florida.
"They do their homework," Sassano said. "To be successful and land the projects that they do, they have to understand large, medium and small economies so that they can reliably recommend to their clients the best site locations for their expansion or relocation. The companies we called on are all very good; they're going to earn their fees by providing clients with the best advice and evaluations available."
What feedback and questions did Sassano entertain? Referring to a stack of index cards, Sassano offered a sampler. Consultants wanted to know about:
> The availability of hangar space for an aerospace project.
> The availability of large parcels as sites for custom buildings.
> What it takes for a business to prequalify for incentives offered by the state.
> Business taxes.
> Training grants.
> Business retention programs.
> The population of military retirees in Northwest Florida and the skills they possess.
"A lot of retired military men and women stay in our area and look for second careers," Sassano addressed one of his notes. "They are well trained, disciplined and add great value to our workforce, but they are hard to track. They don't figure in your typical economic analysis report, so we're going to have to work with the bases to gather information about them."
Importance of Regionalism
Sassano judged his NJ/NY mission to be a success owing not only to the information exchanges he engaged in, but because he came away with projects that may work in Northwest Florida. Those possibilities Sassano passed on to economic development officers in counties of interest to site selectors and their clients. Going forward, he may work jointly with prospects and the counties to offer recommendations and information about state incentives and processes, or the counties may run unaided with the baton and simply thank Sassano for bringing projects to their attention.
Meanwhile, Sassano believes that the future of FGNW, which has been downsized due to a falloff in financial support, is secure.
"We brought all the EDOs in the region together and asked them what we could do to help them the most with economic development activity," Sassano said. As a result, FGNW is a leaner organization focused tightly on three priorities: branding the region; developing strong strategic and marketing plans; and arriving at an economic development institute as a source of continuing education for EDOs.
Mark Sweeney, senior principal at McCallum Sweeney Consulting in Greenville, S.C., is among site selection consultants who are aware of Northwest Florida and are believers in regional promotion. Like Wade (Alabama) and Swoope (Mississippi and now Florida), he spent years at a state department of commerce, in his case, South Carolina. He provides consulting services to economic development organizations across the United States in areas including site certification and incentive strategies.
"Pensacola, Panama City and Tallahassee are distinct, but it makes a lot of sense in this economy to market regionally," Sweeney contends. "Florida's Great Northwest has been out there for some time, and they've gone through some leadership changes, but it's been curious and somewhat disappointing to see the organization struggle with fundraising to the extent that it has. That speaks to the fact that among the citizens and businesses of Northwest Florida, there is still something of a learning curve. People from throughout the region need to understand that your economy is tied together, your marketing is most effective when you work together and the regional organization has and in the future will continue to provide great value."
One of the biggest challenges faced by Larry Sassano, head of Florida's Great Northwest, is getting everyone in the region to work together for economic development. Photo by Scott Holstein
Sweeney finds that regions can successfully market diversity, and that individual communities do not have to lose their identities in the process. His clients think regionally, he says, and recognize that infrastructure tends to be regional. The benefits associated with a new airport don't stop at the county line.
"We like to see communities within a region who are friendly rivals, not cutthroat competitors," says Sweeney, who credits Wade with having been a visionary regarding regional cooperation.
"Working with Gray Swoope in the Meridian, Miss., area, he forged cooperation across state lines, not just county lines. That's a real challenge, both legally and politically. He appreciates the value of getting into the marketplace on a regional basis."
Florida's Improved Business Climate
Florida, Sweeney says, is in a position to be much more competitive than it was five years ago. He gives Florida's business climate today a B or a B+ with an arrow pointing up.
"You're moving in the right direction," Sweeney offers. "Business climates are dynamic things — they do change — and, quite frankly, the leadership at the Governor's Office tends to set the tone for business and economic development. Right now, the dynamic in Florida is positive, and we expect things to continue to be positive."
To Northwest Florida, Sweeney also assigns an upward arrow. He believes the region has the potential to be highly attractive to manufacturing and distribution operations; that it provides excellent access to the Gulf Coast and the Southeast; and that its labor force would be deemed adequate if not appealing by various manufacturers.
Air infrastructure has improved, he says, given the advent of the Northwest Florida Beaches International Airport.
"Aviation-sector businesses should be interested in your region both due to the strength of the new asset; the property it will open up for aviation-related activity and also the history of aviation, including military bases, along the Gulf Coast," Sweeney says.
The airport near West Bay also has piqued the interest of site consultant Mike Mullis, the founder of J.M. Mullis, Inc., headquartered in Memphis with additional offices in Mexico, Europe and Asia. As a project location consultant, Mullis specializes in aviation and aerospace. He likes Bay County because of the airport and what he perceives to be the skill sets possessed by military retirees in the region.
"I like Panama City; I like it a lot," Mullis says and one gets the feeling that, for him, that is effusive praise. A Panhandle property owner for 25 years, Mullis has abandoned his habit of flying into and out of Fort Walton Beach in favor of using ECP (Northwest Florida Beaches). He credits the Southwest Airlines/ECP relationship with making the region known to areas of the country that had no awareness of Northwest Florida until recently.
Mullis broadly described an aerospace project that Bay County may land soon. Hundreds of jobs would result, Mullis said, but congressional authorization of federal funds will be required to make it fly.
"Bay County has a shot at this and that's new; it's a new day in Florida," Mullis said. "Logistics, workforce and operating costs are key consideration for businesses. You've got to incentivize things on the front end so that companies can begin almost immediately to earn ROI. And you've got to accelerate permitting. Let's be honest. Permitting in Florida historically has been a nightmare, and it will take time to overcome that reality and that reputation."
For Mullis, the best of county economic development officers are those who think outside of their "canned programs," listen carefully to the needs of a prospect business and calculate honestly whether their communities are in a position to meet those needs. And they've got to be great closers.
Wade sees his role precisely that way.
"My job is not selling Bay County," he says. "My job is to thoroughly understand clients' needs and to offer them honest assessments of our strengths and weaknesses in hopes that we represent the right fit. Only then can we establish and maintain credibility with businesses and the site consultants who represent them."
Wade knows that if the Jobs-O-Meter planted in the yard outside his office is to top 1,300, he must maximize his relationships with site selectors. (The meter, resembling a thermometer, is like those used by community United Way campaigns.)
"Site selectors are some of my favorite people," Wade says. "When it comes to economic development, they are the people you need to reach."
Sean Helton, public relations manager with Enterprise Florida, is thankful that site selectors are giving more consideration to Florida than they have in years. Over the past 18 months, Enterprise Florida has received a "significant number" of requests and referrals from site consultants and, since the first of the year, activity has picked up even more.
"Many of the projects being discussed have a military focus," Helton points out. "A lot of homeland security and defense projects. But we're hearing from IT and manufacturing businesses, too. Not necessarily mega-projects, but small to medium. Interest is coming from businesses already in the state that are looking to grow and from businesses looking to relocate from other states where the cost of doing business is relatively high."
Asked about Northwest Florida's strengths as seen by Enterprise Florida, Helton offers a list reminiscent of Wade's flash cards. He notes, too, that BP compensation awards have made available money for creating new incentives for qualifying investment projects.
Growing Interest in NorthWest Florida
Karen Moore, who chairs the Economic Development Council of Tallahassee/Leon County, said the council has experienced a "steady drumbeat of inquiries," both from site selection specialists and company representatives. "They are interested in both the city and the region. We have potential projects that add up to a robust pipeline."
Prospects have been impressed by Leon County's educational institutions, the character of its workforce, the number and quality of cultural opportunities it offers and its proximity to Gulf beaches. All of those factors helped bring about the Kaye Scholer law firm's decision to move its operations staff to Tallahassee.
"I'm excited about Kaye Scholer because it will mean 100 jobs immediately, not over five years," Moore said. "And we think it will lead similar employers to consider our community. I hope it brings about a real domino effect."
The Tallahassee/Leon EDC has revamped its communication and outreach activities, an initiative that included the redesign of its website. Given the significant number of inquiries that the EDC has received from companies in Central and South America and China, it resolved to make the site "trilingual," Moore said. "English, Spanish and Mandarin. In the last 18 months, we've conducted fam (familiarization) tours with visitors from 19 countries."
Scott Luth, the Greater Pensacola Chamber of Commerce's senior vice president for economic development, reports that he has been seeing stepped-up interest in the greater Pensacola region. Inquiries, he said, are coming from local companies considering expansion, and outside site consultants looking for new locations on behalf of their clients.
"Consistent with our new strategic plan, we anticipate increased interest specifically in our identified target industry sectors: cyber security, maintenance/repair and operations for both marine and aerospace companies, and back-office support," Luth said.
Indeed, the Chamber in February received a $250,000 state grant, awarded by the Florida Defense Support Task Force, to establish a Center for Excellence for Cyber Security and Forensics. The goal is to build a lab that local, state and federal entities can use to combat cyber security breaches while bringing more public awareness to the issue.
Chamber President Jim Hizer is optimistic that the center will help establish Pensacola as a leader in applied research in cyber security and attract more high-tech industry to the area.
But Northwest Florida isn't without liabilities. North-south connectivity isn't where it needs to be, Helton says, the Gulf coast is prone to hurricanes, military budgets are seen as vulnerable to cuts and nearby states offer incentives that are hard to match.
Closing the Deal
Top considerations for businesses seeking sites, Helton said, are a highly skilled workforce; locations that provide ease of distribution of goods; shovel-ready, affordable sites; fast-track permitting; low costs of doing business; high quality of life and state and local incentives.
Location decisions are done as a series of decisions, Sweeney has found.
"For our strong manufacturing projects of a substantial size, usually the first cut — not necessarily the most important — is do you have property and infrastructure that meets our needs, not only in terms of capacity, but schedule. And if you do, then we can start looking at other things including workforce and incentives.
"Some would suggest that incentives are no longer important and have gone by the wayside, but that is anything but the truth. Companies are aware of incentive potential. They know what incentives mean and how to use them in a location decision. In the U.S. and around the world, capital flows freely, companies have choices. Our federal system and our states each set individual policies, fiscal policies, tax policies, incentive policies. Where you do something makes a difference, and incentives help influence the choice of a location and the success of that location."
Sweeney contends that Florida has long had good incentivizing tools at its disposal, but has by and large left them in the toolbox. But the state is doing better, he says. The No. 1 improvement for Sweeney has been a new management process that makes state incentives more approachable and more easily implemented.
Meanwhile, Sweeney isn't sure that local government entities are all that sure about their role in incentives, "but experience is a great teacher.
"As communities see more opportunities and confront the challenge of coming to the table to try to support a decision, local participation will slowly but surely improve. There are some locations that already do an outstanding job, and the state does require local participation in its grant programs. Every part of the process seems to be improving."
Helton points to the Family Dollar distribution center project in Marianna as a model of cooperation and one in which incentives played a big role. Local, state and federal partners poured $24 million in incentives into the facility, which opened in 2005.
Learning curve progress, unfortunately, has coincided with a decline in the number of opportunities available.
"I think it's a positive time in America, but it's not wide open boom time," Sweeney says. "Project activity, from our perspective, is clearly up over the last 18 months versus the previous 18 months, but we're not back to the rah-rah days or the days, shall I say, of funny money. There are fewer opportunities. That's where leadership can come in. You want to win opportunities, and you need to be smart about all of them. It's important for the community to recognize that life in general and the world of business attraction and business investment, in particular, is full of risk. It's full of risk for the companies and as communities play a role by providing incentives, there is risk in that."
But Wade isn't scared. His Jobs-O-Meter is a sure sign of that.
"We've had one Walmart to come online in Bay County already this year and a second one will open soon near Pier Park on the Back Beach Road," Wade grins. "So that's 400 jobs right there."
He is kidding, sort of.
Site Ready for Industry
Gulf Power Company has kicked off a new program designed to help communities create jobs by having large sites ready for business growth and expansions.
Through the program — the first of its kind in Florida — potential industrial sites will be submitted to a site consultant firm retained by Gulf Power. The firm, McCallum Sweeney Consulting, will evaluate the sites, make recommendations for preparing the site for a new business and then certify the site once the improvements have been made.
"Having project-ready sites is critical for Northwest Florida to be competitive in economic development," said John Hutchinson, Gulf Power's director of Public Affairs and Economic Development. "Surrounding states have many sites that have the stamp of approval by an expert. It's time we had such a program in our region."
Site certification programs take much of the risk out of the game for a new business coming to town, according to Hutchinson.
"They know the site has been inspected and all the preliminary work has been done, such as permits, drainage work, the engineering for utilities, an available supply of water, transportation infrastructure such as roads and rail — all vital steps for locating a major employer."
Gulf Power is paying for all of the program design costs and will pay one-half of the consultant costs for publicly owned parcels submitted by cities or counties. The consultant fees amount to about $20,000 per site. Private developers can participate as well but will have to pay the full amount of the consultant fees. Gulf Power will not pay for any of the site improvements for public or privately owned sites.
Hutchinson said large companies competing in a global market want to move quickly, and having certified sites allows them to do this. And, it takes the guesswork out of the process, which provides the kind of assurance businesses want when they expand or relocate.
Sites must be located within Gulf Power's service territory and be at least 50 acres to qualify for the program.
"It's all about preparing our communities for job growth," Hutchinson said. "We have to have a competitive product to present to expanding or prospective businesses. Certified sites get us in the ball game."