The Next Level of Business You Don't Know About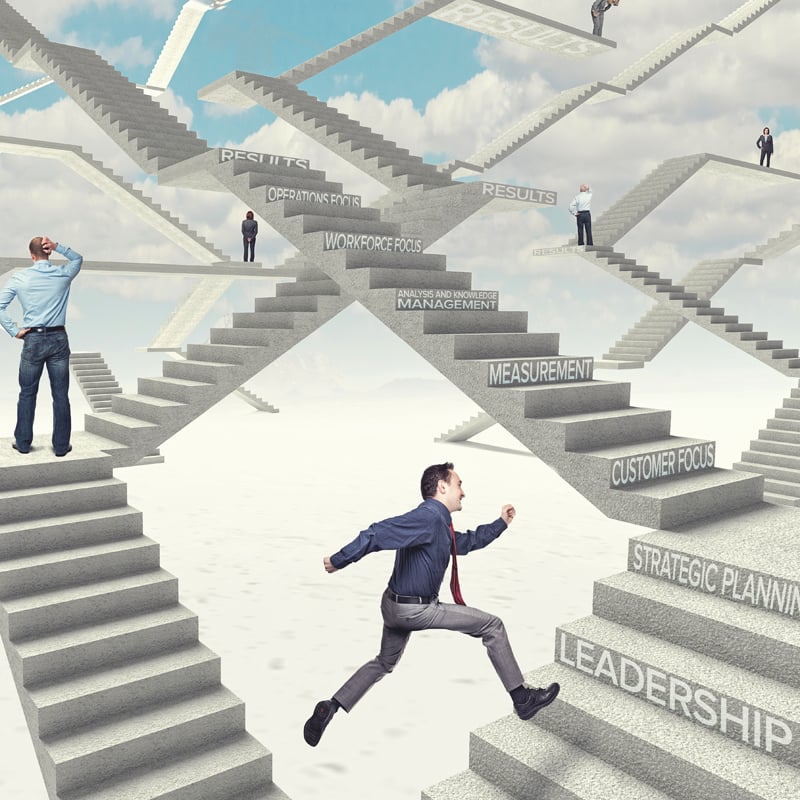 ---
Change is good. Complacency is bad. Ask Rhonda Skipper, Walton County Tax Collector.
You see, Skipper — no stranger to how government operates — had a problem. It's a problem that's not limited to government agencies, however. It could apply to any private business as well. The problem was, her tiny office — 32 staff members — was stuck in a rut.
"It was a very traditional culture, and it was 45 years of doing things the same way. There was absolutely no structure or work processes, policies or procedures. I guess you could say it was organized chaos," a brutally honest Skipper said.
It was time for a change. In 2005, the agency put the wheels in motion that would eventually earn it the 2014 Governor's Sterling Award, the second highest achievement a company can reach in the Sterling improvement process. (Right above it on the list is the Governor's Sterling Sustained Excellence Award, a way for Governor's Sterling Award recipients to hold onto their status as a "role model" and example for others.)
Established in 1992 during the administration of Gov. Lawton Chiles, the Florida Sterling Council is an independent not-for-profit corporation supported by the Executive Office of the Governor. (Although two of its highest honors carry the governor's title, the company isn't political and doesn't endorse candidates.) The Florida Sterling Council has seven unique assessment tools designed to take your organization or company through various levels of evaluation, enabling you to prioritize improvement objectives. They are all based on the Sterling Criteria for Organizational Performance Excellence and the Malcolm Baldrige National Criteria for Performance Excellence.
The Sterling Council increases its value to businesses by hosting an annual conference designed to inspire business leaders to reach for the next level of efficiency and productivity. The event, which usually draws up to 500 business leaders from across the state, is considered a "one-stop shop" for education, information and inspiration. At the end of the conference select businesses are recognized for best practices, a Team Showcase Champion is selected and the winner of the Governor's Sterling Award for performance excellence is announced.
The Governor's Sterling Award is a stepping stone to the national Baldrige Award, explained John Pieno, president of the Florida Sterling Council.
"In order to get national recognition with Baldrige, you have to have been completely recognized as a role model at the state level. So that's what we are. However, unlike Baldrige, and a lot like other states that do this, we have these five entry-level tools that are self-assessment tools that organizations can use," Pieno said.
Companies engaged in the Sterling model don't necessarily have to grasp for the brass ring. They are free to choose what level of assessment and improvement they think is best for their company. What's important is the value they take away from the process.
"It's not about every organization applying for the award," said Dione Geiger, Florida Sterling Council executive director. "We know that not every organization is going to want to go through an award process to this extent. We can offer them some of our resources, offer them some of our tools, our training, and let them get started getting to understand that value."
In the case of the Walton County Tax Collector's office, the staff and management decided to go the distance. It started when Cory Godwin came to work in 2005. Godwin, the chief deputy tax collector, used to work for the Florida Department of Corrections back in the 1990s, and part of his work for that 27,000-employee agency involved being introduced to the Sterling model. At the time it was widely adopted by many state agencies under the direction and leadership of Gov. Chiles.
"Fast-forward to 2005. When Miss Skipper was elected tax collector, I made a decision to leave the DOC and come onboard with her. Essentially, (Sterling) was the model I was familiar with and one that was proven to have produced results even in an organization as large as corrections," he said.
The staff started to incrementally implement the Sterling method of self-assessment and analysis. There are seven categories in this matrix of evaluation: leadership; strategic planning; customer focus; measurement; analysis and knowledge management; workforce focus; operations focus and results.
Skipper said the first thing her office had to do was build trust among the employees and change the That's-the-way-it's-always-been-done/We-don't-do-it-that-way mindset.
"We wanted to put a process in place that would better the overall organization. And sadly the environment had become such that there was no trust from the employees or even the people that we serve," she said. "We're very proud of the fact that you don't have to be a large organization to do great things."
Governor's Sterling Award past recipients from Northwest Florida
1994
Monsanto Company, Nylon Fibers Division, Pensacola

Sacred Heart Hospital, Pensacola
1999
Florida State Hospital, Chattahoochee
2003
Boeing Special Operations Forces Aerospace Support Center, Ft. Walton
2007
Landrum Professional Employer Services Inc., Pensacola
2014
Fort Walton Tax Collector's Office
Kara Stallings, director of administration, said it wasn't so much about the award as it was validation. It showed them that they were on the right path.
"It's not about the management model itself but combining the manner of culture change with the model. That's what makes us unique," she said.
The changes brought about by the Sterling assessments resulted in incredible employee satisfaction, Godwin said.
"The private sector can offer incentives that we can't, but we have been successful in rallying a group of people around this larger sense of purpose and makes it more than just about license plates," he said. "We are really here to continuously seek opportunities to serve others. We want to add value to the community. It makes it a little bit easier to get up in the morning and show up bright and early when you're doing it because it's more about the purpose than what we do and how we do it."
One important improvement made as a result of interaction with Sterling analyses was in how the agency dealt with its customers — and when it comes to a tax collecting agency, there are many customers with different needs and wants.
"We certainly knew who our customers were and had put together feedback and two-way communication at every one of those touch points where we deal with customers," Godwin said. "But one of the things they suggested was a segmentation of that. It's not enough to just say that they're customers. Some of our customers are motor vehicle users, drivers, hunting and fishing enthusiasts. We have automobile dealers who are part of that customer base. (We had) to really do a lot more analysis of who those customers are. Each one of their needs is different. We may think we're addressing customer satisfaction, but we may have a segment that we're not meeting their needs if we don't ask."
Once that "segmentation" was put in place, and employee mindset was changed, customer satisfaction rates skyrocketed to 99 percent, he said.
"I think the critical component was specifically targeting our communications to those individuals. In other words, to speak to them about what's important to them, as opposed to the traditional approach of mass communication to all of them," Godwin said.
But Sterling wasn't the only resource the tax collector took advantage of, Godwin said. Advice was sought from private companies as well.
"We owe a debt to the people in the private sector because we reached out to best practice partners like Zappos and Chick-Fil-A," he said. "We've reached out to those folks because they were recognized as best in class, and we were amazed at how open they were. We continue to look at the private sector as to how we can improve what we do. We have a standing Best Practices team, and they spend their whole year bringing back innovative ideas from the private sector. Most of the ideas come from the private sector."
Scanning the Horizon
It doesn't necessarily mean your company is in trouble when you introduce the Sterling Model to the workplace. In the case of FBMC Benefits Management, the largest benefits specialists in the United States, it was a matter of re-examining processes and long-term planning. Again, it was the need to rise above complacency. The company was established in 1976 as a nationwide third-party administrator of tax-favored benefit programs; pre- and post-tax benefits for private and public employees; administered Section 125 plans; and Flexible Spending Account programs.
"Most companies don't start looking for how to get better until they're in trouble. That wasn't the case for us. We were not in trouble, and we weren't declining," said Barbara Hinson, a senior manager and an in-house Florida Sterling Master Examiner. It was Hinson who started the company's Sterling initiative. "What we were looking for was a model that could take us to the next level of excellence, a model that we could grow within and that would grow with us."
FBMC started its Sterling journey in the early 2000s, and in 2010 the company's wellness program earned the Florida Sterling Quality Achievement Award. Company President David Faulkenberry is a Sterling Council board member and the council's secretary/treasurer.
Overall, "we were in a good trend but we wanted to improve. We wanted to constantly put an infrastructure in place to where we evaluated ourselves and came up with new ideas and new areas to focus on," Faulkenberry said.
In essence, you can't know where you're going unless you know who you are and where you've been, Hinson said. Sterling provided the matrix for making those evaluations.
"We were not looking for a model that told us what to do. We were looking for a model that says, you figure out who you are and here are some attributes that you could use if you choose to in order to continue to get better. And so that's what we did," Hinson said. "We found that this really was a model that worked for us. We know who we are, we know what we have to do for our customers, we know what we have to do for our employees and we know what we have to do for our business."
And that means looking beyond the bottom line. Actually, it involves understanding why the bottom line is the way it is, good or bad. Hinson said that most companies before the late 1970s and early 1980s didn't really look at what was driving their financials. They just looked at the bottom line. That was the case with FBMC as well. But things change, and philosophies have to change in order for a company to remain relevant.
"We were where other companies were. We were looking at financials, primarily," she said. "It became quite apparent that there were things that were just as important as the financials. Financially you can't get where you want to be if you don't have other systems driving it. So that really became evident to us as well, and we started adding other components to our measurement system. Looking at our processes, looking at our people, looking at our customers, looking at customer satisfaction."
It's perfectly understandable that a company has to know it has money in the bank first and foremost, Faulkenberry said, but making sure the bills are paid is still just one barometer of any company's health.
"At the end of the day all of the checks have to clear the bank," he said. "You have to have money to do that, but that is a microcosm of the whole organization. So in my opinion what the Sterling Process does, among other things, is it causes you to ask why your financial statements are where they are. What is happening within the organization to result in the results on your financial statements? Why is your bottom line what it is, and what's driving it?"
These are very important and relevant questions to ask as a company moves into the future. These evaluations and assessments are also critical components of the Sterling process.
"That leads to a pretty rigorous internal evaluation about your organization's leadership capabilities, management capabilities, your operational capabilities, how well you focus on the customer and what they are asking … are you even asking the customer what is important to them?" Faulkenberry said. "It puts together a whole framework to answer that 'why' question around the overall performance of a company. To me one of the greatest benefits of Sterling is it really forces you to answer that 'why.' "
The best thing about the Sterling process is, it doesn't say a company has to do this, or must do that, in order to succeed. It just provides a list of actions that you could choose to take if you want to be world-class in leadership, Hinson said. The other great thing about Sterling is it can be "personalized" in such a way that employees and staff can have a greater sense of buy-in.
"We learned that it was somewhat confusing to some of our employees when we made reference to Sterling a lot, so we decided we would personalize the process and give it a name that we chose and use the concepts," Hinson said. "You're not doing Sterling work, you're doing FBMC work using the management model that FBMC has chosen to use. And so that really helped also to support the journey and keep us on track to where we are going."
The Age of the 'New Normal'
It's enough to make a business owner cringe, this idea being promulgated that the national economy isn't going to get any better. That this is the economy we're stuck with, that it isn't recovering nearly as much as we'd like it to. Whether that's really the case or not, business leaders have been forced to come to terms with this new reality. Part of that reality involves doing more with less. Working "smarter," not "harder."
"We're not going to go back to larger staffs and more workers. So we have to learn to work smarter, and we have to continue to improve efficiency of operations and not overwork the staff we have through making sure the work they do is done once and done well," Geiger said. "We have to have good quality and we have good recognition systems for the employees. Again, this is even more important: We come out of a recession, the workforce has shrunk a lot of companies and it's not going to grow back up unless you're adding new markets. So, how do you do it better?"
Again, that's a question best answered by the Sterling model. Within the model are ways of examining processes for cutting out waste and improving product quality. One of the best tools for doing that is "Six Sigma," a standard coined by Motorola years ago, Geiger said.
"Six Sigma is all about managing and eliminating defects in your processes, and there are different standards and classifications for Six Sigma," she said. "What Six Sigma brings to the table is something we call Define, Measure, Analyze, Improve and Control. And it's a very formal management process for improvement that helps you eliminate defects and to drive higher levels of performance. And that's what it's all about. Any work you do, even service organizations adopted this, it's about managing your process to eliminate defects and rework."
---
The City of Tallahassee's underground utilities department was named 2013 Team Showcase Champion by the Florida Sterling Council in May for excellence in implementing a nitrogen reduction program. This effort is part of the city's commitment to reach a higher treatment level known as Advanced Wastewater Treatment.
"The AWT project has been extremely successful and is a true testament to Tallahassee's environmental commitment to protecting our drinking water and natural treasures, such as Wakulla Springs," said former Mayor John Marks. "By significantly reducing nitrogen levels, we're helping improve the water quality of the region's lakes, streams, underground waters and springs because nitrogen fuels the growth of algae and other noxious plants."
Underground Utilities General Manager Mike Tadros credited city leaders for their vision and staff for its hard work.
"This is a great tribute to the dedication of our employee wastewater treatment team, as well as the continued support from city leadership," Tadros said. "It is just one more example of what makes us the No. 1 public utility in America."