The New Leaders of FSU and FAMU Look to the Future
Change and Challenge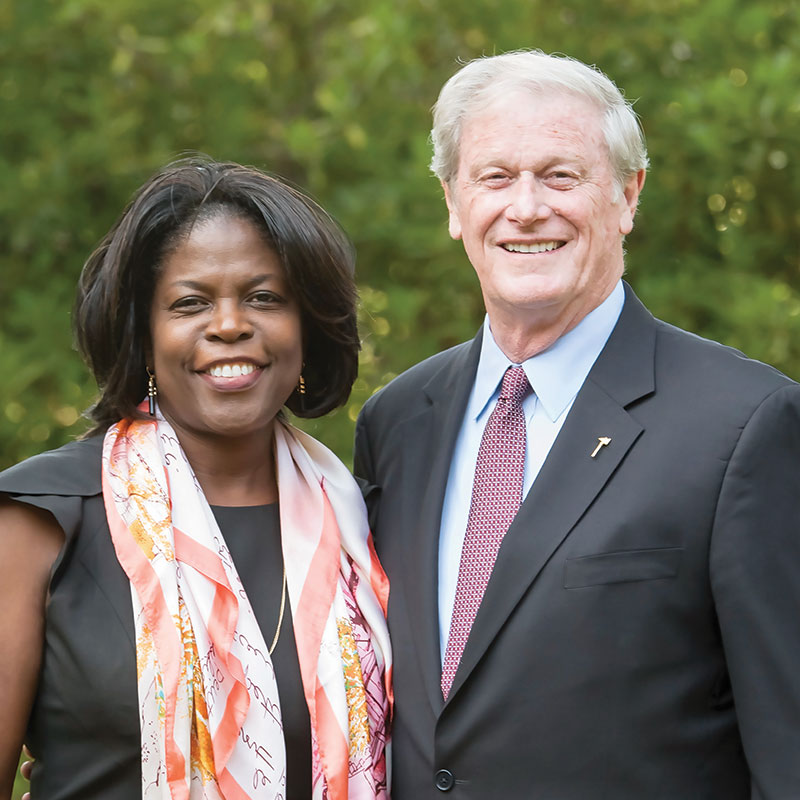 John Thrasher and Elmira Mangum celebrate one year in their new roles — Thrasher as president of Florida State University and Mangum at the helm of Florida A&M University.
For each, it is their first time running a state university. And, for each, it has been a year of acclimating to a new life challenge while beginning to set an agenda for the future of their respective universities.
FSU and FAMU are at the center of some of the hottest new commercial, residential and cultural development in the region and play a big part in setting the vibe for the Tallahassee community. Both have embarked on major capital campaigns to improve their campuses, their university offerings and the student experience.
Thrasher and Mangum face different challenges in their new posts, but both are determined to see their schools succeed.
After a year in the job, Tallahassee Magazine sat down with each to learn a little more about them, the obstacles they have overcome and may still face, and their visions for the future of FSU and FAMU.
Innovative Programs, Lofty Goals
FSU President John Thrasher Seeks to Create a Top-Tier University So Students Can 'Pursue Hopes and Dreams'
By Linda Kleindienst
​
On his 10th day as president of Florida State University, John Thrasher received a call that would shake him to the core. Just after midnight on Nov. 20, 2014, former student Myron May had walked into Strozier Library and opened fire, shooting at seven and injuring two students and an employee before being gunned down by police.
It was "almost like an out-of-body experience. None of it made sense to me," remembers Thrasher, who was in New York on a fundraising trip for the university. He was on a flight home six hours later.
Attending a campus vigil the evening of his return, the new president wasn't sure what to tell the thousands of students who had gathered. But then his military training kicked in.
"When you have a fallen comrade, you pick up the pieces, you care about them, you pray for them and as a family you move on, you keep moving on," he says.
In the following hours and days, Thrasher would show his mettle, calling for the "Seminole nation" to unite and reaching out to soothe a university community reeling with disbelief and grief. His confident demeanor, his resolution to return the campus to some sense of normalcy as quickly as possible, and his reassurances to students, their parents and staff are credited with quickly bringing a sense of calm back to the campus. Students and faculty who only weeks earlier had criticized his lack of academic credentials for the job were praising the new president for his leadership skills honed in the military and in the world of Florida business and politics.
"When he hung up that phone, he picked up his cell phone and called Delta," remembers Thrasher's wife, Jean, of that tragic morning. "He asked for an agent, calmly told her who he was and why he needed to urgently get home. She got us the first flight out of New York. By 10 a.m. he was in his office, getting more information and ready for a press conference. I'd describe him as a man of steel. He knows how to handle a crisis and how to carry through."
The Lure of FSU
Thrasher, 71, was an ardent supporter of FSU during his days in the Florida Legislature, including his two years as speaker of the House of Representatives. Through the Legislature, he helped funnel millions of dollars to his alma mater and in 2000, his final year as speaker, he bucked staunch opposition to help FSU establish a medical school that today bears his name.
As chairman of FSU's Board of Trustees from 2001 through 2005, Thrasher helped raise outside dollars for the school and was part of the decision to expand the Atlantic Coast Conference to include schools like the University of Miami and Boston College.
He had thought about applying to be FSU president after the retirement of Sandy D'Alemberte in 2003, although Thrasher was chairman of the trustees and focused on his successful lobbying firm, Southern Strategies.
"I was working with T.K. (Wetherell). I hired him after he left Tallahassee Community College. I kinda knew he wanted to do it, and I had some people thinking I should go for it then, too," Thrasher said. "But I realized he was a better fit for it back then than I was. And then once Dr. (Eric) Barron got here (in 2010), I honestly thought he was going to stay for his career."
But Barron left early, choosing after only four years to return to Pennsylvania State University, where he had worked from 1986 to 2006. That's when Thrasher, representing St. Augustine in the Florida Senate, decided to go for what he describes as the job of a lifetime.
"FSU has always owned a piece of his heart, so it made perfect sense," says Jean. "Florida State gave him a life he never dreamed of — an education, two degrees and an opportunity to succeed in great jobs."
A native of Columbia, South Carolina, Thrasher considered going to a small college in North Carolina, but then some friends urged him to consider FSU.
"Darned if I didn't get accepted," he says. Pausing, he chuckles and adds, "But I think back then if you had a pulse you could get in as opposed to today, where the kids coming here are really top notch. It was a great four years."
Leaving FSU in 1965 with a bachelor's degree in business, Thrasher went into the Army. He was awarded two Bronze Stars in Vietnam, where he served exactly 365 days, and left the service with the rank of captain. He started law school at FSU four days after leaving Southeast Asia.
"As an undergraduate student, I was pretty average," he concedes. "But in law school, I was pretty good. The difference? Married and having been in the military. I had a lot of energy coming back (out of Vietnam)."
Making His Bid
"So far, so good," Thrasher says when asked how his relationship is with those on campus who opposed his appointment, opposition that truly surprised him with its intensity.
At times he found himself embroiled in a contentious battle to win the job — not so much with those who would make the ultimate decision (the university's trustees and state Board of Governors) but with those on campus who questioned his conservative political leanings, his religious beliefs and his thoughts on scientific issues such as climate change. But Thrasher countered that his business ties and political acumen put him ahead of the other contenders when it came to the ability to raise money for the school, especially from donors needed to fuel the university's $1 billion "Raise the Torch" capital campaign.
"It got a little personal sometimes," Thrasher says. "I would see something written about me and it would say, 'John Thrasher, Republican, chairman of Gov. Rick Scott's re-election campaign, 70 years old. I assume all those were intended to be negatives. But I love Florida State, and I think I have abilities that people maybe didn't think about."
His wife says that while there were challenges for Thrasher in applying for and getting the presidency, "We both believe people have the right to express their opinions. I just had to remember they didn't know John, didn't know his heart."
He now attends Faculty Senate meetings and has individual one-on-ones with faculty members. He knows there was concern, "but I think we've accomplished a lot in terms of understanding each other, what my strengths are and where I need their help. And where I can give them help."
After the decision to hire him was made by the state's Board of Governors, the Thrashers spent their first night in the president's house with a bottle of champagne.
"It had been a long and emotional road," recalls Jean.
Work to Do
The first few months on the job weren't a piece of cake for Thrasher. The Strozier shooting weighed heavily on everyone, and the university did all it could to help Ronny Ahmed, who was shot three times in the back and paralyzed, in his recovery. Ahmed went to the Shepherd Center in Atlanta for treatment and is now back on campus.
"He's paralyzed from the waist down, but we've done our best to make sure he has everything he needs to get started again and hopefully complete his degree," Thrasher says.
Then came what he calls "the stuff" with athletics and the antics of quarterback Jameis Winston.
"It started as a joke at first and then almost became a reality, that the best day in the life of the president of FSU is when I didn't hear from the athletic director," Thrasher says now.
"I'm not going to talk a lot about it. It's still in litigation. Jameis is gone, and I wish him the very best. Jameis is Jameis. He's a charming young man in a lot of ways. Hopefully he'll have the guidance and support he needs to survive in a very competitive environment, the National Football League. We wish him the very best."
Through it all, Thrasher has not lost sight of his top priorities, which include getting FSU into the Top 25 public universities in the country, raising faculty salaries, building a world-class facility to house the College of Business and Dedman School of Hospitality, and making sure the university's fundraising goal is met.
As of early summer, the campaign was two-thirds of the way to the $1 billion mark and Thrasher, conceding it's a big job to raise that kind of money, is hoping it will finish by 2018.
As for reaching the Top 25, the Legislature helped FSU take a major step toward that goal by designating it and the University of Florida as the state's two pre-eminent universities. By meeting the criteria set by the state for that designation, the school gets extra resources. This year, FSU met all 12 of the criteria.
"If you're in the Top 25, it gives you the opportunity to recruit some of the best faculty," says Thrasher, looking toward the future. "It also gives us an opportunity to recruit some of the best students."
FSU currently has 42,000 students, and that number will likely not grow by much. This fall's incoming freshman class will have 5,000 students — who have an average 4.0 GPA and SAT score of 1863.
"These kids are bright, they're smart and they want to be challenged," Thrasher says.
He would like to see smaller size classes — the school is still trying to play catch-up from the recession by hiring more professors — and is looking for opportunities around the edges of the current campus for some expansion.
"For the big universities, we probably have the smallest footprint from the standpoint of available land, but buying property is very expensive. There is still an intimacy about our campus that I think others don't have. I tell students, 'Don't be afraid of 42,000, the number. When you come here, you can shrink the campus by getting involved in some kind of service project or organization.'"
Meanwhile, there is the ongoing drive to make FSU an entrepreneurial university, commercializing research projects, attracting more research money, growing and enhancing the medical school.
Last year, FSU attracted the largest amount of research money in its history — $230 million — and Thrasher is reaching out to the National Science Foundation is see how to get more. The school is gearing its research to the STEM areas (science, technology, engineering and math), and a lot of that work is being done at Innovation Park, where the MagLab — the largest and highest-powered magnetic lab in the word — is bringing in scientists from across the country and around the world.
There is also another, more personal goal that Thrasher has set for FSU. He wants his school to be known as the most veteran-friendly university in the country. There is already an effort to encourage veterans to come to Tallahassee.
"We're letting them know that if they come to FSU, they'll have a unique opportunity to use their experience, not only for themselves but as mentors of other students," Thrasher explains. "To me, veterans who come here are uniquely qualified to make a difference in the lives of a lot of our kids. And we want to make sure they have every opportunity to pursue their goals, whether in military service or the private sector."
The university is already working on improving the veterans' center. And before every graduation, there is a dinner at the president's house honoring veterans — and giving them a special cord to wear for their graduation.
On Campus
Thrasher smiles when talking about the job of assuming the mantle as FSU's 15th president. Perhaps it's the politician in him who loves the meet and greet, the handshaking and small talk with the small groups of prospective students touring campus, or current FSU students just walking around campus or attending organization meetings.
"As I analyze this job, creating new opportunities for faculty and expanding research, it ultimately comes back to the student experience here," he says. "What are we doing to make sure that every student who comes here has the opportunity to pursue their hopes and dreams?
"So I get out a lot on campus, and I feel like that's resonating. They want to have someone they can pick up the phone and call or email or text. I'm trying to be that person for them, so if they have something they need I can help them with it. The kids want to see the president, touch him, know what he's about."
Having recently wrapped up spring graduation ceremonies, Thrasher says the biggest reward of his job is knowing that he and the university have done something to get the students to a point in their lives where they are going to go out and change the world in many different ways.
"They're going to do things for our community, for our state, for our country," he says. "To me, that's the ultimate thing that makes this job so incredible."
The Change Agent
Elmira Mangum: Florida A&M University's 'Transformative' President
By Rosanne Dunkelberger
Florida A&M University's 11th president hadn't even hung the curtains in her on-campus residence when controversy came a-knockin'. On April 2, 2014, Elmira Mangum's second day on the job, the Florida Legislature, at the behest of one Sen. John Thrasher, was considering whether to break up the FAMU-FSU College of Engineering.
The effort was ultimately sidelined by the state Board of Governors after vehement objections from Florida A&M and a study showing that splitting the engineering college would cost $1 billion.
Mangum says there are no hard feelings between her and Thrasher — now president of Florida State University — about what she referred to as "the engineering thing."
"Surprises occur at colleges everywhere, but right now we have a great relationship with Florida State University around the engineering program," Mangum says. "The joint college that was emphasized as a result of the takeover attempt … actually has resulted in a much better relationship for both of the schools around engineering."
The two presidents, as well as Tallahassee Community College President Jim Murdaugh, communicate with each other cordially and regularly.
"We talk. He's got my cell, I've got his cell," she says. "John and I have breakfast on occasion. I've been to his house for dinner, and he's coming to mine for dinner."
Time for a Change
While the engineering college brouhaha developed quickly, Mangum knew before she arrived that her tenure as president wasn't necessarily going to be smooth sailing. The nation's premier historically black college and university (HBCU) had been weathering numerous storms: a student killed in a hazing scandal, accreditation woes and a 27-percent drop in enrollment over the previous five years. She would be FAMU's sixth president (including three interim presidents) in 13 years.
Although many of her predecessors were tasked with righting the FAMU ship, their presidencies tended to wreck on the rocky shoals of problems such as dysfunctional operations, an often-contentious Board of Trustees and an entrenched staff that was resistant to change.
But a change agent was exactly what FAMU's presidential search committee was looking for, and change is what they got in Mangum. She's the first female president of FAMU in its 128-year history and the first leader in decades to have no connection to the university — alumni, faculty member or administrator — before being appointed to the top position. In her first year as president, Mangum has assembled an 11-person leadership team. None worked for FAMU when they were named, and only two had a previous connection to the Rattler Nation.
Her 28-year-long professional career has been in higher education administration. According to FAMU's official site, she was vice president for planning and budget at Cornell University, charged with managing that university's resources and annual budgeting process. Before that, she spent nine years in administrative positions at the University of North Carolina at Chapel Hill, as well as stints at the State University of New York at Buffalo and the University of Wisconsin.
She earned her bachelor's degree in geography and education from North Carolina Central University, an HBCU. She earned two master's degrees from the University of Wisconsin–Madison and her Ph.D. in educational leadership and policy from SUNY Buffalo.
When asked to describe her leadership style, she answers, "I would say transformative. It's always been about change. I think it's indicative of the work I've been doing throughout my career."
In her time at Cornell, "the idea was to change the way they were conducting the business," she explains. "And I think here at Florida A&M, part of my budgeting and planning background is about transforming the institution into one that will sustain and be sustainable through various economic downturns and changes in enrollment and crises … to build on the foundation and to transform it into one that is responsive to changes in institutional needs and changes in societal needs for education."
Mangum has an answer for those who would suggest we live in a post-racial society, and the need for separate HBCUs is a relic of the past.
"I think anybody that wants to say that is not paying attention to what's going on in America — or the rest of the world, in fact," she says. For starters, FAMU's student body isn't all African-American; about 15 percent of its students are other races. "We're probably as equally diverse as Florida State, or the University of Florida; it's just flipping the percentages."
The world, Mangum says, is looking for diversity in the workforce.
"We need to have diverse experiences and we need to take into consideration diverse points of view in different cultures," she says. "Our goal is to add more people to that diversity. We know when (graduates) leave our institution, they're going to be in a diverse society … but they have to be trained somewhere."
After arriving, Mangum's first task was recruiting a stable leadership team. FAMU had a valid strategic plan, she says, but constant changes at the top and a cavalcade of interim leaders kept the university from making progress.
"Planning and budgeting has always been a significant part, in fact at its core, to any good university," she says. "One of the things that I immediately realized at Florida A&M was that we needed more emphasis on planning for the longer term."
An early focus was "stabilizing the team and reorganizing the functions of the institution … and that meant relocating people in terms of physical location to create the synergy that's needed to provide the support," she says.
Already, student advising services have been consolidated in a single location, important on a campus where 35 percent of students are the first generation of their family to attend college.
"Part of our advising, part of our freshman first-year experience in classes, is providing them with the information they need to create a path to graduation," Mangum says.
In her early days as president, Mangum created the FAMU Sustainability Institute and hired an executive director.
"It is designed to not only provide us with information about how to use less energy or decrease our footprint in terms of a university as a whole with energy savings, but also to commit the faculty across the variety of colleges across the schools around the area of sustainability," she says.
The State of the University
Getting students graduated in a reasonable amount of time is critical to the university's success.
"And reasonable to me is four years if you are in a four-year program," the president says. Currently, FAMU's four-year graduation rate is 13 percent, the lowest in Florida's university system, and the six-year rate is only 40 percent.
In the past, Florida universities were funded using a formula based on student population.
"In order for the institution to maintain its level of operation, it had to bring in a lot of students that did not meet what we had as minimum requirements because we needed it to get the funding from the state, and so we packed in the students because the funding was based on FTE (full-time equivalent)," she explains.
Now, funding is based on 10 metrics related to student performance and student success, and FAMU currently ranks dead last in the state university system. Mangum said she is not as concerned about boosting FAMU's enrollment as she is with attracting quality students "to make sure that we have the quality on the input side so we know they come out on the end in terms of graduation rates."
Another goal to improve FAMU's standing is attracting grants to the university, which will allow the faculty to get out of the classroom to do research.
"Our (teaching) course load is four sections per semester … and that's twice as high as most other institutions," she says.
When asked what she would tell the parents of a National Merit Scholar to encourage their child to attend FAMU, here's what Mangum had to say:
"A student that comes to Florida A&M University comes to first of all the seat of Florida; there are all kinds of opportunities. The student body is small enough for you to get individual attention, you get to work with faculty who are (on) the cutting edges of research if you want to, but you also have the opportunity to major in anything that you want to. We've got science, technology, engineering, math. We've got life sciences, physical sciences, social sciences. We've got theater, we've got arts. We have competitive sports teams (with) five championships this year in our conference. It's a great place to come and to study, to learn, to make friends for life … many people meet the love of their life out here on our Set."
At Home with Dr. Mangum
Mangum is the first president to live in FAMU's official presidential residence since Frederick Humphries stepped down in 2001. It got an update before she arrived, and "it's a pleasant place to live; it's not too big that you get overwhelmed and think you're living in an institution," she says. It's also very homelike for her because, "out of necessity," the house is filled with her personal furniture. "Everything in there is mine, and it's all modern," she explains. "I spend more time on what I call 'my side' — the smaller spaces — unless I have guests." Receptions and dinners are held on the "public side" of the house, often utilizing the home's four patios.
Off campus, Tallahassee has made the newcomer feel welcome.
"Everybody's nice everywhere I go," she says. "The wonderful thing about that Southern hospitality … it is here. It's not a big-city kind of place. It's a community, and you feel community."
Mangum has three adult children, all settled along the East coast. "They are livin' life; they're all launched," she says.
Her oldest son was an executive with a health care firm and recently graduated with an MBA. Her daughter is in her second year of residency at the University of Pennsylvania in Philadelphia, and her youngest son, a recent graduate of the University of North Carolina, is going to be working for the city of Chapel Hill in its parks and recreation department.
"They're good people … that's what I raised them to be … and they have decided to be successful, too," Mangum says. "I'm very excited; I'm very proud of all of them."
Mangum made the ultimate expression of maternal love in 2003 when she donated a kidney to her oldest son, Gregory Frank Daniel Jr. He was diagnosed with a form of kidney disease called focal segmental glomerulosclerosis, or FSGS, when he was a young teen. She had been screened, so when his kidneys failed after his first year of college, "it was something I was going to do; it wasn't even a question." She acquired a small scar from the experience, as well as a mission to promote organ donation.
"I encourage people to, on their license, be donors," she says. "Especially because, in the African-American community, we don't (often choose) to be a donor. Many times the matches don't occur for people of color because we aren't large on the donor list, so people wait a long time for transplants."
The only family member sharing her home is Pearl, her part-pit bull, part-boxer "designer dog." A favorite activity is visiting Cascades Park.
"I walk there practically every time I have a free moment," she says. "I like to be in places where you can get the serenity of watching water flow." But it's difficult to travel incognito when she's walking Pearl. "Every time I went, I put my hat on and my sunglasses and everybody would still know it was me because they knew I had a dog," she says with a smile.
In addition to walkabouts, Mangum says she also enjoys the Saturday Downtown Market, flea markets and "the small businesses that are scattered about the city."
She has found a church home at Jacob Chapel Baptist Church on Lake Bradford Road, pastored by the Rev. O. Jermaine Simmons.
"I love that church. I do," she says.
The Challenges Ahead
Those in the know say Mangum is a highly intelligent and effective administrator but, while affable and pleasant, she isn't much of a schmoozer — which may have gotten her off on the wrong foot with FAMU Board of Trustees members, who nearly voted to give her a written reprimand in June for her leadership style and lack of communication.
But Mangum has friends in high places, as evidenced by a letter sent to Florida's Board of Governors that was signed by five Florida legislators, all FAMU graduates. They said they were "deeply troubled" by the trustees' actions and asked that the governing body of the state university system determine whether the group had overstepped its authority by going beyond policy decisions and injecting itself into the daily operations of the university.
The legislators had particular criticism for Chairman Rufus Montgomery, an Atlanta businessman appointed by Gov. Rick Scott, saying his "abrupt and ongoing challenges to her leadership are bordering dangerously close to bullying."
Over the first year of Mangum's presidency, the amount of money raised and number of alumni donating to their alma mater has increased. Mangum sees a major fundraising effort in FAMU's future and recently hired a new vice president for advancement and development, who will be tasked with planning
a campaign.
"I'm excited about that," she says. "We are going to be chasing quality, and in order to do that we need our alumni to participate. They have embraced the changes and understand the need for us to make changes in the institution and our approach."