The Military Plays a Huge Role in The Economy of Bay County
Fighting Trim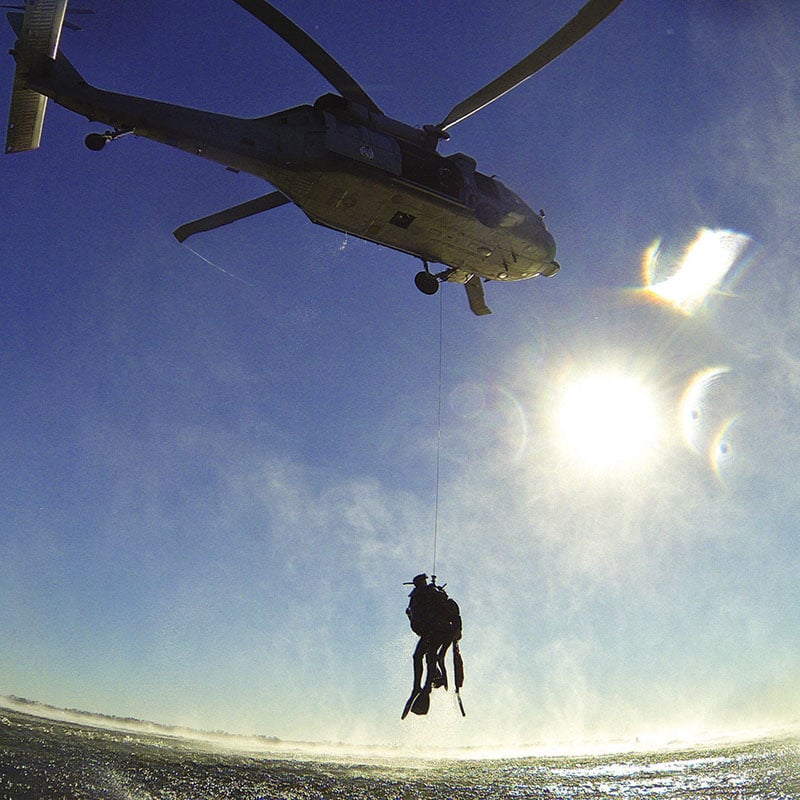 Bay County's defense sector is a significant portion of the local economy and, as sabers continue to rattle across the globe, the U.S. Air Force and Navy bases stationed here aren't going anywhere anytime soon. The defense sector will continue to provide jobs and paychecks for the foreseeable future.
Bay County's military bases also serve as a catalyst for attracting a strong cluster of research activity, defense contractors and aviation and aerospace-related companies and supplies. Nearly every nationally recognized defense contractor, approximately 60 companies, has a presence in Bay County.
Historically, air superiority and naval power have been used to project the nation's power abroad, and Bay County is at the tip of the spear that keeps those two components ready for action.
Tyndall Air Force Base, located in the southeastern part of the county, teaches the art of aerial warfare and is home to the 325th Fighter Wing, which trains F-22 Raptor fighter pilots and support crew. The 53rd Weapons Evaluation Group also calls Tyndall home and conducts air-to-air and air-to-ground weapons testing and evaluation. Meanwhile, Naval Support Activity Panama City provides research, development, test and evaluation, and in-service support for expeditionary, amphibious warfare, diving, maritime special operations, and mine warfare, according to the Florida Defense Industry Economic Impact Analysis for 2015.
According to the Bay Economic Development Alliance, The Naval Support Activity center accounts for $498 million in annual economic impact. It boasts 2,872 jobs and spans 657 acres with 234 buildings. The Naval Surface Warfare Center Panama City Division accounts for $273 million in annual economic impact, provides 2,290 military and civilian jobs, features 862 scientists and engineers (381 of whom have advanced degrees), and occupies 74 buildings on 650-plus acres. Tyndall Air Force Base boosts the economy with $614.2 million, provides 6,471 jobs and spans 29,000 acres.
All told, the defense aspect put an estimated 22,561 people to work in 2014 and forecasts predicted that number would rise to 23,861 in 2016. Tyndall got a boost in 2014 when 1,000 new jobs were added due to the arrival of a combat-coded F-22 squadron.
According to the Florida Defense Industry Economic Impact Analysis published in 2015, defense activities play a substantial role in the Bay County economy. Procurement accounted for the largest share at 34.1 percent or roughly $343 million of the $1.02 billion total. Salaries accounted for 33.2 percent, and transfers accounted for 32.3 percent. Overall, the military accounted about $2.4 billion in total gross regional product, which is roughly 30.6 percent of the county's estimated 2014 Gross Regional Product. The total impact for the county is forecast to continue to grow between 2014 and 2018.
Here's the big picture. There are seven U.S. military installations within the 16-county area of Northwest Florida, all offering a stabilizing economic influence. Aside from the Tyndall and Naval Support Activity, there is a U.S. Coast Guard Station in Panama City, and Eglin Air Force Base, the largest base in the U.S. Air Force, is in nearby Okaloosa County. Other naval and aviation-related installations include Hurlburt Field, Naval Air Station Whiting Field, Naval Air Station Pensacola, Corry Field and Saufley Field.
Approximately 35 percent of Northwest Florida's Gross Regional Product is attributable to defense activities. According to the 2015 Florida Defense Factbook compiled by Enterprise Florida, defense activities in Northwest Florida generate an estimated 181,564 jobs and account for over $20.4 billion in gross regional product. The bulk of the impacts are generated by direct federal military (and civilian) employment, which accounts for nearly 54,000 direct jobs, followed by federal military procurement and transfer payments. The National Guard and Coast Guard account for 3,861 and 1,461 total jobs, respectively, in this region. Statewide, defense-related spending accounted for 775,000 jobs and a total gross state product of $79.8 billion. There are 60,155 military personnel and 30,358 civilians employed in the defense sector statewide.
As Base Realignment and Closure (BRAC) processes started to hit close to home some 20 years ago, the communities of Bay County faced a pretty big economic hit if its military industry disappeared. Community leaders realized early on, though, that Northwest Florida makes significant contributions to national defense. Fortunately, the Department of Defense came to the same conclusion — thanks in no small part to the efforts of the Bay Defense Alliance, a coalition of local economic leaders. The alliance made sure that national defense decision-makers realized the value of the region's resources, including the massive Gulf of Mexico military ranges, and a coastal littoral region that provides a training analog for certain areas of the Persian Gulf.